Open Access This article is
freely available
re-usable
Case Report
Cutaneous Protothecosis in a Patient with Chronic Lymphocytic Leukemia: A Case Report and Literature Review
Department of Dermatology, Baylor College of Medicine, 1977 Butler Blvd, Suite E6.200, Houston, TX 77030, USA
*
Author to whom correspondence should be addressed.
†
These authors contributed equally to this work.
Academic Editor: David S. Perlin
Received: 17 November 2014 / Accepted: 31 December 2014 / Published: 14 January 2015
Abstract
:
Protothecosis is a rare infection, which has the potential to cause severe disease in patients with underlying immunosuppression. We describe a case of an elderly female with chronic lymphocytic leukemia (CLL), as well as other risk factors, who presented with pustular and erythematous plaques, initially presumed to be leukemia cutis. A biopsy with special stains revealed the lesions to be cutaneous protothecosis, thus presenting a most unusual concurrence of disease entities. The literature to date on this rare infection will be reviewed.
Keywords:
protothecosis;
Prototheca wickerhamii
; achlorophyllic algae
1. Introduction
Protothecosis is a rarely-reported infection caused by achlorophyllous algae of the
Prototheca
genus, derived from the common green algae,
Chlorella
[
1
,
2
]. In addition to lacking chloroplasts, and, thus, chlorophyll,
Prototheca
also differ from
Chlorella
in that they have neither galactose nor galactosamine in the cell wall. A final differentiating feature between
Prototheca
species and
Chlorella
is that the former possess a two-layered, instead of a three-layered, cell wall as seen by electron microscopy [
2
]. The precise taxonomy of the genus remains somewhat debatable and has been the subject of multiple prior reclassifications. At least three distinct species appear to be universally accepted:
P. wickerhamii
,
P. zopfii
and
P. stagnora
.
Prototheca
are found widely in nature, though they thrive in environments, such as stagnant water, slime flux and animal waste. The cutaneous infection is most common in patients with underlying immunosuppression or in association with several underlying systemic and debilitating diseases following traumatic inoculation [
3
,
4
,
5
]. Herein, we describe a case of cutaneous protothecosis in an elderly female with multiple comorbidities, including chronic lymphocytic leukemia, and review the pertinent and readily-available literature on this subject.
2. Case Report
A 72-year-old female with a past history of bilateral mastectomy due to intraductal breast cancer ten years previously, insulin-dependent and poorly-regulated diabetes mellitus, moderate hypertension, partially-compensated congestive heart failure, and, most recently, chronic lymphocytic leukemia (CLL) underwent dermatologic evaluation due to the presence of asymptomatic, small, pustular and larger erythematous plaques that progressively developed over a period of three months. The skin lesions preferentially involved the dorsal surface of both upper extremities. (
Figure 1
a,b).
Figure 1. (a) Indurated erythematous plaques on the dorsal forearm; (b) close view of the indurated plaque.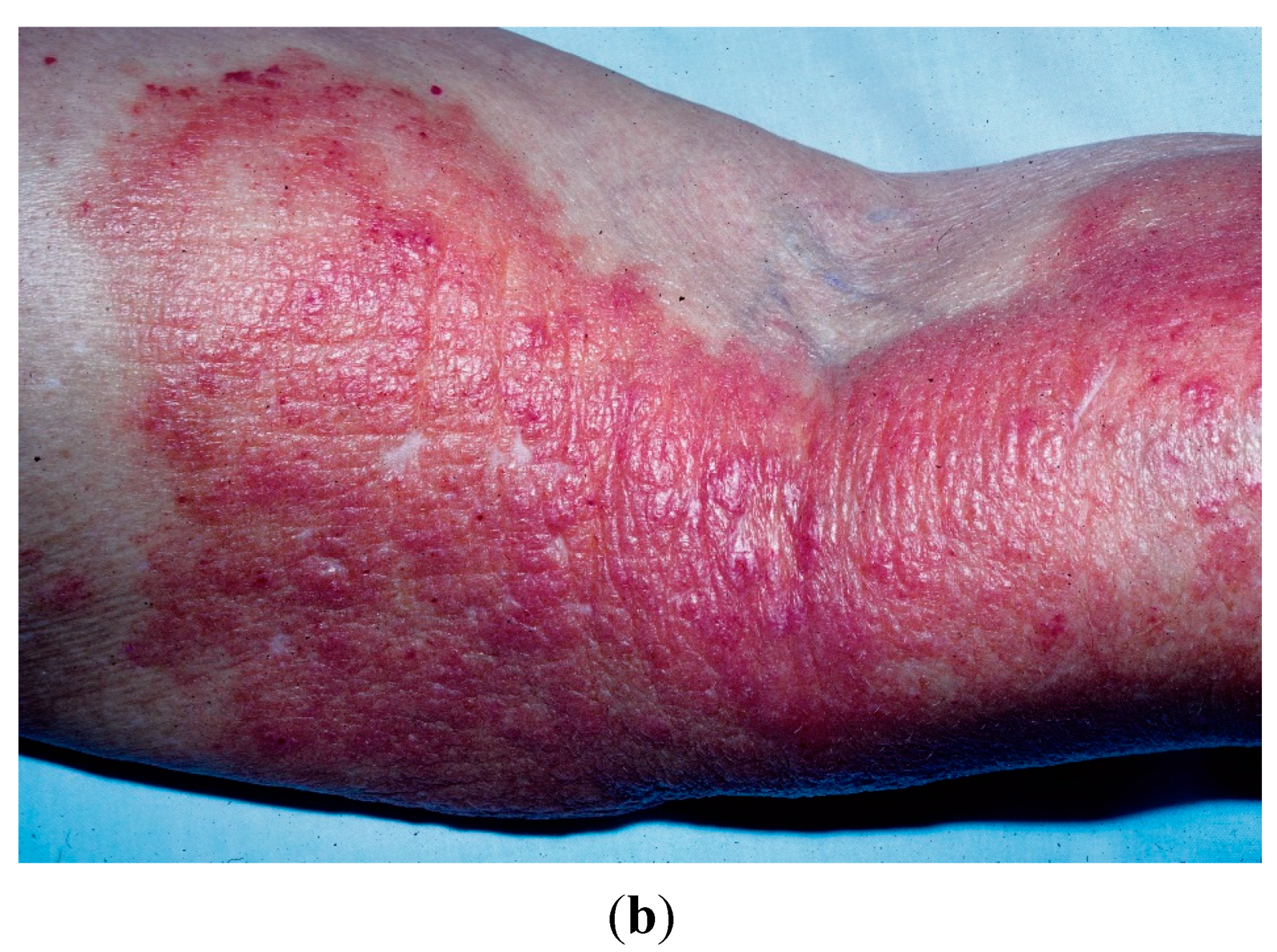 Figure 2. (a) Biopsy demonstrating both leukemic infiltrate and granuloma formation within the dermis, the latter being located more superficially (hematoxylin-eosin stain at 50×); (b) closer view of the biopsy demonstrating both leukemic infiltrate and granuloma formation with prominent multinucleated giant cells (Hematoxylin-eosin stain at 125×).
She had been diagnosed with CLL approximately five years earlier, and her treatment regimen included cyclical administration of cyclophosphamide, vincristine and prednisone. The latter was given in daily oral doses of 40 mg. The patient was generally well-appearing, but hemodynamically unstable, with white cell counts ranging between 20,000 and 180,000/mL3. Biopsies of several plaques were performed and special stains requested to rule out various infectious processes.
Histopathologic examination in hematoxylin and eosin (H&E)-stained sections revealed concurrent and adjacent leukemic infiltrate consisting of mature lymphocytes and granulomata with obvious giant cells (
Figure 2
a,b).
Bodies of microorganisms visible on H&E were then highlighted by Gomori methenamine silver (GMS), periodic acid-Schiff (PAS) and Alcian blue stains. These organisms consisted of a single round cell with multiple radial septations (
Figure 3
a,b). Upon culturing, both a tissue specimen and a pustule, mucoid beige colonies developed on Sabouraud's dextrose agar, with sporangia visualized within the cells. A diagnosis of protothecosis was established. The microorganism was ultimately identified as
Prototheca wickerhamii
on the basis of morphological characteristics and sugar assimilation tests. There was no evidence of systemic dissemination.
Figure 3.
(
a
) Numerous organisms stained with Gomori methenamine silver (GMS) in tissue (GMS stain at 50×); (
b
) the arrow points to the typical "floret" appearance of
P. wickerhamii
(GMS stain at 250×).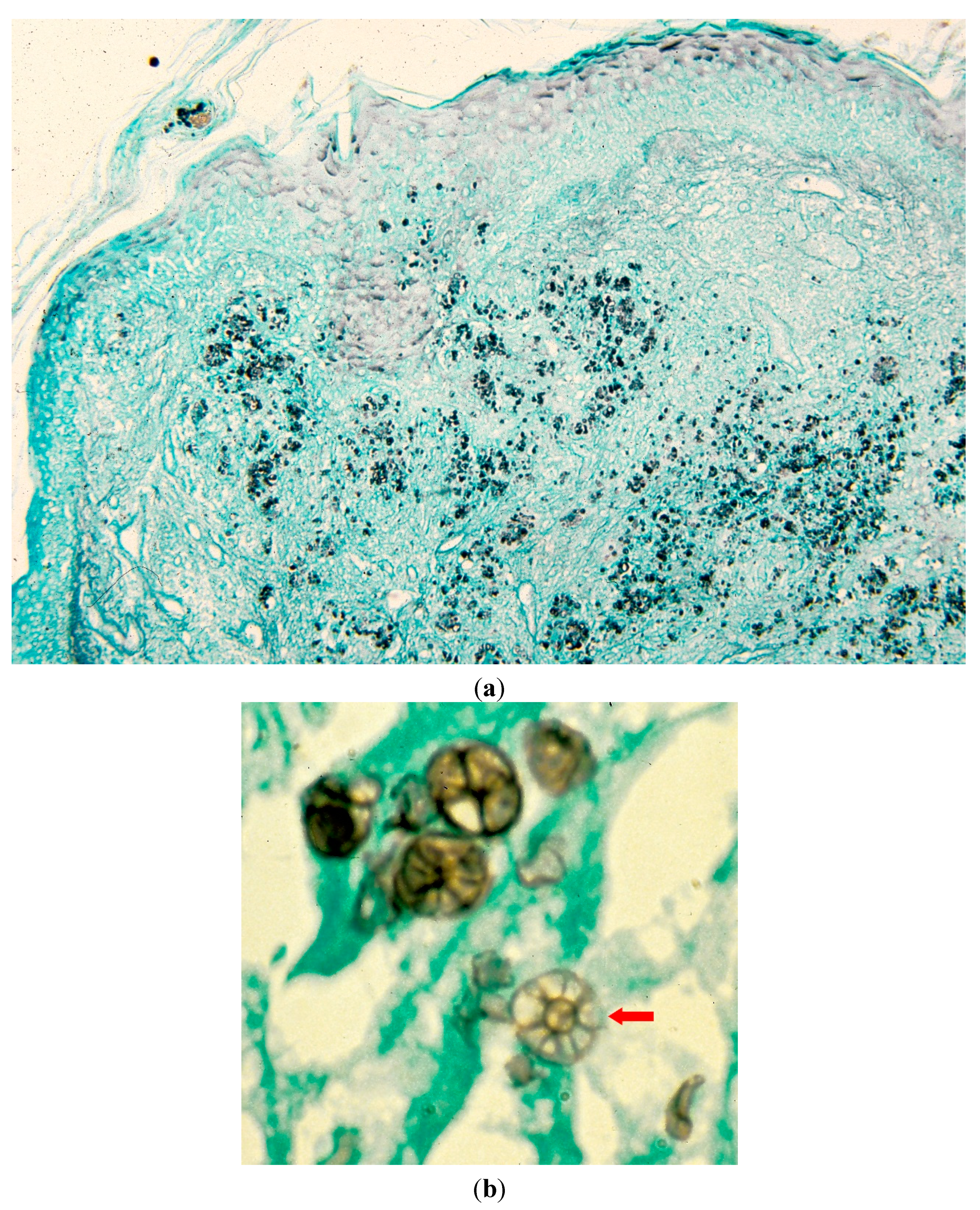 The patient received a combination of oral tetracycline and intravenous amphotericin-B as the treatment. However, she succumbed to complications from her other co-morbidities before the treatment could reasonably have been expected to succeed.
4. Conclusions
In summary, we report an unusual case of cutaneous protothecosis in a patient with CLL and multiple other risk factors. It is of note that very few cases have been documented in the medical literature of CLL and protothecosis infection. This may suggest that
Prototheca
spp. have low pathogenic potential in these particular cancer patients. Regardless, protothecosis should be included in the presumptive differential diagnosis of cutaneous infection in any cancer patient with other predisposing factors, particularly diabetes and chronic steroid use.
Author Contributions
Both authors conducted the literature research and contributed equally to the writing of the paper. The senior author, Rosen, provided medical consultation and care for the patient reported herein.
Conflicts of Interest
The authors declare no conflict of interest.
© 2015 by the authors. Lcensee MDPI, Basel, Switzerland. This article is an open access article distributed under the terms and conditions of the Creative Commons Attribution license ( http://creativecommons.org/licenses/by/4.0/).