Open Access This article is
freely available
re-usable
Review
PDE4-Mediated cAMP Signalling
University of Glasgow, Glasgow G12 8QQ, UK
*
Author to whom correspondence should be addressed.
Received: 19 December 2017 / Accepted: 23 January 2018 / Published: 29 January 2018
Abstract
:
cAMP is the archetypal and ubiquitous second messenger utilised for the fine control of many cardiovascular cell signalling systems. The ability of cAMP to elicit cell surface receptor-specific responses relies on its compartmentalisation by cAMP hydrolysing enzymes known as phosphodiesterases. One family of these enzymes, PDE4, is particularly important in the cardiovascular system, where it has been extensively studied and shown to orchestrate complex, localised signalling that underpins many crucial functions of the heart. In the cardiac myocyte, cAMP activates PKA, which phosphorylates a small subset of mostly sarcoplasmic substrate proteins that drive β-adrenergic enhancement of cardiac function. The phosphorylation of these substrates, many of which are involved in cardiac excitation-contraction coupling, has been shown to be tightly regulated by highly localised pools of individual PDE4 isoforms. The spatial and temporal regulation of cardiac signalling is made possible by the formation of macromolecular "signalosomes", which often include a cAMP effector, such as PKA, its substrate, PDE4 and an anchoring protein such as an AKAP. Studies described in the present review highlight the importance of this relationship for individual cardiac PKA substrates and we provide an overview of how this signalling paradigm is coordinated to promote efficient adrenergic enhancement of cardiac function. The role of PDE4 also extends to the vascular endothelium, where it regulates vascular permeability and barrier function. In this distinct location, PDE4 interacts with adherens junctions to regulate their stability. These highly specific, non-redundant roles for PDE4 isoforms have far reaching therapeutic potential. PDE inhibitors in the clinic have been plagued with problems due to the active site-directed nature of the compounds which concomitantly attenuate PDE activity in all highly localised "signalosomes".
Keywords:
phosphodiesterase 4; cardiac myocyte; vascular endothelium
1. Introduction
Cyclic 3′,5′-adenosine monophosphate (cAMP) was the first second messenger molecule to be discovered, and has been researched tirelessly in the context of numerous physiological systems. Much of the current understanding of cAMP signalling, however, has come from studying its function in the cardiovascular system, where it has major roles in the heart and vessels [
1
]. In the heart, cAMP influences a multitude of processes from contractility and hypertrophy of myocytes to apoptosis and cell survival [
2
]. In the vasculature, effects on smooth muscle cell contraction and relaxation, as well as endothelial cell permeability has been attributed to cAMP signalling processes [
3
]. Additionally, cAMP can modify cell proliferation, migration, differentiation, and response to stress [
4
,
5
,
6
,
7
]. cAMP produces these vast cellular effects by activating four types of effector proteins: protein kinase A (PKA), exchange protein directly activated by cAMP (EPAC), cyclic nucleotide activated ion channels (CNGC), and popeye domain containing proteins (POPDC). The present review will focus on the effects of PKA and EPAC. PKA functions to phosphorylate substrate proteins, while EPAC activates the RAS superfamily of enzymes [
8
]. The present review will focus on the ways in which phosphodiesterase 4 (PDE4) enzymes modify cAMP's ability to produce these varied physiological effects within the cardiovascular system.
2. cAMP Signalling and Compartmentalisation
The small, highly diffusible molecule, cAMP can be produced by both membrane-bound adenylyl cyclase (mAC) and soluble adenylyl cyclase (sAC) in response to various stimuli, such as the activation of various G
s
-coupled receptors, which activates mAC [
9
]. Its properties suggest that it would quickly diffuse throughout the cell, simultaneously activating all effector proteins almost instantly. In striking contrast, it was shown by Larry Brunton and colleagues in the early 1980s that cAMP can cause multiple discrete receptor specific responses in the same cells [
10
,
11
]. To explain this phenomenon, it was quickly postulated, and eventually proven, that compartmentalisation of cAMP signalling underpins receptor specific responses by restricting the number and identity of PKA substrates that get phosphorylated in response to each specific receptor ligation [
12
,
13
]. Such fine control of one ubiquitous second messenger that acts to activate only discrete pools of PKA is made possible by the subcellular localisation of proteins that degrade cAMP. This function is attributed to a super-family of enzymes called phosphodiesterases (PDEs). PDEs are the only known route to the hydrolysis of cAMP and this function empowers these enzymes to act as "sinks", reducing cAMP concentration in localised areas preventing the inappropriate phosphorylation of PKA substrates under basal conditions. Following receptor activation, however, this situation can be altered to allow cAMP concentrations to exceed the activation threshold of PKA enzymes tethered to discretely positioned "signalosomes". This situation occurs only when the cAMP concentration in the vicinity of the relevant "signalosomes" is high enough to swamp the PDE component, promoting downstream physiological effects [
14
]. The integration of PDE4 isoforms into specific "signalosomes" within the heart and the function of these protein complexes will be the subject of this review.
4. Technological Approaches to Defining Roles for PDE4 Isoforms
Isoform specific roles of PDEs have been identified within the realm of the cardiovascular system and historically, as new technologies have been invented, these have been used to identify specific interactions and functions of PDE4. Often, the first and easiest approach utilised is pharmacological, and employs family-specific inhibitors. However, this strategy gives little information on individual isoforms and can often engender "bulk" cAMP effects due to simultaneous inhibition of all PDE4 enzymes in all locations. Other more targeted approaches include siRNA knockdown and overexpression of dominant-negative PDEs. Both of these allow diminution of the influence of one isoform by either genetic silencing or displacement of endogenous, functional PDEs [
29
,
30
,
31
]. Often these approaches are sufficient to pinpoint specific cellular functions for single isoforms; however, if one isoform has multiple roles in the same cell, an incomplete understanding of the complexity of PDE4 action can be lost.
The identification of specific protein-protein interactions within PDE signalosomes has been integral to understanding PDE4 function. Peptide array technology has proved to be an accurate way to screen for such interactions and to predict the regions and specific amino acids which are essential for holding signalling complexes together [
32
,
33
,
34
]. Another advantage of this technique is that it allows the informed design of cell-permeable disruptor peptides, which can interrupt these signalosome interactions. Disruptor peptides provide by far the most specific form of inhibition as only a specific localised pool of the PDE4 isoform of choice is displaced, leaving any other cellular effects of that isoform untouched [
28
,
35
].
The development of fluorescent probes which can monitor cAMP dynamics in real time have led to vast advancements in the field. Briefly, these probes contain two fluorescent moieties, a donor and an acceptor, and a cAMP binding domain. When cAMP binds, a conformational change is induced, altering the fluorescent energy transfer between the donor and acceptor, known as fluorescence resonance energy transfer (FRET). The detection of the two emissions allows real time changes in cAMP concentration to be measured [
36
].
Many of the studies described in the present report employ a combination of these techniques to create robust evidence for the specific roles of PDE4 isoforms in the cardiovascular system.
6. Vascular cAMP Signalling and PDEs
Although cardiac myocytes have taken centre stage in terms of PDE4 research, this group of enzymes also has major roles in the wider cardiovascular system, regulating many characteristics of the vasculature. cAMP signalling is particularly important in the signalling systems of vascular endothelial cells (VECs) where increases in cAMP concentration results in reduced vascular permeability. The literature is clear that PDEs are integral to the fine control of such processes [
82
]. In conditions of low cGMP, PDE4 is the major regulator of PKA and EPAC activation, both of which influence permeability. In addition to PDE4, PDE2 and PDE3 activity also impinge on VEC permeability, but their influence is changed by increases in cGMP, which activates PDE2 and inhibits PDE3, allowing fine tuning of regulation [
82
,
83
]. As in cardiac myocytes, localised signalosomes have been identified as crucial in the maintenance of signalling specificity. The components of compartmentalised signalling complexes in this location include various AC subtypes, PDE2, PDE3, and PDE4 isoforms, and AKAPs. An important study by Maurice and colleagues identified the unique, non-compensated role of PDE4D in the regulation of vascular permeability, confirming the notion of compartmentalised signalling in VECs [
3
,
83
].
PDE4D's Role in the Regulation of Vascular Permeability
VEC permeability is largely mediated through adherens junctions (AJ), structures comprised of vascular endothelial cell cadherins (VECAD) which interact with those of neighbouring cells and assemble a complex containing catenins and actinins to the cytoskeleton [
84
,
85
]. When VECs are stimulated by agents that increase cAMP, the activation of PKA and EPAC results in the stabilisation of AJs, decreasing cell permeability [
83
]. Pharmacological inhibition and siRNA-mediated knockdown identified PDE4D and EPAC1 as the mediators of cAMP-dependent changes in permeability [
3
]. Interestingly, the use of pharmacological inhibition of PDE4 and knockdown of PDE4D yielded conflicting results. As expected, PDE4 inhibition decreased cell permeability; however, in stark contrast, knockdown of PDE4D increased cell permeability. This was explained by a dual role of PDE4D in this cellular compartment. Not only does the PDE regulate EPAC1 activation by hydrolysing cAMP, but it also acts as the tether, localising EPAC1 to the VECAD structures. The identification of PDE4D's function as a scaffold identified a novel role for the family of enzymes. Maurice et al. also employed a disruptor peptide to determine the function of the interaction between EPAC1 and PDE4D. Treatment with this peptide reduced VEC permeability to a similar degree as global PDE4 inhibition (
Figure 3
). The specific disruption of the PDE4D-EPAC1 interaction proved to be a novel method to alter VEC permeability and barrier function.
7. Future Directions and Outlook
As described in the present review, the study of PDE4 in the cardiovascular system is centered on the discovery of isoform specific roles within signalosomes. Compartmentalisation of distinct PDE4 isoforms underpin their function and allow low cellular concentrations of the enzyme to have a pivotal role in many areas of cardiac signaling. Future development of new technologies, such as the expansion of novel, highly targeted FRET probes, will allow the effects of PDEs on cAMP signalling to be observed in novel ways that were not previously possible [
86
]. In conjunction with PDE4 gene therapy, PDE4 activators and novel animal models where inducible dominant negative PD4 constructs are expressed, our understanding of the currently accepted roles of PDEs will be increased, and novel roles at additional microdomains will inevitably be uncovered. This information will undoubtedly drive novel therapeutic endeavors to target this versatile enzyme family for the good of humankind.
Conflicts of Interest
The authors declare no conflict of interest.
Figure 1. Diversity of domain organisation of PDE4 isoforms TD, transduction domain; LR1/2, linker region 1/2; UCR1/2, upstream conserved region 1/2.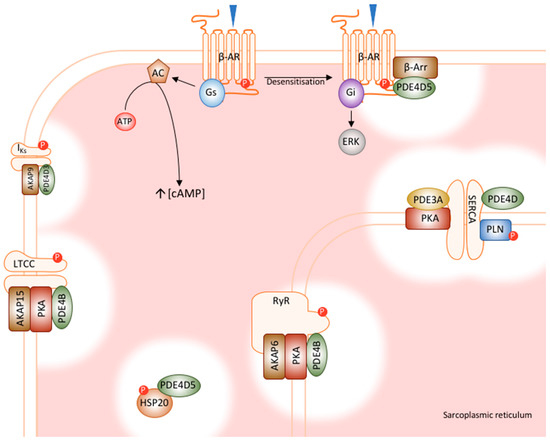 Figure 2.
Cardiac PDE signalosomes. PDE4 family members have been shown to integrate into macromolecular complexes with numerous cardiac proteins, many of which are involved in excitation-contraction coupling and calcium handling. PDE4D5 interacts with β-arrestin, regulating receptor desensitisation. PDE4B regulates both the LTCC and RyR, which controls the process of calcium induced calcium release. PDE4D interacts with SERCA, regulating the reuptake of calcium into the SR. PDE4D3 interacts with IKs, modulating basal channel function. Finally, PKE4D5 regulates the cardioprotective effects of HSP20. AC, adenylyl cyclase; AKAP, A-kinase anchoring protein; ATP, adenosine triphosphate; β-AR, β-adrenoceptor; β-Arr, β-arrestin; ERK, extracellular signal regulated kinases; G
i
; inhibitory G-protein; G
s
, stimulatory G-protein; HSP20, heat shock protein 20; I
KS
, cardiac I
KS
potassium channel; LTCC, L-type calcium channel; P, phosphorylation; PKA, protein kinase A PLN, phosphopamban, RyR, ryanodine receptor SERCA, sarcoplasmic reticulum calcium ATPase [
35
,
43
,
45
,
46
,
47
,
48
,
49
].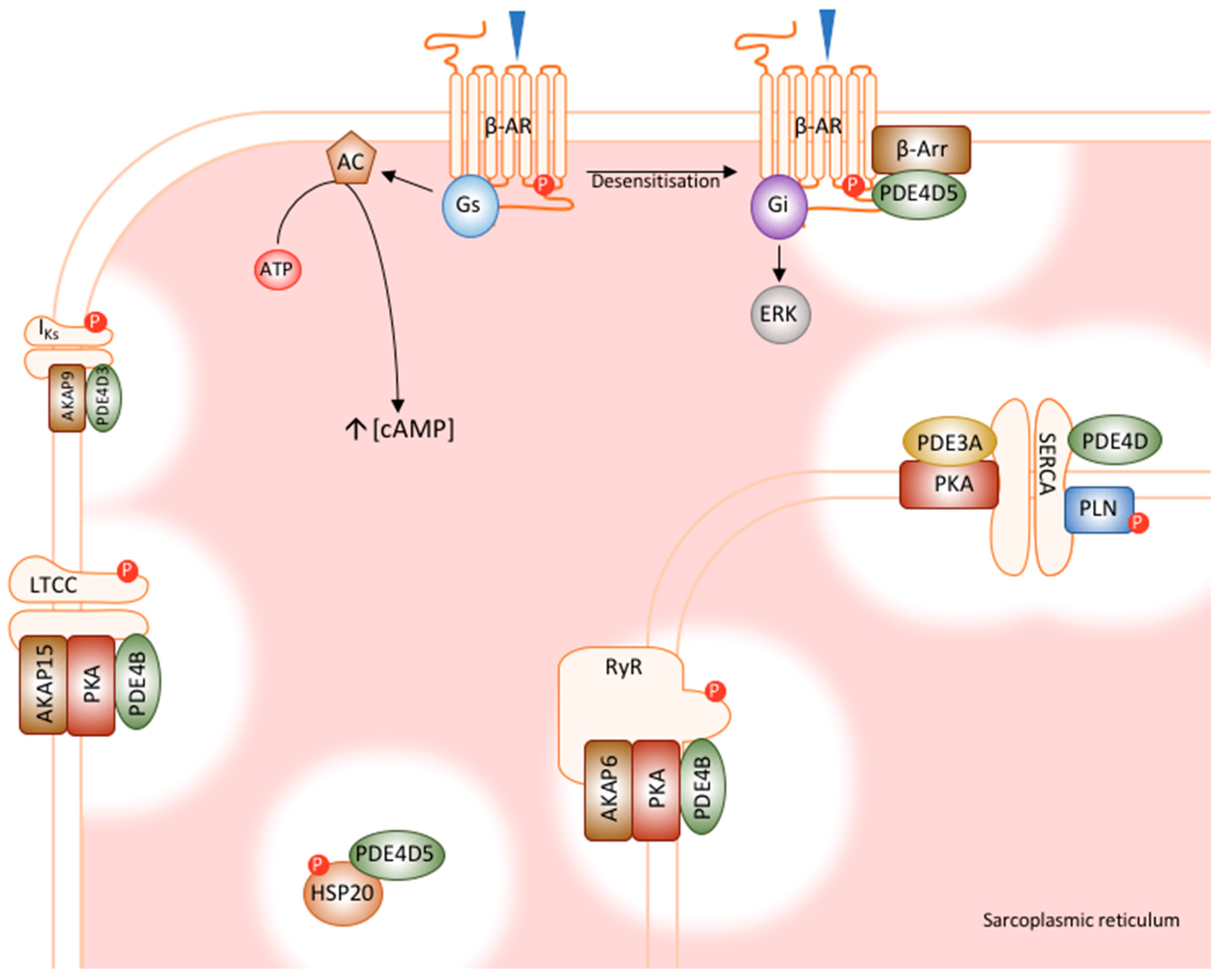 Figure 3.
PDE regulation of Vascular Endothelial Permeability. PDE4D has been shown to regulate the permeability of the vascular endothelium through interactions with components of AJs. Treatment with PDE inhibitors or a specific disruptor of the PDE4D/EPAC1 interaction results in increased cAMP and stabilization of AJs, ultimately causing reduced permeability and increased barrier function [
3
].


© 2018 by the authors. Licensee MDPI, Basel, Switzerland. This article is an open access article distributed under the terms and conditions of the Creative Commons Attribution (CC BY) license (http://creativecommons.org/licenses/by/4.0/).