Open Access This article is
freely available
re-usable
Review
The Early Stages of Heart Development: Insights from Chicken Embryos
School of Biological Sciences, University of East Anglia, Norwich Research Park, Norwich NR4 7TJ, UK
*
Author to whom correspondence should be addressed.
Academic Editors: Rolf Bodmer and Georg Vogler
Received: 4 March 2016 / Accepted: 30 March 2016 / Published: 5 April 2016
Abstract
:
The heart is the first functioning organ in the developing embryo and a detailed understanding of the molecular and cellular mechanisms involved in its formation provides insights into congenital malformations affecting its function and therefore the survival of the organism. Because many developmental mechanisms are highly conserved, it is possible to extrapolate from observations made in invertebrate and vertebrate model organisms to humans. This review will highlight the contributions made through studying heart development in avian embryos, particularly the chicken. The major advantage of chick embryos is their accessibility for surgical manipulation and functional interference approaches, both gain- and loss-of-function. In addition to experiments performed
in ovo
, the dissection of tissues for
ex vivo
culture, genomic, or biochemical approaches is straightforward. Furthermore, embryos can be cultured for time-lapse imaging, which enables tracking of fluorescently labeled cells and detailed analysis of tissue morphogenesis. Owing to these features, investigations in chick embryos have led to important discoveries, often complementing genetic studies in mice and zebrafish. As well as including some historical aspects, we cover here some of the crucial advances made in understanding early heart development using the chicken model.
Keywords:
chick embryo; fate mapping; heart fields; morphogenesis;
in ovo
studies
2. Cardiac Development and Morphogenesis
2.1. Mapping Studies and Characterization of Cardiogenic Fields
2.2. Pre-Gastrula and Gastrula Stages
2.2.1. Specification and Migration of Cardiac Progenitor Cells
2.2.2. Establishment of Left–Right Asymmetry
Shortly after the emergence of cardiogenic progenitors from the primitive streak and around the time that they arrive in the heart fields, the bilateral symmetry of the early embryo is broken. Ultimately this leads to the striking left–right asymmetry in the placement and differentiation of organs, which is seen in all vertebrates. Experiments in chick embryos have made major contributions to our understanding of the mechanisms involved in this process. For a review see [
55
]. In particular, the gene network that provides left–right information was characterized in chick embryos [
56
]. Initial breaking of symmetry starts at Hensen's node, the organizing center at the anterior end of the fully extended HH4 primitive streak. Several signaling molecules are asymmetrically expressed, including activin receptor IIa, Sonic hedgehog (Shh), and cNR1 (the chick homologue of mouse nodal); the experimental manipulation of these pathways, through implantation of growth factor soaked beads or cell pellets, affects heart
situs
[
56
]. Furthermore, recent work showed that
N
-cadherin is involved in asymmetric gene expression and the leftward cell movements in Hensen's node [
57
].
In mice, the use of a nodal-lacZ reporter allele confirmed its asymmetric expression on the left side [
58
]. Although the mechanisms leading to initial breaking of symmetry are different in mice and chicks [
59
,
60
], in both species the transcription factor Pitx2 acts downstream of nodal and Shh signaling. In chick embryos misexpression of Pitx2 is sufficient to produce reversed heart looping [
61
]. The literature on genetic manipulations of Pitx2 is extensive and cannot be covered here; suffice it to say that cardiac laterality defects are usually observed (for example [
62
], and references in [
55
]).
The signaling molecules expressed on the left side interact with a right-sided program, initiated by BMP-4 at Hensen's node inducing FGF8, which in turn activates Snai1, a Zn-finger transcriptional repressor. Snai1 is necessary for the formation of the proepicardium (PE), which in the chick develops only on the right side—a vestigial PE on the left undergoes apoptosis. Ectopic expression of FGF8 or Snail on the left led to bilateral PE formation [
63
]. In the mouse, the PE, which is characterized by expression of WT1 and TBX18, develops bilaterally. This may reflect differences in FGF8, which is a determinant of the right side in the chick but mediates left side identity in mice [
59
,
64
].
2.3. Discovery of Additional Heart Fields
2.4. Formation and Transformation of the Straight Heart Tube
2.5. Cardiac Neural Crest
Experiments using avian embryos, particularly quail–chick chimeras, enabled the analysis of neural crest cell (NCC) migration and differentiation [
29
,
99
]. This approach revealed an important contribution by NCCs to the heart. Specifically, replacing chick NCCs arising from the posterior hindbrain adjacent to somites 1–3 with that of quail NCC showed that these cells contribute to the aortico-pulmonary and conotruncal septa; thus they were called "cardiac" NCCs [
100
,
101
], although they also contribute to non-cardiac tissues. Cardiac NCCs are crucial for the remodeling of the pharyngeal arteries into an aortic arch, and for septation of the outflow tract into the pulmonary artery and aorta. In mouse embryos, the use of genetic labels such as Wnt1-cre and ROSA26 reporter lines enabled the tracking of cardiac neural crest cell derived tissues [
102
].
More recently, it has been shown in chick embryos that the chemokine stromal cell-derived factor-1 (SDF1) and its cognate receptor, Cxcr4, are important for the migration of cardiac NCCs towards the heart. This suggested that SDF1 acts as a chemoattractant for cardiac NCCs. Misregulation of SDF1 signaling caused cardiac anomalies including incomplete septation of the aorta and pulmonary trunk (also described as Persistent truncus arteriosus or PTA), and ventricular septal defects (VSD) [
103
]. The experiments in chicks were consistent with observations demonstrating that mice deficient for Sdf1 or its receptors, Cxcr4 and Cxcr7, exhibit ventricular septal defects [
104
]. The important role of cardiac NCCs for the etiology of common congenital birth defects, including outflow tract septation defects, has been reviewed (for example, [
16
]).
2.6. Cardiac Chambers
Following heart looping, maturation of the heart into four chambers, two atria and two ventricles, is initiated. The primitive atrium becomes divided by the formation of a septum primum. This septum initiates from the dorsocranial atrial wall at HH14 and grows towards the developing endocardial cushions in the atrioventricular canal (AVC). It has been shown that reciprocal myocardial–endocardial interactions coordinate the formation of valves [
105
] that optimize blood flow. In addition, qPCR analysis of microRNAs demonstrated distinct expression profiles within the atrial, ventricular, and atrioventricular canal regions of the developing chick heart. In particular miR-23b, miR-199a, and miR-15a displayed increased expression during early AVC development and characterization of target genes suggests that they are involved in regulating epithelial-mesenchymal transition (EMT) signaling pathways [
106
].
Around the same time, the chamber walls undergo morphological changes. At first, the myocardial layer of the ventricular walls forms protrusions, called trabeculae, which project into the chamber lumen and are covered by a layer of endocardium. The process of trabeculae formation begins at HH16 at the outer curvature of the primitive ventricle—later trabeculae contribute to ventricular septation. Trabeculae grow in length; when growth ceases their shape and morphology change. During this phase of remodeling, trabeculae start to thicken at their anchors in the chamber wall. In the chick, a compact myocardium with a mature trabeculae network is formed around halfway through gestation, by approximately HH34. Throughout embryonic stages the increased surface area generated by trabeculae supports nutrition and oxygen uptake prior to vascularization. Post-birth trabeculae prevent suction, specifically the flow of blood back into the atria. For a more detailed description readers are referred to reviews [
107
,
108
] and the references therein.
2.7. The Proepicardium
Concomitant with the initiation of trabeculation, cells of the proepicardium migrate to the post-looped heart to form its outermost layer, the epicardium, which invades the myocardial wall, resulting in establishment of the coronary vasculature and an increased number of cardiac fibroblasts in the myocardial wall [
109
,
110
,
111
]. Failed fusion of the proepicardium to the heart results in severe coronary and heart defects and a better understanding of its precise roles will be needed to develop new therapies [
112
]. Loss-of-PE-function can be induced by photoablation and this induces long-lasting abnormalities in the heart, including a thin myocardium and defects in the coronary vasculature [
113
]. Interestingly, the epicardium of the distal OFT has a different embryonic origin and gene expression profile, as shown by transplantation and mapping studies [
114
]. Quail–chick grafting also demonstrated that the PE contributes hemangioblasts but not lymphangioblasts [
115
]. In both the chick and the mouse. RANKL/NFATC1 signaling induces expression of extracellular matrix-degrading enzymes, which is important for the invasion of epicardial cells into the myocardium [
116
]. Work in chick embryos examined PE origin [
117
] and showed that myocardium-derived BMP signals induce the protrusion of Tbx18/WT1-positive proepicardial cells toward the looping heart tube [
118
]. In both humans and chicks, Tbx5 is implicated in the migration of proepicardial cells [
119
]. Genetic lineage tracing in mice identified a sub-compartment of proepicardial cells positive for Scleraxis (Scx) and Semaphorin3D (Sema3D), which give rise to coronary vascular endothelium and contribute to the early sinus venosus and cardiac endocardium [
120
].
3. Conclusions
Compared to mammalian model organisms, the chick has discrete advantages for experimental embryology. Due to long generation times, genetic approaches are not straightforward in the chicken; however,
in ovo
accessibility allows transient gain- and loss-of-function approaches, which compensates for this shortfall. In this review we have illustrated how approaches in the chick model have facilitated important insights into the origin of cardiogenic cells and the developmental signals involved in their specification and migration. The timeline in
Figure 3
summarizes some crucial milestones. No doubt, ongoing and future work using avian species will provide more original insights into the molecular and cellular mechanisms that underpin the early development of the vertebrate heart.
Acknowledgments
The authors would like to thank Grant Wheeler for commenting on the manuscript. J.G.W. is funded by a grant from the British Heart Foundation (BHF FS/15/41/31564) to A.M. Research in the laboratory was supported by BHF grant PG/11/118/29292 and BBSRC grant BB/K003437/1 to A.M.
Author Contributions
J.G.W. prepared illustrations; J.G.W. and A.M. wrote the manuscript.
Conflicts of Interest
The authors declare no conflict of interest.
Abbreviations
The following abbreviations are used in this manuscript:
| | |
| --- | --- |
| AHF/SHF | anterior/secondary heart field |
| HH | Hamburger-Hamilton |
| NCC | neural crest cells |
| OFT | outflow tract |
| PC | pacemaker cell |
| PE | proepicardium |

Figure 1. Cardiogenic signals in pre-gastrula, gastrula, and neurula stage embryos. Schematic representation of a pre-gastrula chick embryo (A) with epiblast and hypoblast layers. Cardiopotent cells identified in the posterior epiblast respond to Tgf-β/activin signaling. The diagram in (B) represents a HH3 gastrula with prospective mesoderm (red) and endoderm cells (yellow) ingressing through the primitive streak. Wnt3a, BMP2, and FGF8 are expressed in the primitive streak and control migration trajectories of cardiac progenitor cells, indicated by green stippled arrows, towards the bilateral heart fields. (C) Representation of a neurula stage embryo, approximately HH5. Gastrulation continues at the primitive streak, which is regressing; an endoderm layer has formed, and cardiogenic cells are located in bilateral heart fields in the anterior lateral plate mesoderm. A combination of BMP2, FGF4/8, and inhibitors of canonical Wnt signaling act to specify cardiac fate.


Figure 2. Cardiac morphogenesis in chick embryos. Schematic ventral views of HH8 to HH24 chick hearts. Fate mapping revealed the location of first and second heart fields (FHF, SHF), marked in green and red. Fusion generates a primitive heart tube by HH9; secondarily added cell populations have not yet entered (red dots). In all images, components of the heart derived predominantly from FHF are in green and components derived predominantly from SHF and also AHF are in red. During dextral-looping the straight heart tube transforms into a C-shaped bend by HH13 and SHF/AHF-derived cells contribute to the heart; primitive atria move dorsocranially. Further positional changes are indicated. The proepicardium (PE) is located on the dorsal side (stippled grey arrow); it generates the epicardium. The expansion of the epicardium over the heart by HH24 is indicated by stripes. The cardiac neural crest (CNC), shown as blue spots, contributes to outflow tract septation and remodeling of the great arteries. See text for details. A, atrium; C, conus, CNC, cardiac neural crest; HT heart tube; LA/RA, left/right atrium; LV/RV, left/right ventricle; T, truncus arteriosus.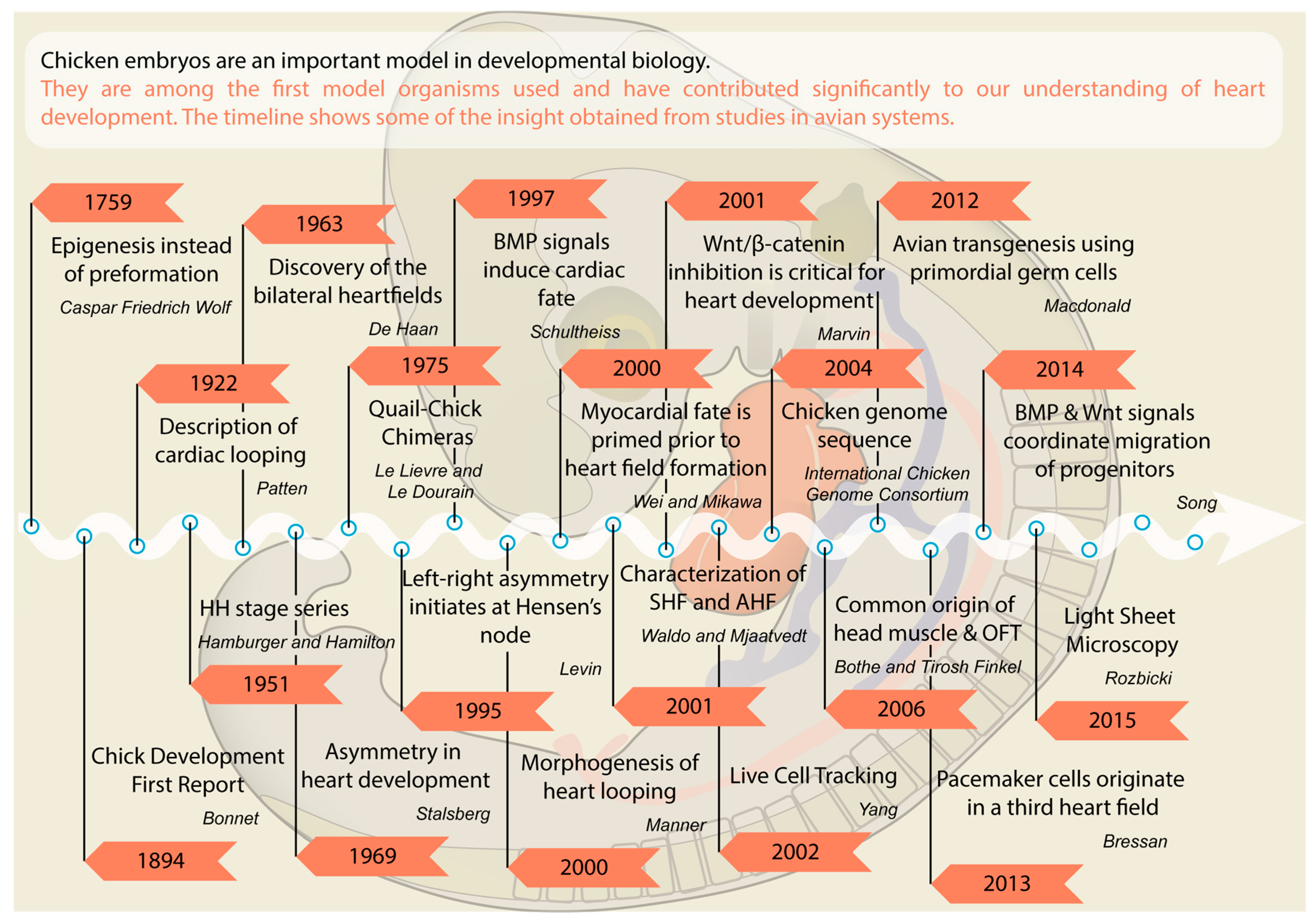 © 2016 by the authors; licensee MDPI, Basel, Switzerland. This article is an open access article distributed under the terms and conditions of the Creative Commons by Attribution (CC-BY) license (http://creativecommons.org/licenses/by/4.0/).