Open Access This article is
freely available
re-usable
Article
Feeling Respected as a Person: a Qualitative Analysis of Frail Older People's Experiences on an Acute Geriatric Ward Practicing a Comprehensive Geriatric Assessment
1
Department of Health and Rehabilitation, Institute of Neuroscience and Physiology, The Sahlgrenska Academy, University of Gothenburg, 40530 Gothenburg, Sweden
2
Centre of Aging and Health-AGECAP, University of Gothenburg, 40530 Gothenburg, Sweden
3
Department of Geriatrics, The Sahlgrenska University Hospital, 40530 Gothenburg, Sweden
4
Department of Occupational Therapy and Physiotherapy, The Sahlgrenska University Hospital, 40530 Gothenburg, Sweden
*
Author to whom correspondence should be addressed.
Received: 18 December 2018 / Accepted: 24 January 2019 / Published: 25 January 2019
Abstract
:
Comprehensive geriatric assessment (CGA) practices multidimensional, interdisciplinary, and diagnostic processes as a means to identify care needs, plan care, and improve outcomes of frail older people. Conventional content analysis was used to analyze frail older people's experiences of receiving CGA. Through a secondary analysis, interviews and transcripts were revisited in an attempt to discover the meaning behind the participants' implied, ambiguous, and verbalized thoughts that were not illuminated in the primary study. Feeling "respected as a person" is the phenomenon participants described on a CGA acute geriatric ward, achieved by having a reciprocal relationship with the ward staff, enabling their participation in decisions when engaged in communication and understanding. However, when a person was too ill to participate, then care was person-supportive care. CGA, when delivered by staff practicing person-centered care, can keep the frail older person in focus despite them being a patient. If a person-centered care approach does not work because the person is too ill, then person-supportive care is delivered. However, when staff and/or organizational practices do not implement a person-centered care approach, this can hinder patients feeling "respected as a person".
Keywords:
geriatric; frail older people; person-centered care; participation; communication; understanding
2. Methods
Conventional content analysis is largely used with a study design whose aim is to discover the phenomenon [
22
], as in the case of this study where research is sparse, limited, and undeveloped. In the present study, a secondary analysis of qualitative data previously used for a narrative analysis was used. The primary data analysis
explored how occupations and experiences of frail older people influenced their understanding of health and medical care services (forthcoming paper). The present study
revisits the interviews and transcripts of the frail older people to explore how they experienced receiving CGA on an acute geriatric ward. Conventional content analysis is a method designed to objectify the process of inferences, which are deeper than the literal surface level related to the data initially uncovered about the people, social processes, and the situations experienced [
23
].
2.1. Setting and Participants
Participants selected from an acute geriatric medical ward practicing CGA were part of a randomized control trial (RCT), registered at Clinical Trials (ID: NCT02773914), and approved by the Regional Ethical Review Board in Gothenburg (EPN Gothenburg Drn: 899-15). Ten participants aged 75 or older and screened as frail using the FRESH screen [
24
] were selected for this study. One month after discharge from the CGA ward, eight participants from the RCT were eligible for inclusion in the qualitative study if they scored a 25 or higher on the Mini Mental State (MMS) [
25
]. The remaining two participants who were not part of the RCT but received the CGA were declared cognitively intact by a physician on the ward and were contacted and asked if they were willing to be interviewed and recorded after one month after discharge from the CGA ward.
2.2. Data Collection
Ten individual, face-to-face interviews were conducted using open-ended questions which took place one month after discharge from the CGA ward. All participants signed informed consent forms and received both written and verbal information about the study prior to inclusion and being interviewed. All interviews were performed in the participant's home and were carried out from June 2016–May 2018 by the first author. The interviews were recorded digitally and lasted from 21 to 63 min. The research topics explored had the potential to be sensitive, and therefore the data collection was done individually in the comfort of the participant's home. Except for two of the participants who were interviewed at the same time as both had been admitted to the CGA ward and one of the participants who wanted their spouse to be present. The spouse contributed throughout the interview, complementing and enriching the participant's responses. Thus, in total ten participants aged 75–95 years were included: seven women and three men, as shown by the demographics in
Table 1
.
2.3. Data Analysis
Data was analyzed using conventional content analysis, following guidelines as described by Berg [
23
] and Hsieh [
22
]. In this analysis, the inquiry process focused on how the participants experienced being hospitalized, how they experienced they were treated, what services they received and how they experienced those services, and their goals and expectations while on the CGA ward. The analysis began with the observational processing of data, where the written data was read word by word, and exact words were then highlighted which seemed to capture key thoughts or concepts. Next, the researchers used these words to write notes about the thoughts and impressions gained from the data analysis. This process continued until labels for the codes began to emerge, which were reflective of groups of related thoughts. Code were then organized and sorted into categories to give the data meaning. The success of this analysis process relies heavily on the coding process which helps researchers to organize large amounts of text into fewer categories based on their content [
27
]. This inductive approach required researchers to shift their analytical directions, as the search for an emerging phenomenon was not based on people, objects, events, or situations by themselves [
23
], but rather was about the discovery of underlying meanings and content [
22
,
28
].
The first author—bilingual in English and Swedish—interviewed, recorded, transcribed, and translated verbatim all ten interviews from Swedish to English. Distinctive to using the conventional content analysis, researchers evaded using preconceived categories in their study and rather allowed the categories to be formed and named based on the emergence of data [
22
]. Frequent meetings were held by the researchers to analyze the findings; this further prompted that the emergent categories, subcategories, and codes could be defined and prepared as a written report where the findings were presented and then discussed related to previous research and the consequences related to the CGA phenomenon and process. Lastly, to strengthen trustworthiness when constructing and writing the report, data in the use of quotations from the frail older people were employed to strengthen the findings.
3. Results
3.1. Respected as a Person
Participants described how they were people with resources, previous knowledge, and carried with them their wants and wishes which made up their being as a person and feeling "respected as a person". Participants also described how they were ill patients in need of medical attention. The likelihood of feeling "respected as a person"—the core category identified in this study—explains how participants, despite being dependent on staff, experienced receiving attention while on a CGA ward. The staff's practices and behavior promoted participants feeling that they were welcomed, cared for, and respected. Participants wanted staff that were attentive, desired a confirmation of their existence, and to be ensured that they would receive help when it was needed. These experiences made them feel safe, calm, and valued, despite being ill on a medical ward. This was able to be achieved by having a reciprocal relationship with the ward staff which included engaging in communication and understanding while maintaining contact with each other on the ward. These experiences formed the category which was achieved by attentive staff that created an atmosphere and environment making up the category
participation in decision
-making. Feeling "respected as a person" is elucidated in
Figure 1
, visualizing the participants' experiences of receiving a comprehensive geriatric assessment on an acute geriatric ward.
3.2. Participation in Decision
Participation in decision
emerged as the category which had to transpire on the ward if the participant was to achieve feeling "respected as a person". This process alluded to by the participants, focused on how their medical concerns were addressed by the ward staff who invited them to participate in decision-making related to their wants, wishes, and needs. Participation in decision-making required that the participant engaged in communication with the staff and were able to achieve an understanding of their own situation. When engaged in communication, the participants experienced favorable attention or interest from staff while sharing and receiving information on the CGA ward. Understanding was also required if the participants were to comprehend what was happening to them on the CGA ward. Understanding could also be experienced as a reciprocal relationship, which was achieved between the participants and the staff. Participants' understanding of their situation, medical status, treatment, ward routines, discharge plans, and the way in which they processed their experienced circumstances could vary depending on how ill they were while on the ward. Furthermore, it also depended on how they experienced how they were approached by the staff working on the ward and if they were invited to participate in decision-making. Frail older people's perceptions of participation in decision-making was expressed from four dimensions: actively participates, delegates, not able to participate, and marginalized, as shown in
Figure 1
.
3.3. Actively Participates
When a participant was
actively participating
in decision-making, it necessitated that they were included, which required that they understood their situation, such as medical status, treatment, ward routines, and discharge plans. It also required that they were engaged in communication with the staff so that information could be exchanged and understood, which allowed them to reach a decision together with the CGA staff. One man described how he and his wife experienced actively participating in the decision-making process prior to being discharged home from the ward.
#8 "They asked and you could tell them what you were thinking or what you needed help with they said you can have help with this and that, and we said no we want to have help with this and that. It felt like they listened to us, and then we made a decision."
Another aspect of the actively participating experience was described by one woman who humbly described how she did not initially see or understand what the staff did. They took the time to share their knowledge, information, and concerns to improve her understanding prior to the decision-making process.
#3 "They understood that I needed additional treatment. I didn't understand that myself. A stubborn old lady who thinks I am going to manage myself … so I had a bit of education … I got treatment and they discovered what I needed."
3.4. Delegates
When a participant was engaged in communication but did not experience that they understood the situation enough for their
participation in decision
-making, their decision was to delegate. While the participant was engaged in communication with the staff, they chose to authorize the staff on the ward to act or represent them in a situation which required that a decision be made. Thus, the decision made by the participant was deliberate, as they were informed and understood what they were consenting to by deciding not to participate. This occurred when participants felt that the staff had better knowledge and understanding of the medical situation, so they delegated the decision-making to the staff.
When participants perceived that the staff understood, were empathetic, competent, and/or action driven, it could result in them offering suggestions and solutions to make the situation more safe or comfortable. One woman highlighted her call for help, as she communicated her concern to the staff, eluding to the importance of the staff listening skills and understanding her acute medical needs, where she delegated the responsibility to the staff.
#6 "I told them I was going to jump from the 8th floor and die and the doctor spoke with [husband] … and said we need to do something".
3.5. Not Able to Participate
When a participant was not engaged in communication and did not understand because they felt too ill, or because the staff determined that a patient was not able to participate due to being too ill, then the staff made decisions without consulting or informing the participant. This usually occurred in the early stages of the acute medical treatment, when participants were not alert or cognizant, and participants accepted this as a necessary part of their care. One woman described her experience of being very ill when she arrived to the CGA ward after a difficult experience in the emergency department, where she did not need to decide anything.
#4 "I was a bit confused during that time, but they told me at the hospital I was lying on ward X … they took tests every morning … and I received lots of antibiotics in an IV."
If a participant did not experience a joint consensus with the staff founded on communication and understanding, the likelihood of participating in decision-making and feeling "respected as a person" was diminished. Understanding while dependent on a person's resources and previous knowledge is also heavily weighed on the approach used by the other person. If a participant did not understand, and the staff did not make an effort to share their information and insight with the other person, then an ignorant, ill-informed position is likely to result. One man who acknowledged that despite not comprehending why he was admitted to the hospital, he did not ask the staff to explain his situation.
#10 "When one is in the hospital, there are some things as a person that you don't really understand."
Participants described how they could lack receiving verbal information and thus not being able to understand their situation. One woman expressed how important engagement in communication was for them and how they looked forward to experiencing that the staff would take a personal interest and give them the attention they so desired prior to discharge.
#6 "There was supposed to be a meeting, but it never happened. The doctor at the hospital said … that we would have a meeting … but it didn't happen … the doctor is poor at explaining possibilities. They don't say it directly, we can't heal that. Instead they go the side and start talking about something else … so it is just left lying there".
However, she reported receiving a written form of communication at discharge. This written information was not preferred if it was experienced as replacing a conversation. However, a written form of communication was welcomed by participants who wanted it as a complement clarifying the information verbally shared. #6 "A plan of care from the doctor … we got that when we were going home … what had happened, which medicine was prescribed … they were going to follow up with me at the clinic … which is good."
3.6. Marginalized
A participant was marginalized from participation in decision-making when not engaged in communication, informed, or given the privilege to know what was going on, despite their ability to understand. When participants became aware that they were excluded or marginalized from participation in decisions, as the staff on the ward had made decisions for the participant, it could be related to their medical concerns or the organizational routines on the ward. However, participants did not want to complain or bother staff with small things, as was the case of one participant who changed room three times in four days and described how it was to share a room with a patient with dementia who woke them during the night caressing their arm. However, feeling marginalized from the organizational routines prevented them from reporting it or complaining to the staff, despite the fact that their personal space was not respected by a fellow patient.
#9 "It was a bit strange … but we didn't question their decision [regarding room organization]; we figured they had enough to do."
Another marginalized episode can be illustrated when the participant experienced that the shared information they exchanged with the staff was not acknowledged or received, or when the staff gave them information but there was no opportunity to discuss. A unidirectional communication method resulted in the participants feeling that there was disengagement with the ward staff; due to a lack of information, which made them unaware of their medical status and conditions or what was expected of them. This in turn could affect future issues related to the participant's medications, treatments, symptoms, or discharge plans. One woman expressed how sudden and impersonal the decision that was made on her behalf without her knowledge was experienced when the staff told her she had to change hospitals:
#4 "They just came in and told me I was moving … it happened very fast."
Lastly, experiences of being marginalized occurred when an engaging conversation was neglected and resulted in the staff's lack of understanding related to patients' care, treatment, and medication while on the ward. One participant described how she felt that she had information that the staff did not understand or acknowledge, which caused her to be misdiagnosed and mistreated.
#2 "They filled me with very strong medicine ... even morphine for the pain … I wasn't admitted for pain. They should have understood that something was wrong, instead of giving me loads of painkillers. I was admitted for vertigo."
4. Discussion
Methodological Considerations and Limitations
Employing a secondary analysis was deemed feasible as the researchers' intent was to perform a more in-depth analysis of the findings discovered in the initial study with a subset of data from that study [
45
]. In the case of this study, a secondary analysis of data from the initial study was used to understand the experiences of receiving a CGA, as this appeared important but was not sufficiently concentrated on in the first analysis. Trustworthiness of qualitative studies founded on secondary data analysis may be viewed as less credible because of the relationship between the researchers and the data set [
45
]. However, in the case of this study, the interviews, transcriptions, and analysis of data in the initial study were performed by the first author. According to Hinds et al. [
45
], with this closeness to data comes benefits related to the context of the study. On the contrary, the closeness may also lead researchers to prematurely establish an understanding of the phenomenon that was present in the data set but was not the focus of the initial study [
45
]. Aware of these concerns, the researchers closely followed the conventional content analysis method guidelines and the phenomenon which emerged was not based on preconceptions or findings of the initial study but rather surfaced as the latent meanings and content verbalized during the interviews. Additional limitations to this study are that the sample was small, taken from a native Swedish population, which was primarily women with mild to good cognitive capacity. Future studies would benefit from using a larger sample of internationally diverse participants with less cognitive capacity and a better female-to-male ratio, so that the concept development of feeling "respected as a person" could be further explored with greater diversity when being compared with this study's findings.
5. Conclusions
Receiving a comprehensive geriatric assessment when including person-centered care made the frail older patient feel "respected as a person" despite being a patient. However, if a person-centered care approach does not work because the person is too ill to participate, then care must be delivered as person-supportive care. Conversely, when a person-centered care approach is not practiced, the consequences are that patients despite a CGA model may be hindered from feeling "respected as a person". Therefore, a CGA could benefit from the use of a patient satisfaction survey after discharge to better understand the health care gaps experienced from a patient's perspective.
Author Contributions
T.W. is a PhD student, researcher, collected the data, transcribed the data, and drafted the manuscript. T.W., I.O.H., K.W., and S.D.I. are responsible for the study design, and reviewed and edited the manuscript. All authors have read and approved the submitted version of the manuscript.
Funding
This research was supported financially by FORTE (diary number 2015-00043), Region Västra Götaland (ALFGRG-530971 and VGFOUREG-565511) and The Kind Gustav and Queen Victoria Freemasons Foundation. The funders took no part in the design or execution of the study.
Acknowledgments
Special thanks to the care coordinators at Sahlgrenska University Hospital for their participation in patient inclusion.
Ethical approval
All subjects gave their informed consent for inclusion before they participated in the study. The study was conducted in accordance with the Declaration of Helsinki, and ethical approval is confirmed (EPN Gbg dn4 899-15).
Conflicts of Interest
The authors declare that they have no competing interests.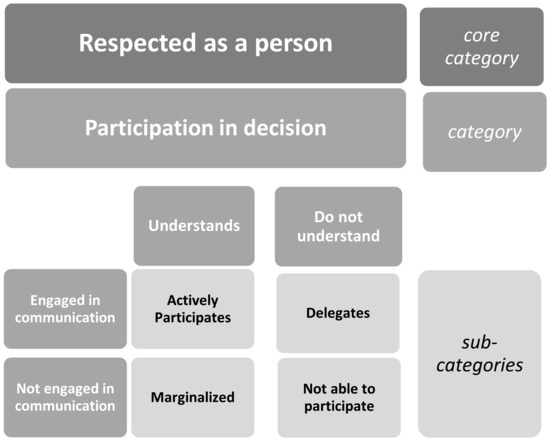 Figure 1. Experiences of receiving a comprehensive geriatric assessment visualized as a hierarchical process where participants felt; "respected as a person" (core category), when participation in decision (category) occurred while engaged in communication and able to understand, leading to four subcategories: actively participates, delegates, not able to participate, and marginalized.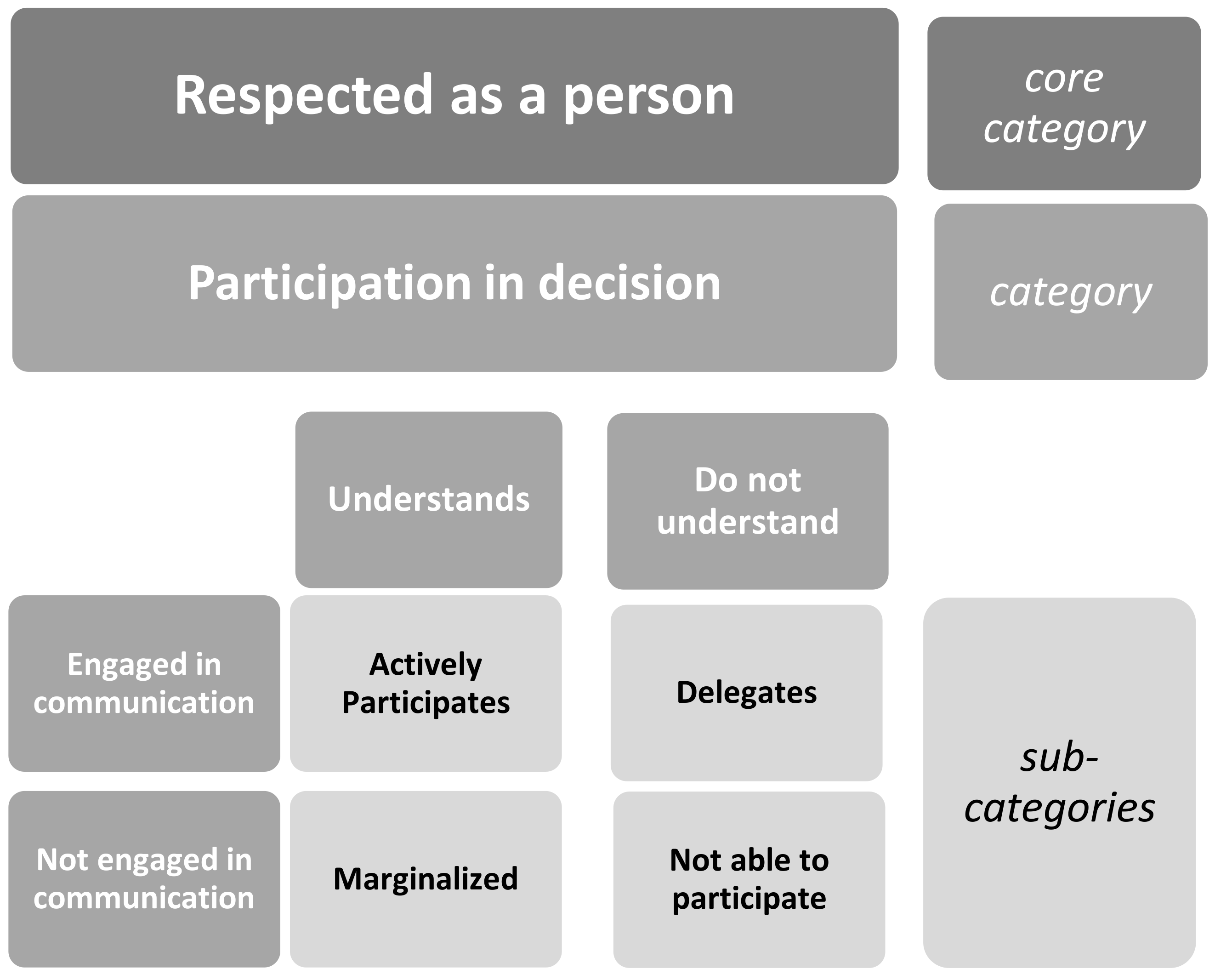 | Participant | Age | Gender | Self Rated Health * | Living Status |
| --- | --- | --- | --- | --- |
| #1 | 88 | Male | Good | Married, lives with spouse |
| #2 | 85 | Female | Good | Widow, lives alone |
| #3 | 92 | Female | Fair | Widow, lives alone |
| #4 | 91 | Female | Good | Widow, lives alone |
| #5 | 95 | Female | Good | Widow, lives alone |
| #6** | 86 | Female | Fair | Married, lives with spouse |
| #7 | 77 | Female | Very good | Divorced, lives alone |
| #8 *** | 86 | Male | Good | Married, lives with spouse |
| #9 *** | 82 | Female | Good | Married, lives with spouse |
| #10 | 91 | Male | Poor | Widower, lives alone |
* Self rated health: a single question taken from the Short-Form Health Survey (S-36) [26], asking: "How would you rate your health: excellent, very good, good, fair or poor" at one month follow-up. ** Spouse participated. ***Interviewed jointly with spouse (both were CGA recipients).

© 2019 by the authors. Licensee MDPI, Basel, Switzerland. This article is an open access article distributed under the terms and conditions of the Creative Commons Attribution (CC BY) license (http://creativecommons.org/licenses/by/4.0/).