Reaching Out to Rural Caregivers and Veterans with Dementia Utilizing Clinical Video-Telehealth
1
Vanderbilt University School of Medicine, 7159 Vanderbilt Medical Center East, Nashville, TN 37232, USA
2
The Geriatric Research Education and Clinical Center, Nashville TN 37212, USA
3
The Tennessee Valley Healthcare System (JB) Nashville TN 37212, USA
*
Author to whom correspondence should be addressed.
Received: 12 April 2018 / Revised: 4 June 2018 / Accepted: 7 June 2018 / Published: 9 June 2018
Context: A clinical video telehealth (CVT) program was implemented to improve access and quality of dementia care to patients and their caregivers in rural areas. The program was offered as part of an established dementia clinic/geriatric primary care clinic in collaboration with five community-based outpatient clinics (CBOC's) affiliated with the Tennessee Valley Healthcare System (TVHS) in middle Tennessee. Telehealth support was provided by a physician–social worker team visit. Methods: Telehealth training and equipment were provided to clinic personnel, functioning part-time with other collateral clinical duties. Patients and caregivers were referred by primary care providers and had an average of one to two CVT encounters originating at their local CBOC lasting 20 to 30 min. Clinical characteristics and outcomes of patients and caregivers receiving CVT support were collected by retrospective electronic medical record (EMR) review. Results: Over a 3-year period 45 CVT encounters were performed on patient–caregiver dyads, followed for a mean of 15 (1–36) months. Some 80% patients had dementia confirmed and 89% of these had serious medical comorbidities, took an average of eight medications, and resided at a distance of 103 (76–148) miles from the medical center. Dementia patients included 33% with late stage dementia, 25% received additional care from a mental health provider, 23% took antipsychotic medications, 19% transitioned to a higher level of care, and 19% expired an average of 10.2 months following consultation. Significant caregiver distress was present in 47% of family members. Consult recommendations included 64% community-based long-term care services and supports (LTSS), 36% medications, and 22% further diagnostic testing. Acceptance of the CVT encounter was 98%, with 8770 travel miles saved. Conclusions: CVT is well received and may be helpful in providing dementia care and supporting dementia caregivers to obtain LTSS for high-need older adults in rural areas.
View Full-Text
►

▼

Show Figures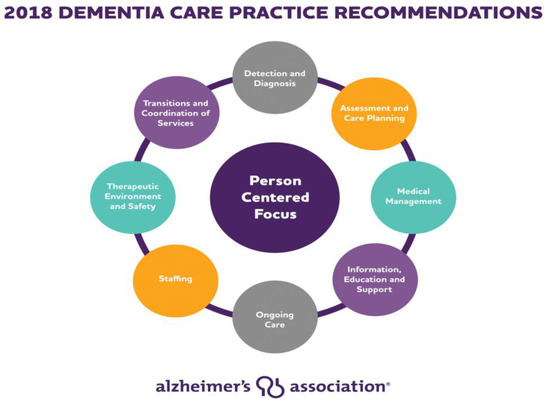 Figure 1
This is an open access article distributed under the
Creative Commons Attribution License
which permits unrestricted use, distribution, and reproduction in any medium, provided the original work is properly cited

Note that from the first issue of 2016, MDPI journals use article numbers instead of page numbers. See further details
here
.