Amino Acid Composition of an Organic Brown Rice Protein Concentrate and Isolate Compared to Soy and Whey Concentrates and Isolates
Nutrition/Endocrinology Department, Miami Research Associates, 6141 Sunset Drive, Suite 301, Miami, FL 33143, USA
Received: 18 March 2014 / Revised: 9 June 2014 / Accepted: 19 June 2014 / Published: 30 June 2014
Abstract
A protein concentrate (Oryzatein-80™) and a protein isolate (Oryzatein-90™) from organic whole-grain brown rice were analyzed for their amino acid composition. Two samples from different batches of Oryzatein-90™ and one sample of Oryzatein-80™ were provided by Axiom Foods (Los Angeles, CA, USA). Preparation and analysis was carried out by Covance Laboratories (Madison, WI, USA). After hydrolysis in 6-N hydrochloric acid for 24 h at approximately 110 °C and further chemical stabilization, samples were analyzed by HPLC after pre-injection derivitization. Total amino acid content of both the isolate and the concentrate was approximately 78% by weight with 36% essential amino acids and 18% branched-chain amino acids. These results are similar to the profiles of raw and cooked brown rice except in the case of glutamic acid which was 3% lower in the isolate and concentrate. The amino acid content and profile of the Oryzatein-90™ isolate was similar to published values for soy protein isolate but the total, essential, and branched-chain amino acid content of whey protein isolate was 20%, 39% and 33% greater, respectively, than that of Oryzatein-90™. These results provide a valuable addition to the nutrient database of protein isolates and concentrates from cereal grains.
View Full-Text
►

▼

Figures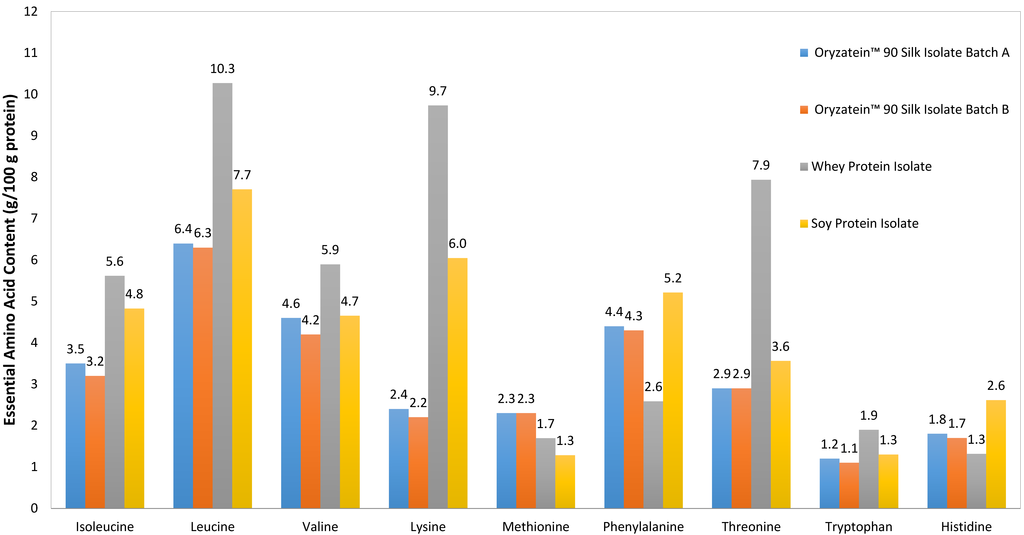 Figure 1

Share & Cite This Article
MDPI and ACS Style
Kalman, D.S. Amino Acid Composition of an Organic Brown Rice Protein Concentrate and Isolate Compared to Soy and Whey Concentrates and Isolates. Foods 2014, 3, 394-402.
Related Articles
Comments
[Return to top]