Selfish Memes: An Update of Richard Dawkins' Bibliometric Analysis of Key Papers in Sociobiology
BI Norwegian Business School, 0442 Oslo, Norway
Academic Editor: Jason Wilde
Received: 17 February 2017 / Accepted: 10 May 2017 / Published: 12 May 2017
Abstract
In the second edition of
The Selfish Gene
, Richard Dawkins included a short bibliometric analysis of key papers instrumental to the sociobiological revolution, the intention of which was to support his proposal that ideas spread within a population in an epidemiological manner. In his analysis, Dawkins primarily discussed the influence of an article by British evolutionary biologist William Donald Hamilton which had introduced the concept of "inclusive fitness", and he argued that citations to it were accumulating in a very different manner to two other seminal papers, demonstrating the appearance and spread of a new "meme" in circles. This paper re-examines Dawkins' original analysis and the conclusions drawn from it, and updates those conclusions based on citation data accumulated in the intervening three decades since . This updated analysis shows that patterns of citation for the three papers, and Dawkins' book itself, are actually remarkably similar and show no qualitative difference in citation growth. The data are well described by a two-phase exponential model of citation growth in which citations accumulate rapidly and then saturate at a slower level of growth dictated primarily by the general increase in production. It is speculated that this two-phase exponential growth, with some modification to account for papers that are not immediately discovered, may be a signature that will help to reveal the emergence of genuinely novel ideas within the literature.
View Full-Text
►

▼

Figures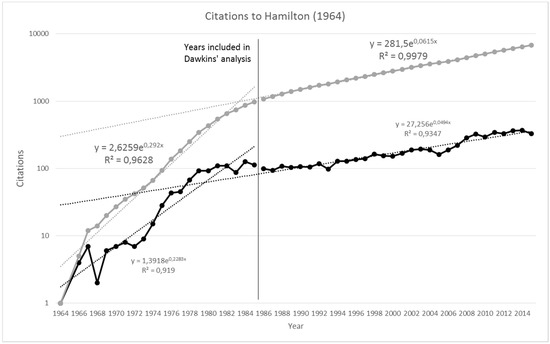 Figure 1
This is an open access article distributed under the
Creative Commons Attribution License
which permits unrestricted use, distribution, and reproduction in any medium, provided the original work is properly cited (CC BY 4.0).

Share & Cite This Article
MDPI and ACS Style
Aaen-Stockdale, C. Selfish Memes: An Update of Richard Dawkins' Bibliometric Analysis of Key Papers in Sociobiology. Publications 2017, 5, 12.
Note that from the first issue of 2016, MDPI journals use article numbers instead of page numbers. See further details here.
Related Articles
Comments
[Return to top]