Open Access This article is
freely available
re-usable
Article
Landscapes of Research: Perceptions of Open Access (OA) Publishing in the Arts and Humanities
1
Edith Cowan University, 270 Joondalup Drive, Joondalup WA 6027, Australia
2
Edith Cowan University, 2 Bradford Street, Room 17.206, Mount Lawley WA 6050, Australia
*
Author to whom correspondence should be addressed.
†
These authors contributed equally to this work.
Academic Editor: Isabel Bernal Martínez
Received: 14 November 2014 / Accepted: 10 April 2015 / Published: 17 April 2015
Abstract
:
It is widely known now that scholarly communication is in crisis, resting on an academic publishing model that is unsustainable. One response to this crisis has been the emergence of Open Access (OA) publishing, bringing scholarly literature out from behind a paywall and making it freely available to anyone online. Many research and academic libraries are facilitating the change to OA by establishing institutional repositories, supporting OA policies, and hosting OA journals. In addition, research funding bodies, such as the Australian Research Council (ARC), are mandating that all published grant research outputs be made available in OA, unless legal and contractual obligations prevent this. Despite these broader changes, not all scholars are aware of the new publishing environment. In particular, the rate of adoption of OA models in the Humanities and Social Sciences (HSS) has historically been lower than Science, Technology and Medicine (STM) disciplines. Nevertheless, some local and international OA exemplars exist in HSS. At Edith Cowan University in Perth, Western Australia, the faculty-administered environmental humanities journal,
Landscapes
, was migrated to the institutional open access repository in 2013. Subsequently, researchers in the Faculty of Education and Arts were surveyed regarding their knowledge, understandings, and perceptions of OA publishing. The survey was also designed to elicit the barriers to OA publishing perceived or experienced by HSS researchers. This article will present the findings of our small faculty-based OA survey, with particular attention to HSS academics (and within this subject group, particular attention to the arts and humanities), their perceptions of OA, and the impediments they encounter. We argue that OA publishing will continue to transform scholarship within the arts and humanities, especially through the role of institutional repositories. The "library-as-publisher" role offers the potential to transform academic and university-specific publishing activities. However, the ongoing training of university researchers and personnel is required to bring into balance their understandings of OA publisher and the demands of the broader Australian and international research environment.
Keywords:
open access academic publishing; humanities; social sciences; institutional repositories; Australia
1. Introduction
As a result of a variety of factors, including developments in communication technologies and impecunious library budgets, academic publishing has undergone rapid transformation, particularly during the last thirty years [
1
,
2
,
3
,
4
]. The OA movement has gained momentum during this time, as scholars, libraries, institutions, and funding bodies have continued to respond to the ethical inequities and technical limitations of subscription-based academic publishing paradigms. Between 1986 and 2004, print journal prices exceeded the inflation rate by nearly 300%, impacting upon library budgets and instigating a research "communication crisis," most strongly foregrounded in the disciplines of Science, Technology, and Medicine (STM, henceforth referred to as "the sciences") [
5
,
6
]. As the number of peer-reviewed journals held by libraries diminishes due to subscription costs, academics today are confronted by some of the same access-related issues outlined in the Budapest Open Access Initiative of 2002 [
7
]. For example, the "pay-to-read system" excludes those independent scholars, members of the public, and community and non-governmental organizations without the funds to pay for viewing, thus impoverishing and stifling scholarly activities throughout the research cycle [
6
].
The publishing crisis historically centered on STM disciplines, due to the high cost of producing and distributing peer-reviewed journals in the sciences. Although subsequent debates have similarly focused on the sciences, Humanities and Social Sciences (HSS, henceforth referred to as "the humanities" and including the creative arts) disciplines are not immune to current and future changes in scholarly publishing, which will most likely reach all disciplines as open access gains greater acceptance through the practice of self-archiving and further establishment of online journals. In humanities fields, there appears to be less awareness of open access as well as less support for the idea than in the sciences. As Martin Paul Eve comments, "the humanities still trail behind the sciences in open publishing" [
6
] (p. 1). Moreover, beyond disciplinary divergences, there exists an "open access divide" between academics who advocate the free sharing of research outputs and pedagogical materials, and those who resist it for a variety of reasons [
8
]. While the perspectives of open access advocates have been well-known since the inception of the movement [
7
], attitudes and understandings of OA publishing as held by scholars from different disciplinary, cultural, and experiential backgrounds are not as apparent. Indeed, Jingfeng Xia argues that "few studies have made an effort to focus upon OA concepts and practices as understood by scholars, which demonstrates a critical research need that requires further attention" [
8
] (p. 119). Such studies would attempt to understand "how individual scholars perceive and participate in OA initiatives, which are influenced by their disciplinary norms, thematic research concentrations, roles in the OA undertaking, and cultural traditions and regional backgrounds" [
8
] (p. 113).
This article takes up Xia's call for further research into how OA is understood and regarded by scholars. It will explore disciplinary and attitudinal differences in open access acceptance by examining "concepts and practices" among humanities scholars and arts practitioners in a faculty at an Australian institution, Edith Cowan University (ECU) in Perth, Western Australia. The successes, challenges, and future prospects of the ECU initiative will be contextualized within the world of open access scholarly communication. The rapidly changing domain of OA in the humanities, the new forms of publishing that are available, including books, and the crucial role libraries are playing in the transformation of academic publishing will figure into this discussion. Trends in OA publishing in the humanities will be explored in relation to a case study of the ECU initiative, which is in its early stages, as well as new mandates by funding bodies such as the ARC (Australian Research Council) and NHMRC (National Health and Medical Research Council) that stipulate research outputs be made openly accessible. In light of such mandates, how will humanities scholars respond to and negotiate open access as a philosophy and practice of academic publishing?
Following the migration of
Landscapes
to the ECU repository, academic staff and higher degree research students in the faculty were surveyed in order to gauge their knowledge, understandings, and perceptions of OA publishing, particularly the barriers they imagined, foresaw, or experienced. The small survey of humanities researchers at ECU was conducted with the expectation that greater understanding of their knowledge, practices, and behaviors related to open access, would help to guide the future of academic publishing within the faculty. This article argues that digital technologies have the capacity to bring new audiences to humanities scholarship and new publishing outlets for the researchers themselves, but that cultural, disciplinary, economic, and institutional contexts present impediments to the fuller acceptance of OA and the realization of its potential to transform academic publishing.
2. The Scholarly Communication Crisis and Trends in Open Access
3. Impediments to Open Access Uptake in the Humanities
4.
Landscapes

: An International Environmental Journal

At Edith Cowan University, the Faculty of Education and Arts (FEA) environmental humanities journal,

Landscapes

, is an example of a mixed media online journal that began life as a gold OA journal hosted on a website external to the university. In collaboration with the journal's editors, in 2013 the ECU library initiated the migration of the journal to the institutional repository Research Online (RO) using Digital Commons, an open access institutional repository software developed by Berkeley Electronic Press. This section will briefly discuss the migration of

Landscapes

as a case study of OA journal publishing in the humanities, the role of academic libraries in supporting open access, and the benefits of OA to interdisciplinary humanities scholars working across various media, including textual, visual, and audiovisual modalities.

Reflecting Gabriel Egan's cost-free or cost-low OA humanities publishing models discussed previously,

Landscapes

has been a relatively stable and sustainable initiative now hosted by ECU's repository, edited by faculty members in the humanities, and refereed by experts in the highly interdisciplinary fields of environmental humanities, ecocriticism, and arts-based ecological research. The

Landscapes

example demonstrates how cooperation between academics, editors, library staff, and administrators can enhance the potential of OA publishing to bring wider audiences to otherwise sequestered, specialist research. Situating the journal within the faculty infrastructure and involving the expertise of the library have ensured the longer-term viability of the publication, as well as the archiving of older content. Moreover, the journal's editors and staff are more accustomed to the ethos and practices of OA since the transition and can now act and speak knowledgeably on behalf of OA publishing within the faculty. Hence, the migration of

Landscapes

has resulted in the added benefit of better trained and more fully equipped OA advocates within the institution.

Landscapes

is the refereed journal of the International Centre for Landscape and Language (ICLL) based at ECU. It is one of the first interdisciplinary environmental serials and arguably one of the longest-lived e-journals based in Australia, publishing one or two issues per year since its inception. However, as it is a small faculty-based journal,

Landscapes

does not have an impact factor nor has it been listed in the Directory of Open Access Journals (DOAJ); the editors hope to introduce these improvements in the coming years, with the ECU Library's assistance, especially as the journal grows. First appearing in 2002, nevertheless, the journal has always been a vital digital complement to the work of the ICLL research group. The purpose of ICLL, founded four years earlier (in 1998), is to "promote research, teaching, scholarship and creative activity in all aspects of the interrelationship between landscape and language. The latter describes all communicative forms, verbal and non-verbal" [

32

].

In launching the journal in 2002, ICLL sought to provide a low- or no-cost, open access scholarly platform. The centre wished to disseminate research in the niche academic fields of ecocriticism, environmental humanities and landscape writing to international audiences, outside of the geographically isolated state of Western Australia. Although the journal publishes the work of ICLL members (most of whom have ECU affiliation) following peer-review procedures, the editors estimate that 75% of published material between 2013 and 2014 came from non-ICLL scholars, including those from Australia and New Zealand, Europe, North America, Asia and the Middle East. Although outside the scope of our discussion, a topic for further research could be the "politics" of an institutional repository, like Research Online, that hosts material from scholars outside the institution. The

Landscapes

example could be said to contradict the typical role of institutional repositories in highlighting and disseminating the work of members of the institution. On the contrary, the

Landscapes

migration to a faculty infrastructure has further exposed the journal to non-ECU readers and contributors.

Moreover, because the center includes writers as well as photographers, painters, sculptors, sound artists, and filmmakers, a multimedia publication format was required—one which could easily accommodate text, images, and video but without incurring too many additional costs. The journal's Founding Editor Glen Phillips summarizes the multiple benefits of an online format as (1) affordability (for the journal and its readers), (2) accessibility (of content to a global audience), and (3) visibility (beyond the physical boundaries of Perth, Western Australia, one of the most geographically remote cities on earth). As part of its scope,

Landscapes

invites traditional academic and non-traditional creative works, including short stories, extracts from novels, poetry, images, video, and sound files, on the theme of "landscapes" [

33

]. The combination of research articles and creative works has been the journal's mark of distinction since its founding. A comparable journal is

Philosophy

,

Activism

,

Nature

(PAN), established in 2000 and previously available both on a subscription basis through Informit and as open access content through the Monash University repository [

34

]. As of 2015, the journal is transitioning to a non-university, open access platform. PAN also focuses on environmental humanities scholarship that crosses between literature, philosophy, and cultural studies, although its physical office and most of its editorial board members are based in eastern Australia.

In early 2013,

Landscapes

was migrated from an external website to ECU's institutional repository where it is now hosted (

Figure 1

). The advantages of the transition, from the perspective of the editors, included increased visibility (beyond its original external website), a more efficient journal management system (improved workflow) provided through Digital Commons, and improved reader confidence in clear association with the institutional repository. Prior to the migration,

Landscapes

existed separately from the university on a private website bearing annual costs for domain registration and website hosting services. Some of these fees were covered by the limited research funds of the editors themselves or by small and highly variable funding allotments obtainable annually through the faculty. The process of peer review, managed primarily through the email accounts of the editors, was inefficient and time-consuming. Uploading publication-ready versions of articles and creative content proved incommodious each time an issue needed to go live. With support from the faculty, the main editors were able to employ issue editors to assist with the labor of soliciting submissions, setting up quality peer review, ensuring that revisions were made, formatting text and referencing according to the journal's standard, uploading content to the website, and advertising the issue to contributors, other scholars, and simpatico research centers. However, as the editors lacked the expertise to manage sound and video contributions effectively, the multimedia aims of the journal were often sidelined in favor of easily produced and managed PDFs of research articles and creative writing.

Furthermore, after the editing process and the uploading of the journal content, the crucial phase of publicizing the new issue was often severely limited to email announcements to ICLL members and contributors, word-of-mouth to interested parties, and faith in the mysterious and hopefully fortuitous powers of online searches. The migration to ECU's institutional repository has greatly streamlined the behind-the-scenes operations of

Landscapes

. More specifically, the Digital Commons platform allows editors to generate a list of subject area experts from which to nominate article referees; to manage communications between reviewers, editors, and contributors; to provide updates on the status of submitted articles for the benefit of contributors; and to engage in user-friendly revision, editing, proofreading, and final publication processes. Furthermore, the Digital Commons platform's search engine optimization (SEO) optimizes discoverability of

Landscapes

content. In enhancing the visibility of journal content, the interoperability of the Research Online repository renders published research material more accessible to the public via other repositories, archives, and databases. Lastly, the built-in metrics tools allow editors and others to track the popularity of content through numbers of downloads and hits. The "Most Popular Papers" feature of the Digital Commons platform ranks content according to average number of full-text downloads per day since the publication of the item.

ECU's institutional repository, Research Online, was established in 2007 by the ECU Library. Research Online has since developed into a repository with a range of research outputs produced by ECU academic staff, researchers, and postgraduate students. As of September 2013 there were more than 11,600 metadata records in the repository and more than 3300 freely downloadable full text documents. The repository has received more than 1.25 million downloads. Research Online carries research theses, photographic galleries, conference papers, and ECU research publications. Full text documents, including open access journal articles, are integrated into the Digital Commons Network, which provides access to documents from all institutions using the Digital Commons platform.

Before the migration of the journal, statistics on downloads and hits were not readily available. Now, based on Digital Commons data, the number of full-text downloads is known to vary from 400 to 800 per month. As the former journal platform did not have usage statistics, of course it is not certain that the new platform usage is higher after migration. However, we do offer 2013–2014 statistics to indicate the overall trends the editors have noted within those years. In September 2014, the journal received 486 full-text downloads, while in June 2014 the figure was 773. Comparatively speaking, there were 5257 total downloads (November 2013), 3418 downloads (July 2013), and 2864 downloads (June 2013) since migration, indicating an upward trend. Despite the spectrum of content published by

Landscapes

, the most downloaded items are refereed articles (6380 downloads between February 2013 and November 2014), followed by poetry (2409 downloads) and non-refereed articles (1514 downloads). Since its migration in 2012, the journal has registered 12,651 total downloads of 219 total documents across 11 issues published. In February 2013 there were 310 downloads, increasing 16 fold to 4971 by November 2013 and 41 fold to 12,651 as of November 2014 (see

Figure 2

). Metadata page hits increased 20 fold from 131 to 2587 during the same period (see

Figure 3

). These statistics suggest a consistent increase in impact since migration to the institutional repository. The greater visibility of the content to the public, signified by steadily rising number of downloads and hits, is an outcome of the transition from an independent hosting service to the Digital Commons platform used by ECU's Research Online. As of 2015, the

Landscapes

journal plans to continue using traditional peer-review methods, rather than testing new ones, although the platform does offer the potential for experimentation with new forms of academic review yet to be explored by the editors. Its current business model stands as a free (for contributors and readers), open-access, scholarly journal supported by the Faculty of Education and Arts and the interdisciplinary CREATEC Research Center.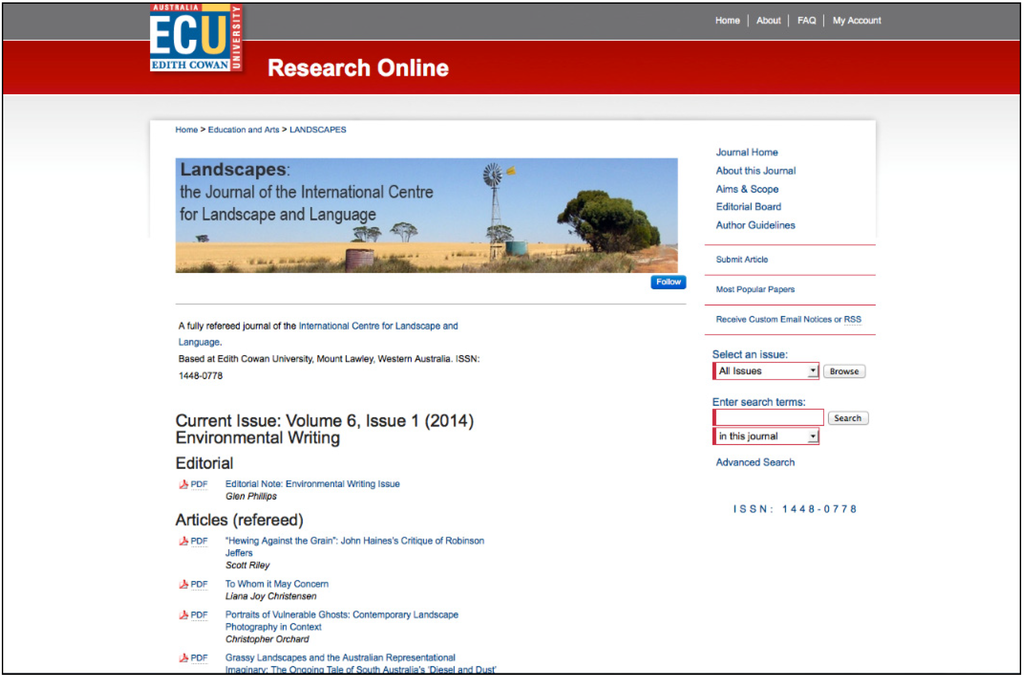 Figure 1.
Snapshot of
Landscapes
within Edith Cowan University's institutional repository (Research Online) using Digital Commons as the host.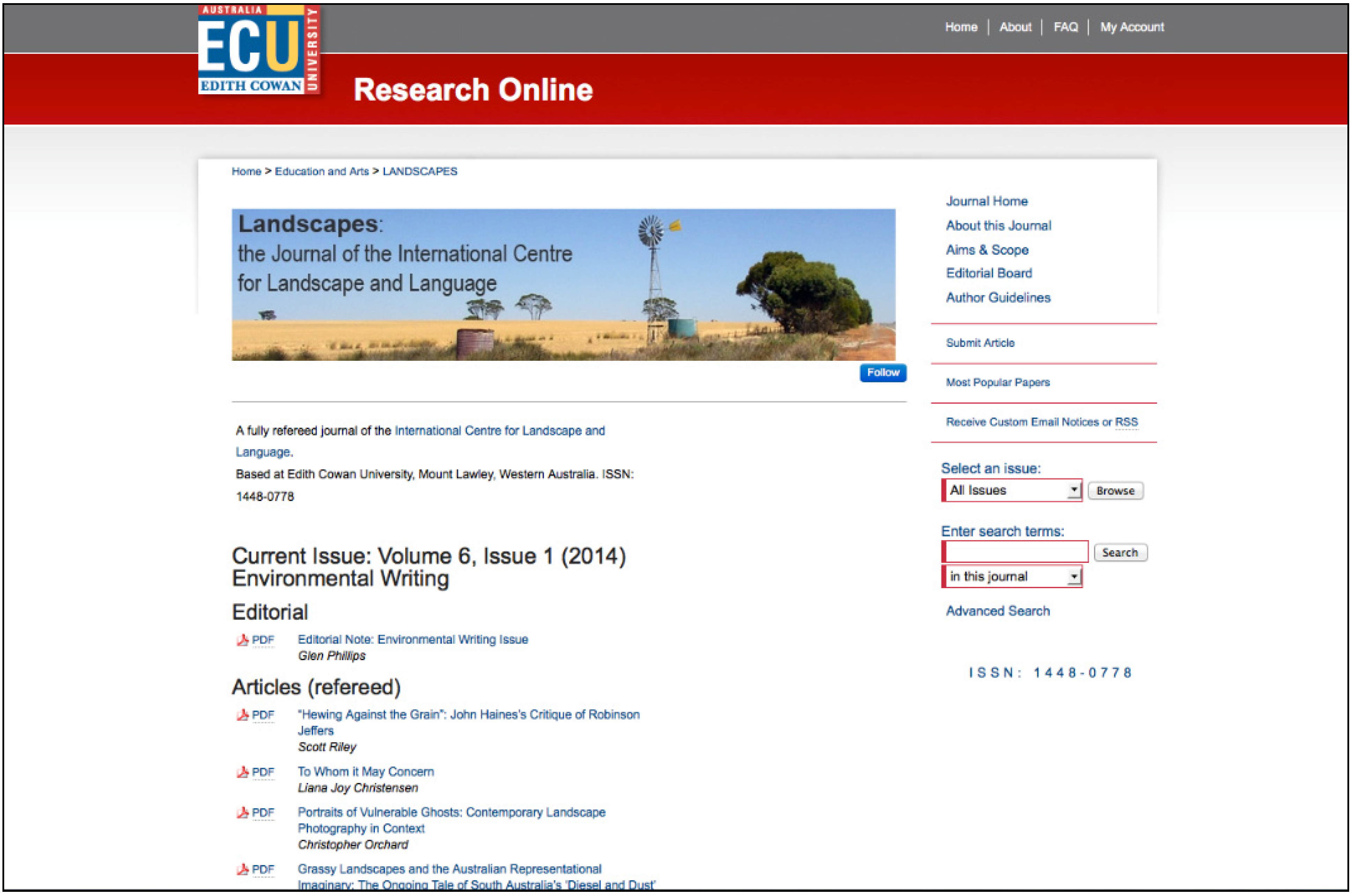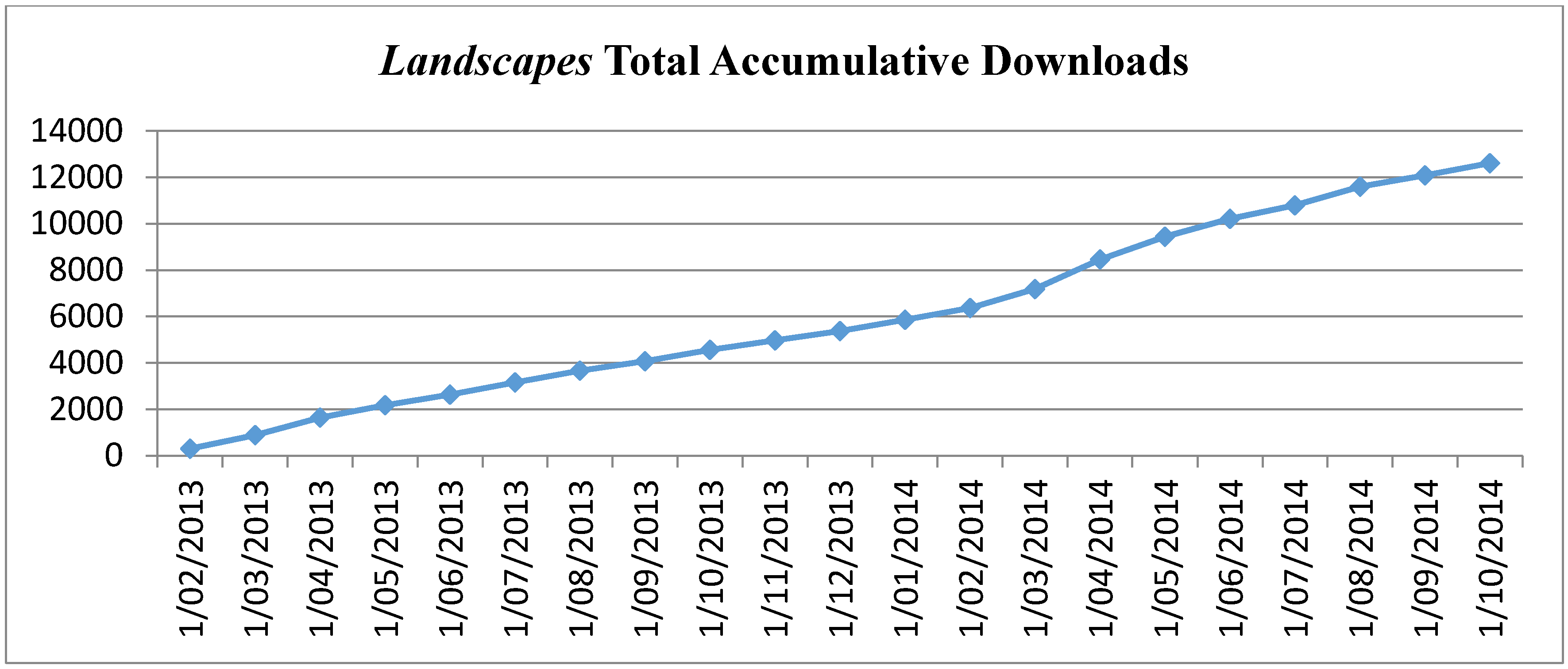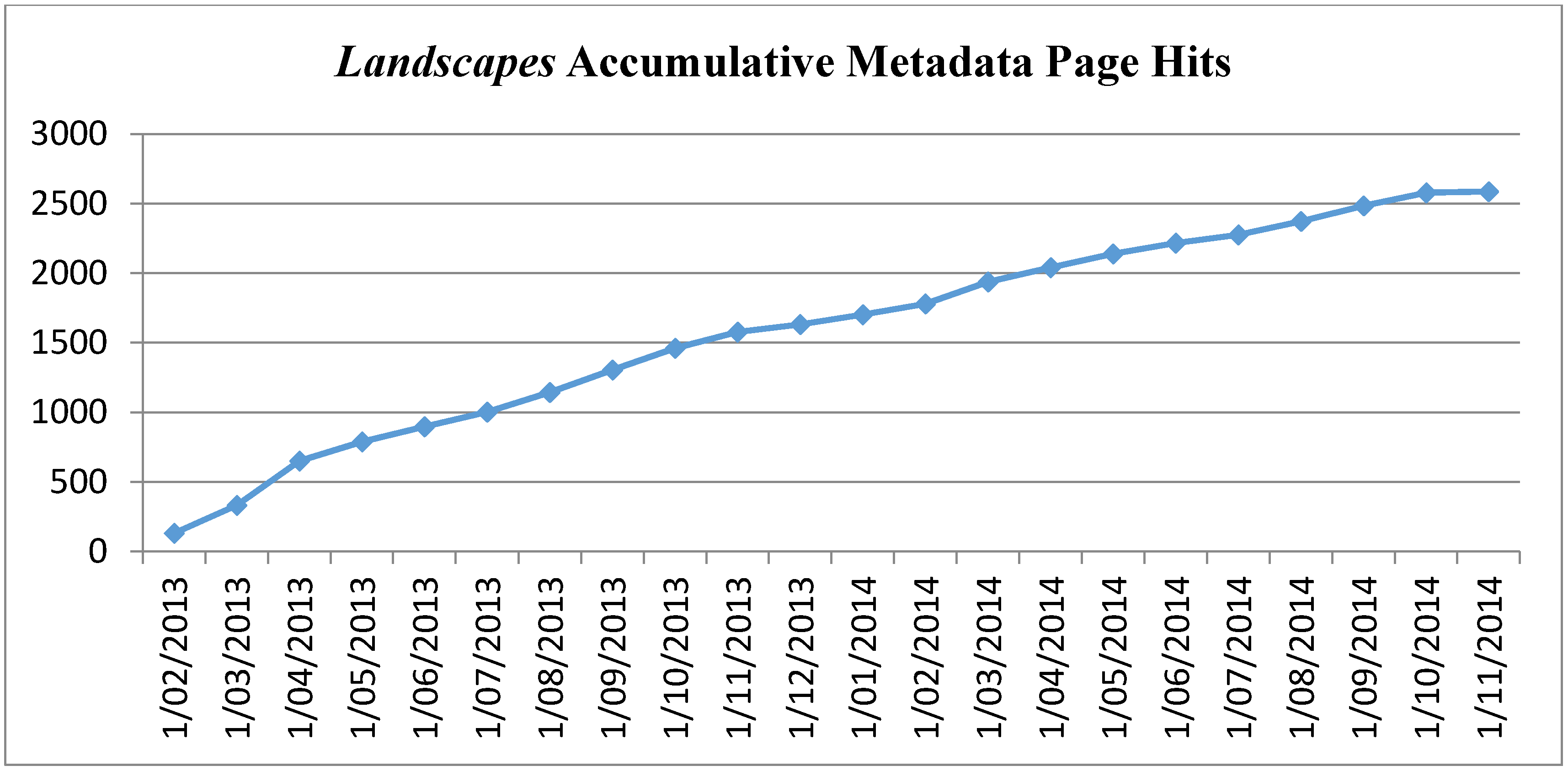 The
Landscapes
case study underscores the vital role of libraries in promoting open access in the humanities. A report on a roundtable commissioned by SAGE and the British Library suggests that academic libraries are well-placed to support open access publishing, particularly through institutional repositories [
35
].
Landscapes
affirms SAGE's assertion. An institutional repository is not only a digital collection that captures and records the research outcomes of university members and communities, providing a central location for research published in a range of outlets [
36
] (p. 2). It can also be a publishing and archiving platform for university-based journals such as
Landscapes
. The SAGE report recommends the evolution of academic libraries and librarian skills to accommodate the needs of users and researchers in the open access era. As OA grows, the key roles of libraries, including managing institutional collections, advising on data collection methods, and reporting on usage of resources, will also need to evolve. In addition to managing infrastructure and budgeting to ensure OA, libraries will need to continue to invest in open access training in order to manage resistance and misconceptions among researchers and to foster open access innovation in their departments and disciplines. As research becomes more freely available and not constrained by institutional subscriptions, there will be a stronger rationale for libraries to collaborate in developing OA best practices in particular disciplines, especially in humanities fields where uptake has been slower [
35
] (p. 15).
5. Survey of Open Access Perception among Faculty Researchers
The final question of the ECU faculty survey allowed respondents to write freely about their perceptions of OA publishing. Many wrote in support of open access in principle and noted the failure of the traditional academic publishing paradigm. One respondent commented that "I think the existing model of scholarly publishing is failing, and that new models including open access need to be explored." Another argued that "producing a high-quality open access publication would work toward dispelling the myth that open access is inferior." Yet another respondent wrote that "it would be of great benefit to see open access publishing more widely adopted, freely available, and located within a distributive system network." One researcher strongly advocated the ethical implications of OA: "If universities are to continue to be publicly funded then I see no reason to charge for access to research." Some of the practice-led respondents reported a lack of clarity around the role of creative work in OA publishing: "I'm unsure about the impact on creative work. Journals do advertise for creative research, not just academic papers. In that case, all sorts of issues come into play regarding exhibition opportunities and copyright." Still other respondents implied their abiding faith in traditional research models, although such views could be argued to constitute a minority in the faculty: "My perception of the quality of open access journals does not seem to match the perception of the wider academic field. Having Routledge or Taylor & Francis as a journal publisher still packs a greater punch."
6. Conclusions: Perceptions of Open Access in the Humanities
This small survey of ECU faculty researchers on the whole indicated limited knowledge about open access practices and outlets, but great support for the philosophy, tenets, and ethos of the OA movement. As many of the respondents were postgraduate researchers, the process of conducting the survey instilled better awareness of OA. However, more education around OA is required in order to foster engagement with OA publication in the fields represented within the faculty, particularly the creative arts, humanities, and social sciences. Seminars and workshops are not the only forms that OA education and training should take. ECU's participation in global events, such as Open Access Week each October, can help to raise awareness. The university conducted successful OA Week events in 2013 and 2014 OA and invited high profile visiting scholars on campus. Planning is underway for further OA Week activities in 2015. The mentoring of postgraduate and early career researchers by staff with practical experience in OA is another vital dimension of enhancing an OA research culture within the faculty. Moreover, a faculty-based journal such as
Landscapes
provides an in-house tool for engaging researchers at all levels in open access, building awareness and skills through participation in the journal as editors or contributors. Academic and research libraries are well poised to contribute to OA awareness among researchers through repositories, such as Research Online, and faculty-hosted publications. Further research on perceptions of OA should include focus groups and interviews in order to understand in greater detail the particular needs of humanities, social sciences, creative arts, and practice-led researchers. A university-wide survey would, moreover, enable a comparison of understandings between faculties, particularly in light of ECU's support of OA publishing since the ARC and NHMRC mandates.
Key changes will continue to impact OA in the humanities. Firstly, one important future area of OA research relates to scholarly monographs. Considering the importance of the book to humanities scholarship, it is likely that changes in monograph publishing will affect HSS fields. While it is beyond the scope of this article to address the perceptions of OA monograph publication, it is worth noting that open access development in HSS will most likely next be driven by this modality. A report by the British Library asserts that "open access for monographs is not only possible but necessary" [
40
] (p. 7). The Knowledge Unlatched Pilot project aims to redress the unsustainability of HSS monograph publishing and the fact that e-book publishing still largely involves the use of paywalls and subscriptions [
41
]. Secondly, it is conceivable that within ten years, all major research funding bodies will mandate OA publishing for grant-funded work. In Australia, the Australian Research Council mandate will be of ongoing relevance because it is the chief funding body for humanities researchers and includes books as research outputs. Thirdly, as institutional repositories and collections evolve with national and international transformations in publishing, postgraduate and early career researchers will need to understand the benefits and limitations of OA publishing. As Cameron Neylon [
42
] (p. 3) suggests, the next ten years of the open access landscape will be very interesting.
Acknowledgments
The authors thank the CREATEC research group at Edith Cowan University in Perth, Western Australia for support. Gordon McIntyre, Research Services Librarian at ECU, graciously provided download statistics on
Landscapes
since its migration. The authors also acknowledge Professor Glen Phillips, founding editor of
Landscapes
, who provided information about the history of the journal.
Author Contributions
The research and writing of this manuscript was shared equally between the authors.
Conflicts of Interest
The authors declare no conflicts of interest.
References
Oppenheim, C. Electronic scholarly publishing and open access.

J. Inf. Sci.

2008,

34

, 577–590. [Google Scholar] [CrossRef]
Parks, R. The faustian grip of academic publishing.

J. Econ. Methodol.

2002,

9

, 317–335. [Google Scholar] [CrossRef]
Suber, P. A very Brief Introduction to Open Access. Available online: http://legacy.earlham.edu/~peters/fos/brief.htm (accessed on 30 October 2014).
Weller, M.

The Digital Scholar: How Technology Is Transforming Scholarly Practice

; Bloomsbury Publishing: London, UK, 2011. [Google Scholar]
Eve, M.P. Tear it down, built it up: The research output team, or the library-as-publisher.

Insights UKSG J.

2012,

25

, 158–162. [Google Scholar] [CrossRef]
Eve, M.P. All that glisters: Investigating collective funding mechanisms for gold open access in humanities disciplines.

J. Librariansh. Sch. Commun.

2014,

2

, 1–13. [Google Scholar] [CrossRef]
Budapest Open Access Initiative. Ten Years on from the Budapest Open Access Initiative: Setting the Default to Open. Available online: http://www.budapestopenaccessinitiative.org/read (accessed on 30 October 2014).
Xia, J. The open access divide.

Publications

2013,

1

, 113–139. [Google Scholar] [CrossRef]
Suber, P.

Open Access

; MIT Press: Cambridge, UK, 2012. [Google Scholar]
Bosch, S.; Henderson, K.

Steps down the Evolutionary Road: Periodicals Price Survey 2014

; Library Journal: New York, NY, USA, 2014. [Google Scholar]
SPARC. Scholarly Publishing and Academic Resources Coalition. Available online: http://www.sparc.arl.org/about (accessed on 31 October 2014).
OASPA. Open Access Scholarly Publishers Association. Available online: http://oaspa.org/about/mission-and-purpose/ (accessed on 31 October 2014).
Open Humanities Press. About. Available online: http://openhumanitiespress.org/principles-and-goals.html (accessed on 17 February 2015).
AOASG. Australian Open Access Support Group. Available online: http://aoasg.org.au/ (accessed on 31 October 2014).
Antelman, K. Do open-access articles have a greater research impact?

Coll. Res. Libr.

2004,

65

, 372–382. [Google Scholar] [CrossRef]
Hope, C.; Ryan, J.

Digital Arts: Introduction to New Media

; Bloomsbury Publishing: London, UK, 2014. [Google Scholar]
Harnad, S. Oa Impact Advantage = ea + (aa) + (qb) + qa + (ca) + ua. Available online: http://eprints.soton.ac.uk/262085/1/OAA.html (accessed on 30 October 2014).
NHMRC. Nhmrc Open Access Policy. Available online: https://www.nhmrc.gov.au/grants/policy/nhmrc-open-access-policy (accessed on 31 October 2014).
Commonwealth of Australia. Arc Open Access Policy (Version 2013.1). Available online: http://www.arc.gov.au/applicants/open_access.htm (accessed on 31 October 2014).
Edith Cowan University. Open Access to Research. Available online: http://www.ecu.edu.au/GPPS/policies_db/policies_view.php?rec_id=0000000393 (accessed on 31 October 2014).
Finch, J.

Accessibility, Sustainability, Excellence: How to Expand Access to Research Publications

; The Finch Group: Boca Raton, FL, USA, 2012; pp. 1–140. [Google Scholar]
Lessig, L.

Free Culture: The Nature and Future of Creativity

; Penguin: New York, NY, USA, 2004. [Google Scholar]
Suber, P. Promoting open access in the humanities.

Syllecta Class.

2005,

16

, 231–246. [Google Scholar] [CrossRef]
AAAS.

Historical Trends in Federal r&d

. Available online: http://www.aaas.org/page/historical-trends-federal-rd (accessed on 3 November 2014).
Halevi, G.; Bar-Ilan, J. Trends in arts and humanities funding 2004–2012. In

Research Trends

; Elsevier: Amsterdam, The Netherlands, 2013. [Google Scholar]
Waltham, M.

The Future of Scholarly Journals Publishing among the Social Science and Humanities Associations

; Andrew, W., Ed.; Mellon Foundation: Princeton, NJ, USA, 2009; pp. 1–55. [Google Scholar]
Unsworth, J. The crisis of audience. In Proceedings of the Annual Meeting of the American Library Association, Orlando, FL, USA, 26 June 2004.
Ferwerda, E. Open access in humanities and social sciences. In 8th Munin Conference n Scholarly Publishing, Tromso, Norway, 25–26 November 2013.
Runge, L. Aphra behn online: The case for early modern open-access publishing.

J. Early Mod. Cult. Stud.

2013,

13

, 104–121. [Google Scholar]
Egan, G.

Green Open Access Can Work for the Humanities

; Times Higher Education: London, UK, 2013. [Google Scholar]
OLH. Open Library of Humanities. Available online: https://www.openlibhums.org/ (accessed on 3 November 2014).
SAGE Publications. Sage Open. Available online: http://intl-sgo.sagepub.com/ (accessed on 4 November 2014).
Edith Cowan University. Research Online: About This Journal. Available online: http://ro.ecu.edu.au/landscapes/about.html (accessed on 4 November 2014).
PAN Partners. Pan: About. Available online: http://www.panjournal.net/info/about (accessed on 4 November 2014).
Harris, S.

Moving Towards an Open Access Future: The Role of Academic Libraries

; SAGE Publications: Thousand Oaks, CA, USA, 2012. [Google Scholar]
Crow, R.

The Case for Institutional Repositories: A Sparc Position Paper

; The Scholarly Publishing & Academic Resources Coalition: Washington, DC, USA, 2002. [Google Scholar]
Frass, W.; Cross, J.; Gardner, V.

Taylor & Francis Open Access Survey June 2014

; Taylor & Francis: Milton Park, 2014. [Google Scholar]
Hunt, K.

Gauging Open Access Awareness at UWA

; University of Western Australia: Crawley, Australia, 2011. [Google Scholar]
Spezi, V.; Fry, J.; Creaser, C.; Probets, S.; White, S. Researchers' green open access practice: A Cross-disciplinary analysis.

J. Doc.

2013,

69

, 334–359. [Google Scholar] [CrossRef]
The British Library.

Open Access Monographs in the Humanities and Social Sciences Conference

; The British Library: London, UK, 2013. [Google Scholar]
Knowledge Unlatched. Pilot Collection. Available online: http://collections.knowledgeunlatched.org/ (accessed on 4 November 2014).
Neylon, C. Science publishing: Open access must enable open use.

Nature

2012,

492

, 348–349. [Google Scholar] [CrossRef] [PubMed]
© 2015 by the authors; licensee MDPI, Basel, Switzerland. This article is an open access article distributed under the terms and conditions of the Creative Commons Attribution license (http://creativecommons.org/licenses/by/4.0/).