Evaluation of Two Shaping Systems and Two Ultrasonic Irrigation Devices in Removing Root Canal Filling Material from Mesial Roots of Mandibular Molars: A Micro CT Study
1
Department of Endodontics, Faculty of Dentistry, Saint Joseph University, Beirut Po 11 5070, Lebanon
2
Department of Pediatric Dentistry, Faculty of Dentistry, Saint Joseph University, Beirut Po 11 5070, Lebanon
3
Department of Oral and Maxilla-Facial Radiology, Faculty of Dentistry, Saint Joseph University, Beirut Po 11 5070, Lebanon
4
Institut de Recherche en Informatique de Toulouse, IRIT, CNRS UMR 5505, 118 Route de Narbonne, 31062 Toulouse CEDEX 9, France
5
Faculté de Chirurgie Dentaire CHU de Toulouse, Institut Clement Ader (labo), 118 Route de Narbonne, 31062 Toulouse CEDEX 9, France
*
Author to whom correspondence should be addressed.
Received: 21 November 2018 / Revised: 11 December 2018 / Accepted: 14 December 2018 / Published: 2 January 2019
Abstract
We assessed the efficiency of two shaping file systems and two passive ultrasonic irrigation (PUI) devices for removing filling material during retreatment. The mesial canals from 44 extracted mandibular molars were prepared and obturated. The teeth were randomly divided into two groups, and then one group was retreated with Reciproc R25 (VDW, Munich, Germany) (n = 44) and the other group was retreated with 2Shape (TS, Micro Mega, Besançon, France) (n = 44). A micro-computed tomography (CT) scan was taken before and after the retreatment to assess the volume of the filling material remnants. The teeth were then randomly divided into four groups to test two different PUI devices: Irrisafe (Satelec Acteon Group, Merignac, France) and Endo Ultra (Vista Dental Products, Racine, WI, USA). The teeth in Group A were retreated with 2Shape to test the Endo Ultra (n = 22) device, the teeth in Group B were retreated with 2Shape in order to test the Irrisafe (n = 22) device, the teeth in Group C were retreated with Reciproc to test the Endo Ultra (n = 22) device, and Group D was retreated with Reciproc to test the Irrisafe (n = 22) device. A third micro-CT scan was taken after the retreatment to test the PUIs. The percentage of Gutta-Percha (GP) and sealer removed was 94.75% for TS2 (
p
< 0.001) and 89.3% for R25 (
p
< 0.001). The PUI significantly enhanced the removal of the filling material by 0.76% for Group A (
p
< 0.001), 1.47% for Group B (
p
< 0.001), 2.61% for Group C (
p
< 0.001), and by 1.66% for Group D (
p
< 0.001). 2Shape was more effective at removing the GP and sealer during retreatment (
p
= 0.018). The supplementary approach with PUI significantly improved filling material removal, with no statistical difference between the four groups (
p
= 0.106).
View Full-Text
►

▼

Figures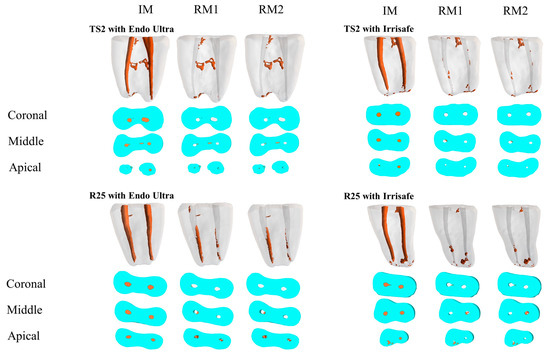 Figure 1
This is an open access article distributed under the
Creative Commons Attribution License
which permits unrestricted use, distribution, and reproduction in any medium, provided the original work is properly cited (CC BY 4.0).

Share & Cite This Article
MDPI and ACS Style
Kaloustian, M.K.; Nehme, W.; El Hachem, C.; Zogheib, C.; Ghosn, N.; Michetti, J.; Naaman, A.; Diemer, F. Evaluation of Two Shaping Systems and Two Ultrasonic Irrigation Devices in Removing Root Canal Filling Material from Mesial Roots of Mandibular Molars: A Micro CT Study. Dent. J. 2019, 7, 2.
Note that from the first issue of 2016, MDPI journals use article numbers instead of page numbers. See further details here.
Related Articles
Comments
[Return to top]