Open Access This article is
freely available
re-usable
Review
Human Gingival Crevicular Fluids (GCF) Proteomics: An Overview
1
Prosthodontics and Implantology, College of Dentistry, King Faisal University, Al-Ahsa 31982, Saudi Arabia
2
Department of Orthodontics, Fatima Jinnah Dental College, Karachi 78650, Pakistan
3
Preventive Dental Sciences, College of Dentistry, Dar-Al-Uloom University, Riyadh 13314, Saudi Arabia
4
Department of Dentistry, Riyadh Consultative Clinics, Riyadh 11313, Saudi Arabia
5
Department of Restorative Dentistry, College of Dentistry, Al-Taibah University, Medina Munawwarah 41311, Saudi Arabia
6
Department of Dental Materials, Islamic International Dental College, Riphah International University, Islamabad 44000, Pakistan
*
Author to whom correspondence should be addressed.
Academic Editor: Jukka Meurman
Received: 21 January 2017 / Accepted: 18 February 2017 / Published: 22 February 2017
Abstract
:
Like other fluids of the human body, a gingival crevicular fluid (GCF) contains proteins, a diverse population of cells, desquamated epithelial cells, and bacteria from adjacent plaque. Proteomic tools have revolutionized the characterization of proteins and peptides and the detection of early disease changes in the human body. Gingival crevicular fluids (GCFs) are a very specific oral cavity fluid that represents periodontal health. Due to their non-invasive sampling, they have attracted proteome research and are used as diagnostic fluids for periodontal diseases and drug analysis. The aim of this review is to explore the proteomic science of gingival crevicular fluids (GCFs), their physiology, and their role in disease detection.
Keywords:
proteomics; proteins; biomarkers; gingival crevicular fluids (GCFs); dentistry
2. GCF as a Diagnostic Tool for Analysis of Oral Diseases
3. GCF Proteomic Analysis
After collection, GCF samples will go through different steps of proteomics analysis, as illustrated in
Figure 4
. A variety of proteolytic enzymes has been identified in GCF, such as collagenase, elastase, and cathepsin B, D, H, and L [
29
]. These proteolytic enzymes are reported as the destructor of periodontal tissues and have the capability of degrading type-I collagen and glycoproteins [
30
].
The most commonly reported identified proteins from GCF are actin, keratins, histones, annexins, proteins S100-A9, apolipoprotein A-1, albumin, salivary gland antimicrobial peptides (histatins, HNP-1, -2 & -3, LL-37, statherin), and cystatin B [
31
,
32
]. Some immune-related proteins present in GCF include Ig gamma-1 chain C region, Ig gamma-3 chain C region, lactoferroxin-C, leukocyte elastase inhibitor, alpha 1 antitrypsin, heat shock protein beta-1, and coronin-1A [
33
].
Table 2
presents a detailed profiling of GCF proteins, proteomic tools used, and some of the proteins identified.
4. Conclusions
Gingival crevicular fluid is a serum exudate that originates from the periodontal sulcus or pocket and is regarded as a promising biological fluid for the detection of periodontal disease. Its composition resembles normal serum, but its volume fluctuates in certain conditions such as those of gingivitis, caries, external root resorption, and chronic periodontitis, as well as during orthodontic tooth movement. GCF is composed of variable substances that include immunoglobulin, enzymes, local mediators, toxin cells, protein peptides, tissue breakdown products, and microorganisms. The level of this substance when fluctuating in the above-mentioned conditions, as reported in many papers, will mark as a future diagnostic tool in their non-invasive analysis. Due to limitations in its collection, which includes volume size and contamination, collecting methods need further work, and a way to improve the ease for clinicians must be found; such development would help us to better demonstrate the pathogenesis of such diseases and to determine better strategies for treatment and early prevention.
Acknowledgments
We are thankful to Pakistan Human Saliva Research Group (PakSRG) for guiding us in the compilation of this whole manuscript.
Author Contributions
All authors work equally.
Conflicts of Interest
The authors declare no conflict of interest.



Figure 3. Illustration representing the different approaches of collecting gingival crevicular fluids (GCFs) from the oral cavity. (a) Intrasulcular approach; (b,c) Extrasulcular approach.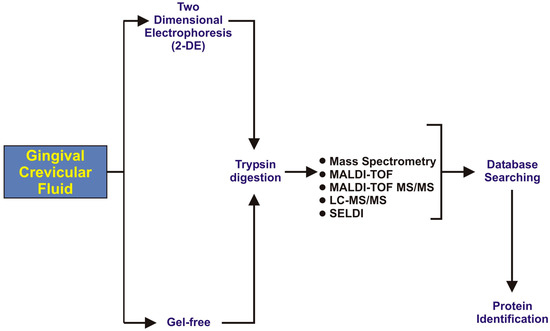 Figure 4.
A flow diagram representing the proteomic analysis of healthy and diseased conditions via gingival crevicular fluid (GCF), adapted from Khurshid et al. [
16
].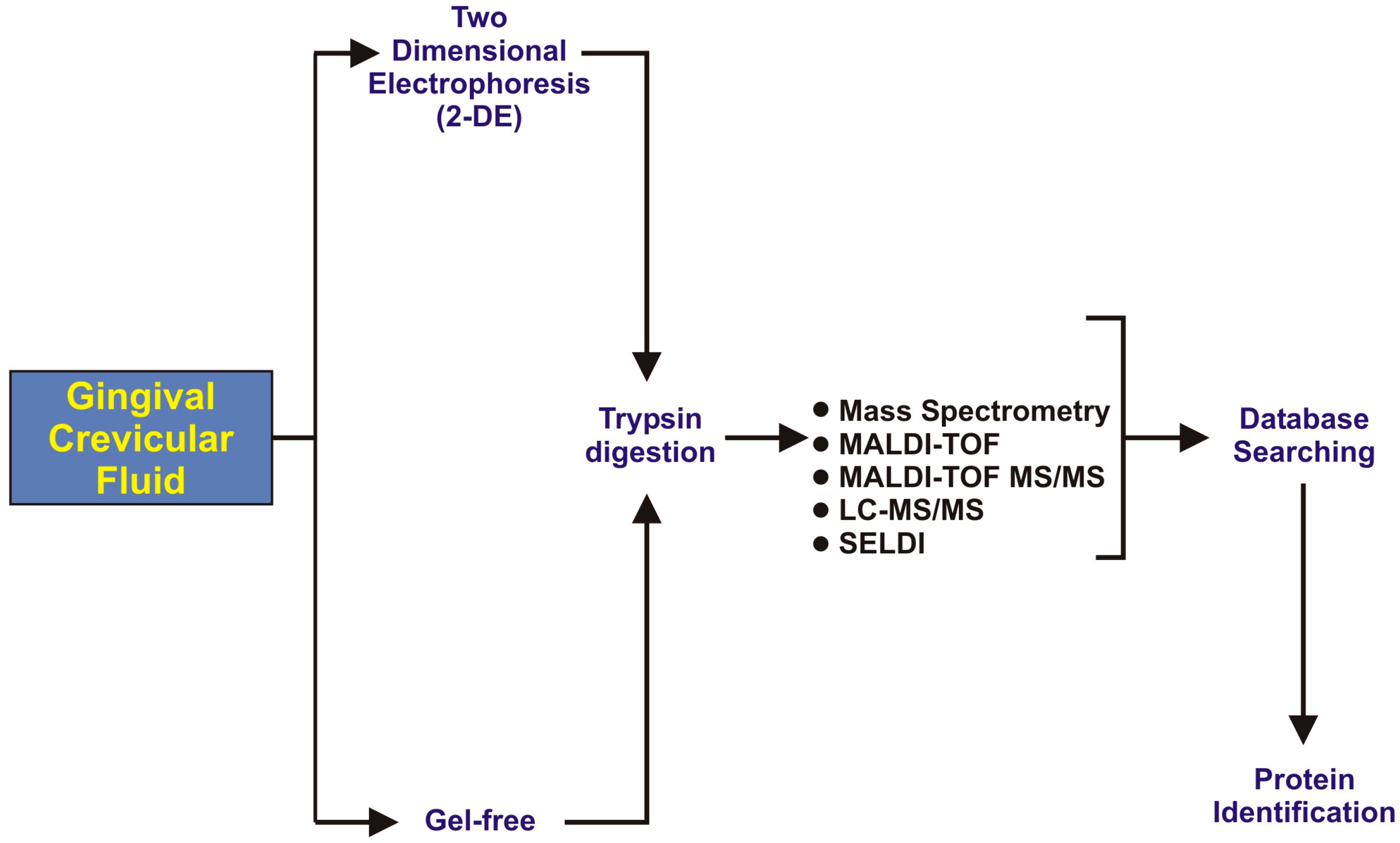 Table 1. Description of factors affecting the amount of GCF in the human oral cavity.
Factors
Description
Mechanical
Chewing coarse foods, vigorous brushing and gingival massage are known to increase GCF production
Circadian periodicity
The amount of GCF increases gradually from 6 a.m. to 10 p.m. and it decreases after that
Periodontal surgeries
GCF production increases after periodontal surgeries, during the healing period
Smoking
Smoking increases GCF flow.
This increase in GCF due to smoking is immediate and transient
Table 2. Description of reported studies on GCF biomarkers analysis.

| Author & Year | Sample Collection Sites | Collection Method | Proteomic Tool | Number of Identified Proteins | Outcome of Study | Ref. |
| --- | --- | --- | --- | --- | --- | --- |
| Baliban et al., 2012 | Collected from pre-selected sites with probing depth >6 mm and <8 mm in periodontitis patients and for periodontal health from mesio-buccal sites of first molar | Filter strips (Periopapers®, Interstate Drug Exchange, Amityville, NY, USA) | Protein digest with trypsin, HPLC, fragmented analysis with tandem mass spectrometry (MS/MS) | 432 human proteins identified (120 new) | Studied identified novel biomarkers from GCF of periodontal healthy and chronic periodontitis patients | [31] |
| S.Tsuchida et al., 2012 | Labial side of maxillary incisors without crown and restoration | Absorbent paper points (ZIPPERER®, Munich, Germany) | 2DE, SDS-PAGE, Western Blot analysis, HPLC with LTQ-XL, HPLC with LTQ-Orbitrap XL, LC-MS/MS | 327 proteins identified | SOD1 and DCD were significantly ↑ in GCF of periodontal patients | [14] |
| Carneiro et al., 2012 | Healthy gingival sulcus of the second and third molar teeth | Periopapers®, USA | Trypsin digested followed by nano-flow liquid chromatography electrospray ionization tandem mass spectrometry (LC-ESI-MS/MS) analysis and enzyme-linked immunosorbent essay (ELISA) for human albumin analysis | 199 proteins identified | Provide protein analysis of healthy periodontium and explore GCF composition with new groups of proteins specific to GCF microenvironment | [18] |
| Ngo et al., 2013 | Five deepest sites and molar sites except mesial surface were excluded | Microcaps (glass micocapillary tubes); Drummed Scientific, Brookmall, PA, USA | Matrix-assisted laser desposition/ionization time-of-flight (MALDI-TOF) mass spectrometry | - | GCF mass spectra could be best for analyzing attachment loss and diagnosis of periodontal diseases | [32] |
| Carina M., et al. 2013 | Chronic Periodontitis patients sample were taken from different sites (5 deep sites, 5 shallow sites with gingivitis, and 4 without bleeding on probing sites) | Periopaper strip (ProFlow Inc. Amityville, NY, USA) | Reversed-phase LC-ESi-MS/MS and ELISA | 230 proteins identified | Concluded marked differences in GCF proteomics in different disease profiles | [33] |
| Carneiro et al., 2014 | The pre-selected specific sites with moderate and severe chronic periodontal disease were defined by pocket depth of 5–7 mm (24 patients) and >7 mm (16 patients) | Periopaper strips (Oraflow, Plainview, NY, USA) | SDS-PAGE, Isotope-Coded-Affinity-Tag (ICAT) labeling, mTRAQ labeling, Nano-LC-ESI-MS/MS, Human Albumin ELISA Kit, and S100-A9 protein quantification by ELISA | 199 proteins Identified | Innovative approach concluded the novel changes in host and microbial derived GCF proteome of periodontal patients | [19] |
| Rody, Jr. et al., 2014 | Collected from a deciduous second molar with radiographic evidence of root resorption on 1 quadrant (experimental site) and from the permanent first molar on the contralateral quadrant (control site) in the same jaw. | Periopaper strips (Oraflow, Plainview, NY, USA) | One dimensional LC-MS and Two dimensional LC-MS | 2789 proteins in control group and 2421 proteins in root resorption group | Mass spectrometry is a useful tool for analyzing external root resorption | [23] |
| Kinney et al., 2014 | Collection from the mesio-buccal aspect of each site (tooth) for up-to 28 teeth per patient. | Methylcellulose strip (Pro Flow, Inc., Amityville, NY, USA) | ELISA and Quantibody Human Cytokine Array | - | This method offers improved patient monitoring and disease control | [21] |
| Huynh et al., 2015 | Collection were chosen based on how well they represented the healthy, gingivitis, and chronic periodontitis inclusion criteria | Glass-microcapillary tube (Drummond Scientific, Brookmall, PA, USA) | One-dimensional Gel Electrophoresis and Nano-LC-ESI-MS | 121 proteins identified | Concluded various biomarkers which differentiate between healthy periodontium, gingivitis, and chronic periodontitis | [22] |
© 2017 by the authors. Licensee MDPI, Basel, Switzerland. This article is an open access article distributed under the terms and conditions of the Creative Commons Attribution (CC BY) license ( http://creativecommons.org/licenses/by/4.0/).