Temperature-Dependent Enhancement Effects for TBD (1,5,7-Triazabicyclo[4.4.0]dec-5-ene) with 2-Methylimidazole-Intercalated α-Zirconium Phosphate as a Latent Thermal Initiator in the Reaction of Glycidyl Phenyl Ether
Department of Applied Chemistry, Osaka Institute of Technology, 5-16-1 Omiya, Ashahi-ku, Osaka 535-8585, Japan
*
Author to whom correspondence should be addressed.
Received: 28 May 2019 / Revised: 26 June 2019 / Accepted: 27 June 2019 / Published: 30 June 2019
Abstract
The catalytic effects of 1,1,3,3-Tetramethylguanidine (TMG), 1,5,7-Triazabicyclo[4.4.0]dec-5-ene (TBD), 7-Methyl-1,5,7-triazabicyclo[4.4.0]dec-5-ene (MTBD), 1,8-diazabicyclo[5.4.0]undec-7-ene (DBU), and 1,5-diazabicyclo[4.3.0]non-5-ene (DBN) in the reaction with glycidyl phenyl ether (GPE) at 40 °C were investigated. For the reaction, the %conversion of GPE was only 11%, carried out at 40 °C over 14 days in the presence of TBD.Additionally, there was little catalytic activity for the same reaction performed under typical storage conditions at 25 °C. The effect of TBD with 2-methylimidazole-intercalated α-zirconium phosphate (α-ZrP∙2MIm), as a latent thermal initiating system in the reaction with GPE, was then examined. The reaction did not proceed within 1 h at 80 °C. On increasing the temperature to 120 °C, the %conversion reached 75% for reaction at 1 h. Under typical storage conditions (7 days at 25 °C), the %conversion of GPE was only 7%. With addition of TBD to α-ZrP∙2MIm, reagent stability was maintained, and the polymerization reaction proceeded rapidly with the application of heat.
View Full-Text
►

▼

Figures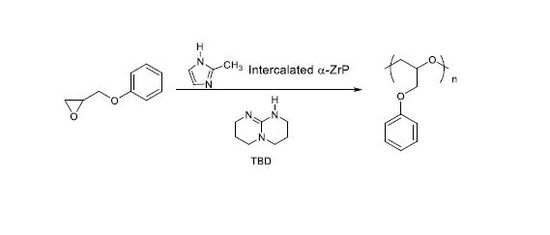 Graphical abstract
This is an open access article distributed under the
Creative Commons Attribution License
which permits unrestricted use, distribution, and reproduction in any medium, provided the original work is properly cited (CC BY 4.0).

Share & Cite This Article
MDPI and ACS Style
Shimomura, O.; Sasaki, S.; Kume, K.; Ohtaka, A.; Nomura, R. Temperature-Dependent Enhancement Effects for TBD (1,5,7-Triazabicyclo[4.4.0]dec-5-ene) with 2-Methylimidazole-Intercalated α-Zirconium Phosphate as a Latent Thermal Initiator in the Reaction of Glycidyl Phenyl Ether. Inorganics 2019, 7, 83.
Note that from the first issue of 2016, MDPI journals use article numbers instead of page numbers. See further details here.
Related Articles
Comments
[Return to top]