Probing the Effect of Six-Membered
N

-Heterocyclic Carbene—6-Mes—on the Synthesis, Structure and Reactivity of Me2MOR(NHC) (M = Ga, In) Complexes

1

Centre of New Technologies, University of Warsaw, Banacha 2c, 02-097 Warsaw, Poland

2

Faculty of Chemistry, University of Warsaw, Pasteura 1, 02-093 Warsaw, Poland

3

Faculty of Chemistry, Warsaw University of Technology, Noakowskiego 3, 00-664, Warsaw, Poland

*

Author to whom correspondence should be addressed.

Received: 3 January 2018 / Revised: 31 January 2018 / Accepted: 12 February 2018 / Published: 16 February 2018
Abstract
The investigation of the reactivity of six membered
N
-heterocyclic carbene 1,3-bis(2,4,6-trimethylphenyl)-3,4,5,6-tetrahydropyrimidin-1-ylidene (6-Mes) towards dialkylgallium and dialkylindium alkoxides/aryloxides has shown that both steric hindrances and donor properties of 6-Mes significantly influence the strength of M–C
6-Mes
bond, as well as the formation, structure and reactivity of Me
2
MOR(6-Mes) (M = Ga, In) complexes. While the reactions of simple dimethylgallium alkoxides with 6-Mes lead to the formation of stable monomeric Me
2
Ga(OCH
2
CH
2
OMe)(6-Mes) (
1
) and Me
2
GaOMe(6-Mes) complexes, the analogous Me
2
InOR(6-Mes) are unstable and disproportionate to methylindium alkoxides and Me
3
In(6-Mes) (
2
). The use of bulky alkoxide ligand—OCPh
2
Me or aryloxide ligand—OC
6
H
4
OMe allowed for the synthesis of stable Me
2
M(OCPh
2
Me)(6-Mes) (M = Ga (
3
) and In (
4
)) as well as Me
2
M(OC
6
H
4
OMe)(6-Mes) (M = Ga (
5
) and In (
6
)). The structures of
1
–
6
have been determined using both spectroscopic methods in solution and X-ray diffraction studies, which confirmed the effect of both steric hindrances and donor properties of 6-Mes on their structure and catalytic properties in the ring-opening polymerization (ROP) of
rac
-lactide.
View Full-Text
►

▼

Figures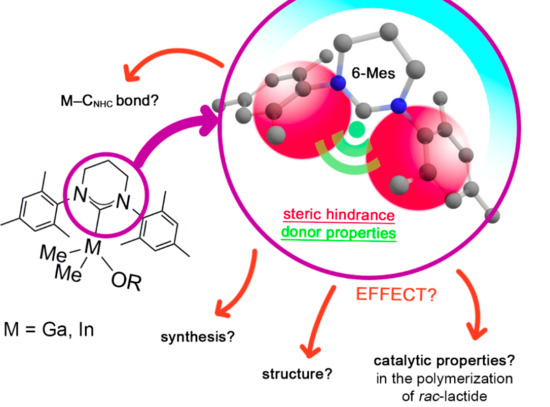 Graphical abstract
This is an open access article distributed under the
Creative Commons Attribution License
which permits unrestricted use, distribution, and reproduction in any medium, provided the original work is properly cited (CC BY 4.0).

Share & Cite This Article
MDPI and ACS Style
Cybularczyk-Cecotka, M.; Dąbrowska, A.M.; Guńka, P.A.; Horeglad, P. Probing the Effect of Six-Membered N-Heterocyclic Carbene—6-Mes—on the Synthesis, Structure and Reactivity of Me2MOR(NHC) (M = Ga, In) Complexes. Inorganics 2018, 6, 28.
Note that from the first issue of 2016, MDPI journals use article numbers instead of page numbers. See further details here.
Related Articles
Comments
[Return to top]