Open Access This article is
freely available
re-usable
Article
A Reliable Method for the Preparation of Multiporous Alumina Monoliths by Ice-Templating
1
Laboratoire de Synthèse et Fonctionnalisation des Céramiques, UMR3080, CNRS/Saint-Gobain, 550 Avenue Alphonse Jauffret, F-84306 Cavaillon Cedex, France
2
Present address: Institut de Recherches sur la Catalyse et l'Environnement de Lyon – IRCELYON, UMR5256 CNRS-Université Claude Bernard Lyon 1, 2 Avenue Albert Einstein, F-69626 Villeurbanne Cedex, France
3
Present address: Saint-Gobain Lumilog, F-06220 Vallauris, France
*
Author to whom correspondence should be addressed.
Academic Editors: Samuel Bernard, André Ayral and Philippe Miele
Received: 15 January 2016 / Accepted: 1 March 2016 / Published: 11 March 2016
Abstract
: Alumina supports presenting a bimodal porosity are generally advantageous for the conversion of bulky molecules such as found in biomass, refining, and petrochemistry. However, shaping of such materials, while controlling pores size and orientation, proves to be hard. This problem can be tackled by using a simple method involving sol-gel chemistry, surfactant self-assembly, and ice-templating. Herein, a systematic study of the formulation and process parameters' influence on the final material properties is presented. This protocol results in the repeatable preparation of centimeter-sized alumina monoliths presenting a uni-directional macroporosity and structured mesopores. These monoliths should be of particular interest in high flow rate catalytic applications.
Keywords:
porous materials; alumina; ice templating; ordered mesoporous alumina
2. Results and Discussion
The usual solvent for ice-templating is water. Other solvents, such as tert-butyl alcohol or camphene can be used, but their impact on the surfactant self-assembly needs to be investigated first. The well-known Yoldas process that allows the preparation of colloidal boehmite from aluminium alkoxides has been used here [
11
,
12
]. Typically, an aluminium alkoxide was refluxed at 85 °C for 1 h prior to peptization using nitric acid. After ageing at 85 °C, a surfactant was added. The resulting suspension was then ice-templated and freeze-dried. Finally, the monoliths were thermally treated to remove the surfactant and free the mesoporosity. From this initial protocol, 13 parameters—divided into four categories (
Table 1
)—were identified to potentially impact the final properties of our ice-templated monoliths. Note that these parameters may be interdependent.
This work consisted in the systematic study of those parameters. Aluminium tri sec-butoxide (Al(O–But)3) was used as the aluminium alkoxide, as it was largely used in Yoldas works. P123, a triblock copolymer with general formula (EO)20(PO)70(EO)20, was used as the surfactant. Emphasis was given to the influence of parameters on the mesoporosity, without a systematic description of the macroporosity as all the products were centimeter-sized monoliths with a lamellar macroporosity, which is described for one particular multiporous monolith at the end of the paper.
3. Experimental Section
3.1. Synthesis
Boehmite nanoparticles were synthesized following the procedure reported by Yoldas [
11
,
12
]. If not stated otherwise, aluminium tri sec-butoxide (Al(O–But)
3
, 97%, Sigma-Aldrich, St. Louis, MO, USA) was refluxed at 85 °C for 1 h. Then, nitric acid (67%, Sigma-Aldrich) was added for peptization, leading to a transparent sol. The suspension was aged by refluxing for 16 h at 85 °C, then the triblock copolymer P123:(EO)
20
(PO)
70
(EO)
20
( Poly(ethylene glycol)-
block
-poly(propylene glycol)-
block
-poly(ethylene glycol); average Mn 5800 g/mol, Sigma-Aldrich) was added. The suspension was refluxed for an additional hour at the same temperature to insure complete dissolution of the P123. The typical molar composition of the hydrosol was 1 Al:50 H
2
O:0.01 P123:0.07 HNO
3
. In this study, P123 was varied from 0.005 to 0.016, H
2
O was varied from 10 to 50, and the acid was varied from 0.07 to 0.13. The impact of several acids was evaluated. In this case, the H
+
/Al ratio was kept constant.
3.2. Materials Processing
The suspension was typically poured into 1 cm diameter PTFE molds, placed on a copper plate. This copper plate was cooled at constant cooling rate of −2 °C/min until complete freezing of the suspension. The cooling rate was controlled by a thermocouple located inside the copper plate and connected to a Huber CC 905 cryothermostat [
30
]. Alternatively, the PTFE molds were placed on the top of copper rods, then sunken in a liquid nitrogen-filled Dewar. In this configuration, the cooling rate is driven by the thermal conductivity of the rod. Herein, copper rods allow reaching a cooling rate of about −10 °C/min. After complete freezing, the samples were demolded, then placed for 48 h in a Labconco FreeZone 2.5 freeze-dryer to sublime the ice crystals (−80 °C; 0.120 mbar).
Mesoporous powders were prepared by evaporation of the suspension under reduced pressure in a rotavapor at 40 °C until a dry powder was obtained.
The final material was typically thermally treated at 550 °C for 2 h with a heating rate of 5 °C/min. The impact of the thermal treatment was studied between 550 and 1050 °C. Heating rates were varied from 0.2 to 5 °C per minute and dwelling times at final temperature from 1 to 5 h.
3.3. Material Characterization
Small-angle powder X-ray diffraction patterns were recorded with a 0.05° step size (step time = 1 s) on a Siemens D5000 X-ray diffractometer equipped with a CuKα1 monochromatic radiation source (40 kV, 35 mA) and a 0.1 mm reception slit. Nitrogen physisorption was performed on a Micromeritics Tristar II instrument, after treatment of the samples under primary vacuum (20 mTorr) at 280 °C overnight. Surface areas were calculated using the Brunauer-Emmett-Teller (BET) method over the range P/P0 = 0.07–0.30, where a linear relationship was maintained. Mesopore size distributions were calculated using the Barrett–Joyner–Halenda (BJH) model applied to the desorption branch of the isotherm. Mesopore volumes were evaluated on the volume adsorbed at P/P0 = 0.99. Mercury intrusion porosimetry was performed on a Micromeritics AutoPore IV 9500. TGA-DSC measurements were performed under air with a heating rate of 5 °C per minute from room temperature to 1100 °C using a SETARAM Model TGA92 S/N 31/8178. Scanning electron micrographs were acquired on a scanning electron microscope FEI Nova NanoSEM 230. Prior analysis, a thin coating of platinum was deposited onto the samples. High-resolution transmission electron microscopy was carried out by using a FEI Tecnai G2 20 operating at 200 kV. Samples were prepared by depositing a drop of solution containing the sample in ethanol on a holey-carbon film copper grid.
4. Conclusions
Macro-mesoporous alumina monoliths were synthesized following a combination of sol-gel chemistry, P123 self-assembly and ice-templating. The use of this latter process required the development of a pure water-based synthesis of mesoporous alumina. Such a synthesis is not usual for the preparation of mesoporous alumina powders, as most of the protocols described in the literature use alcohols. The systematic study presented here concluded that the quality of the mesoporosity is directly linked to the synthesis, which controls the size of the precipitated particles and the quality of the boehmite dispersion. The best mesophase organization was found for the parameters leading to small pseudoboehmite particles, peptized under conditions optimizing interparticle repulsions. We also proposed a mechanism for the improved results obtained with nitric acid, based on the bridging effect of NO3− between the EO blocks of the triblock copolymer and the pseudoboehmite particles. Such multiporous alumina monoliths may provide new opportunities as supports in high flow rate applications. We are currently investigating their use as catalytic supports for the continuous conversion of bulky molecules.
Acknowledgments
Saint-Gobain is acknowledged for financial support of this work. Ahmed Addad is acknowledged for help with the TEM imaging. The TEM facility in Lille (France) is supported by the Conseil Regional du Nord-Pas de Calais, and the European Regional Development Fund (ERDF).
Author Contributions
Jérémy Dhainaut, Sylvain Deville, Idris Amirouche and Michaela Klotz designed the research. Jérémy Dhainaut performed the experimental work. All authors analyzed and discussed the results. Jérémy Dhainaut, Sylvain Deville and Michaela Klotz wrote the paper.
Conflicts of Interest
The authors declare no conflict of interest.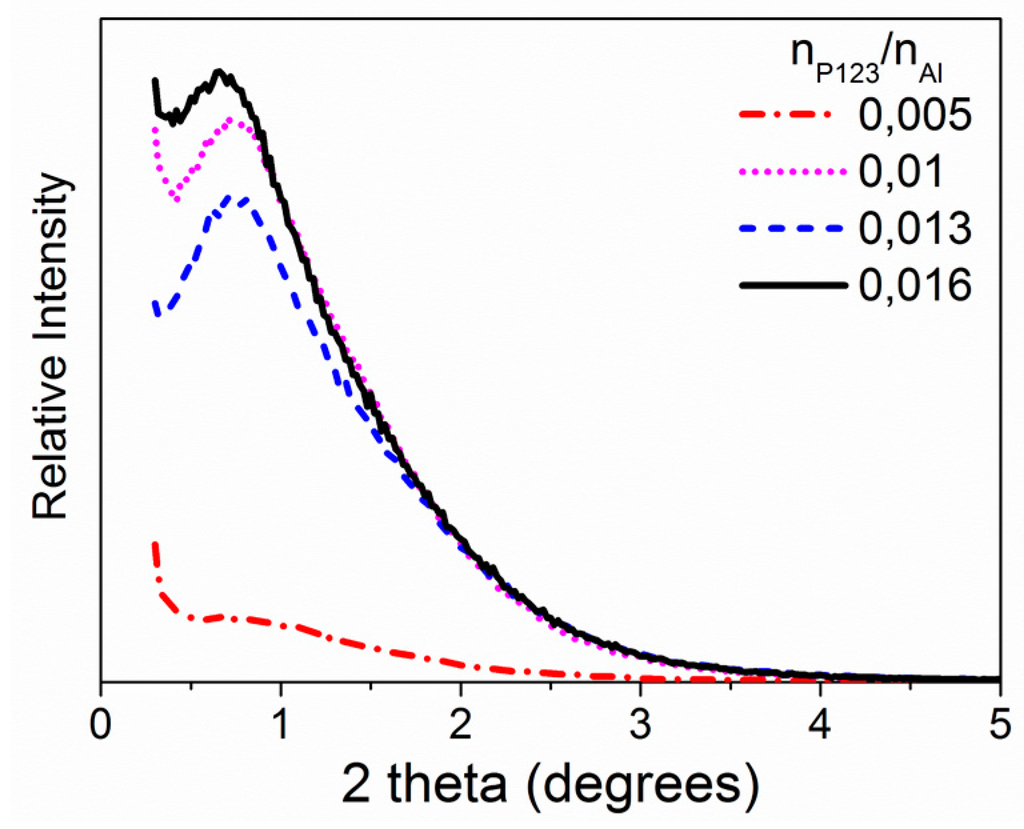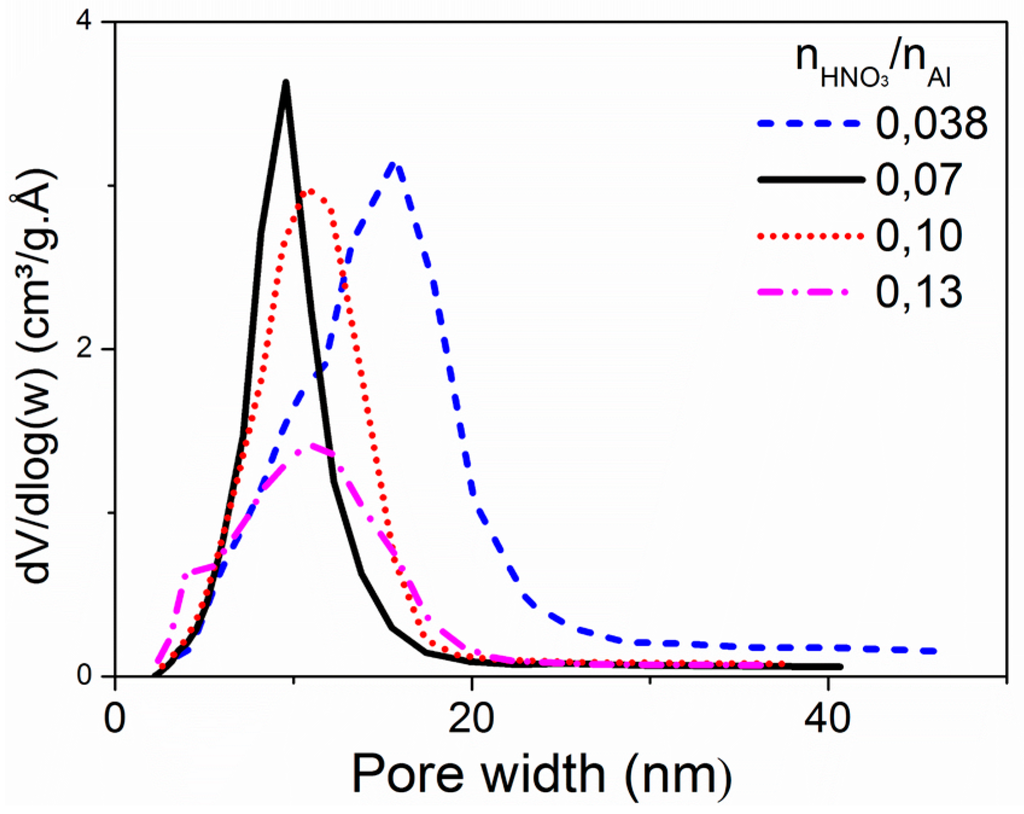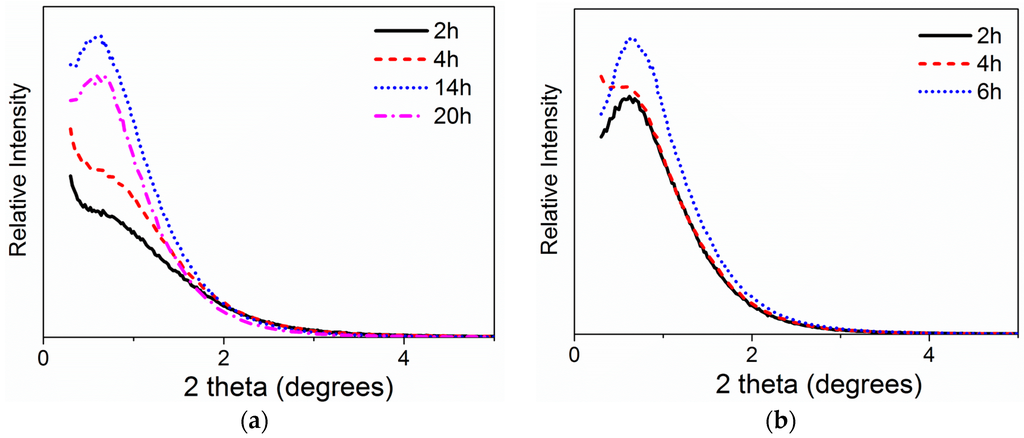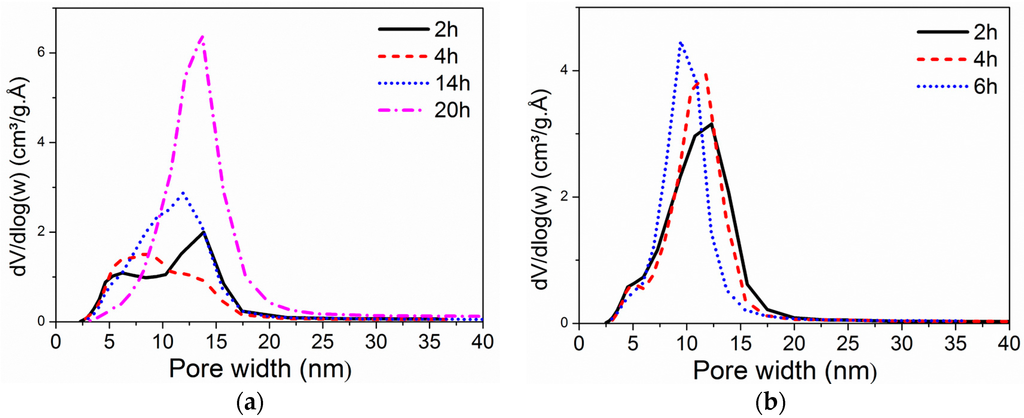 Figure 4. Pore size distribution from N2 isotherms, impact of peptization at (a) 85 °C and (b) 100 °C.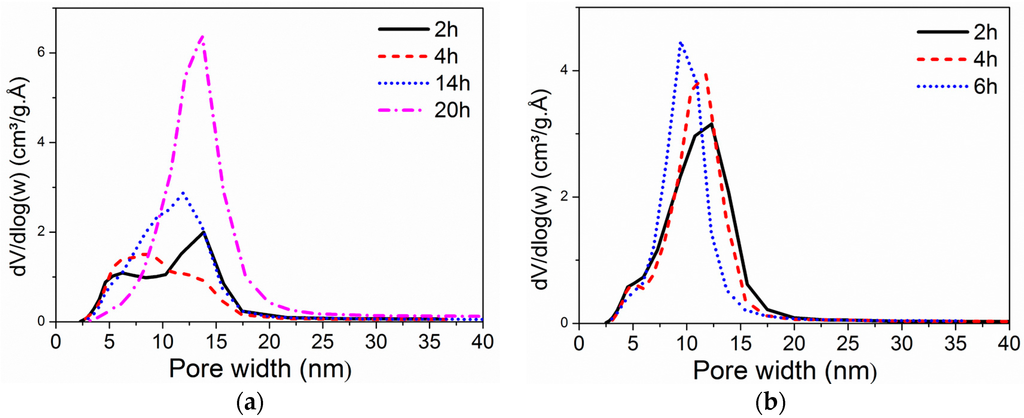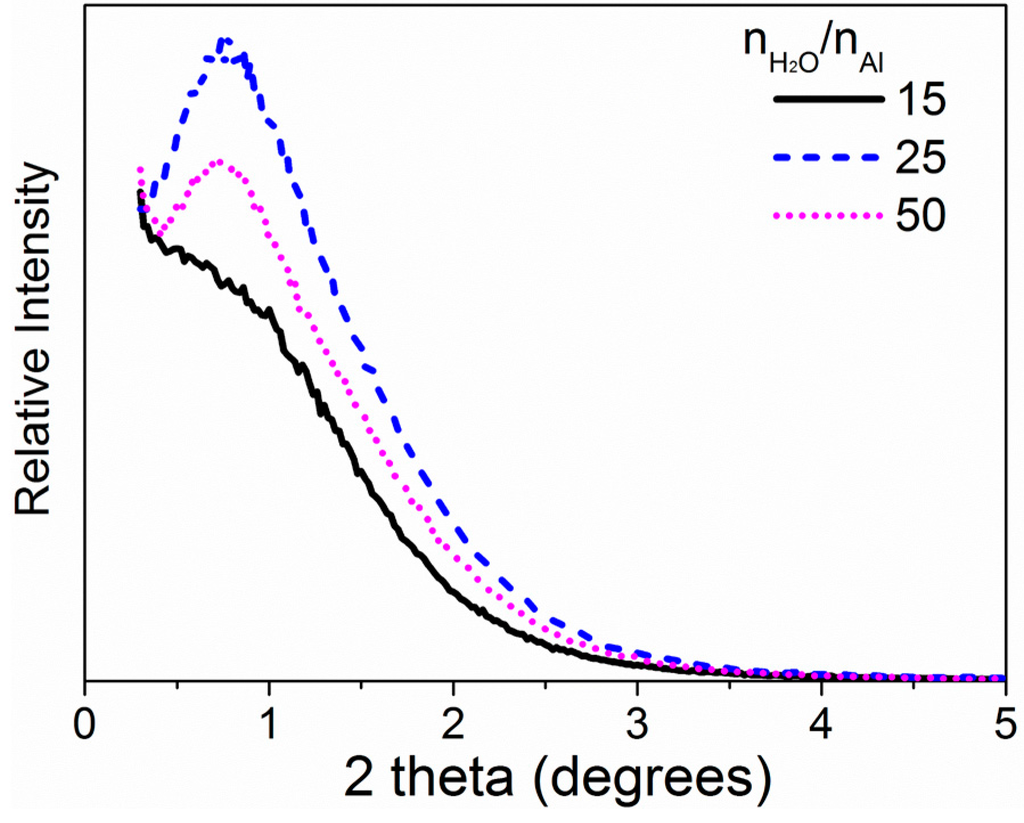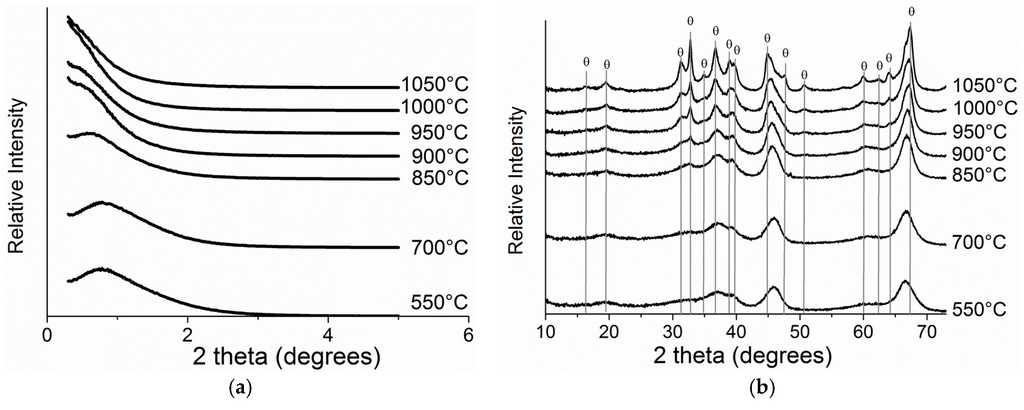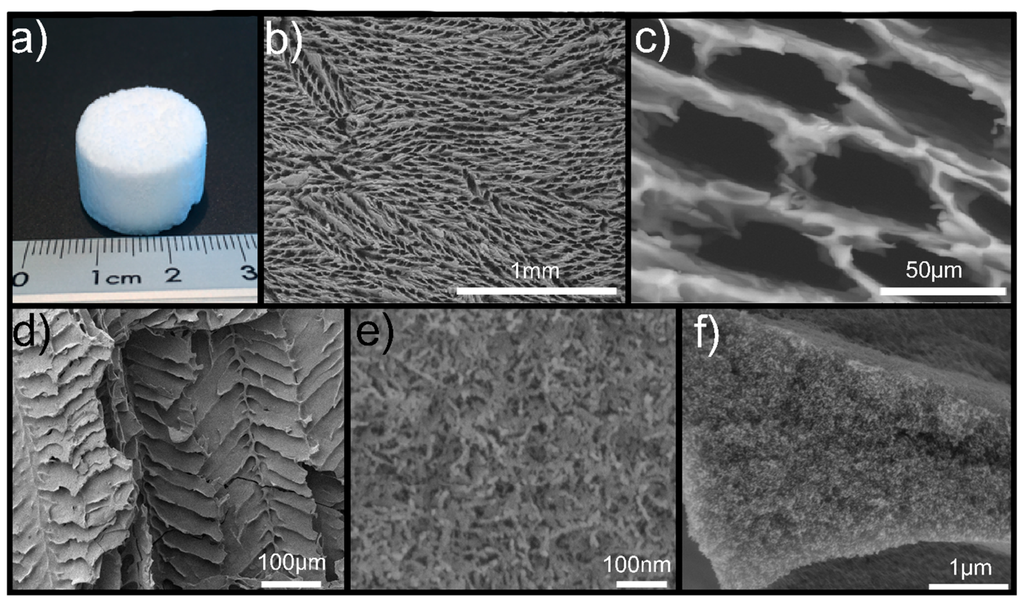 Figure 8. Ice templated γ-alumina monolith with hierarchical porosity (a) Photography; (b,c,f) SEM micrographs showing the ice-templated macroporosity perpendicular to the freezing direction; (d,e) parallel to the freezing direction.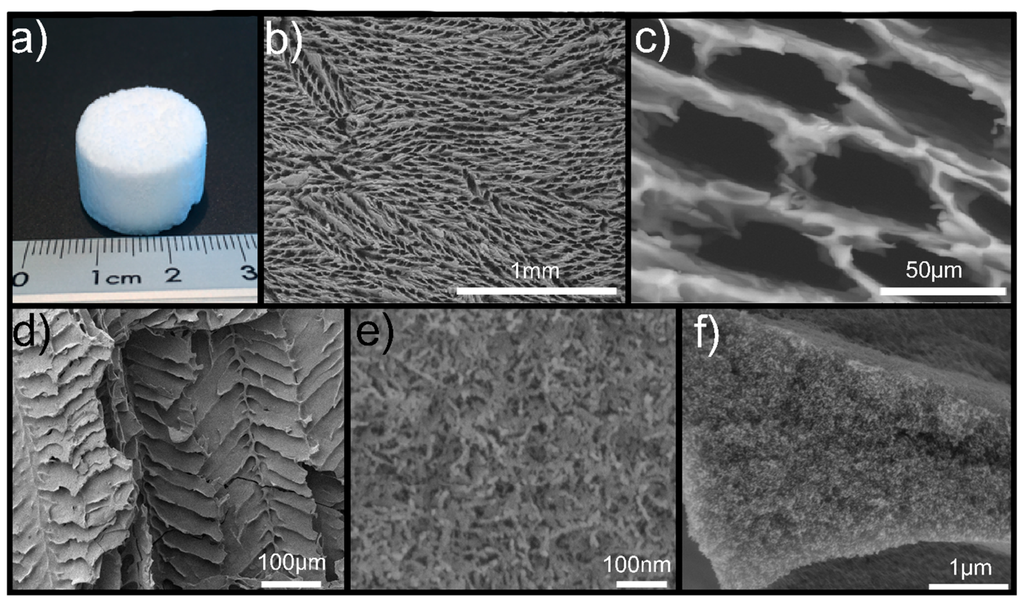 Table 1. Parameters having an influence over the material final properties. The parameters studied herein are in bold.
Table 1. Parameters having an influence over the material final properties. The parameters studied herein are in bold.

| Formulation | Synthesis | Ice-Templating | Thermal Treatment |
| --- | --- | --- | --- |
| H2O/Al ratio | Temperature | Freezing speed | Heating rate |
| Acid/Al ratio | Peptization duration | H2O/Al ratio | Dwelling temperature |
| Acid source | Ageing duration | | Dwelling time |
| Surfactant/Al ratio | | | |
| Surfactant source | | | |
| Alumina source | | | |

Table 2. Textural properties and small angle XRD peak position for samples processed using different acids. Samples were thermally treated at 550 °C prior analysis.
Table 2. Textural properties and small angle XRD peak position for samples processed using different acids. Samples were thermally treated at 550 °C prior analysis.
Acid
Aspect of Al Sol
H+/Al Ratio
Peak (nm)
SSA (m2/g)

V

porous (cm3/g)

d

porous (nm)
Sulfuric acid
Yellow opaque
0.10
Could not be ice-templated
Acetic acid
White opaque
0.10
No peak
222
0.64
10.6
Citric acid
White opaque
0.10
17.7
310
1.13
10.7
Propionic acid
translucent
0.10
13.8
324
0.94
8.4
Chlorhydric acid
translucent
0.10
15.7
328
0.91
8.1
Nitric acid
translucent
0.038
16.7
317
1.11
10.9
Nitric acid
translucent
0.07
11.18
317
0.90
8.4
Nitric acid
translucent
0.10
10.8
327
1.00
8.9
Nitric acid
translucent
0.13
10.6
287
0.72
7.4
Table 3. Textural properties as a function of calcination temperature.
Calcination Temperature (°C)

SSA

(m2/g)

V

porous (cm3/g)

d

pores (nm)
550
317
0.90
8.4
850
260
0.95
11.2
900
236
0.91
11.1
950
188
0.71
11.6
1000
210
0.82
11.7
1050
127
0.54
14.4
© 2016 by the authors; licensee MDPI, Basel, Switzerland. This article is an open access article distributed under the terms and conditions of the Creative Commons by Attribution (CC-BY) license (http://creativecommons.org/licenses/by/4.0/).