Open Access This article is
freely available
re-usable
Review
Putting Children's Sleep Problems to Bed: Using Behavior Change Theory to Increase the Success of Children's Sleep Education Programs and Contribute to Healthy Development
Appleton Institute, Central Queensland University, Adelaide South Australia 5000, Australia
*
Author to whom correspondence should be addressed.
Academic Editor: Sari A. Acra
Received: 11 April 2016 / Accepted: 22 June 2016 / Published: 1 July 2016
Abstract
:
Sleep is critical for the healthy development of children, yet most children simply don't get enough. Whilst school based sleep education programs have been developed for parents and their children, they have had mixed success. We consider how existing school-based sleep education programs can be improved by applying a broader model to behaviour change theory. We find that the mixed success of school-based sleep education programs may be due to a plausible but misleading assumption that simply increasing information about the importance of sleep and the risks of insufficient and/or inefficient sleep, will necessarily result in improved sleep behaviours. We identify the potential benefits of using a more inclusive behavior change theory in the development of sleep education programs with a particular need for theories that incorporate the multiple biological, environmental and social impacts on children's sleep. Bronfenbrenner's Bioecological model is presented to illustrate how one such inclusive behavior change theory could significantly improve the success of sleep education programs and ultimately support the healthy development of children.
Keywords:
prevention; children's sleep; behaviour theory; sleep education
1. Introduction
1.1. The Detrimental Outcomes of Sleep Problems
The cost of sleep disorders in children has been estimated at $AUS 1.5 billion, for both primary and secondary consequences. Perhaps the significant value of addressing common sleep problems lies in the potential to reduce the burden of disease and mitigate the ongoing effects of sleep related issues in children and their families. Sleep is important for overall health and wellbeing, especially in children and adolescents [
1
]. A range of neuropsychological (cognition, attention and memory), and behavioural (aggression, hyperactivity) impairments have been recorded in relation to poor sleep [
2
]. Insufficient sleep quality and quantity have been associated with poor physical health including cardiovascular risks, compromised immune function, metabolic changes such as insulin resistance (a precursor to diabetes) and a greater likelihood of being obese [
3
,
4
]. Such health issues can persist into adulthood, causing further concern [
5
].
In addition to physical sequelae, poor sleep can have a detrimental impact on mental health [
6
,
7
]. More than 90% of depressed children and adolescents report problems with their sleep, with common complaints including insomnia, hypersomnia and daytime sleepiness [
8
]. In addition, a majority of youth presenting with primary complaints of insomnia also meet criteria for a mental health diagnosis [
5
,
9
]. Similarly, early sleep problems may independently predict the later development of emotional problems such as depression, anxiety, inattention and hyperactivity. A relationship between attribution styles, anxiety, and sleep problems is also apparent [
10
]. That is, sleep has been shown to affect emotions, with longer sleep duration being shown to predict prospectively higher self-esteem, with good sleep quality also showing higher levels of optimism and reduced stress [
11
,
12
]. Studies have shown that improving sleep quantity in young people has improved their mood. Although the interactions between sleep and physical/mental health in adolescents are more complex than we have space to explain here, it is not unreasonable to suggest that for some adolescents, poor sleep contributes to mood disorders and that improving sleep may have a positive effect on mental health and wellbeing.
1.2. Prevalence of Sleep Problems in Children and Adolescents
Depending on definitional criteria and type of measure, estimates of sleep disorders are between 20% and 41% of children presenting with sleep problems [
13
]. Clinically defined sleep disorders are classified as either physiological or behavioural. Physiological sleep disorders include obstructive sleep-disordered breathing, restless legs syndrome and delayed sleep phase syndrome (DSPS) (for reviews see [
14
,
15
,
16
,
17
]). Prevalence rates range between 2% and 3% of children and adolescents diagnosed with restless legs syndrome or obstructive sleep apnea [
15
], and up to 10% for delayed sleep phase syndrome, particularly in adolescents [
18
]. Whilst community awareness is important, amelioration of these sleep disorders can generally only be achieved with medical intervention.
Behavioural sleep disorders (non-physiological sleep disorders which are related to sleep habits and behaviours) are more common, with prevalence estimates between 30% and 40% [
19
]. Behavioural sleep disorders in young people are termed by the American Academy of Sleep Medicine (AASM) as Behavioural Insomnia of Childhood. Common behavioural sleep disorders include Insufficient Sleep Syndrome, Limit-Setting Sleep Disorder, Sleep-Onset Association Disorder and Inadequate Sleep Hygiene Disorder [
20
]. In many cases, the amelioration of these behavioural sleep disorders can be achieved without costly and invasive medical intervention by ameliorating the behaviours that surround sleep [
21
].
Sleep hygiene is the term used to describe sleep and bedtime related behaviours. Poor sleep hygiene, such as excessive use of electronic screens prior to sleep onset can be problematic even without reaching the clinical diagnosis of Inadequate Sleep Hygiene Disorder (AASM) [
20
]. Therefore, it is important for health educators, professionals and the wider community to be more aware of the value of sleep for child development and how to prevent behavioural sleep disorders from becoming clinical sleep disorders.
1.3. Treatment of Behavioural Sleep Disorders
Fortunately, behavioural sleep problems are amenable to change, often through modifications to sleep hygiene [
22
]. Treatment approaches often involve behavioural intervention, targeting either the parents or their child [
19
]. Interventions typically seek to improve children's sleep overall by: increasing sleep duration, improving sleep quality, maintaining consistent sleep/wake schedules and minimising behaviours that are detrimental to sleep, such as excessive caffeine use or excessive physical activity prior to bedtime. Several studies have shown that the use of educational interventions to increase levels of awareness about sleep behaviour and sleep hygiene have been successful in ameliorating sleep disturbance, sleep wake schedules [
23
]. The expectation is that sleep education improves sleep and subsequently the secondary outcomes of poor sleep described above. But does it? And if not, why not?
2. Is Formal Sleep Education the Answer?
3. Education to Behavioural Change
The challenge therefore is to understand and address what is missing in the current sleep education debate. The universal characteristics of behavioural change can be crucial to program design and must be applied to sleep education if risk prevention is to be achieved. Whilst previous sleep education programs and theories noted above address the interaction between individuals and their immediate environments, such as family and schools, what is missing from such models, are considerations of the impact of external influences and the broader social and environmental context of a child's sleep. We propose that an integrative model guided by, but not replacing, existing theories could be what is needed for maximizing sleep behavior change. A model that acknowledges not only the inter- and intra-individual, family and community levels but also considers broader cultural, psychosocial, educational and political contexts.
3.1. Bronfenbrenner's Ecological Systems Theory
One method by which this can be achieved is by applying the approach proposed by Bronfenbrenner's Ecological Systems Theory.
The Ecological Systems Theory indicates and describes the surrounding structure of a child's environment and its effect on the child's development. While the immediate environment of a child is of crucial importance (e.g., home, family), the larger environment (e.g., school, community, society, education, political and cultural systems) is also recognised as being essential.
Initially, Bronfenbrenner's theory was comprised of the four well-known systems that impact development; Microsystem, Mesosystem, Exosystem and Macrosystem, with a fifth, the Chronosystem, taking into account the dimension of time related to the child's development. Subsequently, Bronfenbrenner developed his theory into a more person-context model called the Bioecological Model (See
Figure 2
) [
36
]. Most sleep education programs have intuitively embraced elements of the Micro and Meso systems, but consideration of the Exo-, Macro- and Chronosystems adds an even broader perspective through which sleep education and awareness can be considered in a in preventative health model.
4. Limitations and Further Research
In this paper, we have attempted to demonstrate why current sleep education programs are not achieving long lasting changes in sleep health behaviour by highlighting what Bronfenbrenner considers important in behaviour change and applying this to children's sleep. However, empirical research is required to evaluate our proposition. Other theories may apply equally as well or better, or indeed together, as part of a cohesive integration of the elements of many theories [
56
]. At the very least, different systems of the model may need to be emphasised or de-emphasised to address the requirements of different types of sleep problems, or to meet the needs of different age groups—including adults. The relationship between knowledge and action is particularly complex in relation to children's health behaviours. Most current school sleep education models attempt to improve the knowledge of children, assuming that children are fully responsible and accountable for their behaviour. Applying Bronfenbrenner's model suggests that there is a lot more to consider. Targeted sleep education programs that are able to take into account these factors interact with the broader environment may well have more success than those currently in usage. Furthermore, comparison of the outcomes of existing program design versus a program designed with the Ecological model principals in mind would be beneficial in evaluating the impact of broad based theory-informed and contextually relevant programs aimed at risk prevention. If broad based theoretically informed programs are found to be more effective, there will be a need to determine the best means of 'retro-fitting' theory into established programs, which may involve a degree of culture change as well as behaviour change. Recognising the potential benefits of integrating ronfenbrenner's theory into existing behaviour change theories for sleep education programs may be an important step in our efforts to translate sleep education into sleep behavior change.
Author Contributions
All authors on this paper have contributed significantly to the text and ideas in the paper.
Conflicts of Interest
The authors declare no conflict of interest.
References
Galland, B.C.; Taylor, B.J.; Elder, D.E.; Herbison, P. Normal sleep patterns in infants and children: A systematic review of observational studies.

Sleep Med. Rev.

2012,

16

, 213–222. [CrossRef] [PubMed]
Samson, R.; Blunden, S.; Banks, S. The characteristics of sleep and sleep loss in adolescence: A review.

Int. Rev. Soc. Sci. Humanit.

2013,

4

, 90–107.
Cappucio, F.P.; Taggart, F.M.; Kandala, N.; Currie, A.; Peile, E.; Stranges, S.; Miller, M.A. Meta-analysis of short sleep duration and obesity in children and adults.

Sleep

2008,

31

, 619–626.
Kjeldsen, J.S.; Hjorth, M.F.; Andersen, R.; Michaelsen, K.F.; Tetens, I.; Astrup, A.; Chaput, J.-P.; Sjödin, A. Short sleep duration and large variability in sleep duration are independently associated with dietary risk factors for obesity in Danish school children.

Int. J. Obes.

2014,

38

, 32–39. [CrossRef] [PubMed]
Alfano, C.; Gamble, A. The role of sleep in childhood psychiatric disorders.

Child Youth Care Forum

2009,

36

, 327–340. [CrossRef] [PubMed]
Roane, B.; Taylor, D. Adolescent insomnia as a risk factor for early adult depression and substance abuse.

Sleep Breath.

2008,

31

, 1351–1356.
Sivertsen, B.; Harvey, A.G.; Pallesen, S.; Hysing, M. Mental health problems in adolescents with delayed sleep phase: results from a large population-based study in Norway.

J. Sleep Res.

2015,

24

, 11–18. [CrossRef] [PubMed]
Liu, X.; Buysse, D.J.; Gentzler, A.L.; Kiss, E.; Mayer, L.; Kapornai, K.; Kovacs, M. Insomnia and hypersomnia associated with depressive phenomenology and comorbidity in childhood depression.

Sleep

2007,

30

, 83–90. [PubMed]
Ivanenko, A.; Johnson, K. Sleep disturbances in children with psychiatric disorders.

Semin. Pediatr. Neurol.

2008,

15

, 70–78. [CrossRef] [PubMed]
Alvaro, P.K.; Roberts, R.M.; Harris, J. A systematic review assessing bidirectionality between sleep disturbances, anxiety, and depression.

Sleep

2013,

36

, 1059–1068. [CrossRef] [PubMed]
Fredriksen, K.; Rhodes, J.; Reddy, R.; Way, N. Sleepless in Chicago: Tracking the effects of adolescent sleep loss during the middle school years.

Child Dev.

2004,

71

, 84–95. [CrossRef]
Lemola, S.; Räikkönen, K.; Scheier, M.F.; Matthews, K.A.; Pesonen, A.K.; Heinonen, K.; Kajantie, E. Sleep quantity, quality and optimism in children.

J. Sleep Res.

2011,

20

, 12–20. [CrossRef] [PubMed]
Mindell, J.A.; Owens, J.

A Clinical Guide to Pediatric Sleep: Diagnosis and Management of Sleep Problems

; Lippincott Williams & Wilkins: Philadelphia, USA, 2015.
Blunden, S.L.; Beebe, D. The contribution of intermittent hypoxia, sleep debt and sleep disruption to daytime performance deficits in children: Consideration of respiratory and non-respiratory sleep disorders.

Sleep Med. Rev.

2006,

10

, 109–118. [CrossRef] [PubMed]
Picchietti, D.L.; Stevens, H.E. Early manifestations of restless legs syndrome in childhood and adolescence.

Sleep Med.

2008,

9

, 770–781. [CrossRef] [PubMed]
Shakankiry, H.M. Sleep physiology and sleep disorders in childhood.

Nat. Sci. Sleep

2011,

3

, 101–114. [CrossRef] [PubMed]
Furudate, N.; Komada, Y.; Kobayashi, M.; Nakajima, S.; Inoue, Y. Daytime dysfunction in children with restless legs syndrome.

J. Neurol. Sci.

2014,

336

, 232–236. [CrossRef] [PubMed]
Saxvig, I.W.; Pallesen, S.; Wilhelmsen-Langeland, A.; Molde, H.; Bjorvatn, B. Prevalence and correlates of delayed sleep phase in high school students.

Sleep Med.

2012,

13

, 193–199. [CrossRef] [PubMed]
Blunden, S.L. Behavioural sleep disorders across the developmental age span: An overview of causes, consequences and treatment modalitites.

Psychology

2012,

3

, 249–256. [CrossRef]
AASM.

International Classification of Sleep Disorders: Diagnostic and Coding Manual

, 2nd ed.; American Academy of Sleep Medicine: Westchester, IL, USA, 2005.
Tan, E.; Healey, D.; Gray, A.R.; Galland, B.C. Sleep hygiene intervention for youth aged 10 to 18 years with problematic sleep: A before-after pilot study.

BMC Pediatr.

2012,

12

, 189. [CrossRef] [PubMed]
Mindell, J.A.; Sadeh, A.; Wiegand, B.; How, T.H.; Goh, D.Y.T. Developmental aspects of sleep hygiene: Findings from the 2004 national sleep foundation sleep in America Poll.

Sleep Med.

2009,

10

, 771–779. [CrossRef] [PubMed]
Rigney, G.; Olds, T.; Maher, C.; Blunden, S. Can sleep education improve pre adolescent sleep?

Sleep Biol. Rhythms

2013,

11

(Suppl. 2), A128.
Blunden, S.L.; Lushington, K.; Lorenzen, B.; Ooi, T.; Fung, F.; Kennedy, D. Are sleep problems under-recognised in general practice?

Arch. Dis. Child.

2004,

89

, 708–712. [CrossRef] [PubMed]
Sheldon, S.H.; Kryger, M.H.; Ferber, R.; Gozal, D.

Principles and Practice of Pediatric Sleep Medicine

; Elsevier Health Sciences: New York, USA, 2014.
Boerner, K.; Coulombe, J.A.; Corkum, P. Core competencies for health professionals' training in pediatric behavioral sleep care: A delphi study.

Behav. Sleep Med.

2015,

13

, 265–284. [CrossRef] [PubMed]
Blunden, S.; Rigney, G. Lessons learned from sleep education in schools: A review of dos and don'ts.

J. Clin. Sleep Med. JCSM

2015,

11

, 671–680. [CrossRef] [PubMed]
Gruber, R.; Somerville, G.; Bergmame, L.; Fontil, L.; Paquin, S. School-based sleep education program improves sleep and academic performance of school-age children.

Sleep Med.

2016,

21

, 93–100. [CrossRef]
Bakotic, M.; Radosevic-Vidacek, B.; Koscec, A. Educating adolescents about healthy sleep: Experimental study of effectiveness of educational leaflet.

Croat. Med. J.

2009,

50

, 174–181. [CrossRef] [PubMed]
Cain, N.; Gradisar, M.; Moseley, L. A motivational school-based intervention for adolescent sleep problems.

Sleep Med.

2011,

12

, 246–251. [CrossRef] [PubMed]
Cortesi, F.; Giannotti, F.; Sebastiani, T.; Bruni, O.; Ottaviano, S. Knowledge of sleep in Italian high school students: Pilot-test of school-based sleep educational program.

J. Adolesc. Health

2004,

34

, 344–351. [PubMed]
Blunden, S.; Champman, J.; Rigney, G. Are sleep education programs successful? The case for improved and consistent research efforts.

Sleep Med. Rev.

2011,

16

, 355–370.
Espie, C.A. Stepped care: A health technology solution for delivering cognitive behavioral therapy as a first line insomnia treatment.

Sleep

2009,

32

, 1549–1559. [PubMed]
Lovato, N.; Lack, L.; Wright, H. The napping behaviour of australian university students.

PLoS ONE

2014,

9

, e113666. [CrossRef] [PubMed]
Cassoff, J.; Knauper, B.; Michaelsen, S.; Gruber, R. School-based sleep promotion programs: Effectiveness, feasibility and insights for future research.

Sleep Med. Rev.

2013,

17

, 207–214. [CrossRef] [PubMed]
Bronfenbrenner, U.; Ceci, S.J. Nature-nuture reconceptualized in developmental perspective: A bioecological model.

Psychol. Rev.

1994,

101

, 568–586. [CrossRef] [PubMed]
Jain, S.; Romack, R.; Jain, J. Bed sharing in school aged children: Clinical and social implications.

J. Child Adolesc. Psychiatr. Nurs.

2011,

24

, 185–189. [CrossRef] [PubMed]
Keller, P.; El-Sheikh, M. Children's emotional security and sleep: Longitudinal relations and directions of effects.

J. Child Psychol. Psychiatry

2011,

52

, 64–71. [CrossRef] [PubMed]
Mindell, J.A.; Sadeh, A.; Kohyama, J.; How, T.H. Parental behaviours and sleep outcomes in infants and toddlers: A cross-cultural comparison.

Sleep Med.

2010,

11

, 393–399. [CrossRef] [PubMed]
Owens, J.; Jones, C.; Nash, R. Caregivers' knowledge, behavior, and attitudes regarding healthy sleep in young children.

J. Clin. Sleep Med.

2011,

7

, 345–350. [PubMed]
Gradisar, M.; Gardner, G.; Dohnt, H. Recent worldwide sleep patterns and problems during adolescence: A review and meta-analysis of age, region and sleep.

Sleep Med.

2011,

12

, 110–118. [CrossRef] [PubMed]
Moore, M.; Kirchner, H.L.; Drotar, D.; Johnson, N.; Rosen, C.; Redline, S. Correlates of adolescent sleep time and variability in sleep time: The role of individual and health related characteristics.

Sleep Med.

2011,

12

, 239–245. [CrossRef] [PubMed]
Crosby, B.; LeBourgeois, M.K.; Harsh, J. Racial differences in reported napping and nocturnal sleep in 2- to 8-year-old children.

Pediatrics

2005,

115

, 225–232. [CrossRef] [PubMed]
Whinnery, J.; Jackson, N.; Rattanaumpawan, P.; Grandner, M.A. Short and long sleep duration associated ith race/ethnicity, sociodemographics, and socioeconomic position.

Sleep

2014,

37

, 601–611. [PubMed]
Bandura, A. Social cognitive theory: An agentic perspective.

Ann. Rev. Psychol.

2001,

52

, 1–26. [CrossRef] [PubMed]
Huang, X.; Wang, H.-S.; Zhang, L.-J.; Liu, X.-C. Co-sleeping and children's sleep in China.

Biol. Rhythm Res.

2010,

41

, 169–181. [CrossRef]
Allen, S.L.; Howlett, M.D.; Coulombe, J.A.; Corkum, P.V. ABCs of sleeping: A review of the evidence behind pediatric sleep practice recommendations.

Sleep Med. Rev.

2016,

29

, 1–14. [CrossRef] [PubMed]
Blunden, S.; Thompson, K.; Dawson, D. Behavioural sleep treatments and night time crying in infants: challenging the status quo.

Sleep Med. Rev.

2011,

15

, 327–334.
Oskar, J.G.; O'Connor, B.B. Children's sleep: An interplay between culture and biology.

Am. Acad. Paediatr.

2005,

115

, 204–216.
Penman, R.

The 'Growing Up' of Aboriginal and Torres Strait Islander Children: A Literature Review

; Department of Families: Canberra, Australia, 2006.
Mindell, J.; Sadeh, A.; Wiegand, B.; How, T.H.; Goh, D.Y. Cross-cultural differences in infant and toddler sleep.

Sleep Med

2010,

11

, 274–280. [CrossRef] [PubMed]
Matricciani, L.; Olds, T.; Williams, M. A review of evidence for the claim that children are sleeping less than in the past.

Sleep

2011,

34

, 651–659. [PubMed]
Dollman, J.; Ridley, K.; Olds, T.; Lowe, E. Trends in the duration of school-day sleep among 10- to 15-year-old South Australians between 1985 and 2004.

Acta Paediatr.

2007,

96

, 1011–1014. [CrossRef] [PubMed]
Blunden, S.; Galland, B. The complexities of defining optimal sleep: Empirical and theoretical considerations with a special emphasis on children.

Sleep Med. Rev.

2014,

18

, 371–378. [CrossRef] [PubMed]
Sorensen, G.; McLellan, D.; Dennerlein, J.T.; Pronk, N.P.; Allen, J.D.; Boden, L.I.; Wagner, G.R. Integration of health protection and health promotion: rationale, indicators, and metrics.

J. Occup. Environ. Med.

2013,

55

(Suppl. 12), S12–S18. [CrossRef] [PubMed]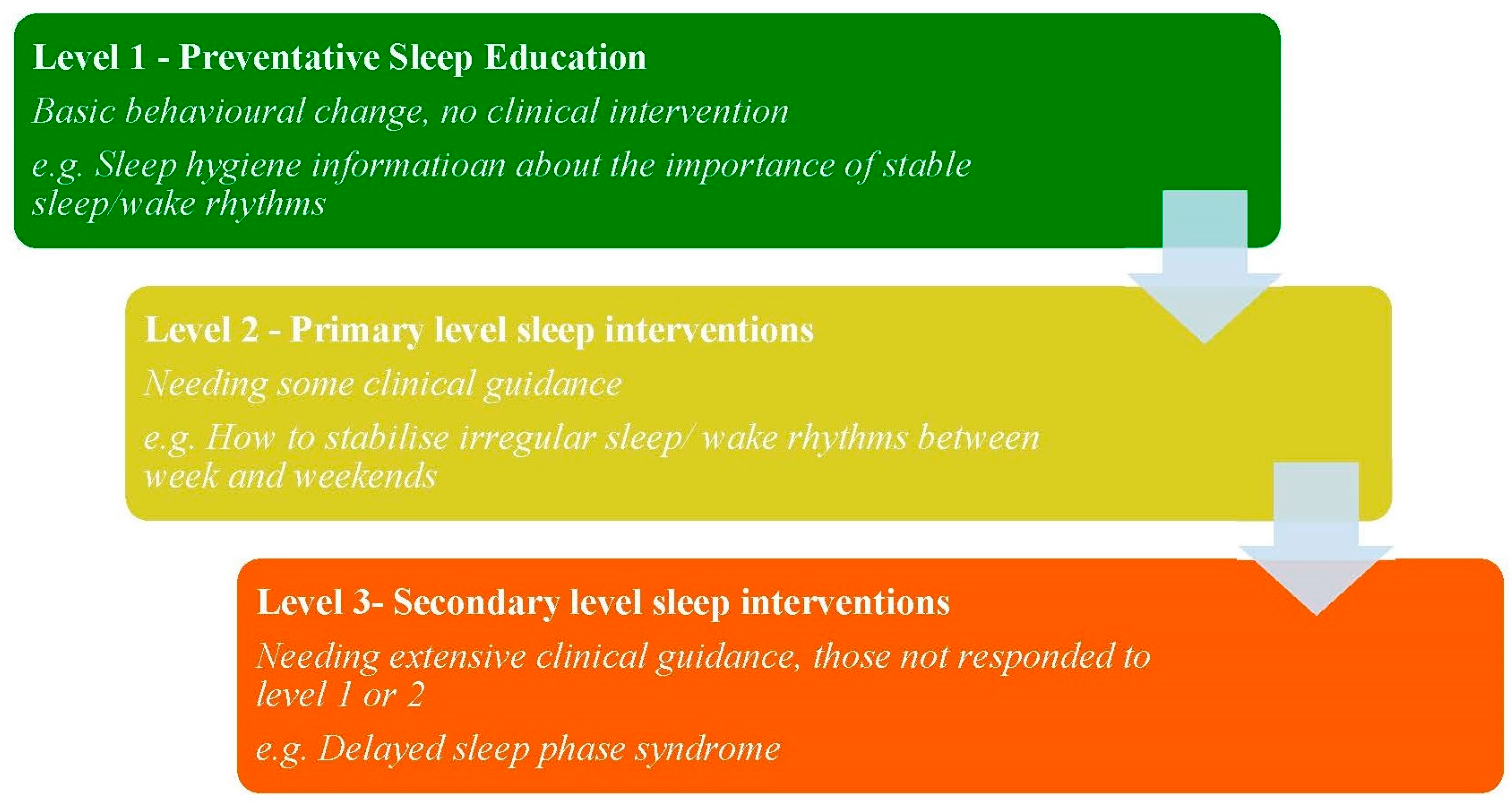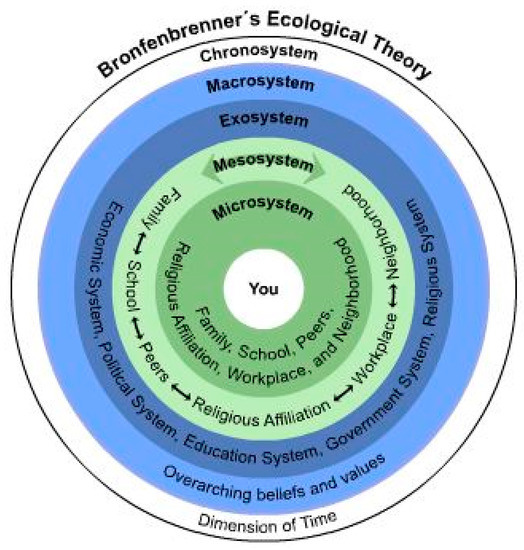 Figure 2.
Bronfenbrenners Ecological Model. From Nielsen, J.N. (2011) [
36
].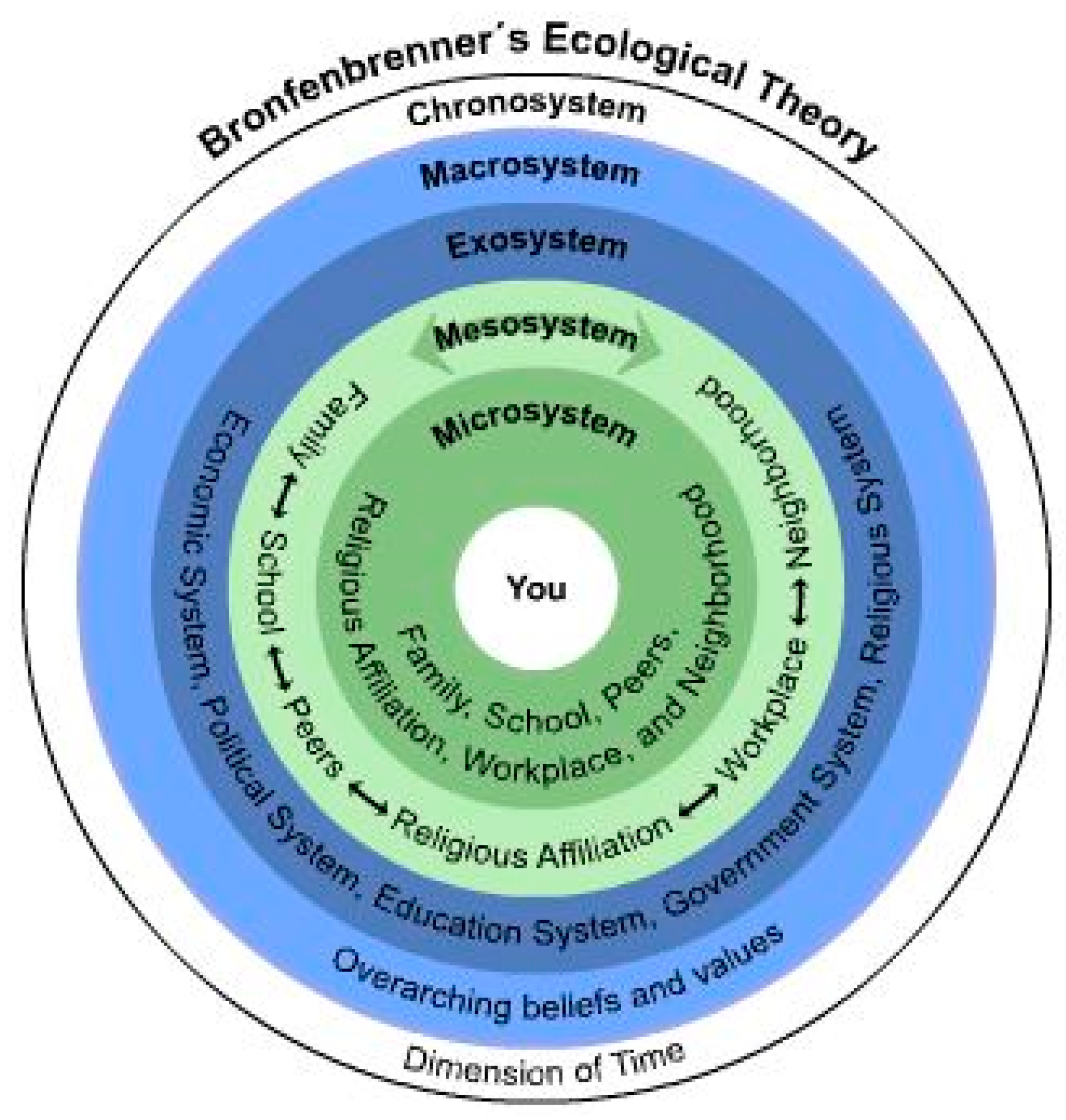 Table 1. Brofenbrenner's ecological systems approach to sleep education.
System Level
Domain
Sleep Impact
Solution
Individual child "you"
The individual child
• Individual differences in sleep need
• Individual differences in the importance of sleep
• Age
• Gender
• Temperamental differences in coping with sleep
• Deliver sleep education messages inclusive of individual differences

• Promote overall message of sleep health and ability for consumers to critically assess individual sleep need.
Microsystem
Family

Peers
School
Close community
• Family preferences
• Parental influence and education
• Peer pressure
• School delivery of sleep education
• Close community perceived importance of sleep
• Respect and address individual differences in families

• Encourage a whole of school approach
• Deliver community based messages of sleep health through close community organisations (sports clubs etc.)
Mesosystem
Relationship of Microsystem domains
• Family perceptions are influenced by: education, grandparent perceptions, peers and the importance placed upon sleep by schools, community and peers
• Recognise the relationships between all the above (one cannot be targeted without the other)
Exosystem
Education policy
• Sleep education delivered ad hoc in different schools with different agendas

• Policy decisions by individual schools and education departments are not systematic
• Little sleep education in medical curricula



• School curricula are already overloaded
• Introduce systematic sleep education in conjunction with diet and physical activity in schools.
• Develop policy guidelines for sleep health
• Increase sleep education in medical curricula
• Deliver sleep education from the Top down in medical training
• Incorporate sleep into overall health messages across curricula areas and ages groups
Economy
• Lower SES have poorer sleep
• Poorer schools may not prioritise sleep due to curriculum pressures
• Targeting low SES households and/or schools, where sleep health is poorest
Macro System
Culture and ethnicity
• Different cultures prioritise sleep in different ways
• Culturally sensitive sleep education inclusive of how best to improve sleep practices and accounting for cultural differences
Chronosystem
Time
• Sleep changes with age
• Sleep priorities change with age
• One off message are unlikely to have long lasting impact.
• Target specific sleep education to each age group.
• Consider that one off messages are not sufficient and sleep health promotion messages needs to be across years and ages
© 2016 by the authors; licensee MDPI, Basel, Switzerland. This article is an open access article distributed under the terms and conditions of the Creative Commons Attribution (CC-BY) license (http://creativecommons.org/licenses/by/4.0/).