Umbilical Cord Blood Mesenchymal Stem Cells as an Infertility Treatment for Chemotherapy Induced Premature Ovarian Insufficiency
1
Division of Translation Research, Department of Obstetrics and Gynecology, Medical College of Georgia Augusta University, Augusta, GA 30912, USA
2
Department of Obstetrics and Gynecology, Mansoura Faculty of Medicine, Mansoura University Hospital, Mansoura 35511, Egypt
3
Department of Pharmacology, Tanta Faculty of Medicine, Tanta 31511, Egypt
4
Department of Obstetrics and Gynecology, University of Illinois, Chicago, IL 60612, USA
*
Author to whom correspondence should be addressed.
Received: 29 October 2018 / Revised: 6 January 2019 / Accepted: 14 January 2019 / Published: 18 January 2019
Abstract
Background: Premature ovarian insufficiency (POI) is a challenging disease, with limited treatment options at the moment. Umbilical cord blood mesenchymal stem cells (UCMSCs) have demonstrated promising regenerative abilities in several diseases including POI. Materials and Method: A pre-clinical murine case versus vehicle control randomized study. Two experiments ran in parallel in each of the three groups. The first was to prove the ability of UCMSCs in restoring ovarian functions. The second was to prove improved fertility. A total of 36 mice were randomly assigned; 6 mice into each of 3 groups for two experiments. Group 1 (control), group 2 (sham chemotherapy), group 3 (stem cells). Results: In the first experiment, post-UCMSCs treatment (group 3) showed signs of restored ovarian function in the form of increased ovarian weight and estrogen-dependent organs (liver, uterus), increased follicular number, and a significant decrease in FSH serum levels (
p
< 0.05) compared to group 2, and anti-Mullerian hormone (AMH) serum levels increased (
p
< 0.05) in group 3 versus group 2. Immuno-histochemistry analysis demonstrated a higher expression of AMH, follicle stimulating hormone receptor (FSHR) and Inhibin A in the growing follicles of group 3 versus group 2. In the second experiment, post-UCMSCs treatment (group 3) pregnancy rates were higher than group 2, however, they were still lower than group 1. Conclusion: We demonstrated the ability of UCMSCs to restore fertility in female cancer survivors with POI and as another source of stem cells with therapeutic potentials.
View Full-Text
►

▼

Figures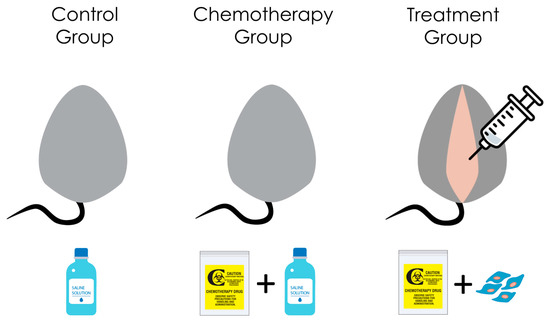 Figure 1
This is an open access article distributed under the
Creative Commons Attribution License
which permits unrestricted use, distribution, and reproduction in any medium, provided the original work is properly cited (CC BY 4.0).

Share & Cite This Article
MDPI and ACS Style
Mohamed, S.A.; Shalaby, S.; Brakta, S.; Elam, L.; Elsharoud, A.; Al-Hendy, A. Umbilical Cord Blood Mesenchymal Stem Cells as an Infertility Treatment for Chemotherapy Induced Premature Ovarian Insufficiency. Biomedicines 2019, 7, 7.
Note that from the first issue of 2016, MDPI journals use article numbers instead of page numbers. See further details here.
Related Articles
Comments
[Return to top]