Alcoholic Liver Disease: Alcohol Metabolism, Cascade of Molecular Mechanisms, Cellular Targets, and Clinical Aspects
Department of Internal Medicine II, Division of Gastroenterology and Hepatology, Klinikum Hanau, Leimenstrasse 20, D-63450 Hanau, Academic Teaching Hospital of the Medical Faculty, Goethe University Frankfurt/Main, Frankfurt/Main, Germany
Received: 18 September 2018 / Revised: 13 October 2018 / Accepted: 20 October 2018 / Published: 12 November 2018
Abstract
Alcoholic liver disease is the result of cascade events, which clinically first lead to alcoholic fatty liver, and then mostly via alcoholic steatohepatitis or alcoholic hepatitis potentially to cirrhosis and hepatocellular carcinoma. Pathogenetic events are linked to the metabolism of ethanol and acetaldehyde as its first oxidation product generated via hepatic alcohol dehydrogenase (ADH) and the microsomal ethanol-oxidizing system (MEOS), which depends on cytochrome P450 2E1 (CYP 2E1), and is inducible by chronic alcohol use. MEOS induction accelerates the metabolism of ethanol to acetaldehyde that facilitates organ injury including the liver, and it produces via CYP 2E1 many reactive oxygen species (ROS) such as ethoxy radical, hydroxyethyl radical, acetyl radical, singlet radical, superoxide radical, hydrogen peroxide, hydroxyl radical, alkoxyl radical, and peroxyl radical. These attack hepatocytes, Kupffer cells, stellate cells, and liver sinusoidal endothelial cells, and their signaling mediators such as interleukins, interferons, and growth factors, help to initiate liver injury including fibrosis and cirrhosis in susceptible individuals with specific risk factors. Through CYP 2E1-dependent ROS, more evidence is emerging that alcohol generates lipid peroxides and modifies the intestinal microbiome, thereby stimulating actions of endotoxins produced by intestinal bacteria; lipid peroxides and endotoxins are potential causes that are involved in alcoholic liver injury. Alcohol modifies SIRT1 (Sirtuin-1; derived from Silent mating type Information Regulation) and SIRT2, and most importantly, the innate and adapted immune systems, which may explain the individual differences of injury susceptibility. Metabolic pathways are also influenced by circadian rhythms, specific conditions known from living organisms including plants. Open for discussion is a 5-hit working hypothesis, attempting to define key elements involved in injury progression. In essence, although abundant biochemical mechanisms are proposed for the initiation and perpetuation of liver injury, patients with an alcohol problem benefit from permanent alcohol abstinence alone.
View Full-Text
►

▼

Figures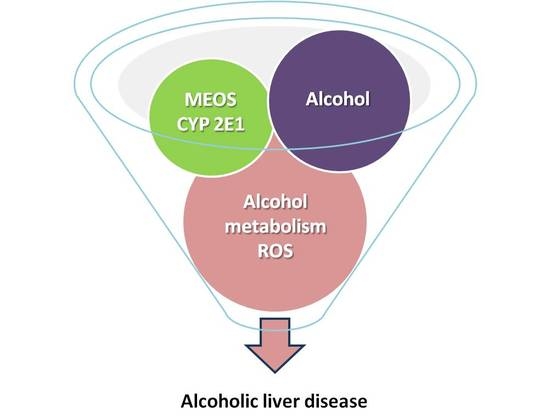 Graphical abstract
This is an open access article distributed under the
Creative Commons Attribution License
which permits unrestricted use, distribution, and reproduction in any medium, provided the original work is properly cited (CC BY 4.0).

Share & Cite This Article
MDPI and ACS Style
Teschke, R. Alcoholic Liver Disease: Alcohol Metabolism, Cascade of Molecular Mechanisms, Cellular Targets, and Clinical Aspects. Biomedicines 2018, 6, 106.
Note that from the first issue of 2016, MDPI journals use article numbers instead of page numbers. See further details here.
Related Articles
Comments
[Return to top]