Open Access This article is
freely available
re-usable
Review
Hypoxia, Metabolism and Immune Cell Function
1
Institut National de la Santé et de la Recherche Médicale (INSERM), Paris Cardiovascular Research Center, Unit 970, 56 Rue Leblanc, 75015 Paris, France
2
Institute of Anatomy, University of Zurich, Winterthurerstrasse 190, CH-8057 Zurich, Switzerland
*
Authors to whom correspondence should be addressed.
Received: 23 April 2018 / Accepted: 10 May 2018 / Published: 15 May 2018
Abstract
:
Hypoxia is a hallmark of inflamed, infected or damaged tissue, and the adaptation to inadequate tissue oxygenation is regulated by hypoxia-inducible factors (HIFs). HIFs are key mediators of the cellular response to hypoxia, but they are also associated with pathological stress such as inflammation, bacteriological infection or cancer. In addition, HIFs are central regulators of many innate and adaptive immunological functions, including migration, antigen presentation, production of cytokines and antimicrobial peptides, phagocytosis as well as cellular metabolic reprogramming. A characteristic feature of immune cells is their ability to infiltrate and operate in tissues with low level of nutrients and oxygen. The objective of this article is to discuss the role of HIFs in the function of innate and adaptive immune cells in hypoxia, with a focus on how hypoxia modulates immunometabolism.
Keywords:
oxygen; hypoxia; HIF signaling pathway; oxygen metabolism; immune cells; innate immune responses; adoptive immune responses; immunity; inflammation
Author Contributions
E.K. and C.S. performed the literature review and wrote the manuscript.
Acknowledgments
We acknowledge the helpful support of the Institut National de la Santé et de la Recherche Médicale (INSERM) (ATIP-AVENIR programme), Mairie de Paris, programme "Emergences", Fondation ARC. Illustration sources in
Figure 1
and
Figure 2
: Author: somersault1824 (Creative Commons license for this work (CC BY-NC-SA 4.0)).
Conflicts of Interest
The authors declare no conflict of interest.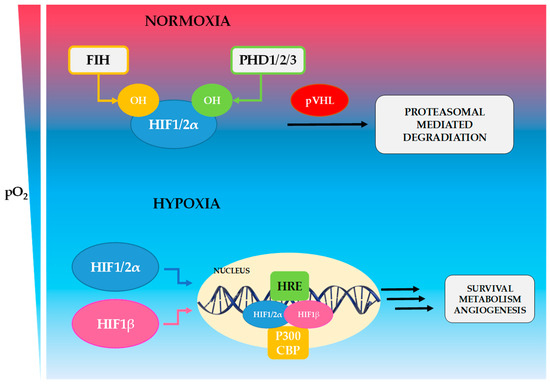 Figure 1. Regulation of HIF pathway. Under normoxia, PHDs (PHD1, PHD2 and PHD3) and factor inhibiting hypoxia-inducible factor (FIH) hydroxylate the HIF-1α and HIF-2α. This hydroxylation facilitates HIFα binding to the von Hippel-Lindau (VHL) E3 ubiquitin ligase complex, leading to fast ubiquitination and proteasomal degradation. During hypoxia, PHDs and FIH are inhibited by the absence of oxygen, in consequences, hypoxia reduces HIFα hydroxylation and leading to HIFα stabilization and activation. Once stabilized, HIFα subunit is translocated to the nucleus, where formed a complex with HIF-1β, then recruit coactivator p300/CBP, and upon binding to the consensus hypoxia response elements (HRE) within target genes, involved in a large type of processes, as cellular metabolism, proliferation, differentiation, cell survival, migration, apoptosis or angiogenesis.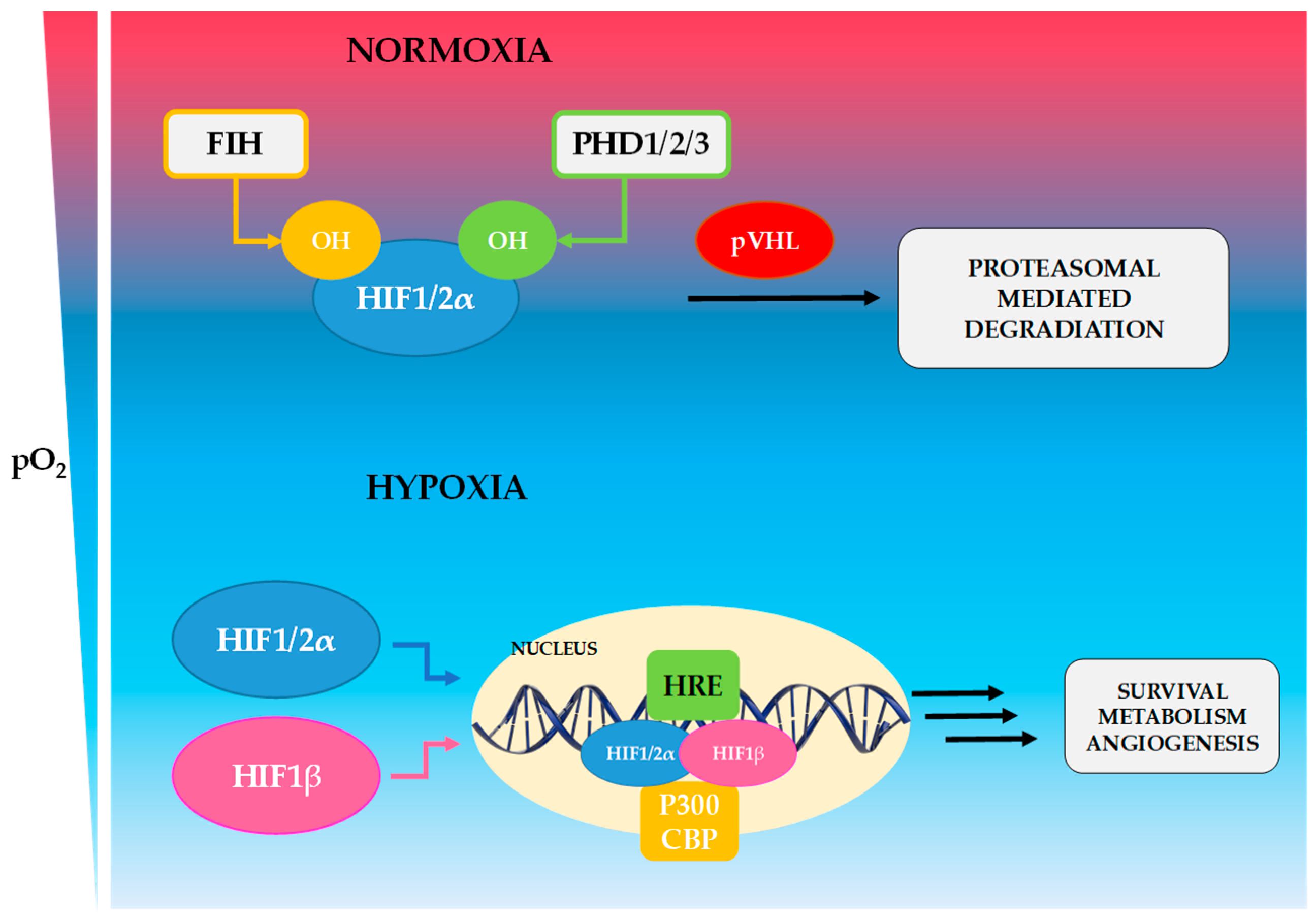 Cell Type
HIFα-Mediated Effects
basophils, eosinophils, mast cells
HIF1: Survival and function, chemotaxis, IL-8 and TNF-α production, stimulation of VEGF, CXCL8 and IL-6 production, formation of DNA traps [55,56,57,58,59,60,61]
HIF2: Chemotaxis [61]
dendritic cells
HIF1: Survival, migration, pro-inflammatory cytokine (INF, IL-22, IL-10) production, differentiation, activation, T cell stimulation, antigen presentation [62,63,64,65,66,67,68]
innate lymphoid cells
ILC1 and NK cells, ILC2, ILC3
HIF1 (NK cells): Metabolic reprogramming, impact on tumorigenic and viral potential, impact on number of tumor infiltrating NK cells expressing sVEGFR1, impact on cytotoxic function [28,69,70,71,72,73,74,75,76,77,78]
HIF1 (ILC2): impact on the late stage of maturation and function via IL33-ST2 pathway [79]
macrophages
Classic M1 macrophages, Regulatory M2 macrophages
HIF1: M1 polarization, motility, aggregation, invasion, metabolism, phagocytosis, chemotaxis, bactericidal activity, tumorigenic potential, expression of pro-inflammatory cytokines, increased TLR4 expression [45,48,49,50,80,81,82,83,84,85,86,87]
HIF2: M1 polarization, motility, metabolism, bactericidal activity, tumorigenic potential [88,89]
neutrophils
HIF1: Survival, migration, invasion, bactericidal activity, promoted the on-state, increased pro-inflammatory cytokine production and nitric oxide [45,46,47,48,49,50,90]
HIF2: Survival, increased resistance to nitrosative stress (Catalase) [46,54]
T cells
T helper CD4+,
Cytotoxic CD8+ T cells
HIF1: TH17 and Treg differentiation, survival, proliferation, migration, metabolic reprogramming; CD4+: increased IL17A production; CD8+: increased cytolitic activity, granzyme and perforin production and expression of costimulatory/inhibitory molecules (CTLA-4, GITR, 4-1BB) [91,92,93,94,95,96,97,98,99,100,101,102,103,104]
HIF2: T cell suppression (Arginase), impact on thymocyte development [46]
B cells
HIF1: Abnormal B-cell development, impact on proliferation and cell death, autoimmunity, ion transfer, enhanced IgG2c production [105,106,107,108,109,110,111]
HIF2: impact on proliferation and cell death, enhanced IgG2c production [105,109,111]

© 2018 by the authors. Licensee MDPI, Basel, Switzerland. This article is an open access article distributed under the terms and conditions of the Creative Commons Attribution (CC BY) license (http://creativecommons.org/licenses/by/4.0/).