Open Access This article is
freely available
re-usable
Review
Smart Polymers in Micro and Nano Sensory Devices
Departamento de Química Orgánica, Facultad de Ciencias, Universidad de Burgos, Plaza Misael Bañuelos s/n, 09001 Burgos, Spain
*
Author to whom correspondence should be addressed.
Received: 25 February 2018 / Accepted: 19 March 2018 / Published: 21 March 2018
Abstract
:
The present review presents the most recent developments concerning the application of sensory polymers in the detection and quantification of different target species. We will firstly describe the main polymers that are being employed as sensory polymers, including, for example, conducting or acrylate-based polymers. In the second part of the review, we will briefly describe the different mechanisms of detection and the target species, such as metal cations and anions, explosives, and biological and biomedical substances. To conclude, we will describe the advancements in recent years concerning the fabrication of micro and nano sensory devices based on smart polymers, with a bibliographic revision of the research work published between 2005 and today, with special emphasis on research work presented since 2010. A final section exposing the perspectives and challenges of this interesting research line will end the present review article.
Keywords:
sensors; smart polymers; detection; sensory devices
1. Introduction
Sensory or smart polymers present the ability to respond, reversibly or irreversibly, to different stimuli. Different sources can cause these responses: Temperature [
1
], electromagnetic pulses [
2
], biological molecules [
3
] or Ph media [
4
]. The smart polymer, when affected by these stimuli, changes various physicochemical properties, such as solubility, color, fluorescence, or even shape. The research devoted to the synthesis and analysis of the properties of these polymers has increased greatly in recent years, and they are starting to being used in a great variety of sectors, including biosensors [
5
], biomedical applications [
6
] and drug delivery [
7
].
The easy processability of the polymers makes them suitable for preparation in different shapes, such as coatings, films, fibers or wires, and with tuned hydrophilicity. The interaction between the sensor species or receptor motif and the guest in the smart polymer has led to the generation of different materials that are able to be used as sensory devices [
8
]. The analyte, or target species, produces a quantitative response in the sensory molecule, in terms of a noticeable physical property, which must be properly detected and quantified through recognition and transduction processes, thus producing an easily measurable macroscopic characteristic [
9
]. Our review work will be focused on chemical sensors based on smart polymers and will not consider physical sensors. Chemical sensors are devices that respond specifically to a particular analyte in an specific way through a chemical reaction, which is used to for the quantitative and/or qualitative determination of the analyte. On the other hand, physical sensors are concerned with measuring physical quantities such as length, weight, temperature, etc. for their own sake.
Although there are different characteristics that can be used to define the sensory behavior, selectivity and sensitivity are of primary significance. Sensitivity defines the detection limit or the minimal quantity of the analyte that can be detected, whereas selectivity is related to the capacity to detect a specific analyte in the presence of other target molecules (in a so-called interference analysis).
We have organized this review into three different sections. In the first part of the work, the descriptions of the different smart polymers that are used in sensory applications are detailed. In a second, we will present the mechanisms of detection and the main target species that are currently being immobilized and quantified using sensory polymeric materials, including the quickly evolving field of biological applications. Finally, we will describe the main sensory devices that employ sensory polymers that have been developed in the last 10–15 years, especially those focused on the micro- and nanoscale. The review will finalize with a brief summary and outlooks.
2. Polymers with Sensory Properties
A great variety of polymers can be used as sensory materials. In this review, we have selected the most important polymers that are currently being employed in sensory devices, as well as the polymers that are now undergoing extensive research and development as sensory materials. Thus, the sensory polymers analyzed include molecularly imprinted polymers, polymeric nanocomposites and hybrid polymers, acrylic polymers, polymers with chiral motifs, conjugated or conductive polymers and sensor arrays based on a set of polymers.
3. Mechanisms of Detection and Target Species
The sensing process is based on the change in various physical and chemical properties of the polymers, which vary in the presence of the target species. In this review, the micro and nano sensory devices described are based on the analysis and transduction of this change in physical properties during the sensing process. Following this line, there are different mechanisms of detection that are employed based on different physicochemical characteristics.
A wide variety of target species or analytes can be detected using sensory polymeric materials. In this review, we have selected four main groups of species that are currently under extensive research. Heavy metal cations and anions, gases and organic volatile compounds (VOCs), explosives and chemical warfare agents and finally the recent research concerning the biological and biomedical applications, mainly focused in the immobilization and detection of proteins, glucose and different disease markers.
4. New Micro and Nano Sensory Devices Based on Smart Polymers
The development of new sensory polymers has opened new possibilities in the preparation of micro- and nanodevices, which are essentially focused on detecting and quantifying different physical properties that change due to the sensing effect. The quantification of these properties is related directly to the amount (sensitivity) and the type (selectivity) of the target species. In this sense, sensory devices based on smart polymers are evolving quickly, and in this review, we will present the most representative. We will analyze the micro- and nanodevices based on polymeric nanofibers, films and coatings, sensory arrays (which are extensively used in electronic noses), QCMs, microfluidic devices, modified electrodes with smart polymers, and also sensory devices based on polymer field-effect transistors. We will also include a brief description of sensory chips, which are gaining interest for biological and biomedical applications, the use of micro and nanoporous materials, and finally a couple of references related to the sensory devices based on LIPSS (Laser Induced Periodic Surface Structures), as well as sensory devices related to the SERS (Surface Enhanced Raman Spectroscopy) effect, which can be used for the sensor enhancement effect. This part of the review will also include a deep bibliographic outlook starting from the early 2000 s and extending up to the present day, ending with a schematic table covering the most important research works presented in this investigation line.
5. Conclusions
The present review has focused on the analysis of recent developments in the research and development of sensory polymers and the preparation of micro and nano sensory devices using these smart materials. It has been remarked that in the last 10–15 years, the interest in this research field has increased noticeably, with a great number of publications and review articles published to date. Apart from classical applications in gas or metal cation detection, the emerging field related to biological and biomedical applications is especially interesting. In parallel, the improvement in the experimental techniques to determine optical, electrical or mechanical properties have enhanced the sensitivity and selectivity of the sensory devices.
It is important not to forget the difficulties and challenges that must be overcome in these devices, such as the improvement of selectivity, the increasing of the number of target species, with special attention on biomedical and biological applications, and also the reduction of the detection or response time. These research advancements should be carried out together with the industrial applications, then improving the production methods in order to obtain and commercialize cheap and portable sensory devices.
Acknowledgments
The financial support provided by FEDER (Fondo Europeo de DEsarrollo Regional), and both the Spanish Ministerio de Economía, Industria y Competitividad (MAT2014-54137-R, MAT2017-84501-R) and the Consejería de Educación–Junta de Castilla y León (BU061U16) is gratefully acknowledged.
Author Contributions
J.A.R.R. and S.V. wrote the review article; A.M.S. carried out the bibliographic search to include in the review; F.C.G. and J.M.G. conceived, revised and corrected the final version of the article.
Conflicts of Interest
The authors declare no conflict of interest.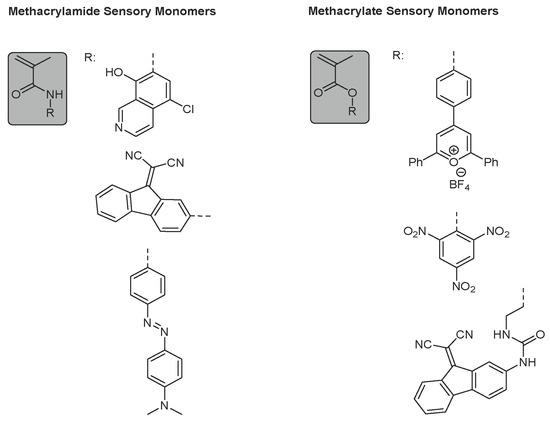 Scheme 1. Some examples of acrylic-based sensory monomers used for preparing sensory polymers for the detection of charged species.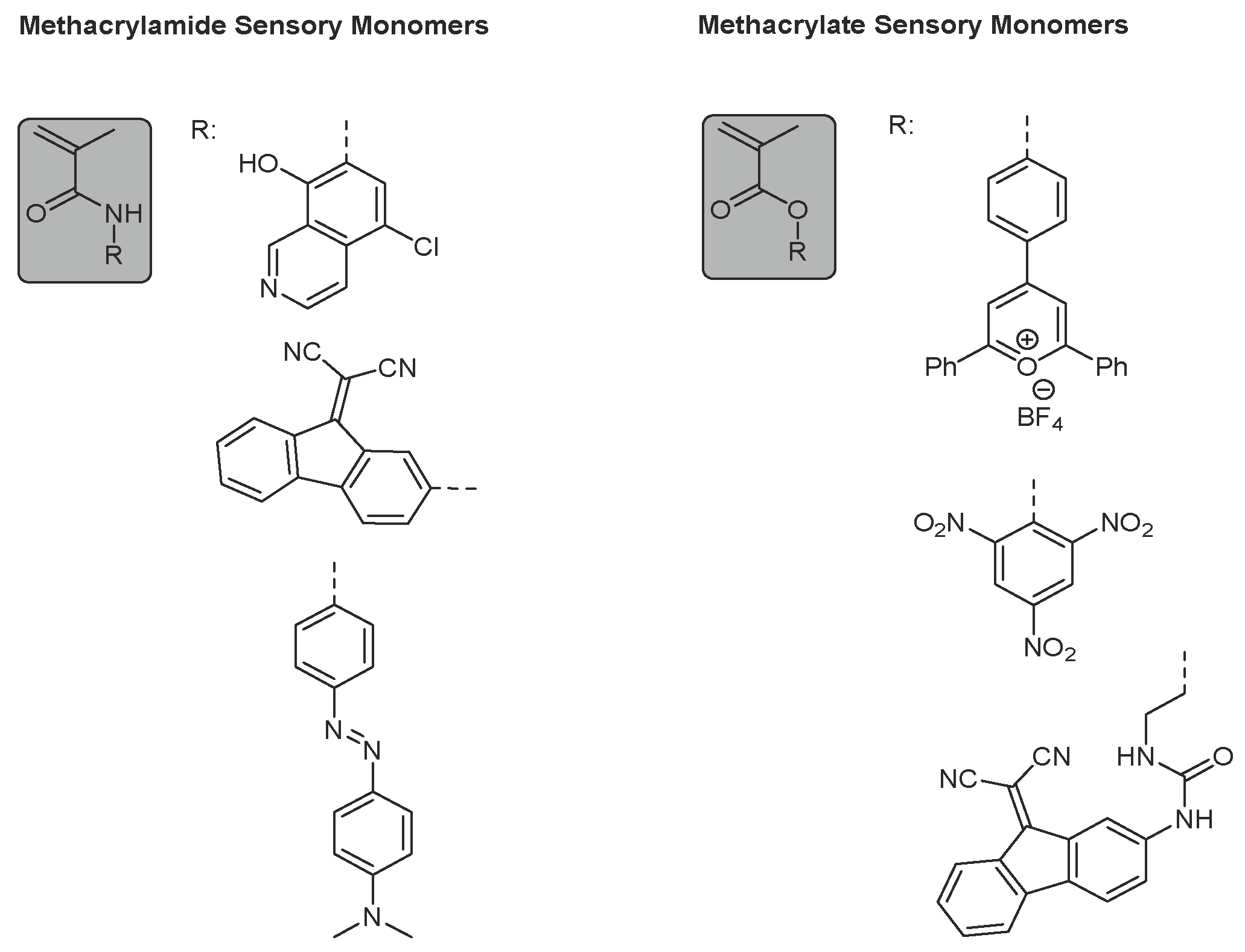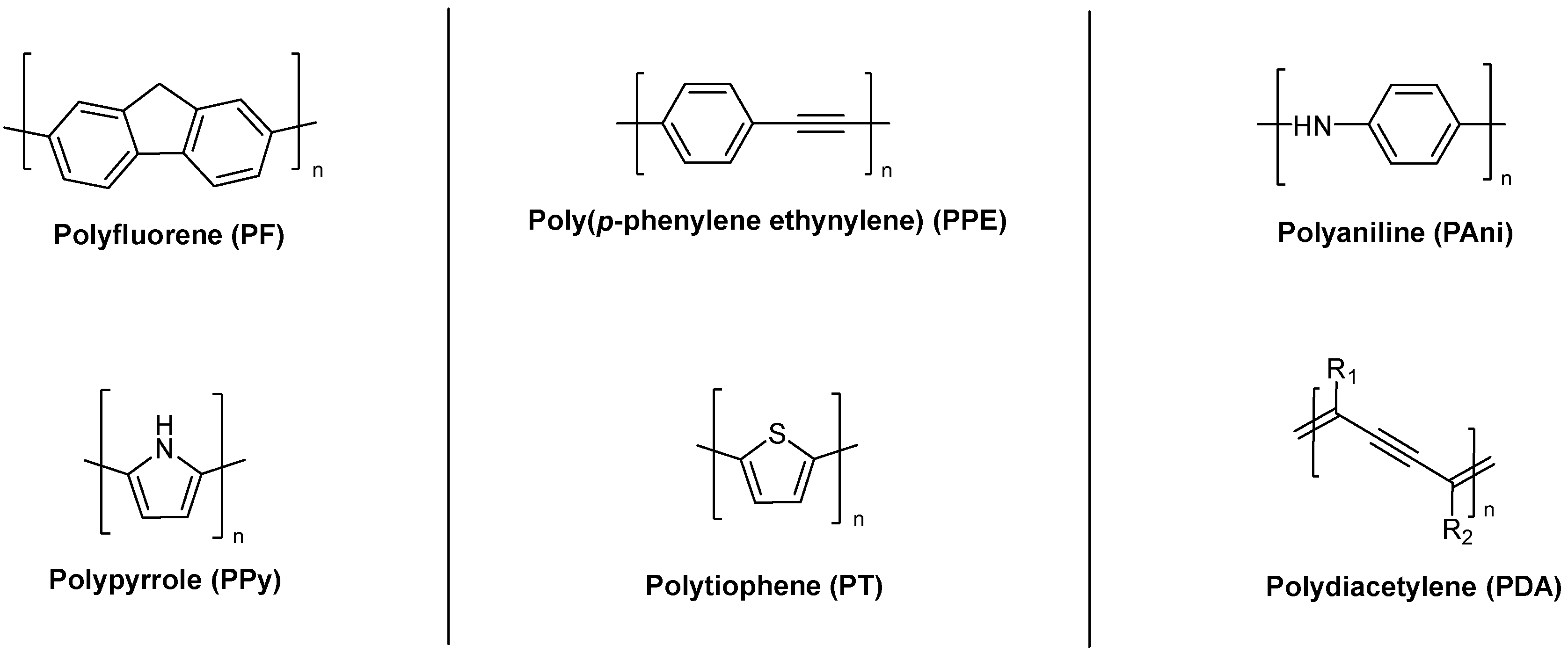 Table 1.
Detection of analytes using sensory polymers. (For additional information, please see reference [
53
]).
Type of Analyte
Target Species
References
Cations and anions
Hg2+
[26,27,28,29,30,54,55,56,57,58,59,60,61,62,63]
Zn2+
[64,65,66,67,68,69]
Cu2+
[20,24,70,71,72,73,74]
Fe2+,Fe3+
[57,73,75,76,77,78,79]
Al3+
[58,78,80,81]
Cr3+,Cr6+
[27,58,73,78]
F−
[44,82,83]
CN−
[45,46,74,84,85,86,87,88]
Other cations
[19,31,32,72,79,89,90]
Gases and Volatile Organic Compounds
NH3
[35,91,92,93,94]
CO2
[37,95,96]
H2O
[38,97,98,99,100]
VOCs
[17,18,22,23,36,101,102,103,104]
Explosives and harmful substances
PETN 1/RDX 2
[105]
TATP 3
[106]
DCP 4
[107]
Hydrazine
[40,108]
DNB 5, DNT 6
[21,109,110]
TNT 7
[41,42,43,105,110,111,112]
Biomolecules
Drugs
[113,114,115,116,117]
Hormones
[51,118,119]
Neurotransmitters
[120,121,122]
Sugars/Saccharides
[50,122,123,124,125,126,127,128,129,130]
Amino acids and proteins
[48,131,132,133,134,135]
Metabolites
[47,136,137]
Other biomolecules
[52,62,63,138,139]
1 PETN—Pentaerythritol tetranitrate; 2 RDX—1,3,5-trinitro-1,3,5-triazinane; 3 TATP—Triacetone triperoxide; 4 DCP—Diethyl chlorophospite; 5 DNB—2,4-dinitrobenzene; 6 DNT—2,4-dinitrotoluene; 7 TNT—2,4,6-trinitrotoluene.

Group of Sensory Devices
Type of Response
References
Polymer nanofibers
SAW
[163,164]
Electrical
[34,35,118,165,166,167]
Optical
[17,18,19,168]
Polymer films and coatings
Optical
[39,48,169,170,171,172,173,174,175,176]
Electrochemical
[115,177,178,179]
Electrical
[93]
Sensory polymeric arrays
Optical
[89,180,181,182]
Electrical
[183,184,185]
Quartz Crystal Microbalances
Piezoelectric
[14,114,130,146,186,187,188,189,190,191,192]
Microfluidic devices
Optical
[27,128,150,193,194,195]
Electrical
[148,190]
Modified electrodes
Electrochemical
[26,99,152,153,154,155,196,197,198,199,200,201,202]
Sensory chips
Optical
[161,193,194,195]
Micro and nanoporous materials
Optical
[111,203,204,205]
Electrochemical
[162,206]
LIPSS and SERS effect
Optical
[207,208]

© 2018 by the authors. Licensee MDPI, Basel, Switzerland. This article is an open access article distributed under the terms and conditions of the Creative Commons Attribution (CC BY) license (http://creativecommons.org/licenses/by/4.0/).