Open Access This article is
freely available
re-usable
Review
The Development of Pathways in Palliative Medicine: Definition, Models, Cost and Quality Impact
1
Division of Hematology and Bone Marrow Transplant, Department of Internal Medicine, Ochsner Medical Center, 1514 Jefferson Highway, New Orleans, LA 70121, USA
2
Department of Palliative Medicine & Supportive Care, Section of General Internal Medicine & Geriatrics, University Medical Center, Tulane University School of Medicine, 2000 Canal Street, New Orleans, LA 70112, USA
*
Author to whom correspondence should be addressed.
Received: 21 January 2019 / Accepted: 31 January 2019 / Published: 1 February 2019
Abstract
:
Palliative Care and its medical subspecialty, known as Palliative Medicine, is the care of anyone with a serious illness. This emerging field includes Hospice and comfort care, however, it is not limited to end-of-life care. Examples of the types of serious illness that Palliative Medicine clinicians care for include and are not limited to hematologic and oncologic diseases, such as cancer, advanced heart and lung diseases (e.g., congestive heart failure and chronic obstructive pulmonary disorder), advanced liver and kidney diseases, and advanced neurologic illnesses (e.g., Alzheimer's and Parkinson's disease). In the past decade, there has been tremendous growth of Palliative Medicine programs across the country. As the population of patients with serious illnesses increases, there is growing concentration on quality of care, including symptom management, meeting patients' goals regarding their medical care and providing various types of support, all of which are provided by Palliative Medicine. In this review article we define Palliative Medicine, describe care pathways and their applicability to Palliative Medicine, identify different models for Palliative Care and provide evidence for its impact on cost and quality of care.
Keywords:
palliative care; palliative medicine; serious illness; cost-effectiveness; hospice; quality; clinical pathways
1. Introduction
1.1. Objective
There is practically a complete absence of literature regarding care pathways in Palliative Medicine, laying bare a wide-open knowledge gap of their potential use and benefits in this field of medicine despite tremendous growth of this specialty across our country. Both an aging population and significant advances in medicine increase the need for better Palliative Medicine utilization in overall healthcare. The objective of this review article is to briefly define Palliative Medicine and its components, to describe the very rare use of care pathways in the field, and further discuss models of Palliative Medicine practice, including the cost and quality of care that should allow for care pathway development.
1.2. Definition of Palliative Medicine
According to the Center to Advance Palliative Care (CAPC), Palliative Care and its medical subspecialty, known as Palliative Medicine, are defined as the "specialized medical care for people living with serious illness." [
1
]. Palliative Care is the relief of suffering and soothing of symptoms caused by disease or illness, this is care provided by any member of a healthcare team. Palliative Medicine is a fellowship trained medical subspecialty providing expert level Palliative Care to patients with serious illness. The illness may be considered serious in a variety of ways, including illness that is incurable and/or life-threatening, that manifests with difficult symptoms or requires multiple hospital admissions for treatment, or illness that drastically changes a patient's quality of life. Palliative Medicine is provided by a workforce of providers, including physicians, advanced practice providers, nurses, chaplains and social workers. Some teams may include art and music therapists, pharmacists and child life therapists as well. These providers work with patients' specialists to provide pain and symptom management, communication expertise, emotional, spiritual and psychosocial support as well as end-of-life care when appropriate. The goal of Palliative Medicine is to alleviate the burden of serious illness through the improvement of quality of life by addressing gaps in symptom management and communication. Palliative Medicine involvement is appropriate for any age and any stage of a serious illness and can be provided alongside curative treatment with additional services if death occurs (
Figure 1
).
Palliative Medicine and Hospice (end-of-life care) are often thought to be synonymous but Hospice is a small role of Palliative Medicine (
Figure 2
). End-of-life care is care of a patient in their final hours or days is one aspect of Palliative Medicine, often performed through Hospice care. Hospice care is the treatment of a person at the end of life, which is recommended when a patient's prognosis is six months or less. Hospice care is available to patients through the Medicare Hospice Benefit covering the cost of end of life care for patients with Medicare Part A and certification of a terminal illness by both a hospice doctor and the patient's usual physician (
Figure 1
). Hospice also provides caregiver and family support and bereavement services after a patient's death. Palliative Medicine teams often coordinate and/or provide hospice care.
1.3. Care Pathways and Use in Palliative Medicine
2. Models of Palliative Medicine Delivery
Palliative Medicine can be provided in almost any care setting including inpatient hospital consults (consultative), dedicated hospital-based Palliative Medicine units, outpatient clinics, assisted living and long-term care facilities and home-based care [
1
]. Palliative Medicine services may be provided in person, by video or by telehealth services [
20
]. Palliative Care may also be divided in tiers of care from primary to tertiary Palliative Medicine [
21
].
2.1. Inpatient Palliative Care
The two primary models of inpatient Palliative Medicine are: a) Consultative services and b) inpatient units. Inpatient consult services may include a single clinician, an interdisciplinary team, or a Palliative Medicine hospital unit [
22
]. Inpatient Palliative Medicine should have the capability to provide consultations from the emergency room to the intensive care unit [
23
]. Inpatient Palliative Medicine units are found in larger hospitals or health care systems with the ability to admit patients for symptom management, support severely distressed families or to manage the imminently dying patient.
Consultative Palliative Medicine is the most common form of inpatient practice and is the same as any other medical specialty consult provided upon request of the expert. Physicians who consult Palliative Medicine typically seek support in four domains:
Pain and symptom assessment and management

The communication between healthcare teams and patients and/or family regarding goals of care and advanced medical decision making

The provision of support to patients, families, and health care teams

End-of-life care, comfort care and Hospice services
Consultative Palliative Medicine differs from practices with full services of independent outpatient clinics, inpatient units, and admitting service privileges. Across hospital programs of varying sizes in the United States, Palliative Medicine inpatient services have a mean penetration of 4.4%, which has increased by 63% since 2008. The development of Palliative Medicine units has grown tremendously since the early days of strictly inpatient consult services. From 2008 to 2014, consult volumes increased by 91% [
24
]. In 2011, 65% of hospitals had an inpatient Palliative Medicine service with larger hospitals (>300 beds) representing more than 85% of programs. The factors associated with having inpatient Palliative Medicine services included not-for-profit institutions, institutions that owned a hospice program, status as an American College of Surgery approved cancer hospital and having a higher percentage of patients with a college education [
25
].
2.2. Outpatient Palliative Care
Due to challenges in implementation and the current Palliative Medicine workforce shortage, less than half of the nation's Palliative Medicine programs have outpatient services [
26
,
27
]. Healthcare is moving towards the development of "medical homes" or centers that serve as primary care and subspecialty centers without patients needing to go to multiple locations for care. Research has shown that the integration of outpatient Palliative Medicine into large private oncology systems improves clinician and patient satisfaction and referrals increase rapidly [
28
]. The goal in outpatient Palliative Medicine is to save the primary team time by addressing symptom burden, goals of care conversations, advance care planning and coordination of care.
Overall outpatient Palliative Medicine can deliver care earlier during a serious illness. Methods should be established to consider outpatient Palliative Medicine referral patterns, which will help administrators set benchmarks to assess program quality, allow for research of patient concerns and allow development of care pathways [
29
].
2.3. Community-Based Palliative Care
Community-based Palliative Care (CPC) is an emerging model of Palliative Medicine that spans through the inpatient and outpatient settings to provide serious illness care at home or in a long-term care setting. The goal of CPC is to provide longitudinal care across patient transitions and serve as a bridge between Palliative Medicine and Hospice [
30
]. Database collection and collaboration among regional settings are occurring to understand the types of patients being referred to CPC, symptom profiles and change in symptoms after visits, which may be used to develop specialized care pathways in this unique care setting [
31
].
3. Cost & Quality Impact of Palliative Medicine Models and Pathways
The data from randomized control trials in nearly all specialties—including heart failure, dementia, and end-stage renal disease —in Palliative Medicine, clearly show that this specialty improves patient quality of life, quality of care and reduces the cost of care [
32
,
33
,
34
]. Research from Palliative Medicine in Oncology also suggests it may improve patient survival [
35
]. Despite these successes, Palliative Medicine continues to face many challenges. Programs are underdeveloped in low- to middle-income countries, while advanced health care systems struggle to supply a Palliative Medicine workforce to meet the demand for services in urban settings and large academic medical centers.
4. Conclusions
The field of Palliative Medicine has moved significantly upstream to include the care of any patient with a serious illness. Palliative Medicine and care pathways are impacting professional practice, patient outcomes, quality of care, length of stay and hospital costs. The future of Palliative Medicine should include the development of primary and integrated care pathways for inpatient-, outpatient- and community-based serious illness care, to standardize referral patterns and demonstrate its impact on resource utilization. Just as end-of-life care pathways standardized symptom management at the time of death, similar care pathways should be developed for early Palliative Medicine consultations to address symptom control and cohesive disease management as part of multidisciplinary teams. Care pathway development should also involve support patterns for caregivers and management of the bereaved after hospice enrollment. Outcomes research involving integrated care pathways in Palliative Medicine is completely lacking and should be considered a prime area of future research efforts to support the management of Palliative Medicine programs and further demonstrate the specialty's positive impacts on patient quality and cost of care.
Author Contributions
Both authors, LF and SM contributed equally to this manuscript.
Conflicts of Interest
Both authors, LF and SM have no conflicts of interest or disclosures to report.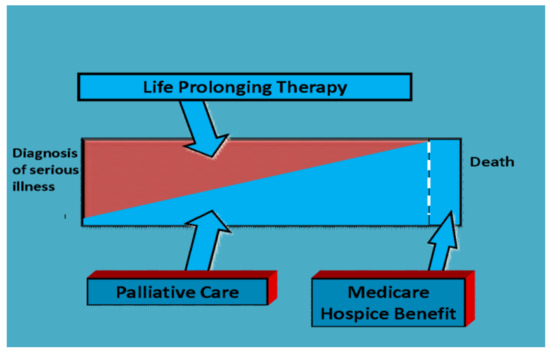 Figure 1.
Palliative Medicine's Role during Illness. Adapted from "the integrated model of care" proposed by the World Health Organization in 1990 [
1
].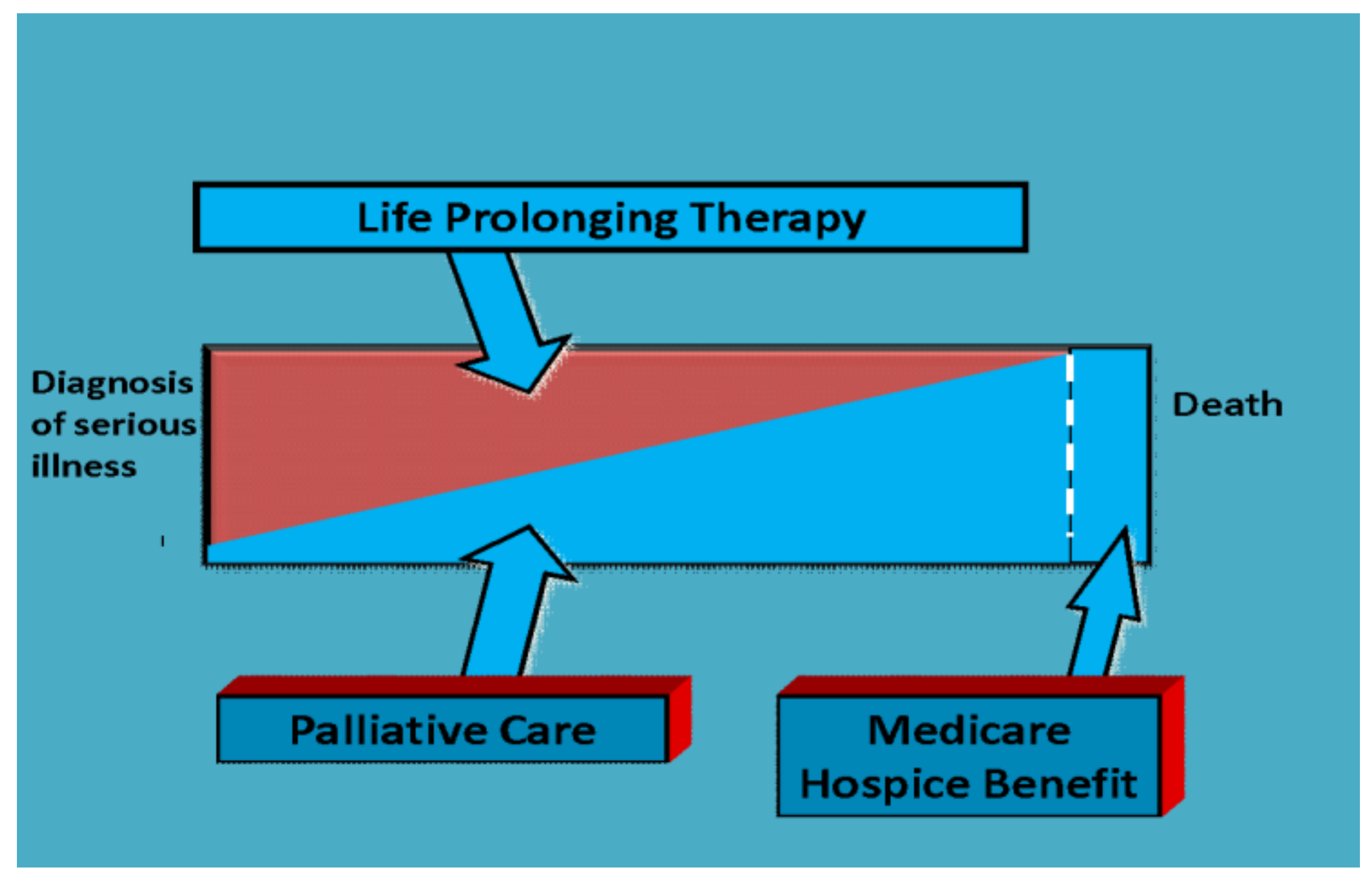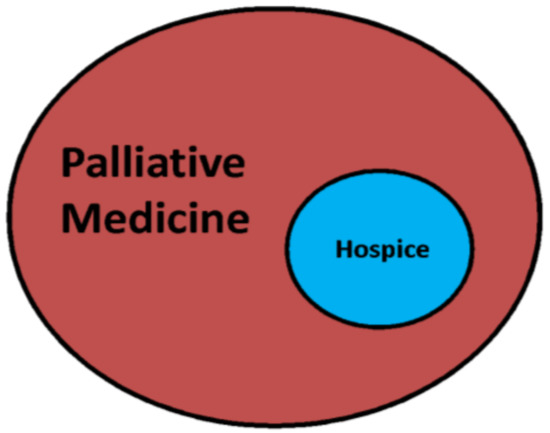 Figure 2.
Palliative Medicine and Hospice Care. Adapted from Palliative Medicine and Geriatric Emergency Care [
2
].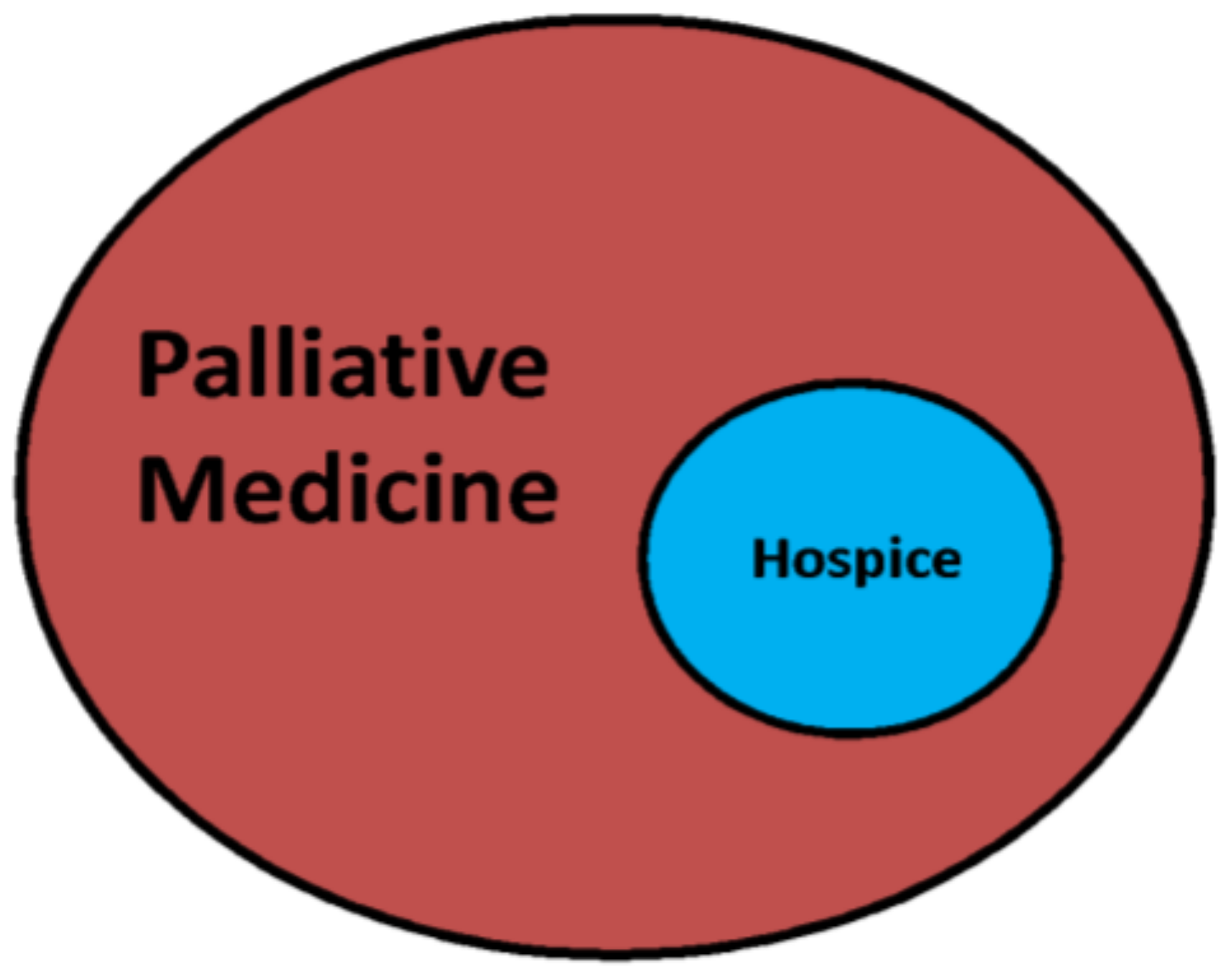 © 2019 by the authors. Licensee MDPI, Basel, Switzerland. This article is an open access article distributed under the terms and conditions of the Creative Commons Attribution (CC BY) license (http://creativecommons.org/licenses/by/4.0/).