Use of a Cross-Sectional Survey in the Adult Population to Characterize Persons at High-Risk for Chronic Obstructive Pulmonary Disease
1
Division of Pulmonary Diseases and Critical Care Medicine, Department of Medicine, University of North Carolina at Chapel Hill, Chapel Hill, NC 27599, USA
2
Durham VA Medical Center, Durham, NC 27708, USA
3
South Carolina Department of Health and Environmental Control, Columbia, SC 29201, USA
4
Pulmonary, Critical Care, Allergy, Immunologic Diseases Section, Wake Forest University, Winston-Salem, NC 27109, USA
5
Division of Pulmonary and Critical Care Medicine, University of Michigan, Ann Arbor, MI 48109, USA
6
Kentucky Department for Public Health, State Public Health Agency, Frankfort, KY 40621, USA
7
Department of Medicine, University of Kentucky, Lexington, KY 40506, USA
8
GlaxoSmithKline PLC, Philadelphia, PA 19112, USA
9
Department of Internal Medicine, University of Arizona, Tucson, AZ 85721, USA
10
Independent Researcher, Chapel Hill, NC 27599, USA
11
Division of Pulmonary, Critical Care and Sleep Medicine, Medical University of South Carolina, Charleston, SC 29425, USA
*
Author to whom correspondence should be addressed.
Received: 3 December 2018 / Revised: 2 January 2019 / Accepted: 15 January 2019 / Published: 18 January 2019
Abstract
Rationale/Objective: The Behavioral Risk Factor Surveillance System (BRFSS) health survey has been used to describe the epidemiology of chronic obstructive pulmonary disease (COPD) in the US. Through addressing respiratory symptoms and tobacco use, it could also be used to characterize COPD risk. Methods: Four US states added questions to the 2015 BRFSS regarding productive cough, shortness of breath, dyspnea on exertion, and tobacco duration. We determined COPD risk categories: provider-diagnosed COPD as self-report, high-risk for COPD as ≥10 years tobacco smoking and at least one significant respiratory symptom, and low risk was neither diagnosed COPD nor high risk. Disease burden was defined by respiratory symptoms and health impairments. Data were analyzed using multiple logistic regression models with age as a covariate. Results: Among 35,722 adults ≥18 years, the overall prevalence of COPD and high-risk for COPD were 6.6% and 5.1%. Differences among COPD risk groups were evident based on gender, race, age, geography, tobacco use, health impairments, and respiratory symptoms. Risk for disease was seen early where 3.75% of 25–34 years-old met high-risk criteria. Longer tobacco duration was associated with an increased prevalence of COPD, particularly >20 years. Seventy-nine percent of persons ≥45 years-old with frequent shortness of breath (SOB) reported having or being at risk of COPD, reflecting disease burden. Conclusion: These data, representing nearly 18% of US adults, indicates those at high risk for COPD share many, but not all of the characteristics of persons diagnosed with the disease and demonstrates the value of the BRFSS as a tool to define lung health at a population level.
View Full-Text
►

▼

Figures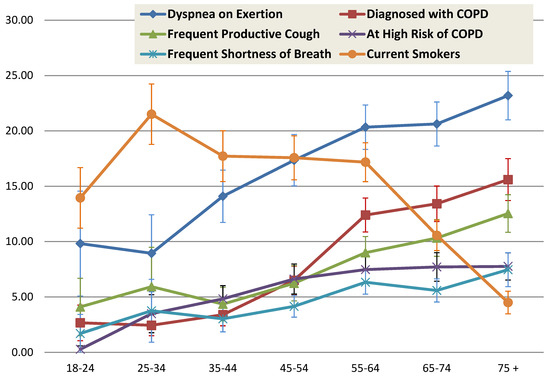 Figure 1
This is an open access article distributed under the
Creative Commons Attribution License
which permits unrestricted use, distribution, and reproduction in any medium, provided the original work is properly cited (CC BY 4.0).

Share & Cite This Article
MDPI and ACS Style
Pleasants, R.A.; Heidari, K.; Ohar, J.; Donohue, J.F.; Lugogo, N.; Richard, C.L.; Kanotra, S.; Mannino, D.M.; Kraft, M.; Liao, W.; Strange, C. Use of a Cross-Sectional Survey in the Adult Population to Characterize Persons at High-Risk for Chronic Obstructive Pulmonary Disease. Healthcare 2019, 7, 12.
Note that from the first issue of 2016, MDPI journals use article numbers instead of page numbers. See further details here.
Related Articles
Comments
[Return to top]