Translating Developmental Origins: Improving the Health of Women and Their Children Using a Sustainable Approach to Behaviour Change
1
MRC Lifecourse Epidemiology Unit, University of Southampton, Southampton General Hospital, Southampton SO16 6YD, UK
2
NIHR Nutrition Biomedical Research Centre, Southampton Centre for Biomedical Research, Southampton General Hospital, Southampton SO16 6YD, UK
3
NIHR Dissemination Centre, University of Southampton, Alpha House, Enterprise Road, Southampton SO16 7NS, UK
4
Formerly of NIHR Nutrition Biomedical Research Centre, Southampton Centre for Biomedical Research, Southampton General Hospital, Southampton SO16 6YD, UK
5
Li Ka Shing Centre for Health Research Innovation, Department of Agriculture, Food and Nutritional Science, University of Alberta, Edmonton, AB T7X 5A1, Canada
6
Formerly of Southampton City Council Public Health Team, Southampton City Council, Civic Centre, Southampton SO14 7LY, UK
7
Commissioner, Integrated Commissioning Unit, Southampton City Council, Civic Centre, Southampton SO14 7LY, UK
8
Former Senior Commissioning Manager for NHS Southampton, NHS Southampton HQ, Oakley Road, Millbrook, Southampton SO16 4GX, UK
9
Sydney Medical School, Edward Ford Building A27, The University of Sydney, Sydney, NSW 2006, Australia
*
Author to whom correspondence should be addressed.
Academic Editor: Sampath Parthasarathy
Received: 31 October 2016 / Revised: 3 March 2017 / Accepted: 14 March 2017 / Published: 20 March 2017
Abstract
Theories of the developmental origins of health and disease imply that optimising the growth and development of babies is an essential route to improving the health of populations. A key factor in the growth of babies is the nutritional status of their mothers. Since women from more disadvantaged backgrounds have poorer quality diets and the worst pregnancy outcomes, they need to be a particular focus. The behavioural sciences have made a substantial contribution to the development of interventions to support dietary changes in disadvantaged women. Translation of such interventions into routine practice is an ideal that is rarely achieved, however. This paper illustrates how re-orientating health and social care services towards an empowerment approach to behaviour change might underpin a new developmental focus to improving long-term health, using learning from a community-based intervention to improve the diets and lifestyles of disadvantaged women. The Southampton Initiative for Health aimed to improve the diets and lifestyles of women of child-bearing age through training health and social care practitioners in skills to support behaviour change. Analysis illustrates the necessary steps in mounting such an intervention: building trust; matching agendas and changing culture. The Southampton Initiative for Health demonstrates that developing sustainable; workable interventions and effective community partnerships; requires commitment beginning long before intervention delivery but is key to the translation of developmental origins research into improvements in human health.
View Full-Text
►

▼

Figures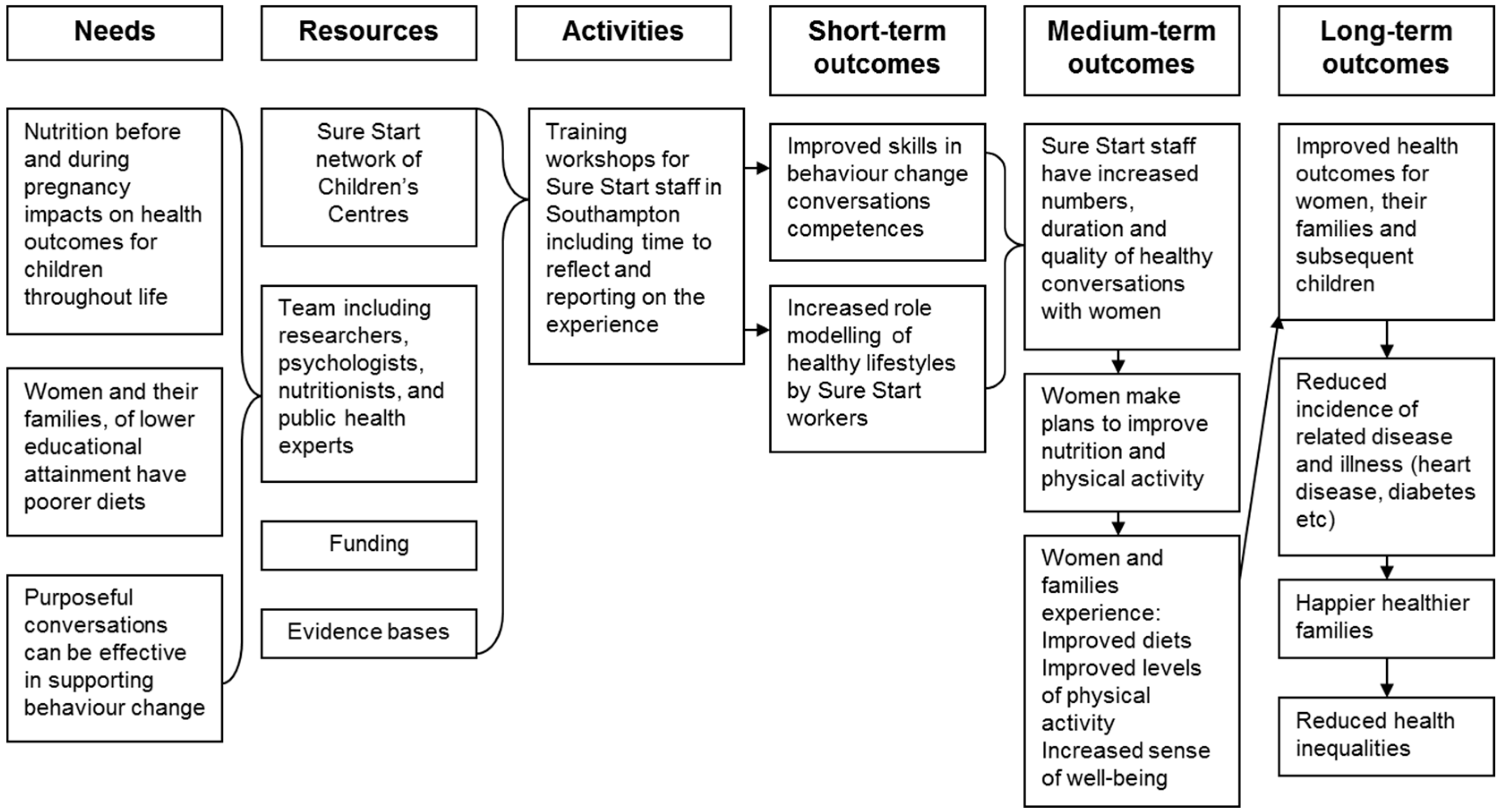 Figure 1
This is an open access article distributed under the
Creative Commons Attribution License
which permits unrestricted use, distribution, and reproduction in any medium, provided the original work is properly cited (CC BY 4.0).

Share & Cite This Article
MDPI and ACS Style
Barker, M.; Baird, J.; Tinati, T.; Vogel, C.; Strömmer, S.; Rose, T.; Begum, R.; Jarman, M.; Davies, J.; Thompson, S.; Taylor, L.; Inskip, H.; Cooper, C.; Nutbeam, D.; Lawrence, W. Translating Developmental Origins: Improving the Health of Women and Their Children Using a Sustainable Approach to Behaviour Change. Healthcare 2017, 5, 17.
Note that from the first issue of 2016, MDPI journals use article numbers instead of page numbers. See further details here.
Related Articles
Comments
[Return to top]