Open Access This article is
freely available
re-usable
Review
Towards the Full Realization of 2DE Power
1
Institute of Biomedical Chemistry, Pogodinskaya 10, Moscow 119121, Russia
2
B. P. Konstantinov Petersburg Nuclear Physics Institute, National Research Center "Kurchatov Institute", Leningrad region, Gatchina 188300, Russia
Academic Editors: Jens Coorssen, Alfred L. Yergey and Jacek R. Wisniewski
Received: 25 September 2016 / Accepted: 9 November 2016 / Published: 15 November 2016
Abstract
:
Here, approaches that allow disclosure of the information hidden inside and outside of two-dimensional gel electrophoresis (2DE) are described. Experimental identification methods, such as mass spectrometry of high resolution and sensitivity (MALDI-TOF MS and ESI LC-MS/MS) and immunodetection (Western and Far-Western) in combination with bioinformatics (collection of all information about proteoforms), move 2DE to the next level of power. The integration of these technologies will promote 2DE as a powerful methodology of proteomics technology.
Keywords:
two-dimensional gel electrophoresis; proteoforms; mass-spectrometry; bioinformatics
Acknowledgments
This work was funded by grant of RSF (Russian Science Foundation) #15–15-30041. Carita Lanner and the reviewers of this paper are highly acknowledged for the editing assistance.
Conflicts of Interest
The author declares no conflict of interest.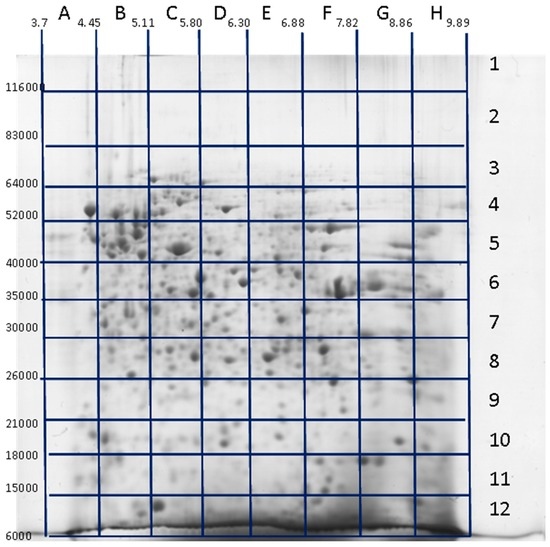 Figure 1.
Identification of proteoforms located in different sections of 2DE (two-dimensional electrophoresis) gel ("pixel-picking" approach). Glioblastoma cell extract was applied for the run. After separation, the gel was stained with Coomassie R250, and the 2DE map was calibrated according to the positions of several previously detected major protein spots. The gel was divided into 96 sections, identified as 1–12 along the Mw dimension (vertical) and A–H along the pI dimension (horizontal). All these gel sections were cut, treated with trypsin according to protocol for mass spectrometry, and the peptides were analyzed by ESI LC-MS/MS. Adapted from [
90
].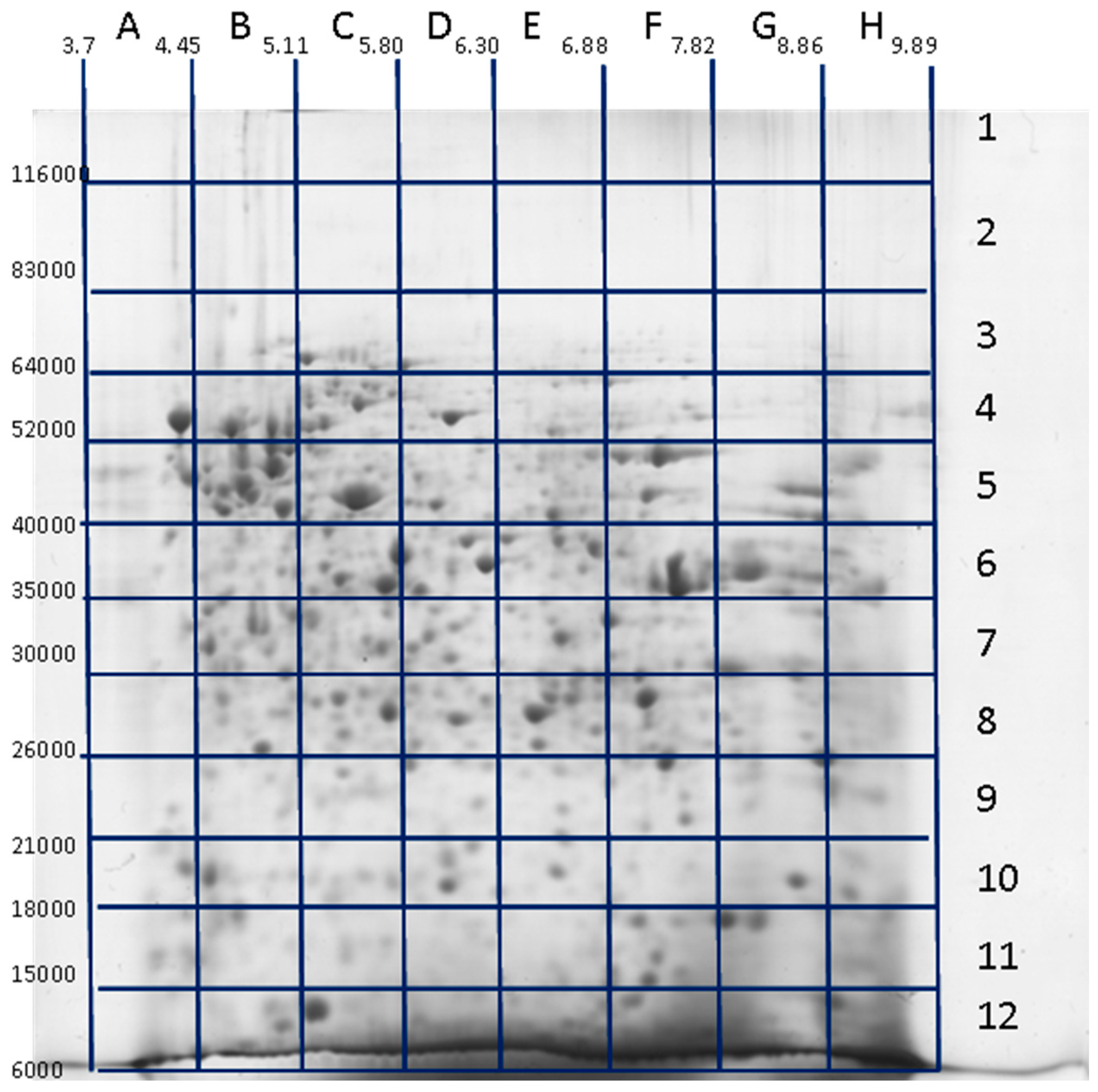 Figure 2.
Examples of 3D graphs showing distribution of proteoforms between different sections of the 2DE map. A semi quantitative (estimated by emPAI) distribution of the same protein (gene) around the different gel sections was plotted. Proteins, the potential biomarkers, are shown. Adapted from [
90
].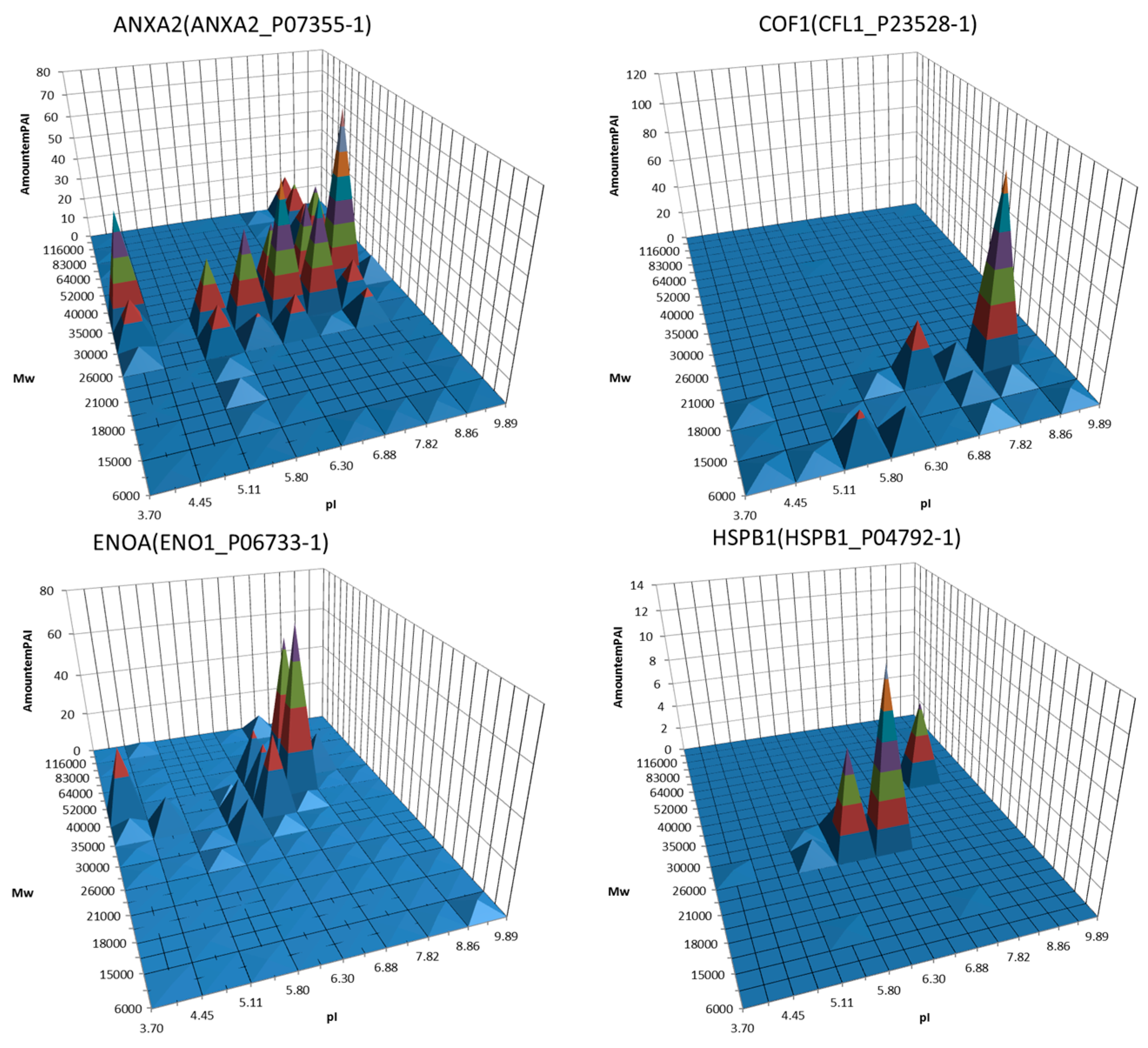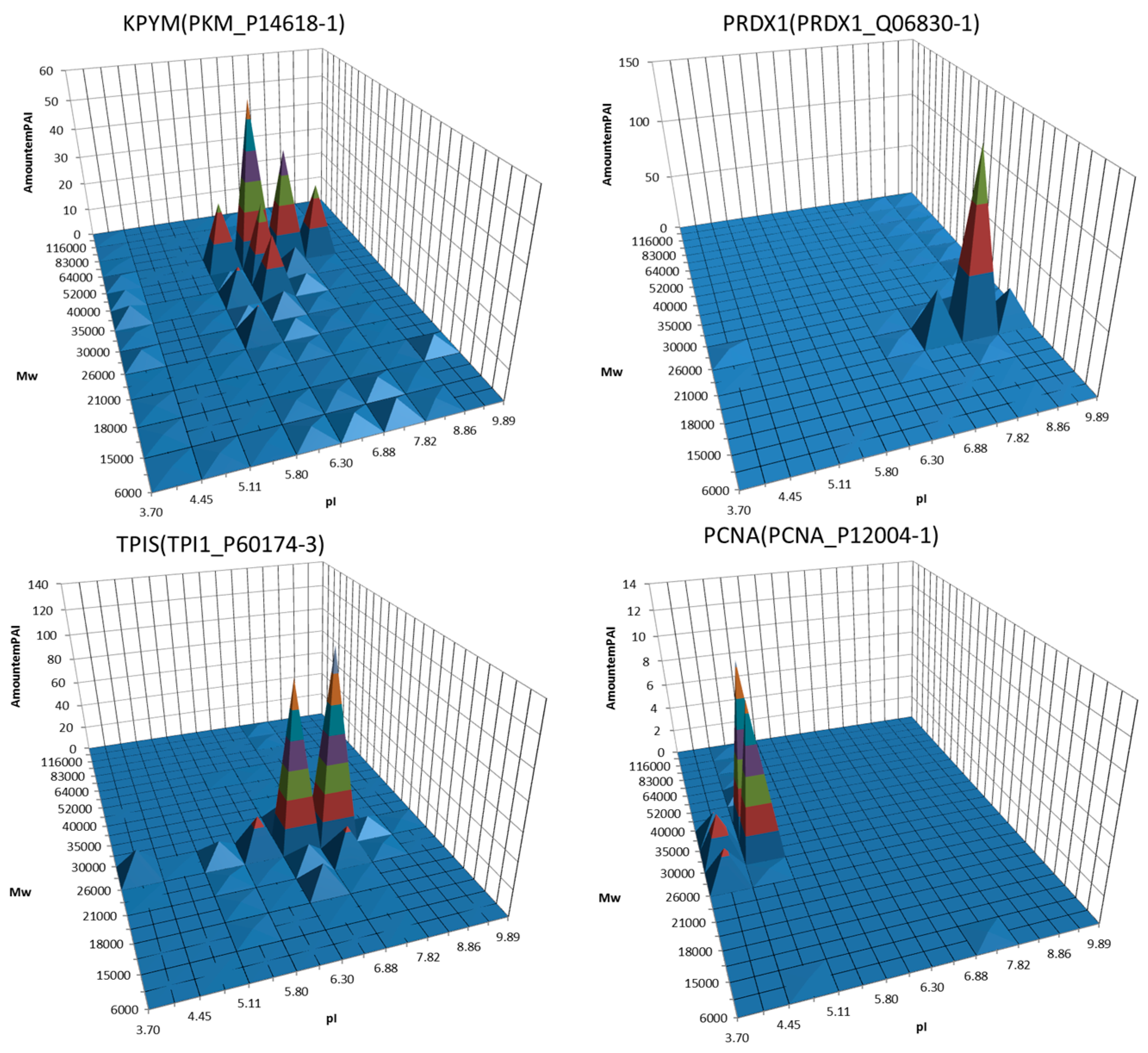 © 2016 by the author; licensee MDPI, Basel, Switzerland. This article is an open access article distributed under the terms and conditions of the Creative Commons Attribution (CC-BY) license (http://creativecommons.org/licenses/by/4.0/).