Open Access This article is
freely available
re-usable
Article
Understanding Plant Nutrition—The Genesis of Students' Conceptions and the Implications for Teaching Photosynthesis
Department of Science Education, University of Bamberg, Markusplatz 3, 96047 Bamberg, Germany
*
Author to whom correspondence should be addressed.
Received: 30 June 2018 / Accepted: 24 August 2018 / Published: 30 August 2018
Abstract
:
Plant nutrition and photosynthesis is one of the most difficult issues teachers are confronted with in science classes. This can be due to alternative conceptions students' hold, which are often profoundly contrary to their scientific counterparts. Consequently, fruitful learning environments should build on learners' alternative conceptions to initiate conceptual change towards a more scientific understanding. In this qualitative case study, high-school students' pre-instructional conceptions about plant nutrition were identified empirically. Afterwards these students were exposed to the van-Helmont experiment in order to create a cognitive conflict. The learning processes and signs of conceptual change were identified using Qualitative Content Analysis. The results show that the van-Helmont experiment does not trigger conceptual change but reinforces students' pre-instructional conceptions. Ultimately, a cognitive-linguistic analysis using Conceptual Metaphor Theory was conducted. Interestingly, underlying embodied conceptions and image schemas about human nutrition became evident. These thinking patterns were used metaphorically and, therefore, can be seen as the basis to understand plant nutrition. As a result, we propose a reverse approach of teaching photosynthesis and nutrition. Our
Dissimilation-Before-Assimilation
approach takes learners' alternative conceptions and underlying image schemas into account in order to promote a fruitful learning of the concepts of plant nutrition.
Keywords:
students' conceptions; plant nutrition; photosynthesis; conceptual change; Conceptual Metaphor Theory
Author Contributions
D.M. and J.G. contributed to the design and implementation, to the analysis of the results and to the writing of the manuscript.
Funding
This research received no external funding.
Acknowledgments
We would like to thank Ulrich Kattmann for excellent support and collaboration.
Conflicts of Interest
The authors declare no conflicts of interest.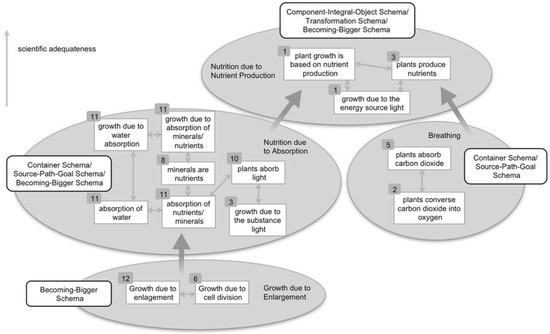 Figure 1.
Identified conceptions, frames and image schemas for teaching photosynthesis. Learning pathways are performed according to arrows (
n
= 12). Numbers in boxes are the absolute numbers of the expressed conception; circles include conceptions based on the same frames and image schemas.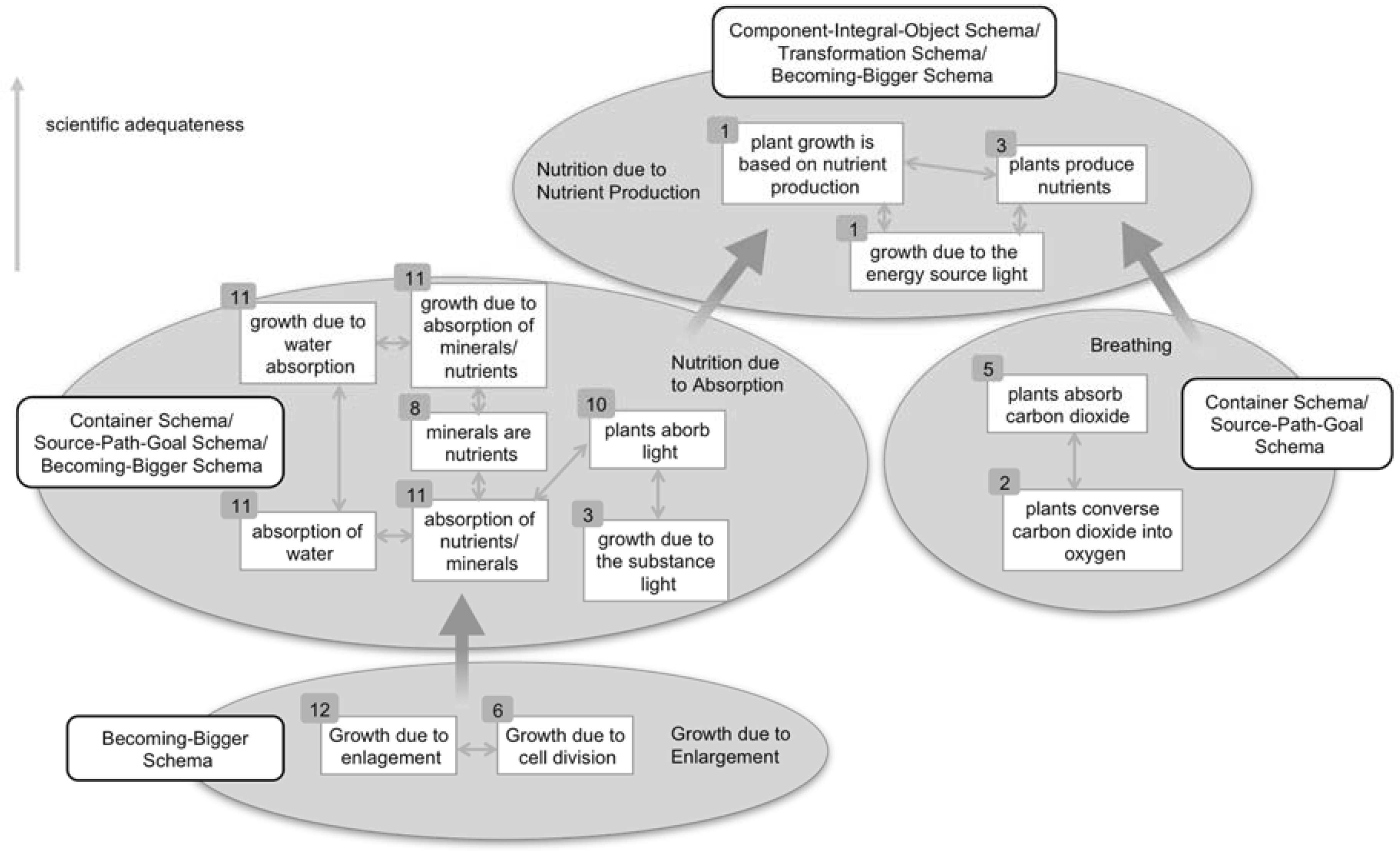 Figure 2. Proposed teaching approach about human and plant nutrition to point out basic similarities and differences.


Table 1.
Most relevant pre-instructional conceptions held by the interviewed students in the first part of the teaching experiment (
n
= 12).
Identified Conception
Number of Students
Underlying Image Schema
Anchor Example
plants grow due to enlargement
12
Becoming-Bigger Schema

"Plants grow because their roots become bigger."

plants grow due to cell division
6
Becoming-Bigger Schema

"Cell division makes a tree to build up more tissue and as a result it starts growing."

plants grow by absorbing water and nutrients
11
Container Schema
Source-Path-Goal Schema

"I guess a plant mostly needs water and those nutrients from the soil as food. Then it is able to grow."

plants absorb carbon dioxide
5
Source-Path-Goal Schema

"A tree is able to breath in carbon dioxide from the air."

plants converse carbon dioxide into oxygen
2
Container Schema
Transformation Schema

"Plants take in carbon dioxide and release oxygen. This is essential for humans."

plants produce nutrients
3
Transformation Schema
Component-Integral-Object Schema

"Plants feed on glucose. They produce this themselves by photosynthesis."

plant growth is based on nutrient production
1
Transformation Schema
Component-Integral-Object Schema

"Plants produce food on their own. They use glucose to grow."

© 2018 by the authors. Licensee MDPI, Basel, Switzerland. This article is an open access article distributed under the terms and conditions of the Creative Commons Attribution (CC BY) license (http://creativecommons.org/licenses/by/4.0/).