Open Access This article is
freely available
re-usable
Article
Intercomparison of Univariate and Joint Bias Correction Methods in Changing Climate From a Hydrological Perspective
1
Institute for Atmospheric and Earth System Research (INAR), University of Helsinki, 00100 Helsinki, Finland
2
Swedish Meteorological and Hydrological Institute (SMHI), 60176 Norrköping, Sweden
*
Author to whom correspondence should be addressed.
Received: 26 February 2018 / Accepted: 23 April 2018 / Published: 26 April 2018
Abstract
:
In this paper, the ability of two joint bias correction algorithms to adjust biases in daily mean temperature and precipitation is compared against two univariate quantile mapping methods when constructing projections from years 1981–2010 to early (2011–2040) and late (2061–2090) 21st century periods. Using both climate model simulations and the corresponding hydrological model simulations as proxies for the future in a pseudo-reality framework, these methods are inter-compared in a cross-validation manner in order to assess to what extent the more sophisticated methods have added value, particularly from the hydrological modeling perspective. By design, bi-variate bias correction methods improve the inter-variable relationships in the baseline period. Cross-validation results show, however, that both in the early and late 21st century conditions the additional benefit of using bi-variate bias correction methods is not obvious, as univariate methods have a comparable performance. From the evaluated hydrological variables, the added value is most clearly seen in the simulated snow water equivalent. Although not having the best performance in adjusting the temperature and precipitation distributions, quantile mapping applied as a delta change method performs well from the hydrological modeling point of view, particularly in the early 21st century conditions. This suggests that retaining the observed correlation structures of temperature and precipitation might in some cases be sufficient for simulating future hydrological climate change impacts.
Keywords:
regional climate modeling; hydrological modeling; bias correction; multivariate; pseudo reality
Author Contributions
C.D. selected and provided the hydrological sub-models and O.R. ran the hydrological simulations. O.R. and J.R. implemented the bias adjustment methods. All authors contributed to the planning of the study, the analysis of the results and writing the manuscript.
Acknowledgments
The study is supported by the Academy funded Center of Excellence (project No. 307331). Olle Räty is funded by the Vilho, Lauri and Yrjö Väisälä Foundation and by NordForsk through project number 74456 "Statistical Analysis of Climate Projections" (eSACP). Further funding was received from the projects HazardSupport and AQUACLEW. HazardSupport is financed by the Swedish Civil Contingencies Agency, MSB (grant No. 2015-3631). AQUACLEW is part of ERA4CS, an ERA-NET initiated by JPI Climate and funded by FORMAS (SE), DLR (DE), BMWFW (AT), IFD (DK), MINECO (ES) and ANR (FR) with co-funding by the European Union (Grant 690462). We would also like to thank the climate modeling groups participating the European branch of Coordinated Regional Climate Downscaling Experiment (EURO-CORDEX) for producing and making their model output publicly available.
Conflicts of Interest
The authors declare no conflict of interest.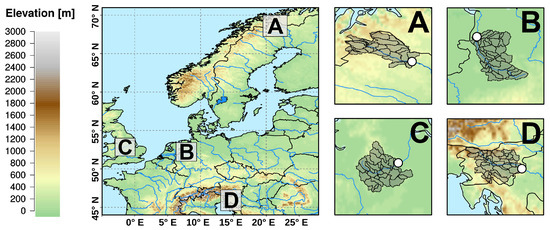 Figure 1.
Geographical locations of the four sub-models selected for the hydrological simulation tests. The sub-models cover parts of (
A
) Tornio, (
B
) Ems, (
C
) Trent and (
D
) Sava river catchments. White dots denote the locations of the discharge gauging stations for which the reference period statistics are shown in
Table 2
.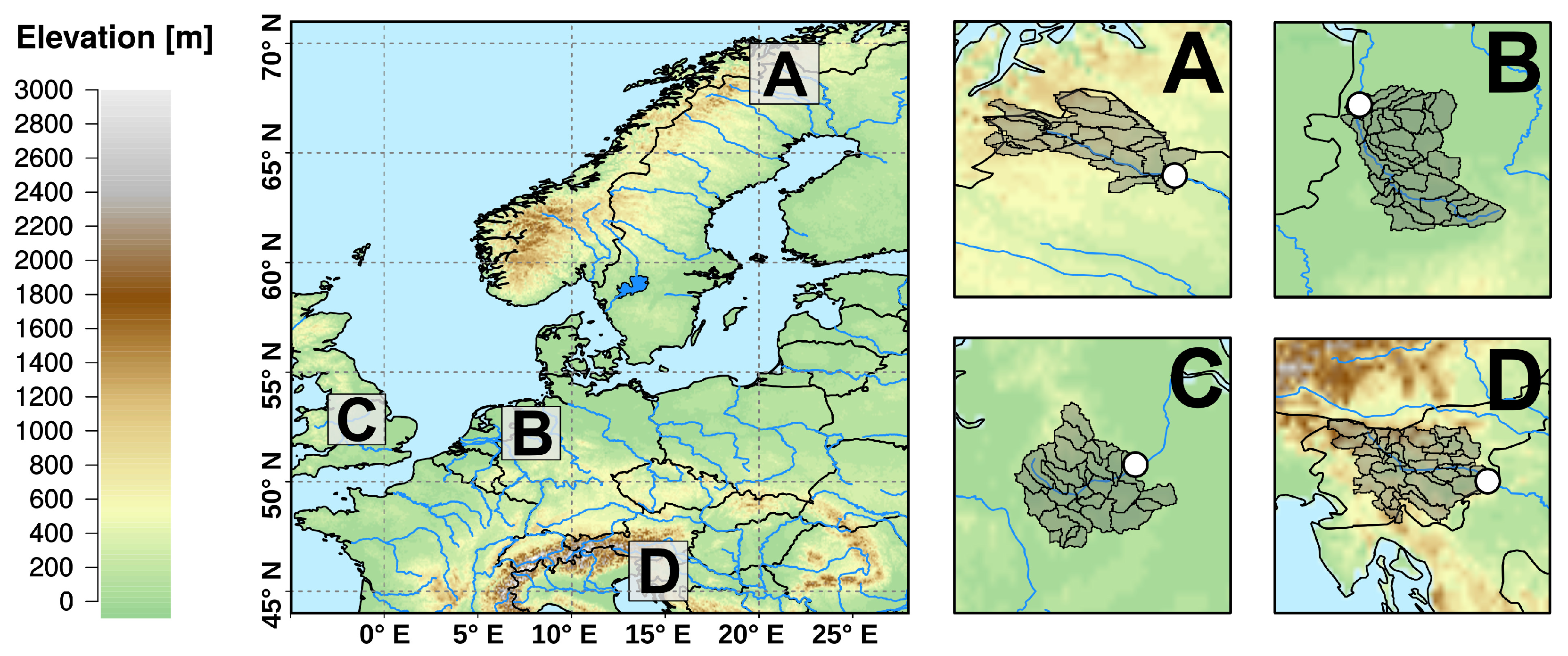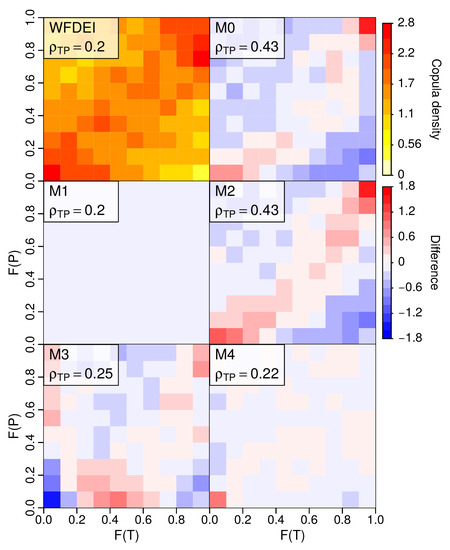 Figure 2. Empirical copula density of wet-day () precipitation and temperature in winter months (December-January-February) estimated from the reference data (WFDEI) in Tornio river catchment separately for each sub-basin and then averaged over the whole domain. In addition, differences in the estimated densities, when compared against WFDEI, are shown for CNRM-A GCM-RCM without bias adjustments (M0) and after applying each of the four methods (M1–M4) in the baseline period (1981–2010). The sub-model-averaged Pearson correlation coefficient is also shown on the top-left corner of each panel.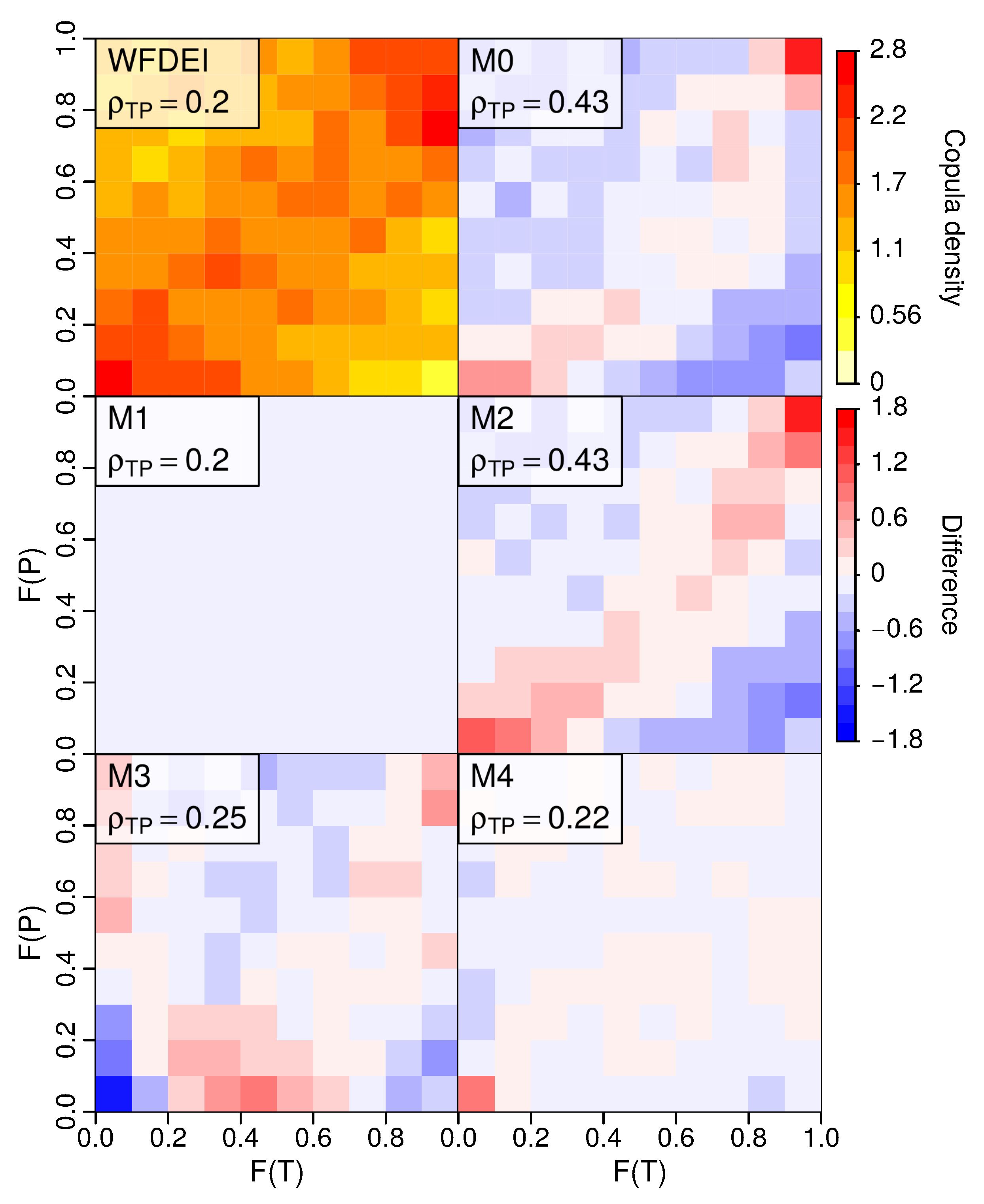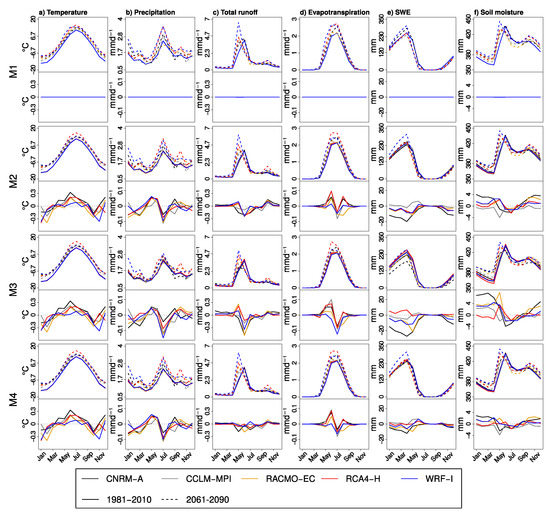 Figure 3. A real-world example showing the annual cycle of (a) daily mean temperature, (b) precipitation, (c) total runoff, (d) evapotranspiration, (e) snow water equivalent and (f) soil moisture in the Tornio river catchment in years (solid lines) 1981–2010 and (dashed lines) 2061–2090 separately for each of the GCM-RCMs when adjusted against WFDEI using the four (M1–M4) bias correction and delta change methods. To readily illustrate differences in comparison to WFDEI, the remaining biases in 1981–2010 are shown below the annual cycle panels separately for each method and variable.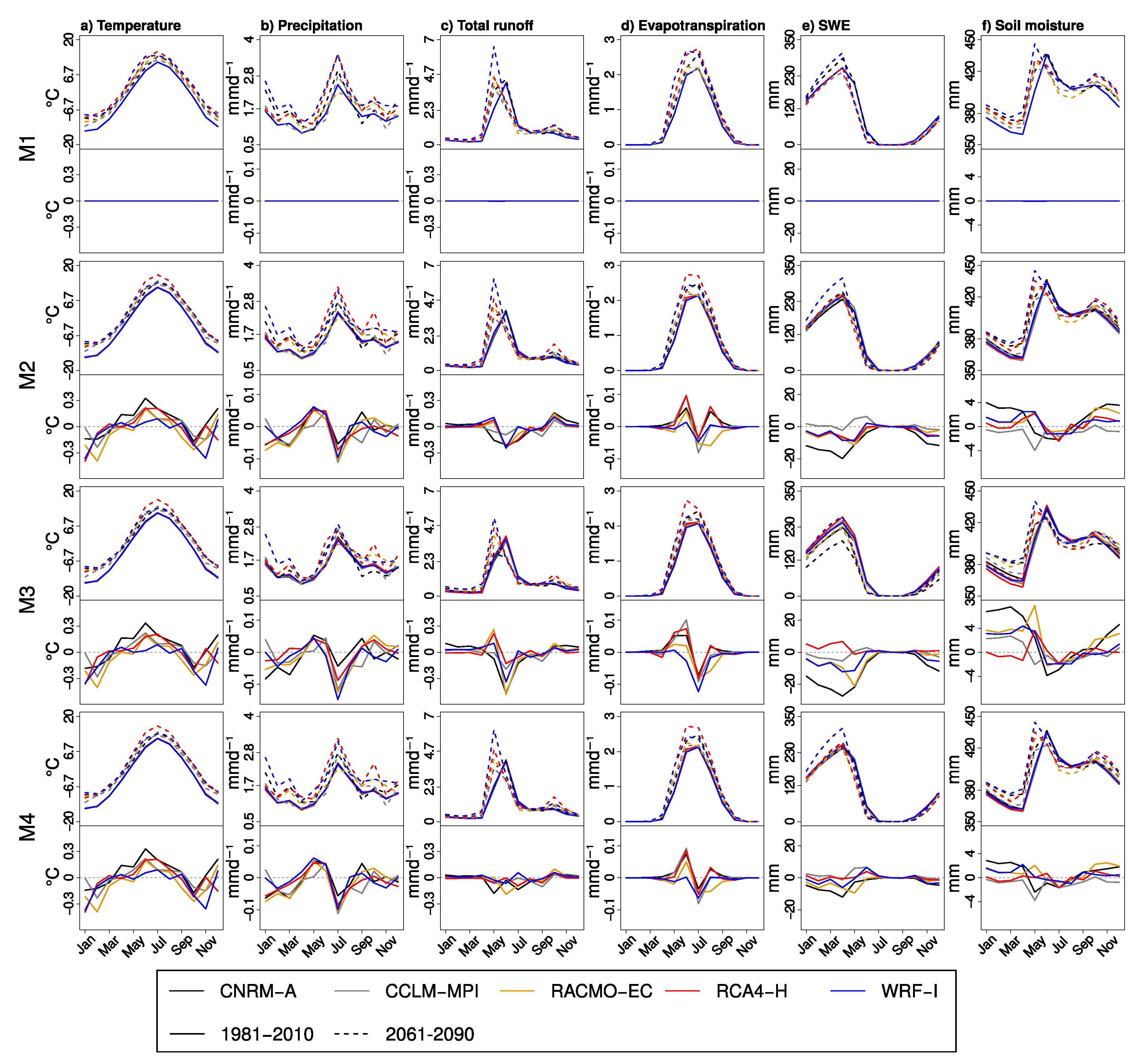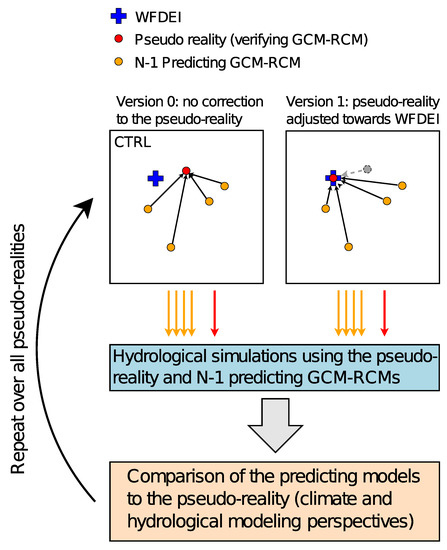 Figure 4. An illustration of the pseudo-reality framework procedures in the baseline period, applied both from climate modeling and hydrological modeling perspectives.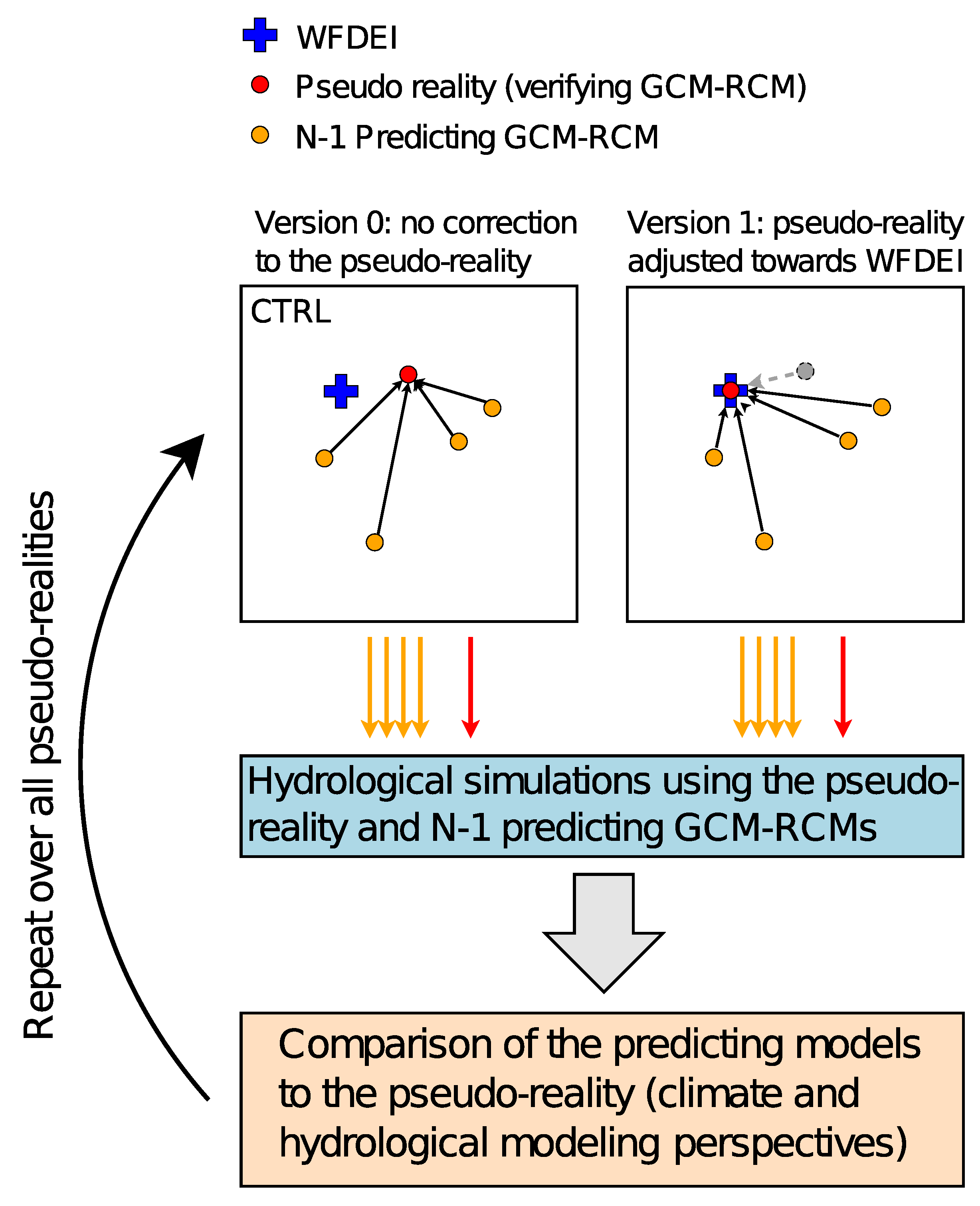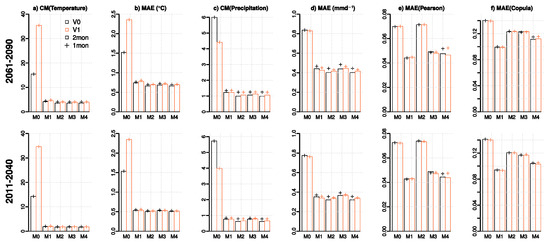 Figure 5. Cross-validated CM and MAE for (a,b) daily mean temperature and (c,d) daily precipitation distribution in years 2011–2040 (bottom) and 2061–2090 (top). Also shown are the MAE in (e) the Pearson correlation coefficient and (f) the empirical copula density. Black color denotes the cross-validation statistics for the pseudo-reality approach without additional adjustments (V0), while the results for the approach where pseudo-realities have been adjusted to biases in relation to WFDEI are shown in red (V1). Furthermore, crosses (bars) indicate the results for the one-month (two-month) time window used to estimate simulated changes or model biases, shown for both V0 and V1. Note that the differences between the one- and two-month time windows are typically small, as indicated by the small differences between the bars and crosses.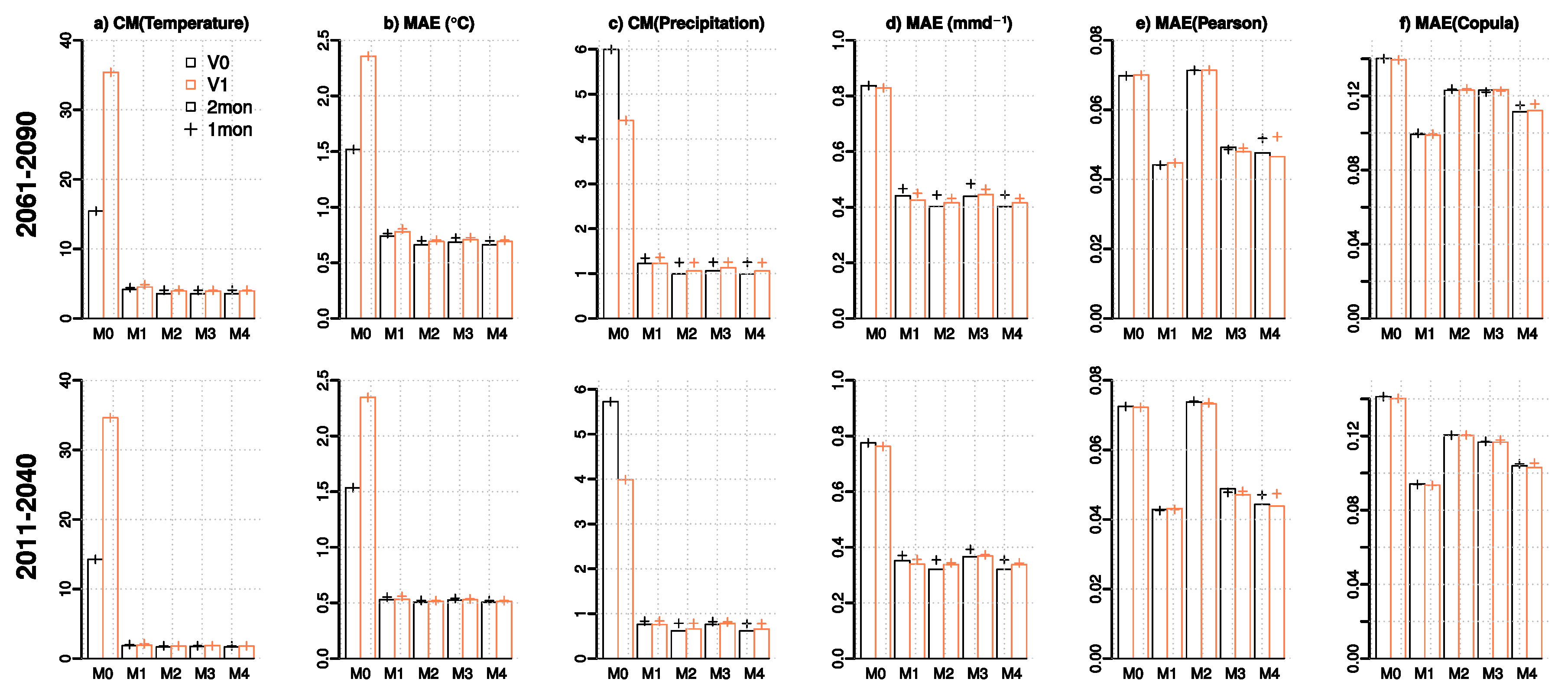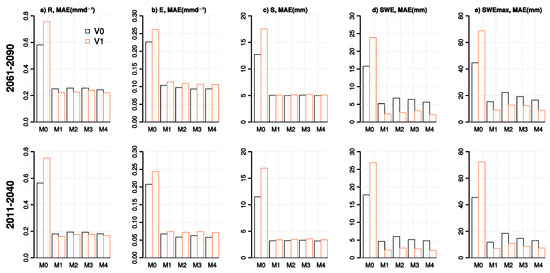 Figure 6.
Similar to
Figure 5
but for the cross-validated MAE of monthly mean (
a
) total runoff, (
b
) evapotranspiration, (
c
) soil moisture, (
d
) snow water equivalent and (
e
) the mean annual maximum of snow water equivalent in years (
bottom
) 2011–2040 and (
top
) 2061–2090.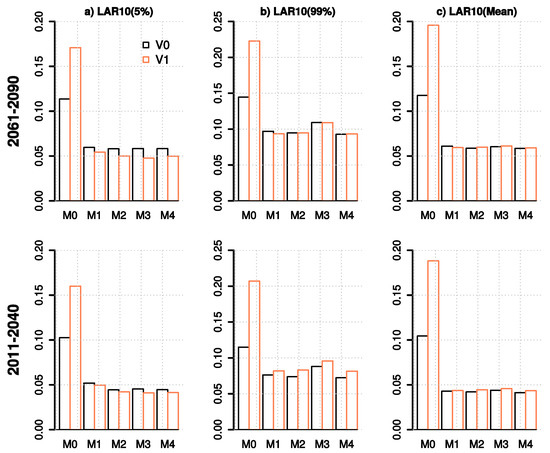 Figure 7.
Similar to
Figure 5
but for the cross-validated LAR10 in (
a
) the 5th and (
b
) 99th percentile of flow duration curves shown together with (
c
) the distribution-averaged LAR10 in years 2011–2040 (
bottom
) and 2061–2090 (
top
).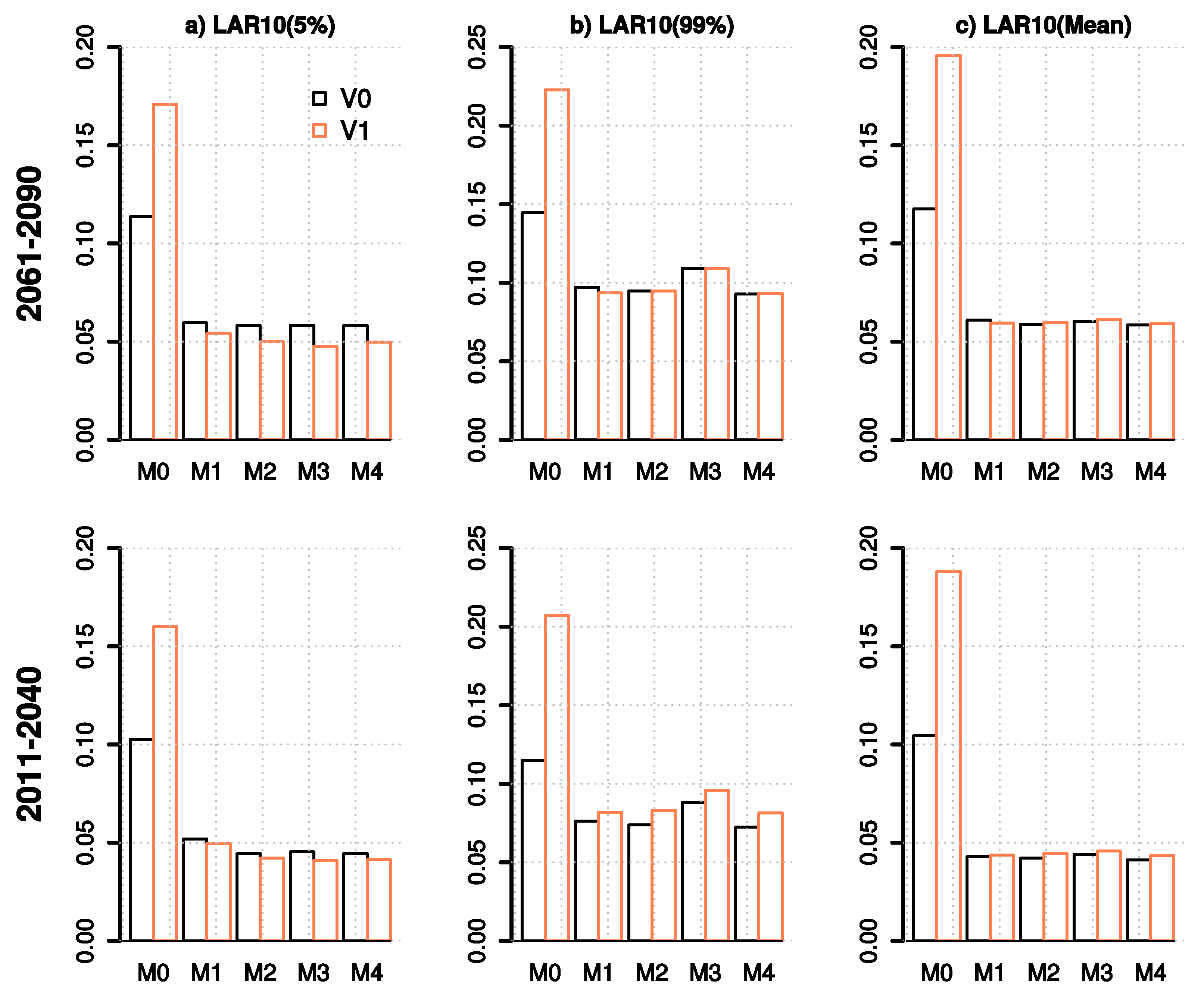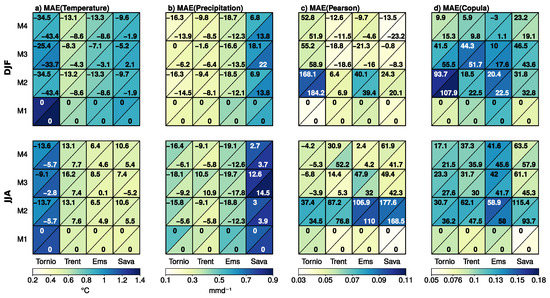 Figure 8. Panels showing the cross-validated MAE (colors) of (a) daily mean temperature, (b) daily precipitation, (c) Pearson correlation coefficient and (d) empirical copula density separately for each method (panel rows) at each hydrological sub-domain (panel columns) in years 2061–2090, when two-month time window has been used to estimate simulated changes or model biases. Values for the pseudo-reality approach V0 (V1) are plotted in the upper (lower) triangle of each cell and are shown separately for (top) winter and (bottom) summer months. In addition, percentage differences to M1 are shown as numeric values for each element.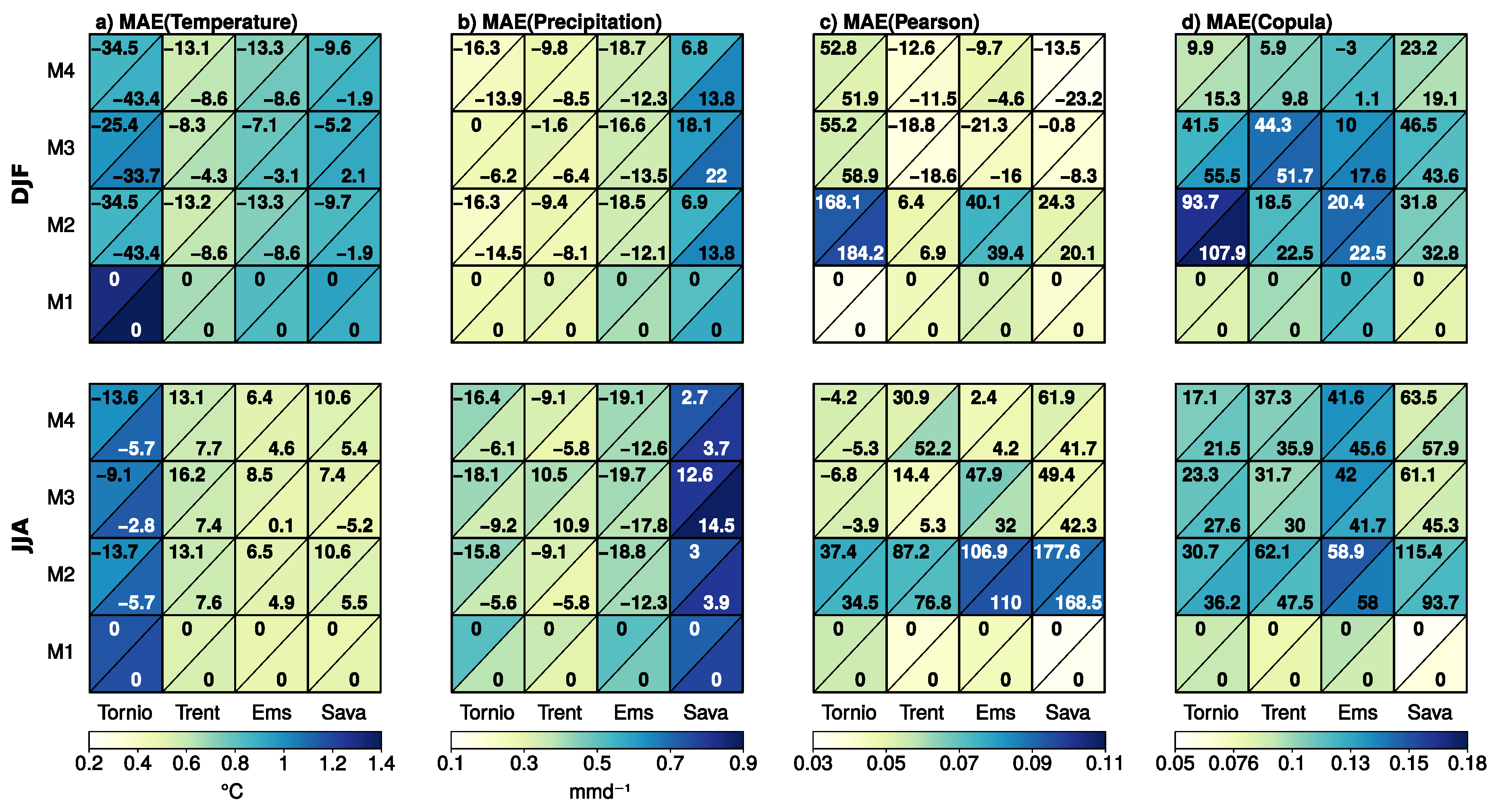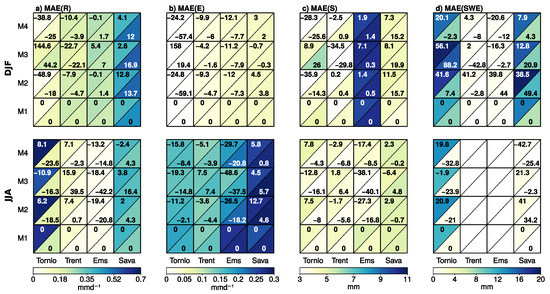 Figure 9.
As in
Figure 8
but shown for monthly mean (
a
) total runoff, (
b
) evapotranspiration, (
c
) soil moisture and (
d
) snow water equivalent.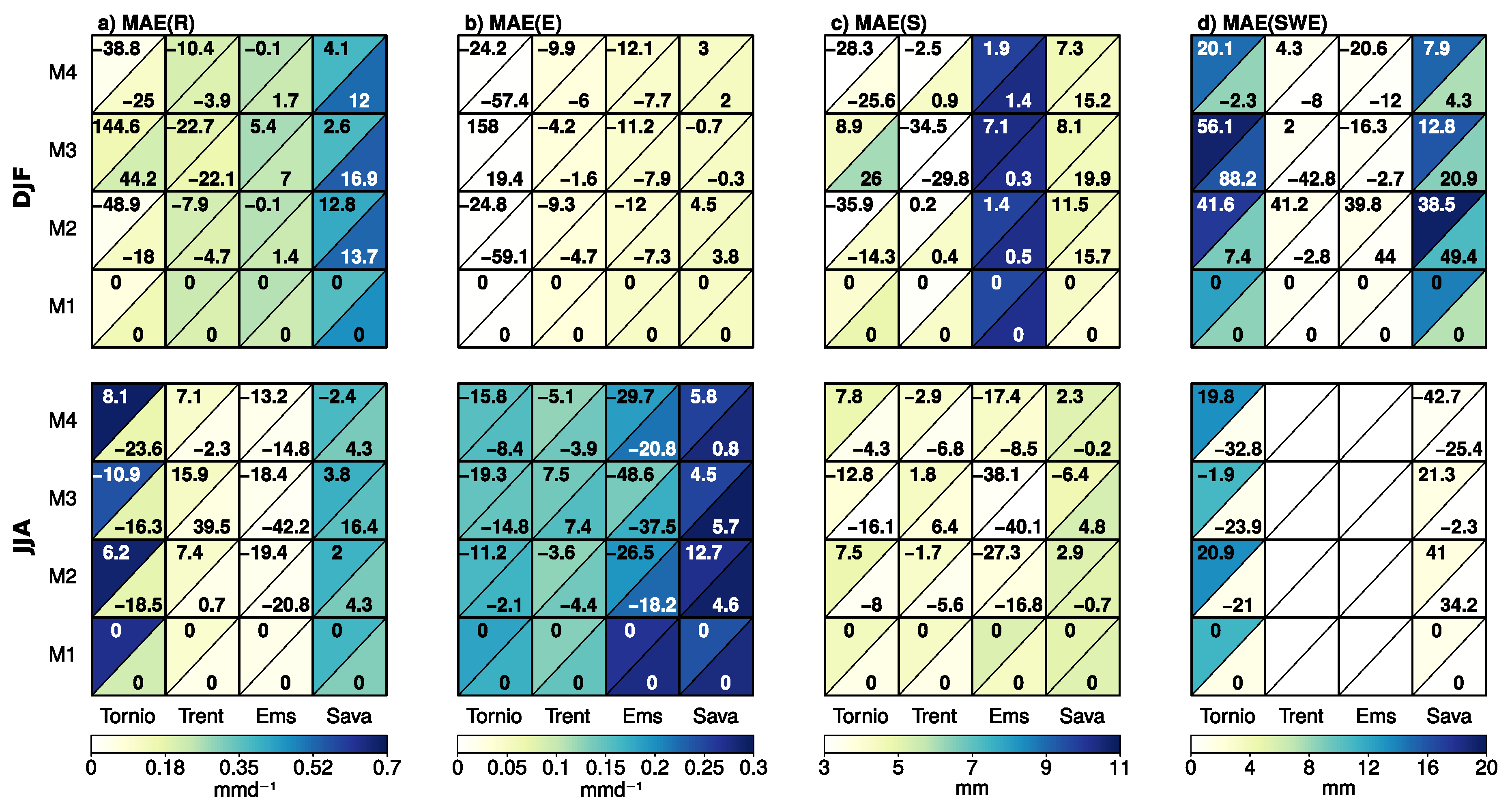 Table 1. List of GCM-RCM simulations selected for this study. The first column shows the abbreviation used in the text, the second and third columns show the GCM and RCM part of each model, respectively and the last column shows the name of the providing institution.
| Abbreviation | GCM Component | RCM Component | Institution |
| --- | --- | --- | --- |
| CNRM-A | CNRM-CM5 | ALADIN | CNRM |
| CCLM-MPI | MPI-ESM-LR | CCLM4.8.17 | CLM Community |
| RACMO-EC | EC-EARTH | RACMO22E | KNMI |
| RCA4-H | HadGEM | RCA4 | SMHI |
| WRF-I | IPSL-CMA5-MR | WRF | IPSL-INERIS |

Table 2.
Statistics for daily time-series of simulated river discharge calculated against the observed discharge at the mouth of each hydrological sub-model (cf.
Figure 1
). The first column shows the catchment name, the second column Nash-Sutcliffe efficiency coefficient and the third column the relative volume error.
| Sub-Model | NSE | RE (%) |
| --- | --- | --- |
| Tornio | 0.78 | −17.0 |
| Trent | 0.66 | −3.0 |
| Ems | 0.83 | 3.1 |
| Sava | 0.52 | 6.0 |
| Name | Description | References |
| --- | --- | --- |
| M1 | Univariate delta change: quantile mapping with smoothing | Räisänen and Räty [21], Räty et al. [22] |
| M2 | Univariate bias correction: quantile mapping with smoothing | Räisänen and Räty [21], Räty et al. [22] |
| M3 | Bi-variate bias correction: copula-based, precipitation conditioned on temperature | Li et al. [14], Gennaretti et al. [35] |
| M4 | Bi-variate bias correction: full 2-dimensional distribution using the N-pdft algorithm | Pitié et al. [36], Cannon [17] |

© 2018 by the authors. Licensee MDPI, Basel, Switzerland. This article is an open access article distributed under the terms and conditions of the Creative Commons Attribution (CC BY) license (http://creativecommons.org/licenses/by/4.0/).