Role of ClpP in the Biogenesis and Degradation of RuBisCO and ATP Synthase in
Chlamydomonas reinhardtii
1
Institute of Plant Sciences Paris-Saclay (IPS2), CNRS, Université Paris-Diderot, Université Paris-Sud, INRA, Université Evry, Université Paris-Saclay, Rue de Noetzlin, 91190 Gif-sur-Yvette, France
2
UMR7141 CNRS/Sorbonne Université, Institut de Biologie Physico-Chimique, 13 rue Pierre et Marie Curie, 75005 Paris, France
*
Author to whom correspondence should be addressed.
Received: 23 May 2019 / Revised: 17 June 2019 / Accepted: 19 June 2019 / Published: 26 June 2019
Abstract
Ribulose 1,5-bisphosphate carboxylase/oxygenase (RuBisCO) associates a chloroplast- and a nucleus-encoded subunit (LSU and SSU). It constitutes the major entry point of inorganic carbon into the biosphere as it catalyzes photosynthetic CO
2
fixation. Its abundance and richness in sulfur-containing amino acids make it a prime source of N and S during nutrient starvation, when photosynthesis is downregulated and a high RuBisCO level is no longer needed. Here we show that translational attenuation of ClpP1 in the green alga
Chlamydomonas reinhardtii
results in retarded degradation of RuBisCO during S- and N-starvation, suggesting that the Clp protease is a major effector of RubisCO degradation in these conditions. Furthermore, we show that ClpP cannot be attenuated in the context of
rbcL
point mutations that prevent LSU folding. The mutant LSU remains in interaction with the chloroplast chaperonin complex. We propose that degradation of the mutant LSU by the Clp protease is necessary to prevent poisoning of the chaperonin. In the total absence of LSU, attenuation of ClpP leads to a dramatic stabilization of unassembled SSU, indicating that Clp is responsible for its degradation. In contrast, attenuation of ClpP in the absence of SSU does not lead to overaccumulation of LSU, whose translation is controlled by assembly. Altogether, these results point to RuBisCO degradation as one of the major house-keeping functions of the essential Clp protease. In addition, we show that non-assembled subunits of the ATP synthase are also stabilized when ClpP is attenuated. In the case of the
atpA-FUD16
mutation, this can even allow the assembly of a small amount of CF1, which partially restores phototrophy.
View Full-Text
►

▼

Figures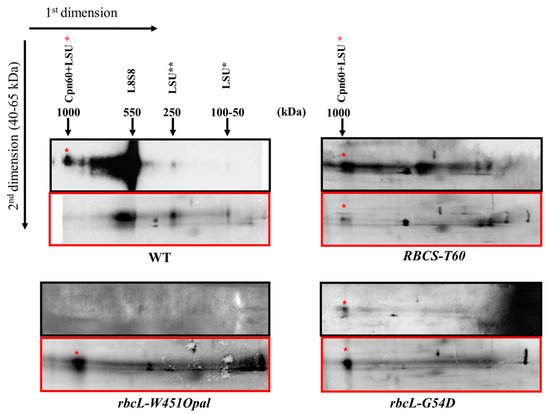 Figure 1
This is an open access article distributed under the
Creative Commons Attribution License
which permits unrestricted use, distribution, and reproduction in any medium, provided the original work is properly cited (CC BY 4.0).

Share & Cite This Article
MDPI and ACS Style
Majeran, W.; Wostrikoff, K.; Wollman, F.-A.; Vallon, O. Role of ClpP in the Biogenesis and Degradation of RuBisCO and ATP Synthase in Chlamydomonas reinhardtii. Plants 2019, 8, 191.
Note that from the first issue of 2016, MDPI journals use article numbers instead of page numbers. See further details here.
Related Articles
Comments
[Return to top]