Assessment of Sulfur Deficiency under Field Conditions by Single Measurements of Sulfur, Chloride and Phosphorus in Mature Leaves
1
Normandie Université, 14032 Caen CEDEX 5, France
2
Etienne Philippe, Normandie Université-INRA 950 Ecophysiologie Végétale, Agronomie et nutritions N, C, S, Esplanade de la Paix, UNICAEN, CS14032, 14032 Caen CEDEX 5, France
3
INRA, UMR 950 Ecophysiologie Végétale, Agronomie et nutritions N, C, S, Esplanade de la Paix, UNICAEN, CS14032, 14032 Caen CEDEX 5, France
4
Centre Mondial d'Innovation, CMI, Groupe Roullier, 27 Avenue Franklin Roosevelt, 35400 Saint-Malo, France
5
UMR Agroécologie, AgroSup Dijon, INRA, Université Bourgogne Franche-Comté, F-21000 Dijon, France
6
Vegenov BBV, Penn ar Prat, 29250 Saint Pol de Léon, France
*
Author to whom correspondence should be addressed.
†
These authors contributed equally to this work.
Received: 6 April 2018 / Revised: 20 April 2018 / Accepted: 24 April 2018 / Published: 28 April 2018
Abstract
Determination of S status is very important to detect S deficiency and prevent losses of yield and seed quality. The aim of this study was to investigate the possibility of using the ([Cl
−
]+[NO
3
−
]+[PO
4
3−
]):[SO
4
2−
] ratio as an indicator of S nutrition under field conditions in
Brassica napus
and whether this could be applied to other species. Different S and nitrogen (N) fertilizations were applied on a S deficient field of oilseed rape to harvest mature leaves and analyze their anion and element contents in order to evaluate a new S nutrition indicator and useful threshold values. Large sets of commercial varieties were then used to test S deficiency scenarios. As main results, this study shown that, under field conditions, leaf ([Cl
−
]+[NO
3
−
]+[PO
4
3−
]):[SO
4
2−
] ratio was increased by lowering S fertilization, indicating S deficiency. The usefulness of this ratio was also found for other species grown under controlled conditions and it could be simplified by using the elemental ([Cl]+[P]):[S] ratio. Threshold values were determined and used for the clustering of commercial varieties within three groups: S deficient, at risk of S deficiency and S sufficient. The ([Cl]+[P]):[S] ratio quantified under field conditions, can be used as an early and accurate diagnostic tool to manage S fertilization.
View Full-Text
►

▼

Figures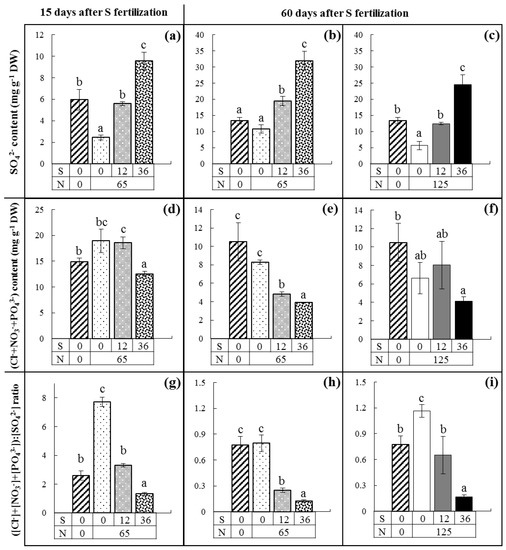 Figure 1
This is an open access article distributed under the
Creative Commons Attribution License
which permits unrestricted use, distribution, and reproduction in any medium, provided the original work is properly cited (CC BY 4.0).

Share & Cite This Article
MDPI and ACS Style
Etienne, P.; Sorin, E.; Maillard, A.; Gallardo, K.; Arkoun, M.; Guerrand, J.; Cruz, F.; Yvin, J.-C.; Ourry, A. Assessment of Sulfur Deficiency under Field Conditions by Single Measurements of Sulfur, Chloride and Phosphorus in Mature Leaves. Plants 2018, 7, 37.
Note that from the first issue of 2016, MDPI journals use article numbers instead of page numbers. See further details here.
Related Articles
Comments
[Return to top]