Seed Dormancy Involves a Transcriptional Program That Supports Early Plastid Functionality during Imbibition
1
Council for Agricultural Research and Economics—Research Centre for Genomics and Bioinformatics, via S. Protaso 302, 29017 Fiorenzuola d'Arda (PC), Italy
2
Council for Agricultural Research and Economics—Research Centre for Cereal and Industrial Crops, s.s. 11 to Torino, km 2.5, 13100 Vercelli, Italy
*
Author to whom correspondence should be addressed.
Received: 1 February 2018 / Revised: 5 April 2018 / Accepted: 11 April 2018 / Published: 19 April 2018
Abstract
Red rice fully dormant seeds do not germinate even under favorable germination conditions. In several species, including rice, seed dormancy can be removed by dry-afterripening (warm storage); thus, dormant and non-dormant seeds can be compared for the same genotype. A weedy (red) rice genotype with strong dormancy was used for mRNA expression profiling, by RNA-Seq, of dormant and non-dormant dehulled caryopses (here addressed as seeds) at two temperatures (30 °C and 10 °C) and two durations of incubation in water (8 h and 8 days). Aim of the study was to highlight the differences in the transcriptome of dormant and non-dormant imbibed seeds. Transcript data suggested important differences between these seeds (at least, as inferred by expression-based metabolism reconstruction): dry-afterripening seems to impose a respiratory impairment onto non-dormant seeds, thus glycolysis is deduced to be preferentially directed to alcoholic fermentation in non-dormant seeds but to alanine production in dormant ones; phosphoenolpyruvate carboxykinase, pyruvate phosphate dikinase and alanine aminotransferase pathways appear to have an important gluconeogenetic role associated with the restoration of plastid functions in the dormant seed following imbibition; correspondingly, co-expression analysis pointed out a commitment to guarantee plastid functionality in dormant seeds. At 8 h of imbibition, as inferred by gene expression, dormant seeds appear to preferentially use carbon and nitrogen resources for biosynthetic processes in the plastid, including starch and proanthocyanidins accumulation. Chromatin modification appears to be a possible mechanism involved in the transition from dormancy to germination. Non-dormant seeds show higher expression of genes related to cell wall modification, suggesting they prepare for acrospire/radicle elongation.
View Full-Text
►

▼

Figures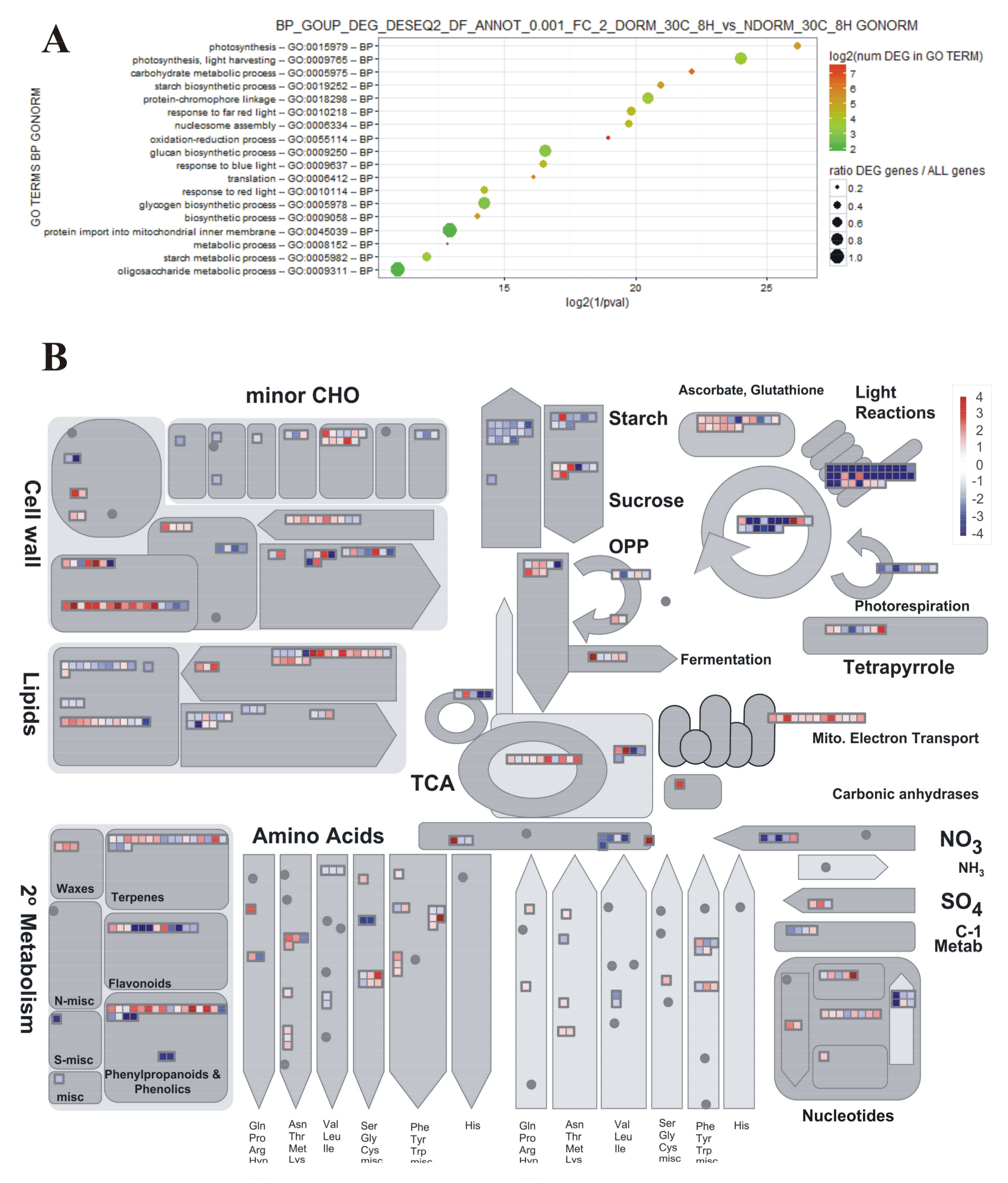 Figure 1
This is an open access article distributed under the
Creative Commons Attribution License
which permits unrestricted use, distribution, and reproduction in any medium, provided the original work is properly cited (CC BY 4.0).

Share & Cite This Article
MDPI and ACS Style
Gianinetti, A.; Finocchiaro, F.; Bagnaresi, P.; Zechini, A.; Faccioli, P.; Cattivelli, L.; Valè, G.; Biselli, C. Seed Dormancy Involves a Transcriptional Program That Supports Early Plastid Functionality during Imbibition. Plants 2018, 7, 35.
Note that from the first issue of 2016, MDPI journals use article numbers instead of page numbers. See further details here.
Related Articles
Comments
[Return to top]