Attenuation of Glucose-Induced Myoglobin Glycation and the Formation of Advanced Glycation End Products (AGEs) by (
R

)-α-Lipoic Acid In Vitro

1

School of Science and Health, Western Sydney University, Sydney, NSW 2751, Australia

2

National Institute of Complementary Medicine (NICM), Western Sydney University, Sydney, NSW 2751, Australia

3

South Western Sydney Clinical School, School of Medicine, University of New South Wales, Sydney, NSW 2052, Australia

4

Department of Pharmacology, College of Pharmaceutical Sciences, Andhra University, Visakhapatnam 530003, Andhra Pradesh, India

*

Author to whom correspondence should be addressed.

Received: 1 December 2017 / Revised: 26 January 2018 / Accepted: 1 February 2018 / Published: 8 February 2018
Abstract
High-carbohydrate containing diets have become a precursor to glucose-mediated protein glycation which has been linked to an increase in diabetic and cardiovascular complications. The aim of the present study was to evaluate the protective effect of (
R
)-α-lipoic acid (ALA) against glucose-induced myoglobin glycation and the formation of advanced glycation end products (AGEs) in vitro. Methods: The effect of ALA on myoglobin glycation was determined via the formation of AGEs fluorescence intensity, iron released from the heme moiety of myoglobin and the level of fructosamine. The extent of glycation-induced myoglobin oxidation was measured via the levels of protein carbonyl and thiol. Results: The results showed that the co-incubation of ALA (1, 2 and 4 mM) with myoglobin (1 mg/mL) and glucose (1 M) significantly decreased the levels of fructosamine, which is directly associated with the decrease in the formation of AGEs. Furthermore, ALA significantly reduced the release of free iron from myoglobin which is attributed to the protection of myoglobin from glucose-induced glycation. The results also demonstrated a significant protective effect of ALA on myoglobin from oxidative damage, as seen from the decreased protein carbonyls and increased protein thiols. Conclusion: The anti-glycation properties of ALA suggest that ALA supplementation may be beneficial in the prevention of AGEs-mediated diabetic and cardiovascular complications.
View Full-Text
►

▼

Figures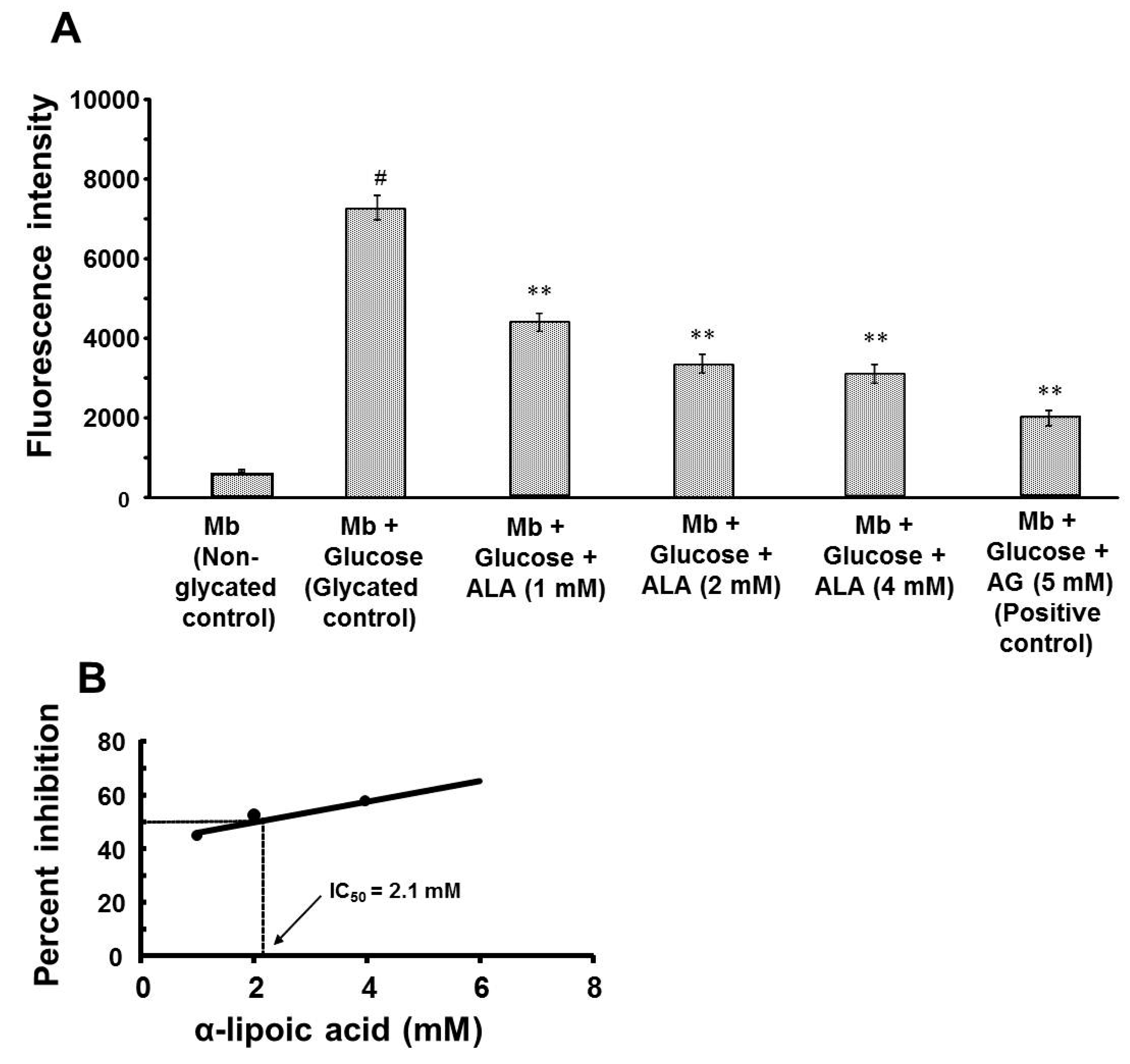 Figure 1
This is an open access article distributed under the
Creative Commons Attribution License
which permits unrestricted use, distribution, and reproduction in any medium, provided the original work is properly cited (CC BY 4.0).

Share & Cite This Article
MDPI and ACS Style
Ghelani, H.; Razmovski-Naumovski, V.; Pragada, R.R.; Nammi, S. Attenuation of Glucose-Induced Myoglobin Glycation and the Formation of Advanced Glycation End Products (AGEs) by (R)-α-Lipoic Acid In Vitro. Biomolecules 2018, 8, 9.
Note that from the first issue of 2016, MDPI journals use article numbers instead of page numbers. See further details here.
Related Articles
Comments
[Return to top]