Open Access This article is
freely available
re-usable
Review
Intra- and Extra-Cellular Events Related to Altered Glycosylation of MUC1 Promote Chronic Inflammation, Tumor Progression, Invasion, and Metastasis
1
Department of Immunology, University of Pittsburgh, Pittsburgh, PA 15261, USA
2
Fondazione Ri.Med, via Bandiera 11, Palermo 90133, Italy
*
Authors to whom correspondence should be addressed.
Academic Editor: Franz-Georg Hanisch
Received: 8 July 2016 / Accepted: 27 September 2016 / Published: 13 October 2016
Abstract
:
Altered glycosylation of mucin 1 (MUC1) on tumor cells compared to normal epithelial cells was previously identified as an important antigenic modification recognized by the immune system in the process of tumor immunosurveillance. This tumor form of MUC1 is considered a viable target for cancer immunotherapy. The importance of altered MUC1 glycosylation extends also to its role as a promoter of chronic inflammatory conditions that lead to malignant transformation and cancer progression. We review here what is known about the role of specific cancer-associated glycans on MUC1 in protein-protein interactions and intracellular signaling in cancer cells and in their adhesion to each other and the tumor stroma. The tumor form of MUC1 also creates a different landscape of inflammatory cells in the tumor microenvironment by controlling the recruitment of inflammatory cells, establishing specific interactions with dendritic cells (DCs) and macrophages, and facilitating tumor escape from the immune system. Through multiple types of short glycans simultaneously present in tumors, MUC1 acquires multiple oncogenic properties that control tumor development, progression, and metastasis at different steps of the process of carcinogenesis.
Keywords:
mucin 1 (MUC1); protein-protein interaction; tumor microenvironment; inflammation
1. Introduction
Various inflammatory premalignant and malignant conditions are associated with alterations in MUC1 expression and glycosylation that impact its cellular localization and function. Mucin glycosylation aberrations affect a variety of cellular activities, including growth, differentiation, and transformation. In addition, altered mucins affect adhesion, invasion, and immune surveillance.
2. Aberrant Glycosylation of MUC1 Is Associated with Cancer
Altered glycosylation patterns are considered to be one of the hallmarks of cancer and represent one of the most common post-translational modifications that occur during neoplastic transformation. We have analyzed some of the mechanisms responsible for the effect of altered MUC1 glycosylation on the tumor microenvironment.
N
-glycans and
O
-glycans are two major groups of carbohydrates that contribute to many intra- and extra-cellular functions of MUC1. Both glycosylation types are regulated by complex mechanisms, including the expression and activity of glycosyltransferases.
2.2.
N

-glycosylation

While

O

-glycosylation has received extensive attention and mass spectrometry technology has enabled a detailed structural characterization of MUC1-related

O

-glycans, less is known about the

N

-glycosylation.

O

-linked glycans are attached to serines and threonines, while

N

-linked glycans are attached to the asparagine residue. MUC1 has five potential

N

-glycosylation sites: four are located in the C-terminal end of the VNTR, and the fifth is in the degenerate repeat flanking the VNTR [

48

,

49

].

Similar to

O

-glycosylation,

N

-glycosylation is important for the stability, folding, and secretion of glycoproteins. Membrane-derived and secreted-MUC1 showed a distinct

N

-glycosylation pattern [

49

], however the biological significance of this different glycan profile needs to be determined.
3. Aberrant Glycosylation of MUC1 Facilitates New Interactions with Cellular Proteins and Affects Intracellular Signaling in Cancer Cells
4. MUC1 Glycosylation in Cancer Progression and Metastasis
Increased levels of MUC1 expression and its altered glycosylation have been associated with cancer progression and metastasis that correlate with poor prognosis and high mortality [
3
,
60
,
61
,
62
] Metastasis is a multi-step process during which cancer cells leave the primary tumor site, infiltrate into the adjacent tissue by degrading the extracellular matrix, enter into blood stream wherein they are recognized as circulating tumor cells, and extravasate and colonize a secondary site.
The involvement of
N
- and/or
O
-linked glycans in cancer metastasis has been explored in vitro by transfections of cells with plasmids expressing specific glycosyltranferases, by addition of glycosylation sites, or by using drugs that affect oligosaccharide chain elongation. Results indicated an important role of aberrant glycosylation of MUC1 both at an early as well as the late stage of the metastasis cascade.
We recently demonstrated the important role of MUC1 in the early stage of metastasis. By associating with CIN85, an adaptor protein previously reported to be involved in cell migration [
63
], MUC1 confers an invasive property to cancer cells. Importantly, overexpression of the hypoglycosylated STn- and ST-MUC1 forms, induced by transfection with glycosyltransferases ST6GalNAc1 and ST3Gal1 encoding plasmids, enhanced its interaction with CIN85 and increased the migratory and invasive activities of cancer cells [
51
]. In addition, overexpression of ST6GalNAc1 that promotes STn type glycans on MUC1, increased intraperitoneal metastasis of human gastric cancer cells [
30
] and led to increased growth of human breast cancer cells in immunodeficient mice [
64
].
Recently, computational modeling revealed that bulky glycoproteins modulate transmembrane receptor spatial organization and function. In particular, MUC1 expression facilitates integrin clustering and focal adhesion assembly. By promoting focal adhesion assembly, MUC1 promotes also tumor cell growth and facilitates metastasis [
65
]. A critical step preceding metastasis is adhesion of circulating tumor cells to the vascular endothelium. Tumor-specific forms of MUC1 promote tumor cell adhesion to the endothelium through interactions with E-selectin and the intercellular adhesion molecule-1 (ICAM-1), two receptors expressed on the surface of endothelial and peritumoral stromal cells. The interaction between MUC1 and ICAM-1 facilitates cell-cell adhesion and trans-endothelial migration [
66
,
67
]. Moreover, upon interaction with ICAM-1, MUC1 initiates cytoskeletal rearrangement and shows increased pro-migratory activity [
68
]. As mentioned above, the extracellular Galectin-3 acts as an adhesion protein in cell-cell interactions and is involved in cancer progression and metastasis. Galectin-3 is highly expressed on circulating breast, colon, and lung cancer cells [
69
]. Patients with metastasis have higher concentration of circulating galectin-3 than patients with localized tumors, which binds the tumor specific carbohydrate T-antigen to promote metastasis [
70
].
Numerous other findings demonstrate the key role of abnormal MUC1 and related glycosyltransferases in tumor progression and metastasis. Recently, the polypeptide
N
-acetylgalactosaminyltransferase 3 (GALNT3) gene promoter was found to be significantly hypomethylated in epithelial ovarian cancers (EOC) compared to normal tissue. GALNT3 is overexpressed exclusively in high-grade serous ovarian tumors compared to tumors with low-malignant potential and normal tissues. Functional analyses revealed the oncogenic activity of GALNT3 in EOC, including its role in cell proliferation and cell migration and invasion. Knockdown of GALNT3 induced reduction of MUC1 expression in EOC cells although transcription of MUC1 was unchanged. Thus, GALNT3 may influence the posttranslational modification and stabilization of MUC1 and other glycosylated proteins in EOC cells [
71
]. In breast cancer cells, upregulation of GALNT6, a glycosyltrasferase that transfers a GalNAc residue to MUC1 protein, stabilizes MUC1 and plays a critical role in the proliferation and cytoskeletal regulation of breast cancer cells [
56
].
5. MUC1 Hypoglycosylation in Inflammation
6. Abnormal MUC1 in the Tumor Microenvironment
The network of tumor cells and non-malignant cells creates the tumor microenvironment (TME). Non-malignant components of the TME include inflammatory cells, fibroblasts, and tumor vasculature and lymphatics. The composition of TME depends on the type of cancer, patient's age, and other factors that still need to be characterized. Indeed, most successful anti-cancer treatments target not only the malignant cells, but also various components in the TME that promote cancer progression and inhibit anti-cancer immunity.
7. Conclusions
Overexpression and aberrant glycosylation of MUC1 on tumor cells influences many critical steps in tumor initiation, progression, and metastasis as well as in tumor immunosurveillance. We found that this hypoglycosylated tumor form of MUC1 is also overexpressed during chronic inflammation and in premalignant lesions that progress to tumors. Truncated sugars on MUC1, such as T, Tn, and their sialylated forms, are associated with more advanced tumor stages and poor prognosis. Shorter
O
-glycans confer oncogenic properties to MUC1 leading to aberrant intracellular signaling that results in increased transcription of several target genes including those encoding pro-inflammatory cytokines. Secretion of pro-inflammatory cytokines enhances the recruitment of inflammatory cells into the tumor site. Inflammatory cells, including macrophages and DC, are a further source of inflammatory cytokines, which in turn promote tumor progression and metastasis (
Figure 2
). Therefore, even if MUC1 is not a direct initiator of neoplastic transformation, it plays a key role in aggravating inflammatory conditions that create a pro-tumor microenvironment, accelerating tumor growth and metastasis. In addition, hypoglycosylated MUC1 can inhibit its own processing by DC as a tumor antigen and presentation to T cells, thereby preventing anti-tumor immune responses. Thus, targeting hypoglycosylated MUC1 with various drugs or biologics that can modulate or inhibit some of the many functions we described above may lead to inhibition of tumor growth and promotion of anti-tumor immune responses, including anti-MUC1 immunity. Vaccines targeting the hypoglycosylated MUC1 are one modality being developed by us and others in an effort to induce antibodies and T cells that can eliminate inflammation and/or tumor initiating cells that express this form of MUC1, thereby preventing further inflammation and promoting anti-tumor activity of many effector cells in the microenvironment.
Acknowledgments
This work was supported by the Fondazione Ri.Med (S.C.) and the National Institute of Health Grant CA168392-05 (O.J.F.).
Conflicts of interest
The authors declare no conflict of interest.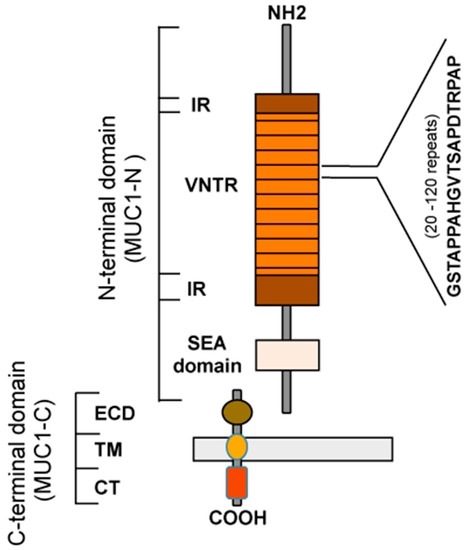 Figure 1. Schematic representation of mucin 1 (MUC1) structure. Abbrevition: CT: cytoplasmic tail; ECD: extracellular domain; IR: imperfect repeat; TM: transmembrane; SEA: sea urchin sperm protein-enterokinase-agrin; VNTR: variable number of tandem repeat.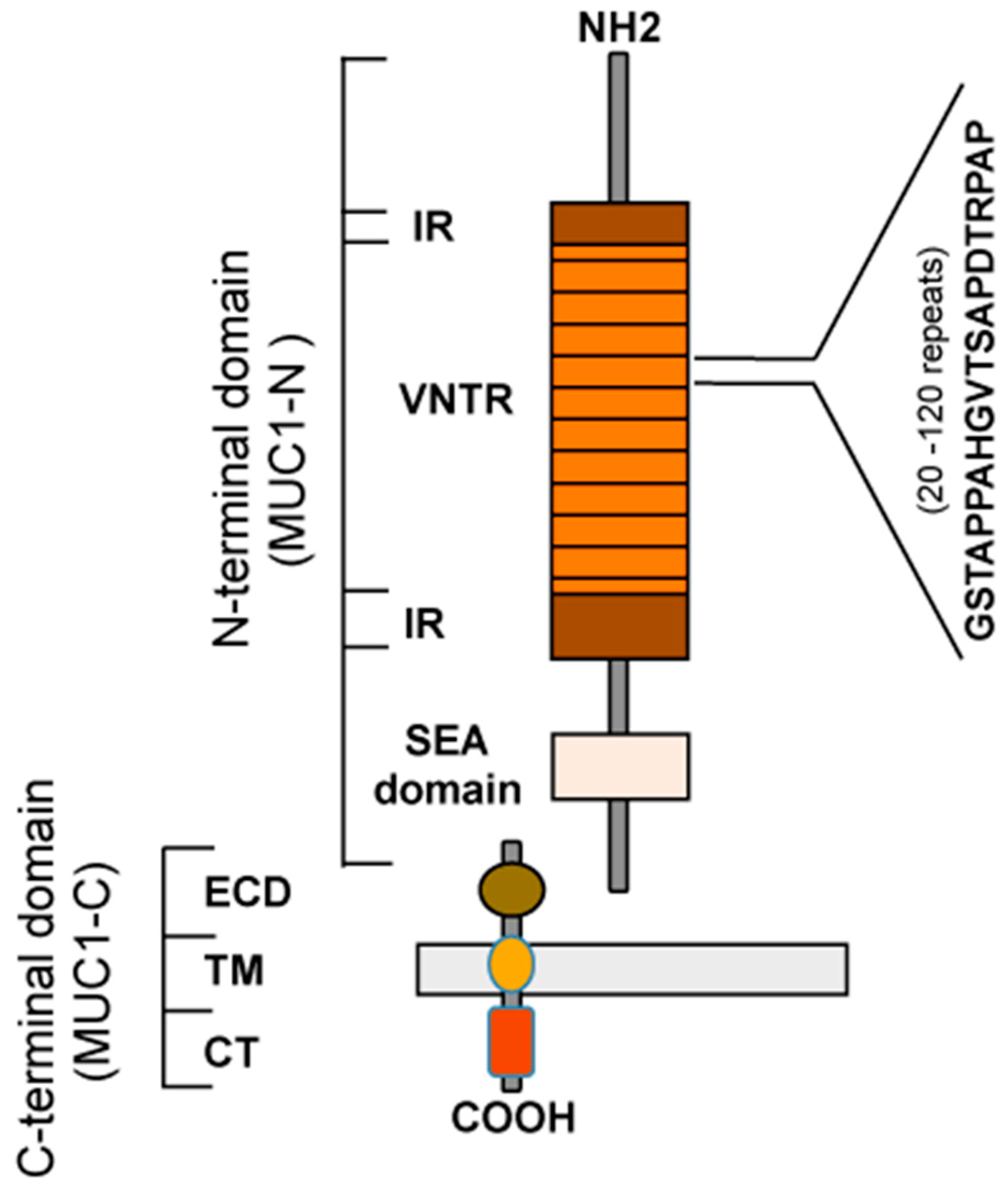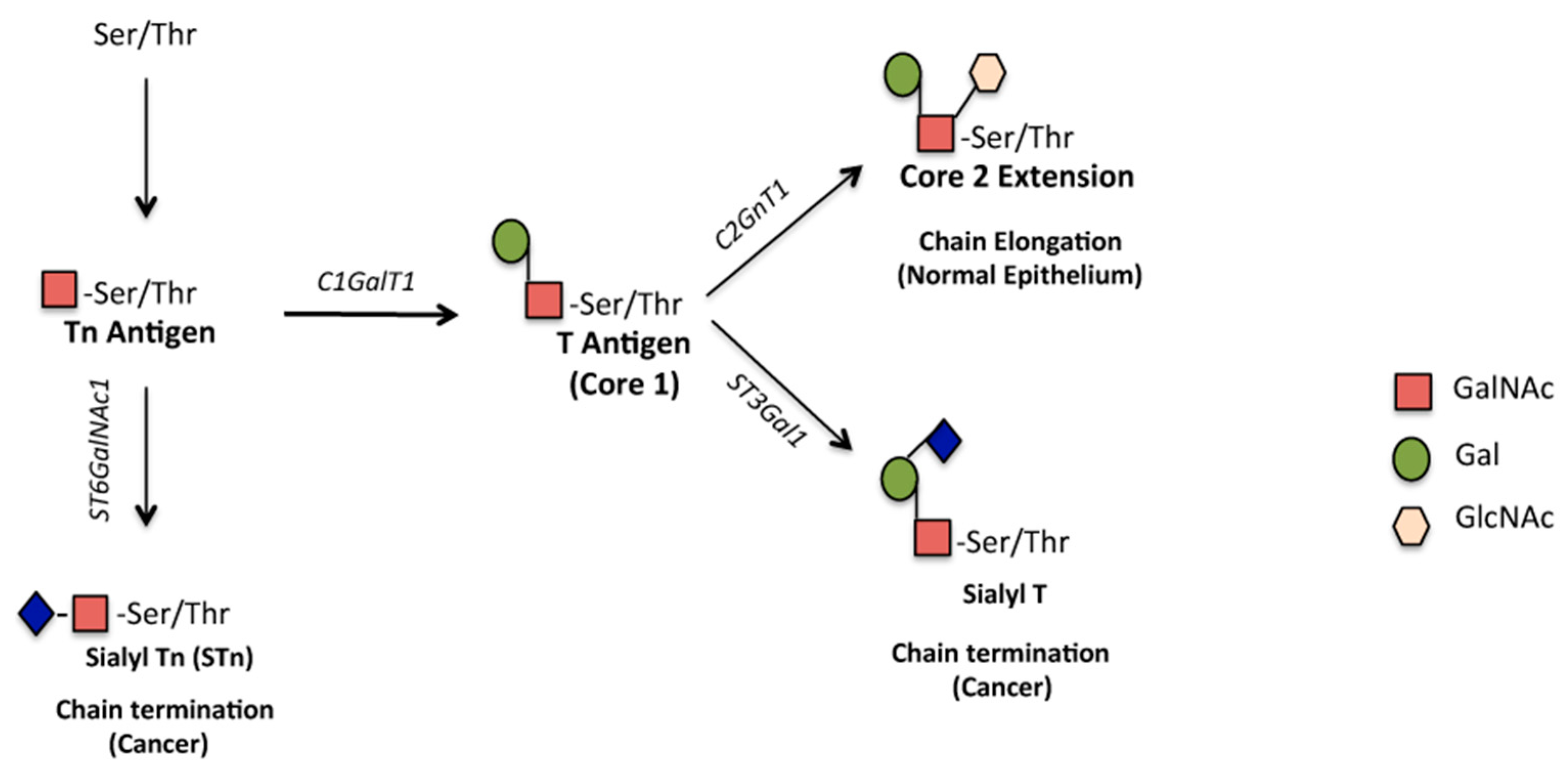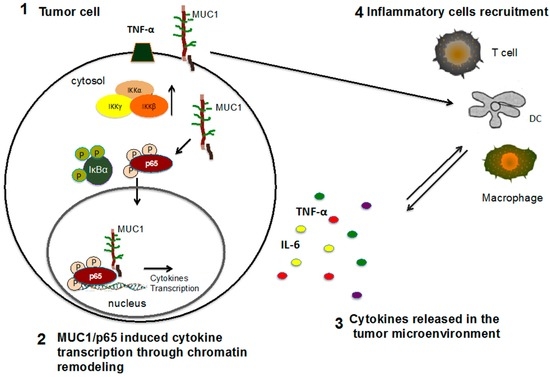 Figure 3. Model of MUC1 role in the tumor microenviroment. (1) Upon inflammatory stimuli, MUC1 induces activation of nuclear factor kappa B (NF-κB) members and binds phopsho-p65; (2) MUC1/phospho-p65 complex translocates to the nucleus and associates with the promoter of pro-inflammatory cytokines, such as interleukin 6 (IL-6) and tumor necrosis factor alpha (TNF-α), promoting their transcription and expression; (3) Secretion of inflammatory cytokines recruits inflammatory cells, including myeloid cells and neutrophils, into the tumor site; (4) Inflammatory cells are a further source for pro-inflammatory and pro-tumorigenic cytokines that enhance tumor growth and progression. DC: dendritic cells; IKK: IκB kinase; IκB: phospho-inhibitor of kappa B.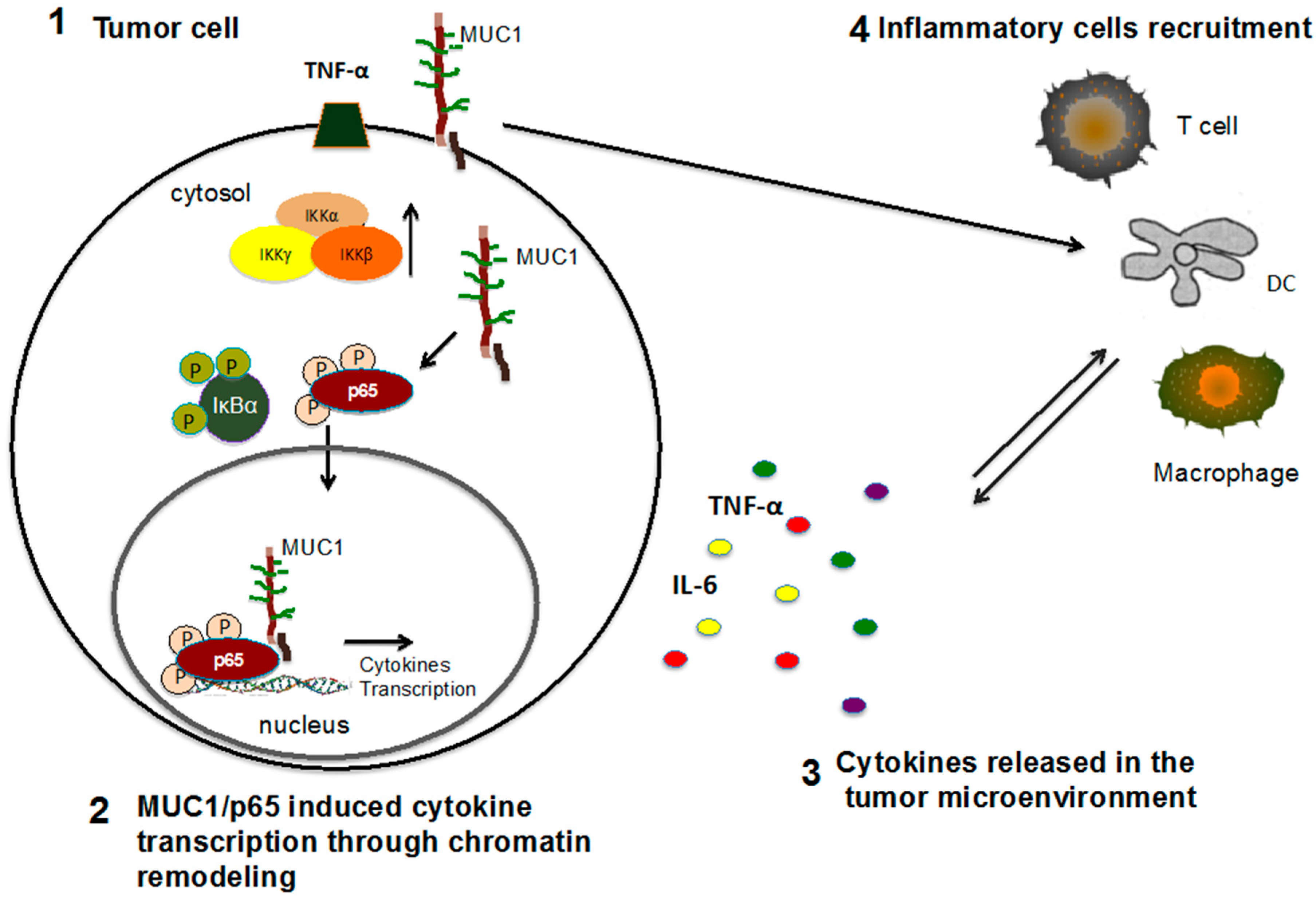 © 2016 by the authors; licensee MDPI, Basel, Switzerland. This article is an open access article distributed under the terms and conditions of the Creative Commons Attribution (CC-BY) license (http://creativecommons.org/licenses/by/4.0/).