Mechanistic and Structural Studies of Protein-Only RNase P Compared to Ribonucleoproteins Reveal the Two Faces of the Same Enzymatic Activity
1
UPR 2357, Centre National de la Recherche Scientifique, Institut de Biologie Moléculaire des Plantes, Université de Strasbourg, 12 rue du général Zimmer, F-67084 Strasbourg, France
2
UPR 9002, Centre National de la Recherche Scientifique, Architecture et Réactivité de l'ARN, Institut de Biologie Moléculaire et Cellulaire, Université de Strasbourg, 15 rue René Descartes, Strasbourg F-67084, France
*
Author to whom correspondence should be addressed.
Academic Editor: Denis Drainas
Received: 19 May 2016 / Revised: 16 June 2016 / Accepted: 17 June 2016 / Published: 24 June 2016
Abstract
RNase P, the essential activity that performs the 5′ maturation of tRNA precursors, can be achieved either by ribonucleoproteins containing a ribozyme present in the three domains of life or by protein-only enzymes called protein-only RNase P (PRORP) that occur in eukaryote nuclei and organelles. A fast growing list of studies has investigated three-dimensional structures and mode of action of PRORP proteins. Results suggest that similar to ribozymes, PRORP proteins have two main domains. A clear functional analogy can be drawn between the specificity domain of the RNase P ribozyme and PRORP pentatricopeptide repeat domain, and between the ribozyme catalytic domain and PRORP N4BP1, YacP-like Nuclease domain. Moreover, both types of enzymes appear to dock with the acceptor arm of tRNA precursors and make specific contacts with the corner of pre-tRNAs. While some clear differences can still be delineated between PRORP and ribonucleoprotein (RNP) RNase P, the two types of enzymes seem to use, fundamentally, the same catalytic mechanism involving two metal ions. The occurrence of PRORP and RNP RNase P represents a remarkable example of convergent evolution. It might be the unique witness of an ongoing replacement of catalytic RNAs by proteins for enzymatic activities.
View Full-Text
►

▼

Figures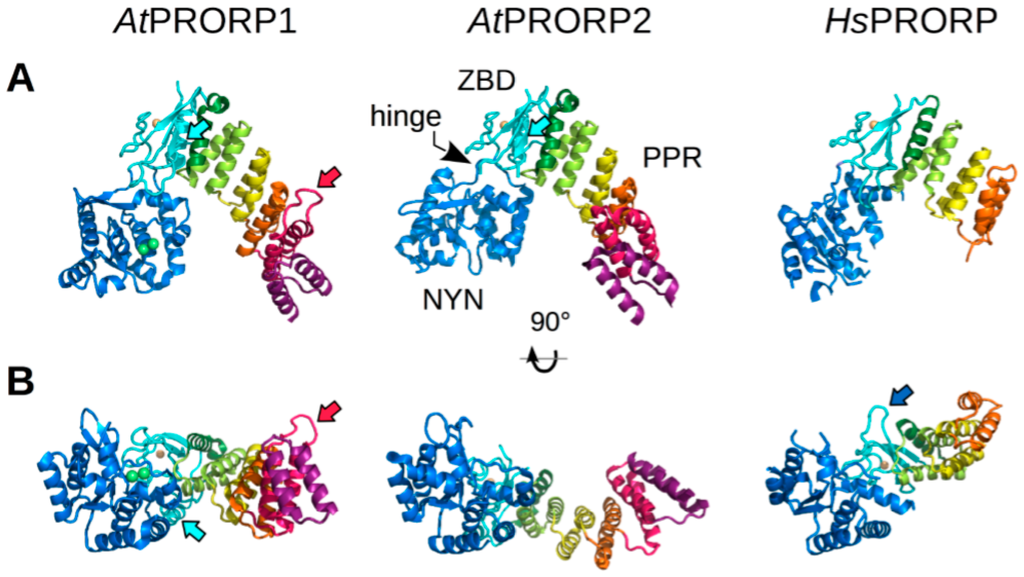 Figure 1
This is an open access article distributed under the
Creative Commons Attribution License
which permits unrestricted use, distribution, and reproduction in any medium, provided the original work is properly cited (CC BY 4.0).

Share & Cite This Article
MDPI and ACS Style
Schelcher, C.; Sauter, C.; Giegé, P. Mechanistic and Structural Studies of Protein-Only RNase P Compared to Ribonucleoproteins Reveal the Two Faces of the Same Enzymatic Activity. Biomolecules 2016, 6, 30.
Note that from the first issue of 2016, MDPI journals use article numbers instead of page numbers. See further details here.
Related Articles
Comments
[Return to top]