Tau Protein Hyperphosphorylation and Aggregation in Alzheimer's Disease and Other Tauopathies, and Possible Neuroprotective Strategies
1
Department of Neuroscience, Croatian Institute for Brain Research, University of Zagreb School of Medicine, Zagreb 10000, Croatia
2
Reta Lila Weston Institute and Department of Molecular Neuroscience, UCL Institute of Neurology, London WC1N 3BG, UK
3
School of Medicine and Dentistry, University of Aberdeen, Aberdeen AB25 2ZD, UK
4
Department of Pathology and Laboratory Medicine, Boston University School of Medicine, Boston 02118, MA, USA
5
Department of Neurology, University Hospital Center Zagreb, Zagreb 10000, Croatia
6
Laboratory Alzheimer & Tauopathies, Université Lille and INSERM U1172, Jean-Pierre Aubert Research Centre, Lille 59045, France
7
Department of Physiology and Biochemistry, Faculty of Medicine and Surgery, University of Malta, Msida, MSD 2080, Malta
8
School of Biosciences, Cardiff University, Cardiff CF10 3AX, UK
9
Fishberg Department of Neuroscience, Ronald M. Loeb Center for Alzheimer's Disease, Icahn School of Medicine at Mount Sinai, New York, NY 10029, USA
10
Friedman Brain Institute, Icahn School of Medicine at Mount Sinai, New York, NY 10029, USA
*
Author to whom correspondence should be addressed.
Academic Editor: Jürg Bähler
Received: 2 November 2015 / Revised: 28 November 2015 / Accepted: 1 December 2015 / Published: 6 January 2016
Abstract
Abnormal deposition of misprocessed and aggregated proteins is a common final pathway of most neurodegenerative diseases, including Alzheimer's disease (AD). AD is characterized by the extraneuronal deposition of the amyloid β (Aβ) protein in the form of plaques and the intraneuronal aggregation of the microtubule-associated protein tau in the form of filaments. Based on the biochemically diverse range of pathological tau proteins, a number of approaches have been proposed to develop new potential therapeutics. Here we discuss some of the most promising ones: inhibition of tau phosphorylation, proteolysis and aggregation, promotion of intra- and extracellular tau clearance, and stabilization of microtubules. We also emphasize the need to achieve a full understanding of the biological roles and post-translational modifications of normal tau, as well as the molecular events responsible for selective neuronal vulnerability to tau pathology and its propagation. It is concluded that answering key questions on the relationship between Aβ and tau pathology should lead to a better understanding of the nature of secondary tauopathies, especially AD, and open new therapeutic targets and strategies.
View Full-Text
►

▼

Figures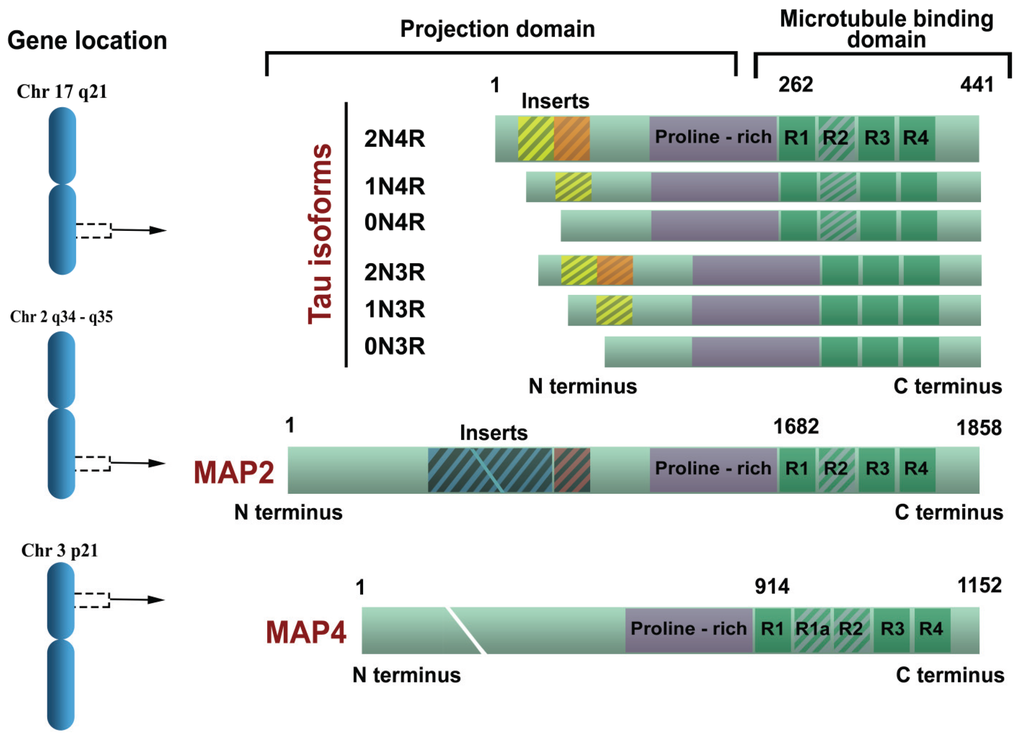 Figure 1
This is an open access article distributed under the
Creative Commons Attribution License
which permits unrestricted use, distribution, and reproduction in any medium, provided the original work is properly cited (CC BY 4.0).

Share & Cite This Article
MDPI and ACS Style
Šimić, G.; Babić Leko, M.; Wray, S.; Harrington, C.; Delalle, I.; Jovanov-Milošević, N.; Bažadona, D.; Buée, L.; De Silva, R.; Di Giovanni, G.; Wischik, C.; Hof, P.R. Tau Protein Hyperphosphorylation and Aggregation in Alzheimer's Disease and Other Tauopathies, and Possible Neuroprotective Strategies. Biomolecules 2016, 6, 6.
Note that from the first issue of 2016, MDPI journals use article numbers instead of page numbers. See further details here.
Related Articles
Comments
[Return to top]