The Role of Histidine-Proline-Rich Glycoprotein as Zinc Chaperone for Skeletal Muscle AMP Deaminase
1
Laboratory of Biochemistry, Department of Pathology, University of Pisa, via Roma 55, Pisa 56126, Italy
2
Department of Molecular Biology and Biotechnology, Krebs Institute, University of Sheffield, Sheffield S10 2UH, UK
*
Author to whom correspondence should be addressed.
Received: 6 February 2014 / Revised: 8 April 2014 / Accepted: 10 April 2014 / Published: 5 May 2014
Abstract
Metallochaperones function as intracellular shuttles for metal ions. At present, no evidence for the existence of any eukaryotic zinc-chaperone has been provided although metallochaperones could be critical for the physiological functions of Zn
2+
metalloenzymes. We propose that the complex formed in skeletal muscle by the Zn
2+
metalloenzyme AMP deaminase (AMPD) and the metal binding protein histidine-proline-rich glycoprotein (HPRG) acts in this manner. HPRG is a major plasma protein. Recent investigations have reported that skeletal muscle cells do not synthesize HPRG but instead actively internalize plasma HPRG. X-ray absorption spectroscopy (XAS) performed on fresh preparations of rabbit skeletal muscle AMPD provided evidence for a dinuclear zinc site in the enzyme compatible with a (μ-aqua)(μ-carboxylato)dizinc(II) core with two histidine residues at each metal site. XAS on HPRG isolated from the AMPD complex showed that zinc is bound to the protein in a dinuclear cluster where each Zn
2+
ion is coordinated by three histidine and one heavier ligand, likely sulfur from cysteine. We describe the existence in mammalian HPRG of a specific zinc binding site distinct from the His-Pro-rich region. The participation of HPRG in the assembly and maintenance of skeletal muscle AMPD by acting as a zinc chaperone is also demonstrated.
View Full-Text
►

▼

Figures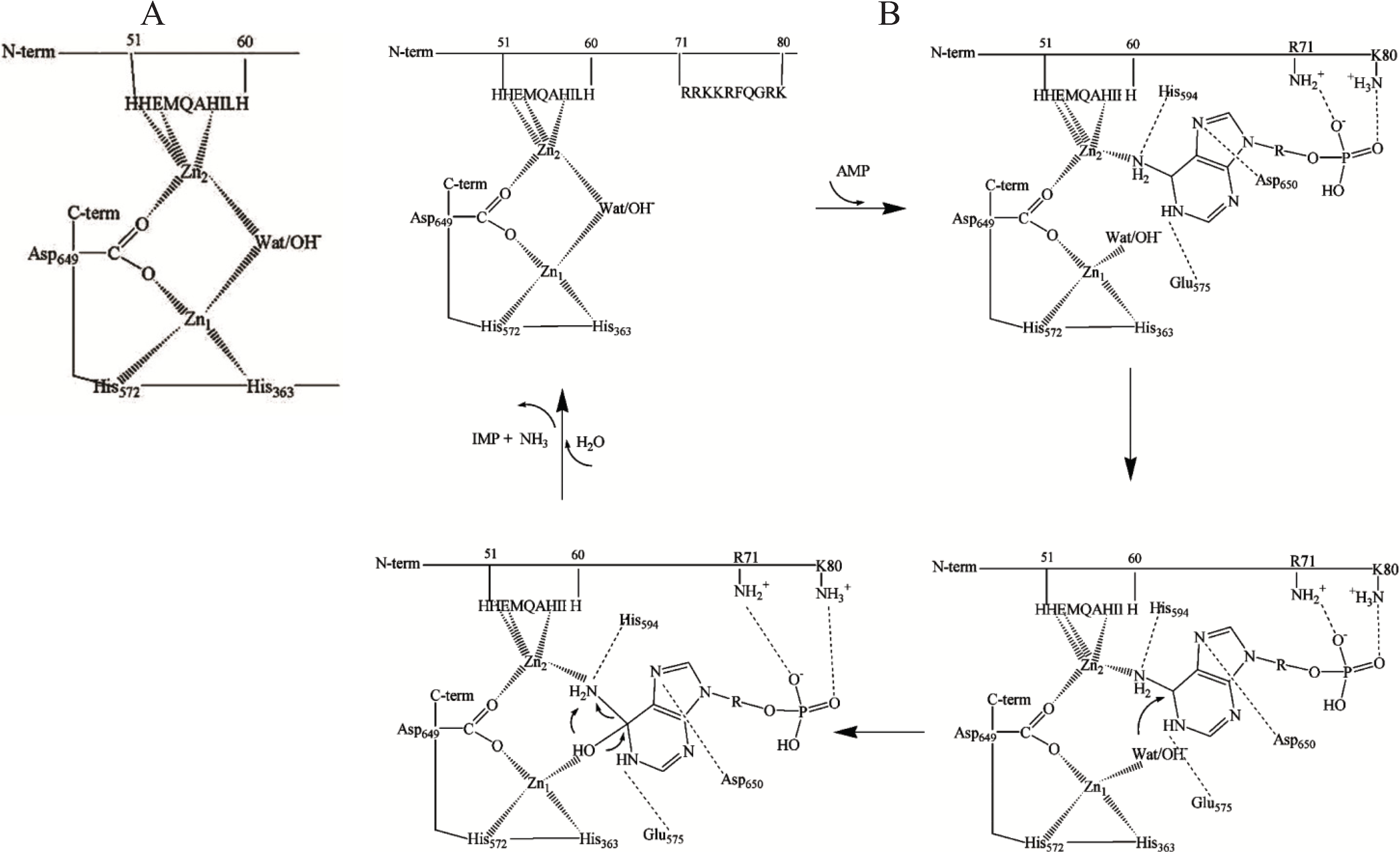 Figure 1

Share & Cite This Article
MDPI and ACS Style
Ranieri-Raggi, M.; Moir, A.J.G.; Raggi, A. The Role of Histidine-Proline-Rich Glycoprotein as Zinc Chaperone for Skeletal Muscle AMP Deaminase. Biomolecules 2014, 4, 474-497.
Related Articles
Comments
[Return to top]