Black Holes: Eliminating Information or Illuminating New Physics?
1
Department of Theoretical Physics, Indian Association for the Cultivation of Science, Kolkata 700032, India
2
IUCAA, Post Bag 4, Ganeshkhind, Pune University Campus, Pune 411 007, India
3
Department of Physical Sciences, IISER Mohali, Manauli 140306, India
4
School of Physics, IISER Thiruvananthapuram, Trivandrum 695016, India
*
Author to whom correspondence should be addressed.
Academic Editors: Gonzalo J. Olmo and Diego Rubiera-Garcia
Received: 6 March 2017 / Revised: 3 July 2017 / Accepted: 7 July 2017 / Published: 13 July 2017
Abstract
Black holes, initially thought of as very interesting mathematical and geometric solutions of general relativity, over time, have come up with surprises and challenges for modern physics. In modern times, they have started to test our confidence in the fundamental understanding of nature. The most serious charge on the black holes is that they eat up information, never to release and subsequently erase it. This goes absolutely against the sacred principles of all other branches of fundamental sciences. This realization has shaken the very base of foundational concepts, both in quantum theory and gravity, which we always took for granted. Attempts to get rid of of this charge, have led us to crossroads with concepts, hold dearly in quantum theory. The sphere of black hole's tussle with quantum theory has readily and steadily grown, from the advent of the Hawking radiation some four decades back, into domain of quantum information theory in modern times, most aptly, recently put in the form of the firewall puzzle. Do black holes really indicate something sinister about their existence or do they really point towards the troubles of ignoring the fundamental issues, our modern theories are seemingly plagued with? In this review, we focus on issues pertaining to black hole evaporation, the development of the information loss paradox, its recent formulation, the leading debates and promising directions in the community.
View Full-Text
►

▼

Figures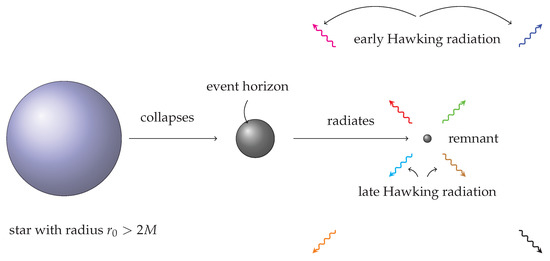 Figure 1
This is an open access article distributed under the
Creative Commons Attribution License
which permits unrestricted use, distribution, and reproduction in any medium, provided the original work is properly cited (CC BY 4.0).

Share & Cite This Article
MDPI and ACS Style
Chakraborty, S.; Lochan, K. Black Holes: Eliminating Information or Illuminating New Physics? Universe 2017, 3, 55.
Note that from the first issue of 2016, MDPI journals use article numbers instead of page numbers. See further details here.
Related Articles
Comments
[Return to top]