Identification of
N

-Oxide-Containing Aromatic Heterocycles as Pharmacophores for Rumen Fermentation Modifiers

1

Grupo de Química Medicinal, Laboratorio de Química Orgánica Medicinal, Instituto de Química Biológica, Facultad de Ciencias, Universidad de la República, Iguá 4225, Montevideo 11400, Uruguay

2

Departamento de Nutrición, Instituto de Producción Animal, Facultad de Veterinaria, Universidad de la República, Ruta 1 km 42,500, San José 80100, Uruguay

3

Área de Radiofarmacia, Centro de Investigaciones Nucleares, Facultad de Ciencias, Universidad de la República, Mataojo 2055, Montevideo 11400, Uruguay

4

Departamento de Bovinos, Instituto de Produccción Animal, Facultad de Veterinaria, Universidad de la República, Ruta 1 km 42,500, San José 80100, Uruguay

*

Authors to whom correspondence should be addressed.

Received: 31 January 2019 / Revised: 5 March 2019 / Accepted: 8 March 2019 / Published: 2 April 2019
Abstract
Different strategies have been used to mitigate greenhouse gas emissions from domesticated ruminants, including the removal of protozoa (defaunation). The objective of the present work was to analyze the potential of different
N
-oxide-containing aromatic heterocycles with known antiprotozoal activity as rumen-gas-abating agents. Nineteen pure compounds, belonging to seven different
N
-oxide chemotypes from our chemo-library were studied together with monensin in an in vitro rumen simulation assay. Fermentation profiles, i.e., gas production, pH, and short carboxylic acid concentrations, were compared to an untreated control at 96 h post inoculation. In our study, we investigated whole-ruminal fluid, with and without compound treatments, by NMR spectroscopy focusing on concentrations of the metabolites acetate, propionate, butyrate, and lactate. From data analysis, three of the compounds from different
N
-oxide chemotypes, including quinoxaline dioxide, benzofuroxan, and methylfuroxan, were able to diminish the production of gases such as monensin with similar gas production lag times for each of them. Additionally, unlike monensin, one methylfuroxan did not decrease the rumen pH during the analyzed incubation time, shifting rumen fermentation to increase the molar concentrations of propionate and butyrate. These facts suggest interesting alternatives as feed supplements to control gas emissions from dairy ruminants.
View Full-Text
►

▼

Figures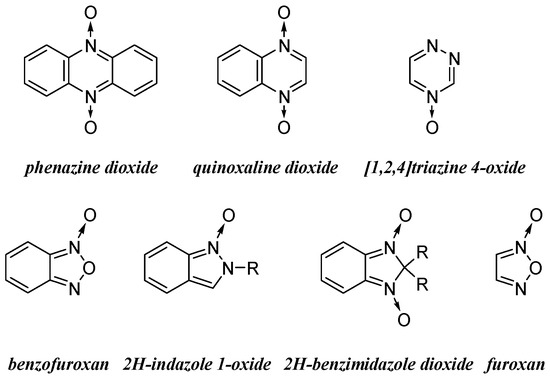 Figure 1
This is an open access article distributed under the
Creative Commons Attribution License
which permits unrestricted use, distribution, and reproduction in any medium, provided the original work is properly cited (CC BY 4.0).

Share & Cite This Article
MDPI and ACS Style
Bonifacino, C.; Rodríguez, G.; Pérez-Ruchel, A.; Repetto, J.L.; Cerecetto, H.; Cajarville, C.; González, M. Identification of N-Oxide-Containing Aromatic Heterocycles as Pharmacophores for Rumen Fermentation Modifiers. Metabolites 2019, 9, 62.
Note that from the first issue of 2016, MDPI journals use article numbers instead of page numbers. See further details here.
Related Articles
Comments
[Return to top]