The Redox Status of Cancer Cells Supports Mechanisms behind the Warburg Effect
1
Laboratoire d'Informatique de l'Ecole Polytechnique–Unité Mixte de Recherche 7161, Ecole Polytechnique, Palaiseau 91128, France
2
Imen Pharmed Iranian Company (IPI), Tehran 1514633711, Iran
3
Nosco Pharmaceuticals, Paris 75015, France
4
Laboratoire de Recherche en Informatique (LRI), Université Paris-Sud, Centre National de la Recherche Scientifique Unité Mixte de Recherche 8623, Orsay 91190, France
5
MaIAGE, INRA, Université Paris-Saclay, Jouy-en-Josas 78350, France
6
Institute of Translationnal Neurosciences (IHU-A-Institut du Cerveau et de la Moelle Epinière), Pitié Salpêtrière Hospital, Paris 75013, France
*
Authors to whom correspondence should be addressed.
Received: 12 August 2016 / Accepted: 27 September 2016 / Published: 3 October 2016
Abstract
To better understand the energetic status of proliferating cells, we have measured the intracellular pH (pHi) and concentrations of key metabolites, such as adenosine triphosphate (ATP), nicotinamide adenine dinucleotide (NAD), and nicotinamide adenine dinucleotide phosphate (NADP) in normal and cancer cells, extracted from fresh human colon tissues. Cells were sorted by elutriation and segregated in different phases of the cell cycle (G0/G1/S/G2/M) in order to study their redox (NAD, NADP) and bioenergetic (ATP, pHi) status. Our results show that the average ATP concentration over the cell cycle is higher and the pHi is globally more acidic in normal proliferating cells. The NAD+/NADH and NADP+/NADPH redox ratios are, respectively, five times and ten times higher in cancer cells compared to the normal cell population. These energetic differences in normal and cancer cells may explain the well-described mechanisms behind the Warburg effect. Oscillations in ATP concentration, pHi, NAD+/NADH, and NADP+/NADPH ratios over one cell cycle are reported and the hypothesis addressed. We also investigated the mitochondrial membrane potential (MMP) of human and mice normal and cancer cell lines. A drastic decrease of the MMP is reported in cancer cell lines compared to their normal counterparts. Altogether, these results strongly support the high throughput aerobic glycolysis, or Warburg effect, observed in cancer cells.
View Full-Text
►

▼

Figures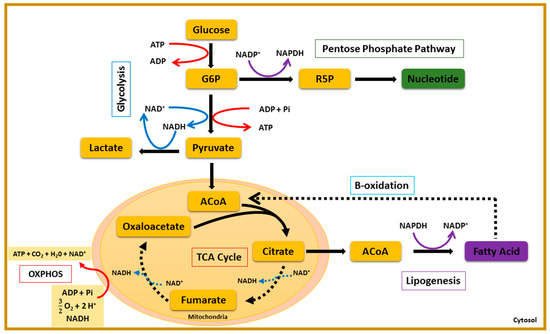 Figure 1
This is an open access article distributed under the
Creative Commons Attribution License
which permits unrestricted use, distribution, and reproduction in any medium, provided the original work is properly cited (CC BY 4.0).

Share & Cite This Article
MDPI and ACS Style
Moreira, J.D.V.; Hamraz, M.; Abolhassani, M.; Bigan, E.; Pérès, S.; Paulevé, L.; Nogueira, M.L.; Steyaert, J.-M.; Schwartz, L. The Redox Status of Cancer Cells Supports Mechanisms behind the Warburg Effect. Metabolites 2016, 6, 33.
Note that from the first issue of 2016, MDPI journals use article numbers instead of page numbers. See further details here.
Related Articles
Comments
[Return to top]