Investigation of Phenolic Acids in Suspension Cultures of
Vitis vinifera

Stimulated with Indanoyl-Isoleucine,

N

-Linolenoyl-L-Glutamine, Malonyl Coenzyme A and Insect Saliva

1

Department of Food Technology and Food Chemistry, Methods of Food Biotechnology, Technische Universität Berlin, Königin- Luise-Str. 22, 14195 Berlin, Germany

2

Laboratory of Bioprocess Engineering, Department of Biotechnology, Technische Universität Berlin, Ackerstr. 71-76, D-13355 Berlin, Germany

3

Department of Plant Food Processing, Agricultural Faculty, University of Applied Science Weihenstephan-Triesdorf, Steingruber Str 2, 91746 Weidenbach, Germany

†

These authors contributed equally to this work.

*

Author to whom correspondence should be addressed.

Received: 19 December 2011 / Revised: 25 January 2012 / Accepted: 8 February 2012 / Published: 15 February 2012
Abstract
Vitis vinifera
c.v. Muscat de Frontignan (grape) contains various high valuable bioactive phenolic compounds with pharmaceutical properties and industrial interest which are not fully exploited. The focus of this investigation consists in testing the effects of various biological elicitors on a non-morphogenic callus suspension culture of
V. vinifera.
The investigated elicitors: Indanoyl-isoleucine (IN),
N
-linolenoyl-L-glutamine (LG), insect saliva (IS) and malonyl coenzyme A (MCoA) were aimed at mimicking the influence of environmental pathogens on plants in their natural habitats and at provoking exogenous induction of the phenylpropanoid pathway. The elicitors' indanoyl-isoleucine (IN),
N
-linolenoyl-L-glutamine (LG) and insect saliva (IS), as well as malonyl coenzyme A (MCoA), were independently inoculated to stimulate the synthesis of phenylpropanoids. All of the enhancers positively increased the concentration of phenolic compounds in grape cells. The highest concentration of phenolic acids was detected after 2 h for MCoA, after 48 h for IN and after 24 h for LG and IS respectively. At the maximum production time, treated grape cells had a 3.5-fold (MCoA), 1.6-fold (IN) and 1.5-fold (IS) higher phenolic acid content compared to the corresponding control samples. The HPLC results of grape cells showed two major resveratrol derivatives: 3-
O
-Glucosyl-resveratrol and 4-(3,5-dihydroxyphenyl)-phenol. Their influences of the different elicitors, time of harvest and biomass concentration (
p
< 0.0001) were statistically significant on the synthesis of phenolic compounds. The induction with MCoA was found to demonstrate the highest statistical effect corresponding to the strongest stress response within the phenylpropanoid pathway in grape cells.
View Full-Text
►

▼

Figures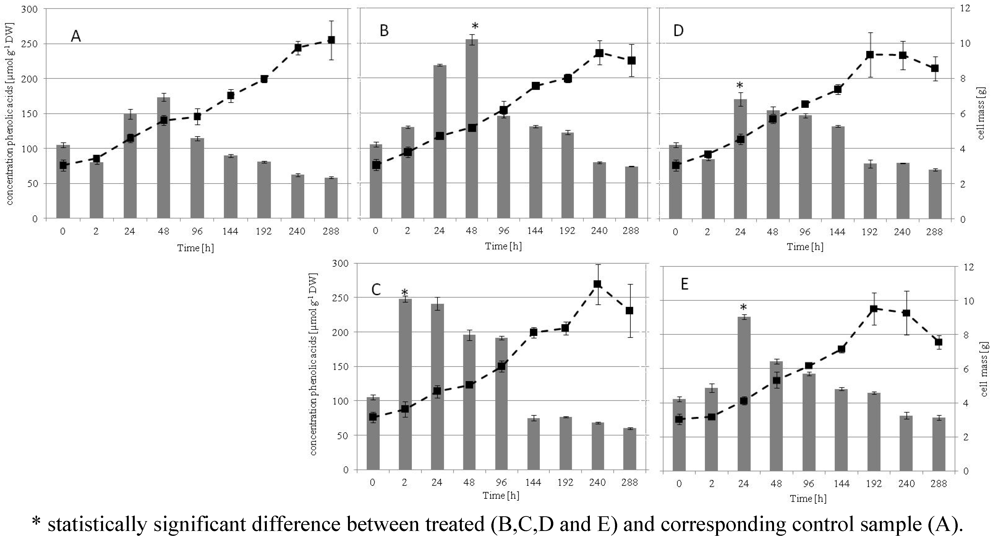 Figure 1

Share & Cite This Article
MDPI and ACS Style
Riedel, H.; Akumo, D.N.; Saw, N.M.M.T.; Smetanska, I.; Neubauer, P. Investigation of Phenolic Acids in Suspension Cultures of Vitis vinifera Stimulated with Indanoyl-Isoleucine, N-Linolenoyl-L-Glutamine, Malonyl Coenzyme A and Insect Saliva. Metabolites 2012, 2, 165-177.
Related Articles
Comments
[Return to top]