FT-IR Spectroscopy for the Identification of Binding Sites and Measurements of the Binding Interactions of Important Metal Ions with Bovine Serum Albumin
Department of Pharmaceutical Chemistry, College of Pharmacy, Jazan University, P.O. Box 114, Jazan 45142, Saudi Arabia
Received: 15 January 2019 / Accepted: 13 February 2019 / Published: 20 February 2019
Abstract
Proteins play crucial roles in the transportation and distribution of therapeutic substances, including metal ions in living systems. Some metal ions can strongly associate, while others show low affinity towards proteins. Consequently, in the present work, the binding behaviors of Ca
2+
, Ba
2+
, Ag
+
, Ru
3+
, Cu
2+
and Co
2+
with bovine serum albumin (BSA) were screened. BSA and the metal ions were allowed to interact at physiological pH and their binding interactions were screened by using FT-IR spectroscopy. Spectra were collected by using hydrated films over a range of 4000–400 cm
−1
. The interaction was demonstrated by a significant reduction in the spectral intensities of the amide I (C=O stretching) and amide II bands (C–N stretching coupled to NH bending) of the protein after complexation with metal ions. The binding interaction was further revealed by spectral shifting of the amide I band from 1651 cm
−1
(free BSA) to 1653, 1654, 1649, 1655, 1655, and 1654 cm
−1
for BSA–Ca
2+
, BSA–Ba
2+
, BSA–Ag
+
, BSA–Ru
3+
, BSA–Cu
2+
and BSA–Co
2+
complexes, respectively. The shifting of the amide I band was due to the interactions of metal ions with the O and N atoms of the ligand protein. Estimation of the secondary protein structure showed alteration in the protein conformation, characterized by a marked decrease (12.9–40.3%) in the α-helix accompanied by increased β-sheet and β-turn after interaction with the metal ions. The interaction results of this study were comparable with those reported in our previous investigation of metal ion–BSA interactions using affinity capillary electrophoresis (ACE), which has proven the accuracy of the FT-IR technique in the measurement of interactions between proteins and metal ions.
View Full-Text
►

▼

Figures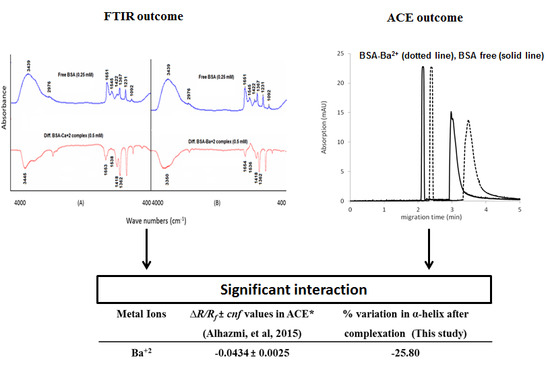 Graphical abstract
This is an open access article distributed under the
Creative Commons Attribution License
which permits unrestricted use, distribution, and reproduction in any medium, provided the original work is properly cited (CC BY 4.0).

Share & Cite This Article
MDPI and ACS Style
Alhazmi, H.A. FT-IR Spectroscopy for the Identification of Binding Sites and Measurements of the Binding Interactions of Important Metal Ions with Bovine Serum Albumin. Sci. Pharm. 2019, 87, 5.
Note that from the first issue of 2016, MDPI journals use article numbers instead of page numbers. See further details here.
Comments
[Return to top]