Open Access This article is
freely available
re-usable
Article
Effects of Hybridisation on the Low Velocity Falling Weight Impact and Flexural Properties of Flax-Carbon/Epoxy Hybrid Composites
School of Mechanical and Design Engineering, University of Portsmouth, Portsmouth PO1 3DJ, UK
*
Author to whom correspondence should be addressed.
Received: 26 June 2019 / Accepted: 14 October 2019 / Published: 24 October 2019
Abstract
:
The trend of research and adoption of natural plant-based fibre reinforced composites is increasing, with traditional synthetic fibres such as carbon and glass experiencing restrictions placed on their manufacture and use by legislative bodies due to their environmental impact through the entire product life cycle. Finding suitable alternatives to lightweight and high-performance synthetic composites will be of benefit to the automotive, marine and aerospace industries. This paper investigates the low-velocity impact (LVI) and flexural properties and damage characteristics of flax-carbon/epoxy hybrid composites to be used in structural lightweight applications. LVI, for example, is analogous to several real-life situations, such as damage during manufacture, feasibly due to human error such as the dropping of tools and mishandling of the finished product, debris strikes of aircraft flight, or even the collision of a vessel with another. Carbon fibre has been hybridised with flax fibres to achieve enhanced impact and flexural performance. The failure mechanisms of woven flax and flax-carbon epoxy hybrid composites have been further analysed using Scanning Electron Microscopy (SEM). It was observed from the experimental results that carbon fibre hybridisation has a significant effect on the impact and flexural properties and their damage modes. The results obtained from this study exhibited that the flexural strength and modulus of plain flax/epoxy composite increase significantly from 95.66 MPa to 425.87 MPa and 4.78 GPa to 17.90 GPa, respectively, with carbon fibre hybridisation. This significant improvement in flexural properties would provide designers with important information to make informed decisions during material selection for lightweight structural applications.
Keywords:
flax fibres; low-velocity impact; hybrid composites; mechanical properties; damage mechanisms
1. Introduction
Furthermore, using a variety of damage characterisation methods, this study will attempt to understand and highlight the failure mechanisms of hybrid systems, which will be useful for design engineers using composite materials to design components.
2. Materials and Methods
2.1. Materials
The two reinforcing materials used were epoxy-based prepregs 'HexPly M56' unidirectional carbon fibre and 'SDH VTC401LV' unidirectional flax fibre. Epoxy-based carbon and flax reinforcements used were obtained from Gurit and SHD Composites, respectively. The 'HexPly M56' [
11
] unidirectional carbon tape epoxy based prepreg, with a fabric weight of 280 g/m
2
supplied by Gurit, has a fibre density of 1.78 g/cm
3
.
The flax fibre prepreg unidirectional mats with a fabric weight of 350 g/m2 were obtained from SHD Composites, based on a VTC401 epoxy component. The flax fibres have a density of 1.5 g/cm3, and in this case, the fibre volume of the prepreg is 50%.
2.2. Sample Preparation
The samples have the same layup procedure before being cured in the oven to their respective manufacturer specifications. The unidirectional prepreg is laid up into generic sheets of eight layers with a stacking sequence specified in
Table 1
. This ensures that the interface between carbon and flax in the hybrid composite is opposed at 90 °C and that there is a symmetrical distribution of fibre plies. The averages of fibre volume fraction (FVF) for flax/epoxy, carbon/epoxy, and flax-carbon/epoxy hybrid composites were approximately 56%, 59%, and 58%, respectively.
The material uses a vacuum bag to de-bulk and removes as much air as possible; a test is carried out by sealing the bag and removing the applied vacuum to ensure there are no vacuum leaks.
The samples were cured under similar conditions. The only difference was their ramping and dwelling temperatures, which were from 20 °C to 180 °C ± 5 °C and 180 °C ± 5 °C, respectively for CFRP composite sample, and 20 °C to 135 °C ± 5 °C and 135 °C ± 5 °C for FFRP and its hybrid samples. These temperatures were effective to obtain expected full curing. To ensure full cure of the matrix, a differential scanning calorimetry (DSC) test was performed and the correct glass transition temperature was measured.
Once the layup is complete, and the samples have been correctly de-bulked, the panels were placed in the oven for a controlled curing cycle as specified by the manufacturer of the prepreg epoxy resin. Temperature ramps are strictly controlled to ensure that the resin correctly cures; otherwise high-temperature snap curing can have reduced effectiveness as the impregnated resin is not allowed to flow to specification. After successful curing, the samples were CNC waterjet cut to sprue style templates for final collection and damage characterisation testing.
2.3. Low-Velocity Falling Weight Impact Testing
An impact test was undertaken on ZwickRoell HIT230F (ZwickRoell GmbH, Ulm, Germany), using preformed impact test samples. The incident impact energy was set at 25 joules (enough to penetrate the flax samples); with an impact velocity of 1.468 m/s and a total mass of 23.11 kg from a height of 110 mm. The specimens were firmly fixed at all edges using annular clamps with inner and outer diameters of 50 and 75 mm respectively. The specimens were cut by waterjet cutting from the laminate to a specimen size of 70 mm × 70 mm. Four specimens were impacted per each composite category and average values were taken.
The data obtained from the test was used to understand and evaluate the behaviour of carbon fibre alone, flax fibre alone, and carbon/flax hybrid composites under impact loading. It is important to understand how the material is deforming, and the failure modes that are present.
The impact samples were fully supported on a hardened steel retaining surface. Each specimen's thickness was measured in 90° incremental rotations using calibrated digital calipers. An average thickness, 2 mm for each sample, was obtained for each sample and then further averaged to give a total specimen thickness.
2.4. Flexural Testing
The flax/epoxy, carbon/epoxy and flax-carbon/epoxy hybrid composites were tested for determining flexural strength and modulus using a three-point bending test on a ZwickRoell Z030 (ZwickRoell GmbH, Ulm, Germany) machine in accordance with the BS EN 2746:1998 test method. A total of five samples were tested for each type of composite with a crosshead speed of 2 mm/min. The span-to-thickness ratio was kept at more than 16 times the thickness of the specimens. The panel thickness was approximately 2 mm for each specimen. Four specimens from each composite laminate were tested, and average values were taken.
The width and thickness of each sample were measured in three locations evenly distributed across the specimen's length. An average of the measurement data was obtained to be used to calculate the cross-sectional area, which was ultimately used to calculate the flexural strength and modulus of the specimen.
2.5. Damage Modes Characterisation
2.5.1. SEM
The fractured surfaces of failed samples under impact and flexural loadings were cut to fit within the vacuum chamber of the Zeiss Evo 10 scanning electron microscope (SEM) (Carl Zeiss Microscopy GmbH, Jena, Germany). The parted samples were then individually bagged to reduce contamination and then bonded to aluminium mounting stubs, and the specimen is coated in gold/palladium (Au/Pd) before entering the vacuum chamber.
2.5.2. Visual Inspection
The samples were catalogued with a digital camera; failure modes were observed and recorded.
3. Results and discussion
4. Conclusions
The mechanical properties (low-velocity impact and flexural) of flax/epoxy, carbon/epoxy and flax-carbon/epoxy hybrid composites were experimentally studied. This study has clearly suggested that carbon fibre hybridisation onto flax/epoxy composites can contribute a significant improvement in impact damage behaviour and flexural strength and modulus.
Through damage analysis, the hybrid composite displayed similar impact characteristics to the plain carbon/epoxy composites, far exceeding the performance of plain flax/epoxy composites alone. It was also evidenced that the natural fibres such as flax also dampened the harmonic resonance during the test. This is a significant achievement in providing the potential of natural fibre hybrid composites in semi-structural and structural light-weight applications.
The damage characterisation through SEM imaging has shown the various failure modes of the plain flax/epoxy and flax-carbon/epoxy hybrid composites, such as the shock loading of flax fibre cores in falling weight impact and flexural loading scenarios.
Author Contributions
M.C. contributed in design, conducting experimental procedures and compiling the results as well as writing the preliminary report. H.N.D. provided the overall guidance (supervision) including the design of the study, general interpretation of the results and writing of the paper.
Funding
This research received no external funding.
Conflicts of Interest
The authors declare no conflict of interest.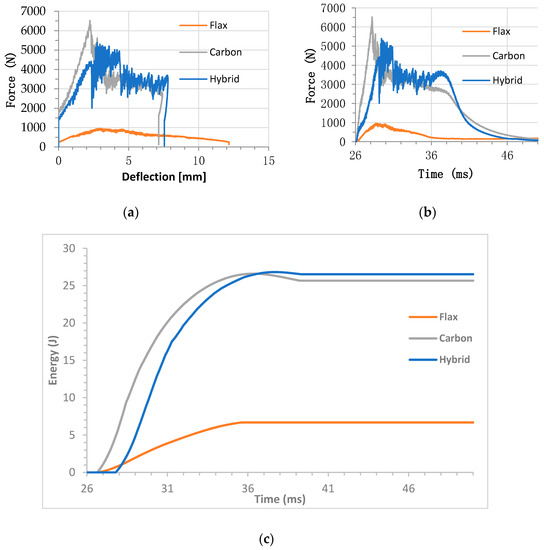 Figure 1. Impact test traces (a) force vs. deflection trace, (b) force vs. time trace, (c) energy vs. time.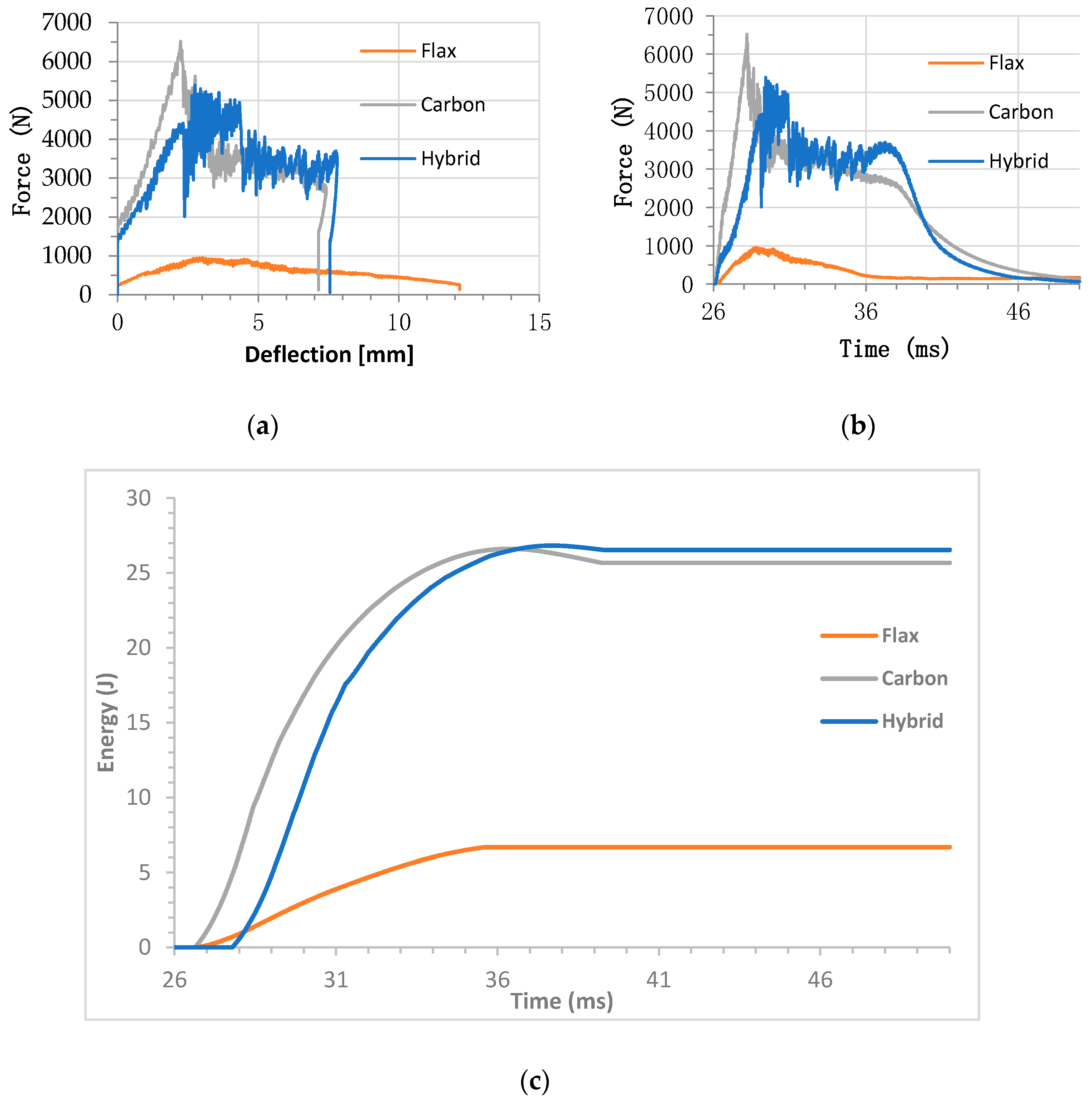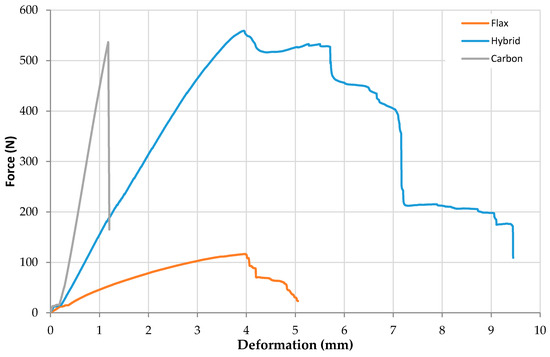 Figure 2. Force versus deformation traces obtained from flexural testing of flax/epoxy, carbon/epoxy and flax-carbon/epoxy hybrid composites.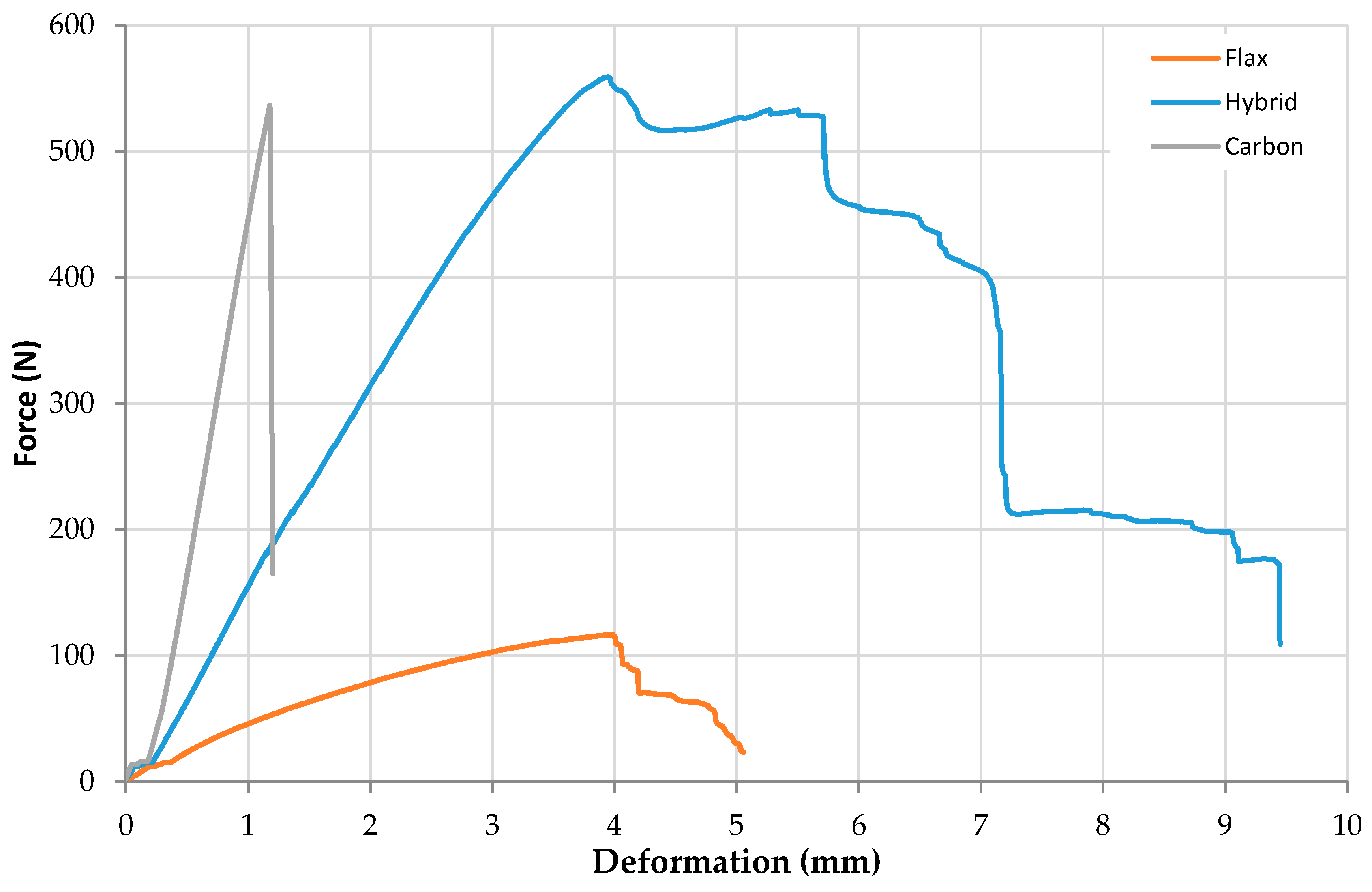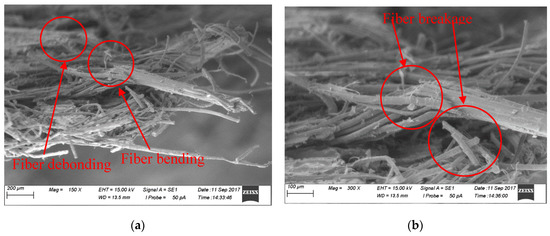 Figure 3. SEM images of fracture surface morphology of plain flax composites failed under impact loading at different magnifications (a) fibre debonding and bending; (b) fibre breakage.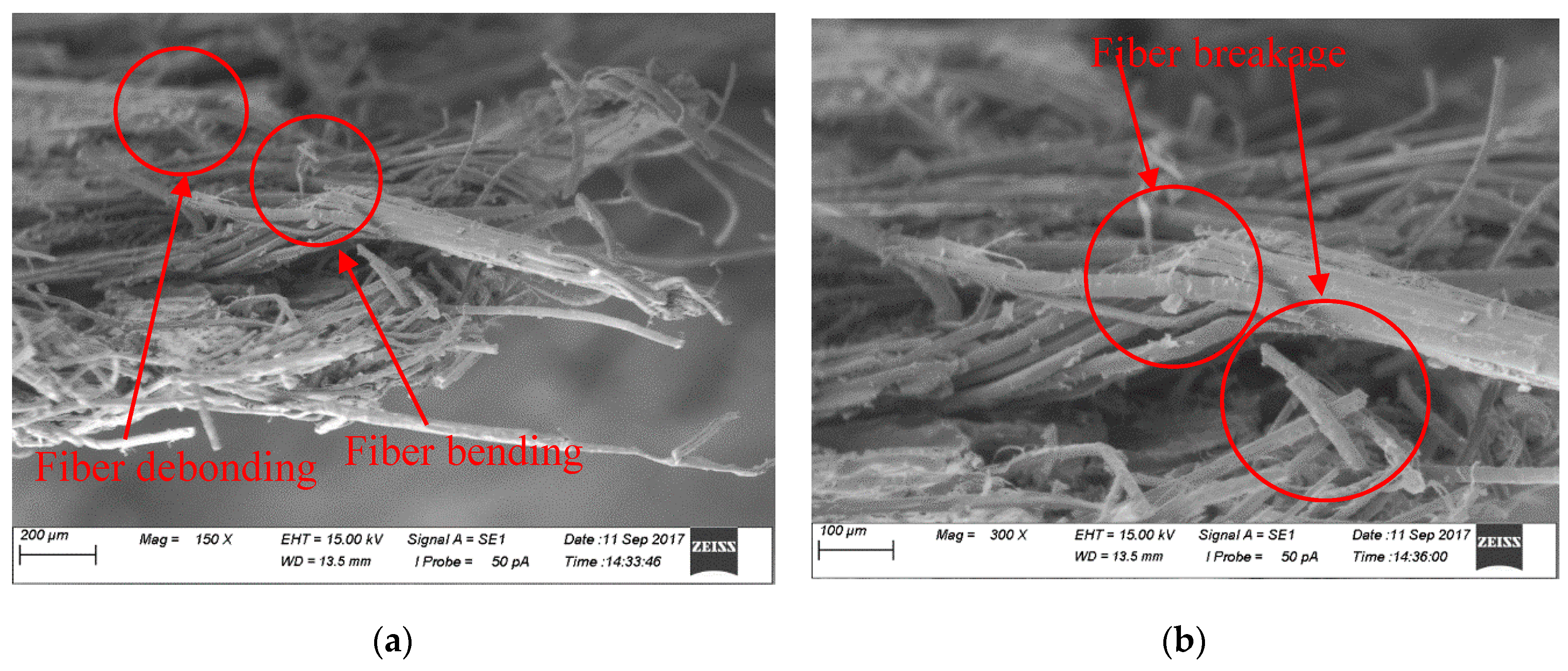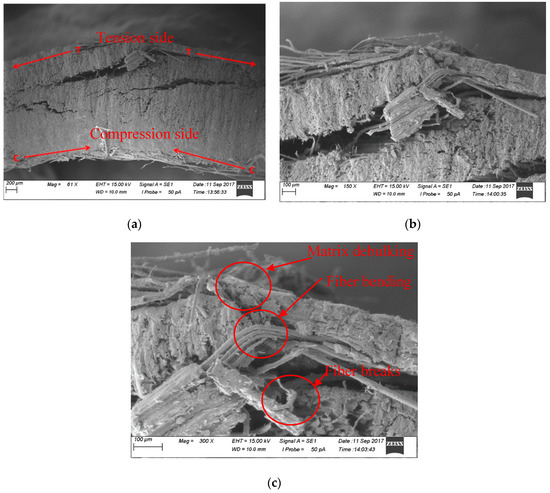 Figure 4. SEM images of fracture surfaces of flax alone composites failed under flexural loading (a) showing tension and compressive load path; (b) debonding and large part of matrix debulked; (c) fibre bending, fibre breaks and matrix debulking shown at both compression and tension sides.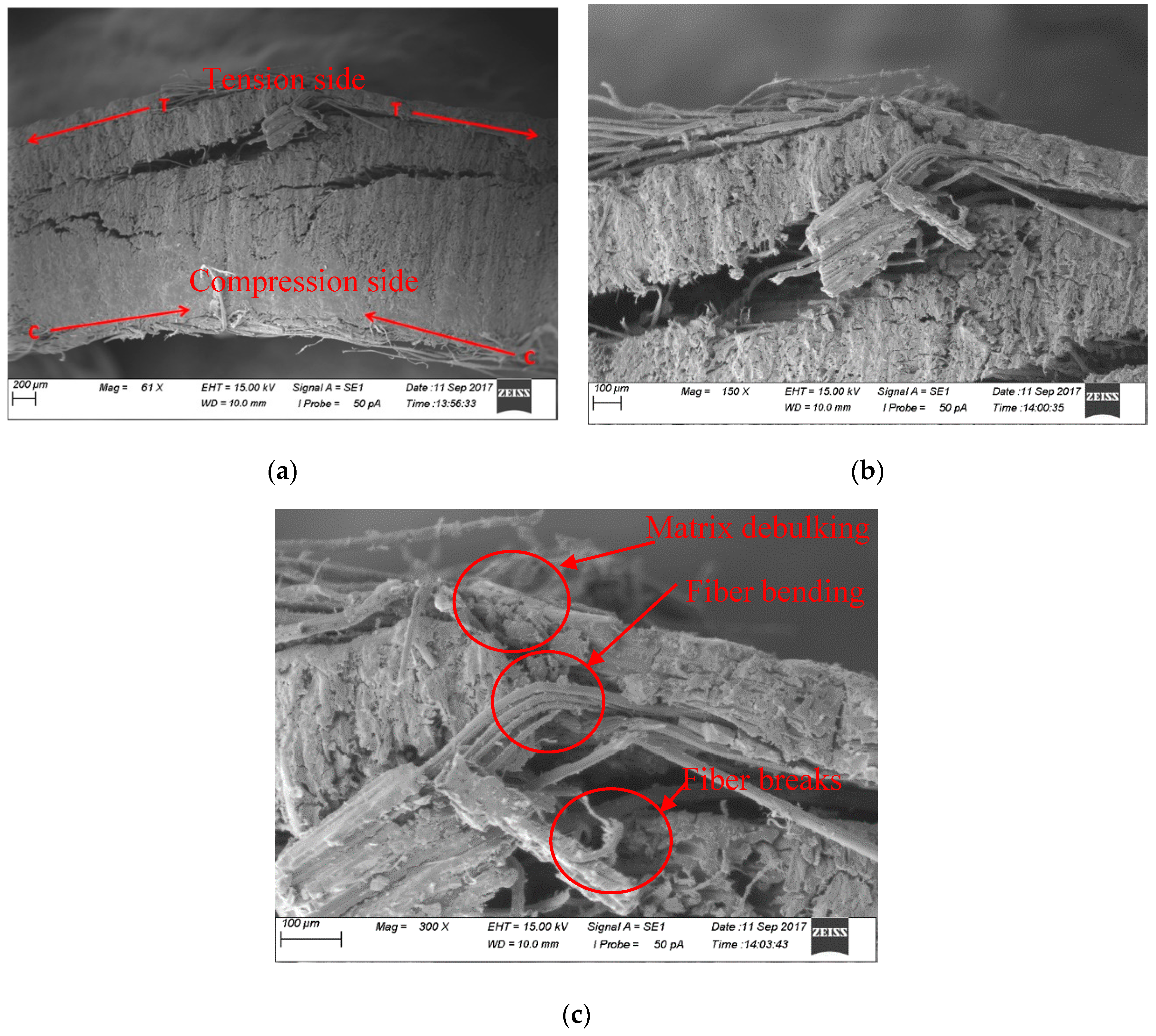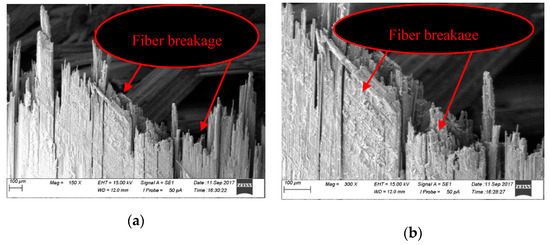 Figure 5. SEM images of the outermost layer of carbon fibre impact samples (a) fibre breakage at 150× magnification; (b) fibre breakage site at an enhanced 300× magnification.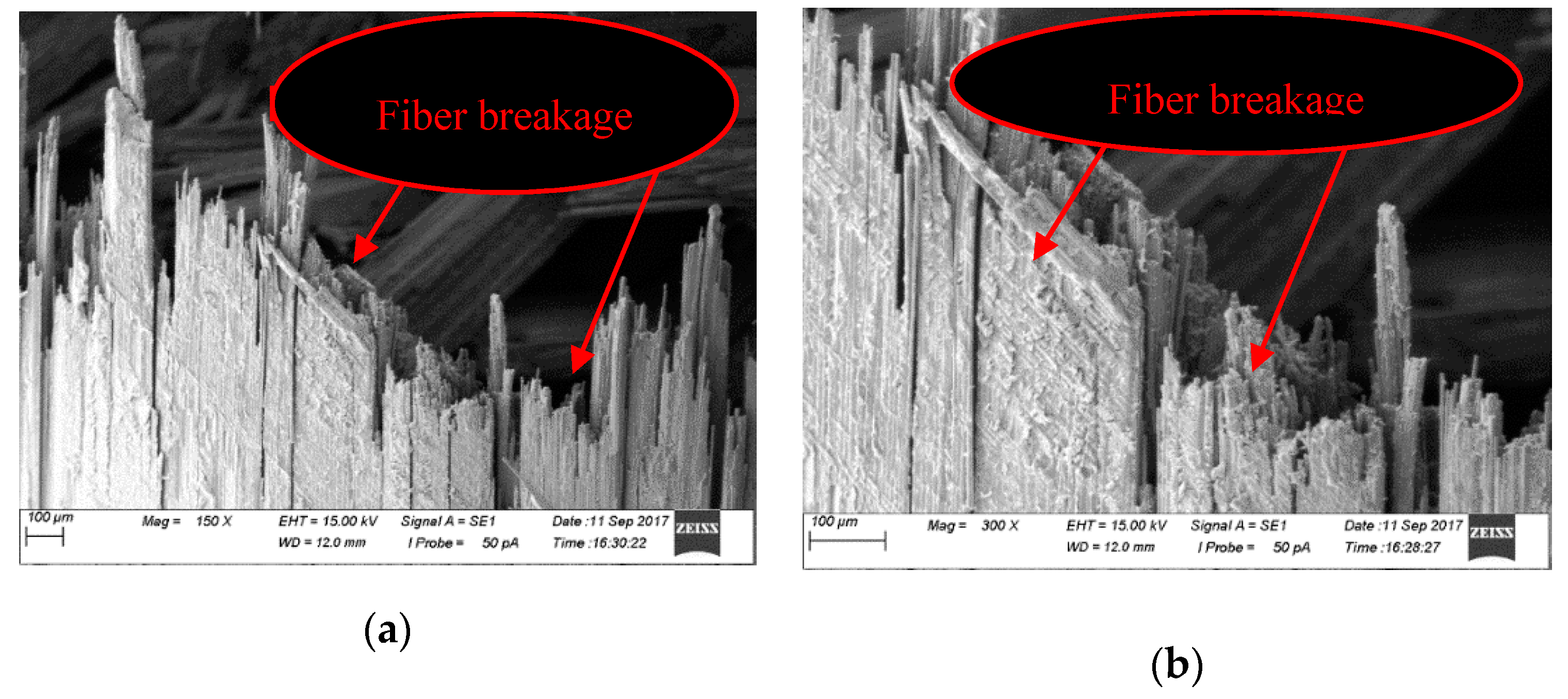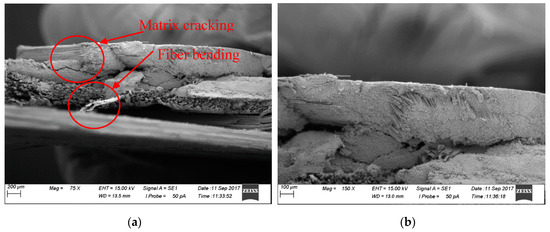 Figure 6. Plain carbon/epoxy composites under 3-point bending testing sample at different magnifications (a) matrix cracking and fibre bending at 75× magnification; (b) matrix cracking and fibre bending at an enhanced 150× magnification.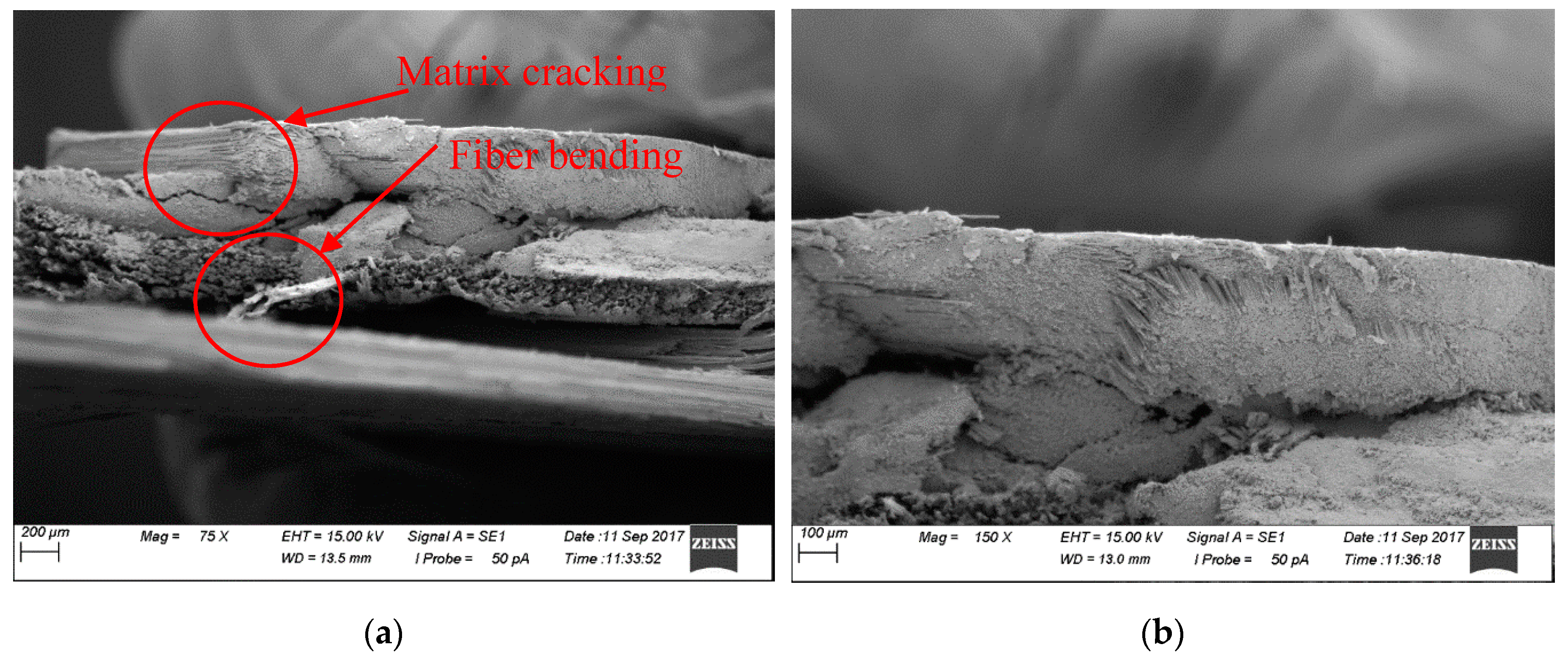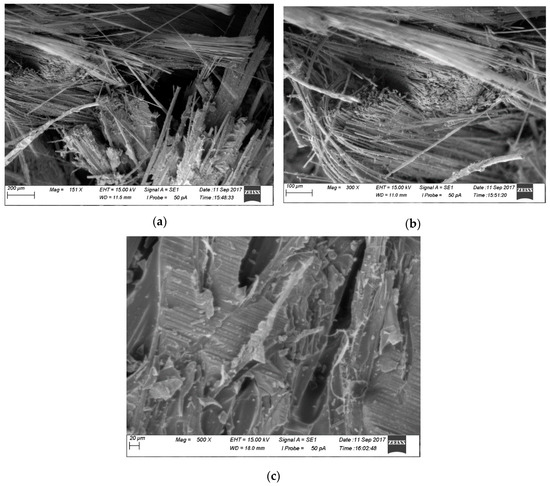 Figure 7. SEM images of flax/carbon/epoxy hybrid composites surfaces failed under impact loading at different magnifications. (a) flax fibres intersecting a carbon fibre layer at 151× magnification; (b) enhanced view of flax fibres intersecting a carbon fibre layer at 300× magnification; (c) fibre pull-out.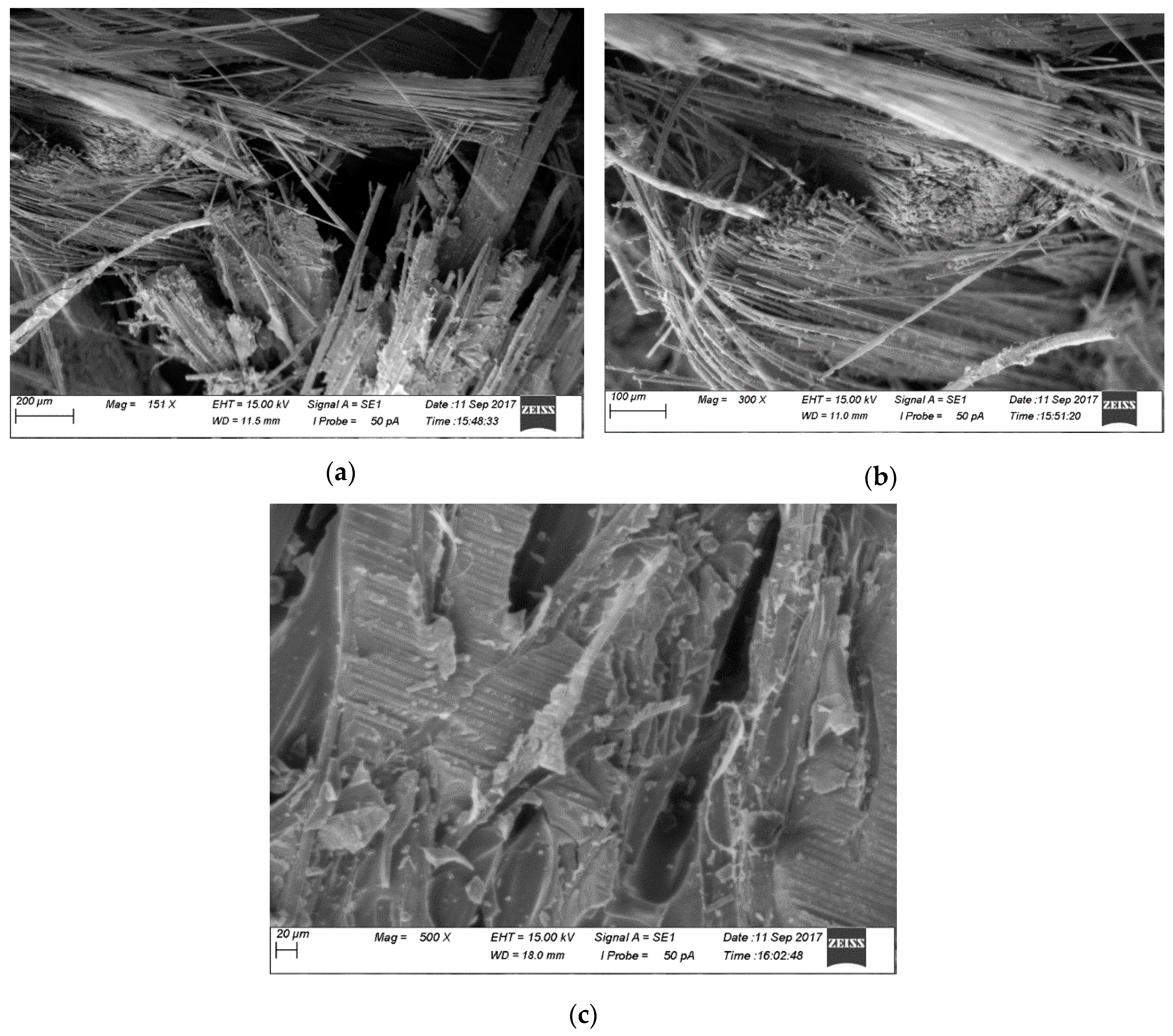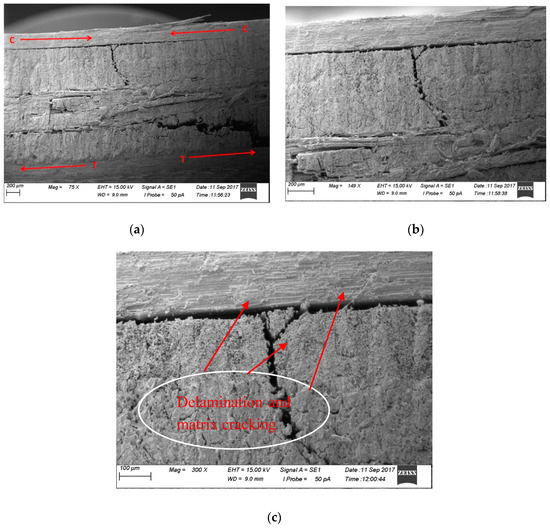 Figure 8. SEM images of flax/carbon/epoxy hybrid composites at different magnifications showing (a) tension and compression pathways, (b) delamination between carbon and flax fibres, (c) delamination and matrix cracking.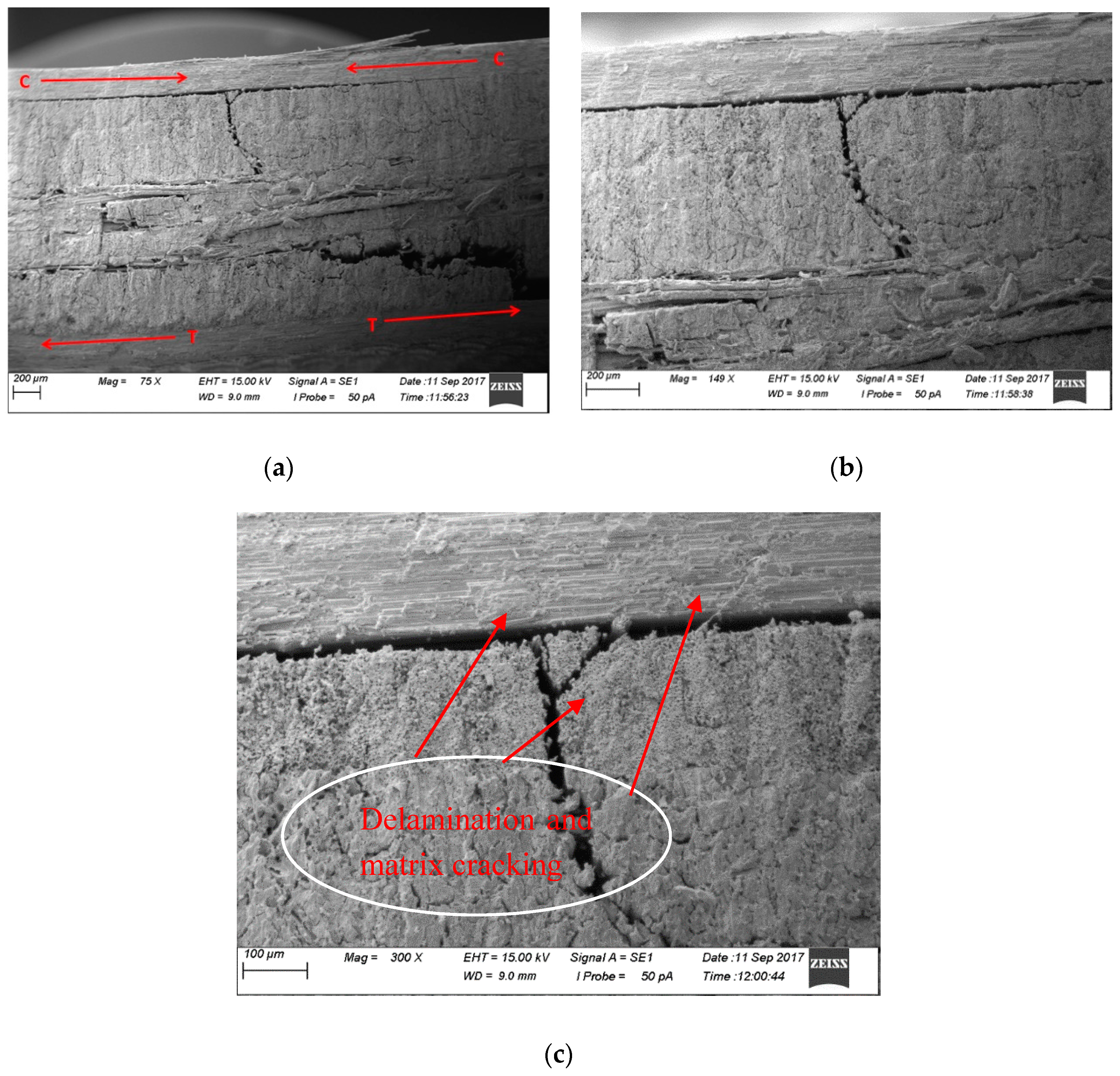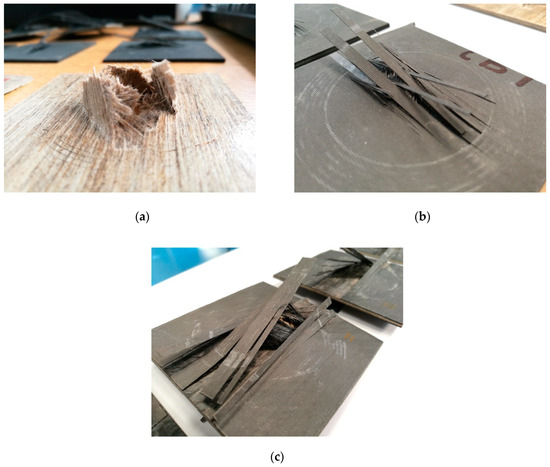 Figure 9. Post-impact test underside damage (a) flax fibre epoxy, (b) carbon fibre epoxy, (c) carbon-flax/epoxy hybrid composites.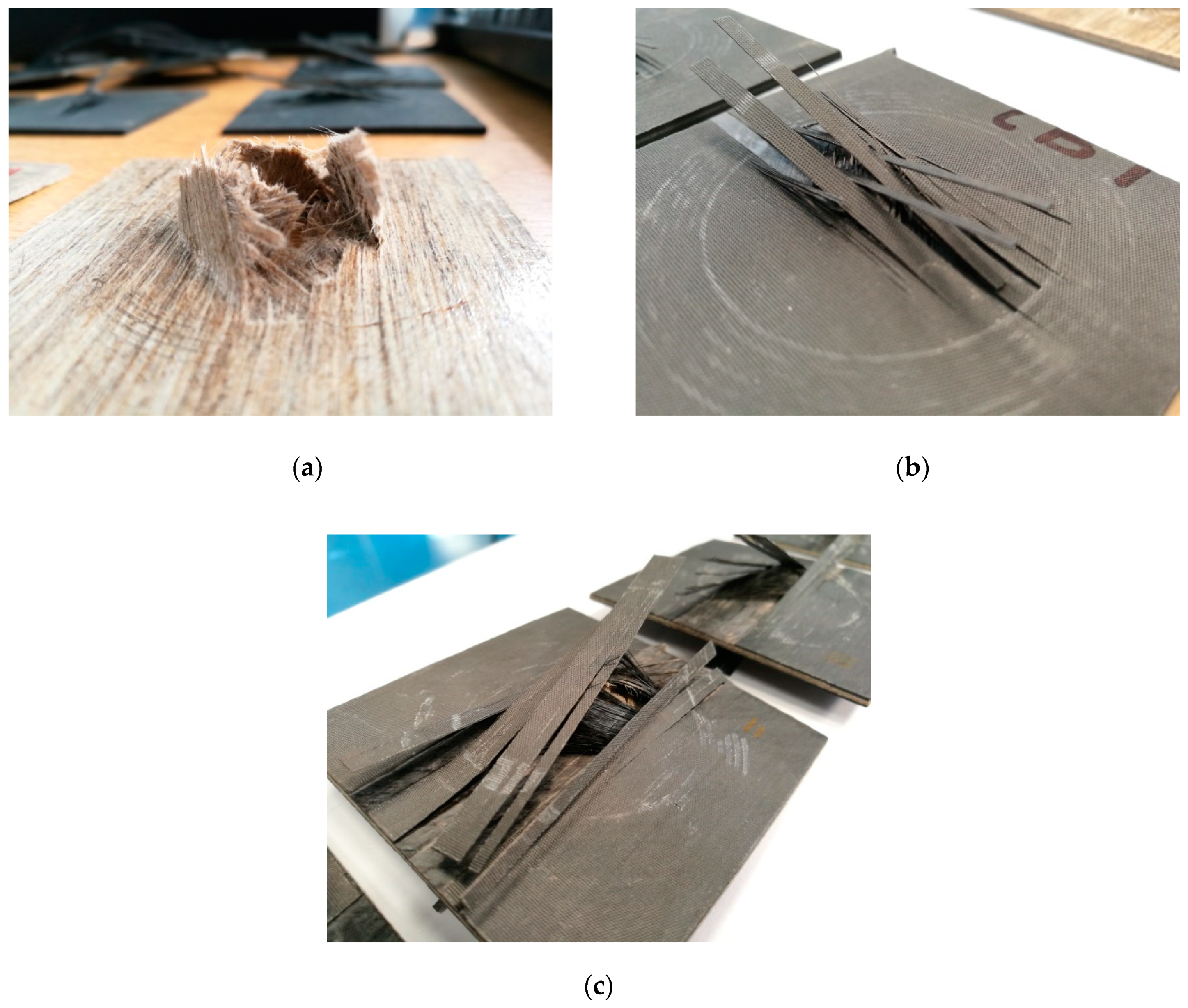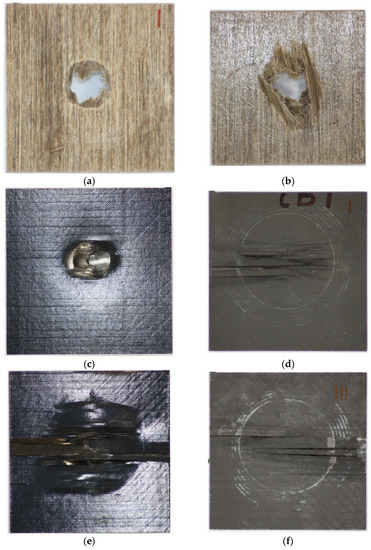 Figure 10. Damage on impacted front and rear surface of flax, carbon and flax/carbon epoxy hybrid composites (a) flax front surface, (b) flax rear surface, (c) carbon front and (d) carbon rear, (e) carbon/flax hybrid front, (f) carbon/flax hybrid rear surface.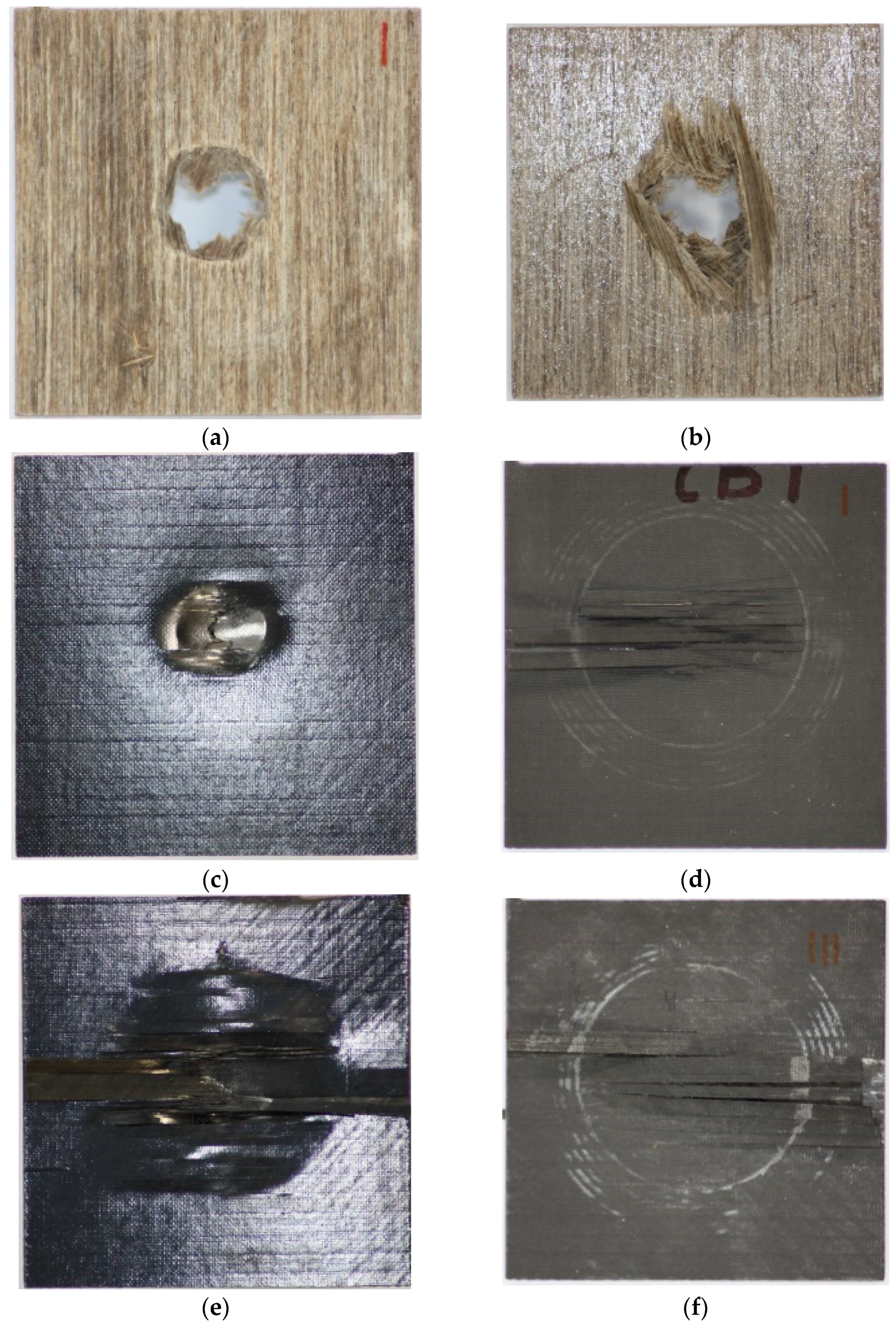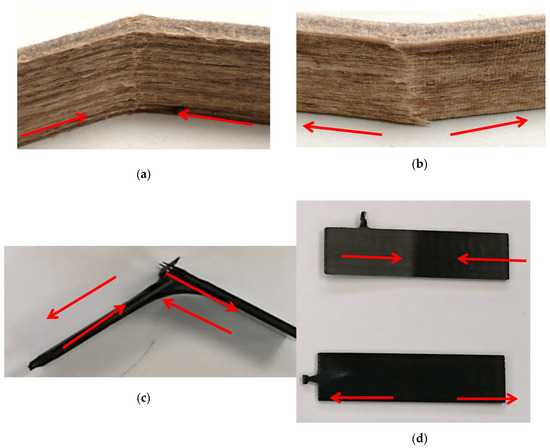 Figure 11. Failed samples under flexural loading (a) compressed plain flax/epoxy, (b) split outer layer of plain flax/epoxy under tension, (c) plain carbon/epoxy damage, (d) flax-carbon/epoxy hybrid composites.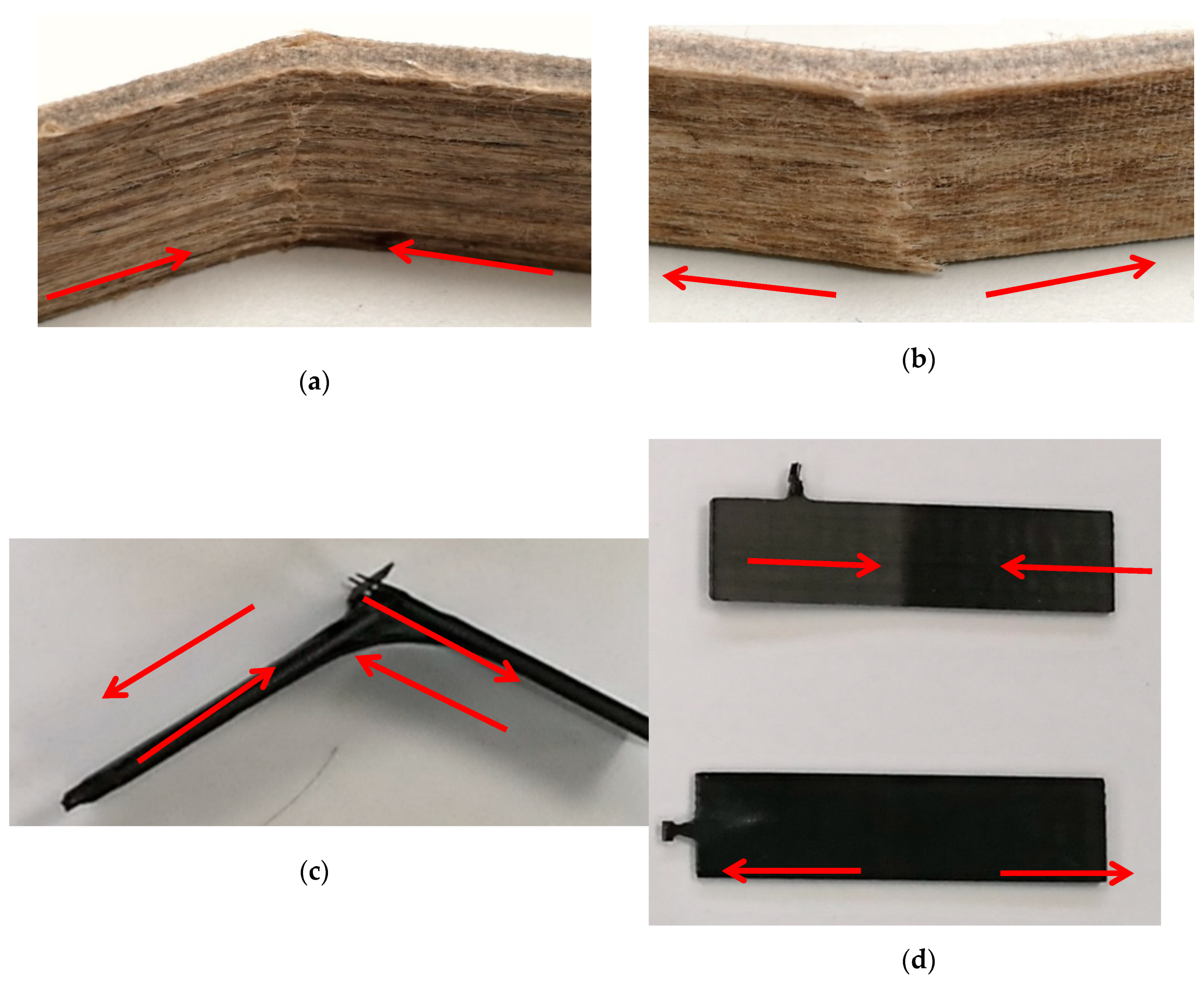 | Specimen | Layers | Stacking Sequence (°) | Material Sequence |
| --- | --- | --- | --- |
| Flax/epoxy | 8 | 0/+45/−45/90/90/−45/+45/0 | F8 |
| Carbon/epoxy | 8 | 0/+45/−45/90/90/−45/+45/0 | C8 |
| Flax-carbon/epoxy hybrid | 8 | 0/+45/−45/90/90/−45/+45/0 | C2F4C2 |
Specimen
Peak Force (N)
Flexural Strength (MPa)
Flexural Modulus (GPa)
Deformation at Peak Force (mm)
Flax/epoxy
115.75
(±6.61)
95.66
(±5.46)
4.78
(±1.16)
4.01
(±0.32)
Flax-carbon/epoxy hybrid
553.30
(±61.63)
425.87
(±50.93)
17.90
(±0.31)
3.96
(±0.22)
Carbon/epoxy
532.40
(±9.55)
464.65
(±7.89)
52.82
(±2.16)
1.16
(±0.13)

© 2019 by the authors. Licensee MDPI, Basel, Switzerland. This article is an open access article distributed under the terms and conditions of the Creative Commons Attribution (CC BY) license (http://creativecommons.org/licenses/by/4.0/).