Effect of Mesoporous Silica Nanoparticles on Glycerol-Plasticized Anionic and Cationic Polysaccharide Edible Films
1
Department of Chemical Sciences, University of Naples "Federico II", 80126 Naples, Italy
2
Department of Nutrition and Food Technology, An-Najah National University, P.O. Box: 7 Nablus, Palestine
3
Analysis, Poison control and Calibration Center (APCC), An-Najah National University, P.O. Box 7 Nablus, Palestine
4
Department of Analytical Chemistry, Faculty of Chemistry, Complutense University of Madrid, 28040 Madrid, Spain
5
Department of Experimental Medicine, University of Campania "Luigi Vanvitelli", 80138 Naples, Italy
*
Author to whom correspondence should be addressed.
Received: 5 February 2019 / Revised: 1 March 2019 / Accepted: 2 March 2019 / Published: 5 March 2019
Abstract
This study describes the production of reinforced polysaccharide (PS)-based films, by adding mesoporous silica nanoparticles (MSNs), to either pectin (PEC) or chitosan (CH) film forming solutions, either containing glycerol (GLY) as a plasticizer, or not. Film characterization demonstrated that MSNs and GLY were able to significantly increase the plasticity of both PS-based biomaterials and that the interactions between PSs and nanoparticles were mainly due to hydrogen bonds. Moreover, MSN-containing films were less transparent, compared to controls prepared with either PEC or CH, in the absence of GLY, while all films containing MSNs, but obtained with the plasticizer, were as transparent as the films prepared with PEC or CH alone. MSN addition did not influence the thickness of the PEC-based films, but increased that of CH-based ones, prepared both in the absence and presence of GLY. MSN-containing PEC-based films possessed a more compact and homogeneous morphology, with respect to both control films, prepared, with or without GLY, and to the CH-based films, containing MSNs, the structure of which showed numerous agglomerations. Finally, moisture content and uptake were reduced, in all films prepared in the presence of MSNs. The suggested addition of MSNs might have given rise to novel biomaterials for food or pharmaceutical applications.
View Full-Text
►

▼

Figures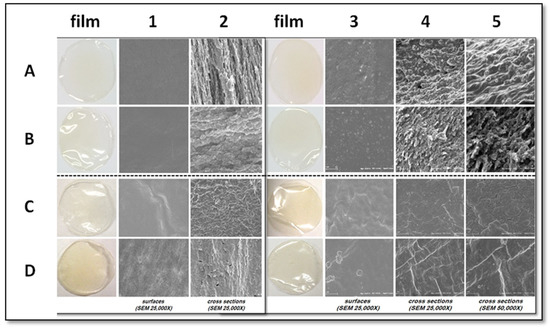 Figure 1
This is an open access article distributed under the
Creative Commons Attribution License
which permits unrestricted use, distribution, and reproduction in any medium, provided the original work is properly cited (CC BY 4.0).

Share & Cite This Article
MDPI and ACS Style
Giosafatto, C.V.L.; Sabbah, M.; Al-Asmar, A.; Esposito, M.; Sanchez, A.; Villalonga Santana, R.; Cammarota, M.; Mariniello, L.; Di Pierro, P.; Porta, R. Effect of Mesoporous Silica Nanoparticles on Glycerol-Plasticized Anionic and Cationic Polysaccharide Edible Films. Coatings 2019, 9, 172.
Note that from the first issue of 2016, MDPI journals use article numbers instead of page numbers. See further details here.
Related Articles
Comments
[Return to top]