Open Access This article is
freely available
re-usable
Article
Growth and Correlation of the Physical and Structural Properties of Hexagonal Nanocrystalline Nickel Oxide Thin Films with Film Thickness
1
Center of Nanotechnology, King Abdulaziz University, Jeddah 21589, Saudi Arabia
2
Electron Microscope and Thin Films Department, Physics Division, National Research Centre, Dokki, Giza 12622, Egypt
3
Materials Science and Nanotechnology Department, Faculty of Postgraduate Studies for Advanced Sciences, Beni-Suef University, Beni-Suef 62521, Egypt
*
Author to whom correspondence should be addressed.
Received: 21 July 2019 / Accepted: 24 September 2019 / Published: 26 September 2019
Abstract
:
This study investigated nonstoichiometric nickel oxide thin films prepared via the DC-sputtering technique at different film thicknesses. The prepared films were characterized by a surface profiler for thickness measurement, X-ray diffraction (XRD) for film nature, atomic force microscopy (AFM) for film morphology and roughness, UV-visible-near infrared (UV-vis.-NIR) spectroscopy for optical transmittance spectra of the films, and the photoluminescence (PL) spectra of the prepared films were obtained. The measured film thickness increased from 150 to 503 nm as the deposition time increased. XRD detected the trigonal crystal system of NiO0.96. The crystallite sizes were mainly grown through (101) and (110) characteristic planes. NiO0.96 films have a spherical particle shape and their sizes decreases as the film thickness increased. The optical band gap values decrease from 3.817 to 3.663 eV when the film thickness increases. The refractive index was estimated from the Moss relation, while the high-frequency dielectric constant and the static dielectric constant were deduced from the empirical Adachi formula. The photoluminescence behavior of the studied films confirmed the photogeneration of an electron-hole in nickel and oxygen vacancies. Hence, this study confirms the presence of nickel oxide lattice in the hexagonal structure containing the defects originated from the nickel vacancies or the excess of oxygen.
Keywords:
sputtered nickel oxide; X-ray diffraction; morphology; optical band gap; refractive index; dielectric constant
2. Materials and Methods
Before depositing thin films on both the normal glass substrate and silicon wafer, they were washed in boiled distilled water. Then the substrates were transferred to an ultrasonic bath filled with a mixture of distilled water/ethanol for 1 h. Finally, they were dried by nitrogen gas at normal room temperature.
The sputtering technique (DC-sputtering, Syskey Technologies, Hsinch County, Taiwan) is used to deposit nickel oxide material on the glass substrates/silicon wafer by oxidation of the nickel target with a dimension of 3 × 0.6 inch at a power of 200 W at a constant oxygen flow rate of 10 SCCM and a flow of high-purity gas of argon (99.99%) at 20 SCCM on the substrate. The films are synthesized at an operating pressure of 5 mTorr and a substrate cycle of 15 rpm, and the Ni base targets to the substrate distance are fixed at 140 mm. Different thicknesses of nickel oxide films can be achieved at different deposition times of 1200, 1800, 2100, and 2400 s, as measured by a surface profiler, type Dektak XT, Bruker, Karlsruhe, Germany. Their values are presented in
Table 1
.
The film nature was detected using an X-ray diffraction device (type Ultima-IV; Rigaku, Tokyo, Japan) worked at 40 kV/40 mA with Cu kα radiation (λ = 0.154056 nm) in the angle range 20–80°. The surface film structure was investigated via atomic force microscopy type Omicron-UHV-VT-AFM XA through a contact mode under ultra-high vacuum conditions. The estimation of the grain size and the roughness were obtained by software described in detail in a previous article [
10
]. Optical transmittance was recorded via the spectrometer Perkin Elmer Lambda 750, Massachusetts, USA in the photon wavelength 190–2500 nm with a resolution of 1 nm. Photoluminescence (PL) RF-5301PC spectrofluorophotometer SHIMADZU, Kyoto, Japan was measured for investigation of the films' luminescence at an excitation wavelength of 325 nm and at room temperature.
3. Results and Discussion
4. Conclusions
Sputtered nickel oxide thin films at a fixed oxygen flow rate of 10 SCCM and at different deposition times proved the trigonal phase of nickel oxide due to the vacancies in the nickel lattice and the excess of oxygen gas. Therefore, the present sputtering process suggests the non-stoichiometric behavior of nickel oxide. The crystallites are grown through planes (101) and (110). However, the crystallite growth on plan (101) is predominant through the film thickness growing. Spherical particles are grown and their size decreases as the film thickness increases. The absorption edge of the prepared films is red shifted towards a higher wavelength (or at higher thicknesses), and the optical band gap values are then decreased as the film thickness increases. The refractive index and the dielectric constants are proportional to the optical band gap values. Photoluminescence spectra showed that defects are created in the nickel oxide lattice. Moreover, this is strongly dependent on the film's morphology and the particle size. The PL intensity decreases as the film thickness increases, as well as when the particle size decreases. This means that the PL behavior of NiOx is dominated by both the film morphology and the film thickness.
Author Contributions
Conceptualization, A.H.H., and M.S.A.-w.; methodology, A.H.H.; software, S.V., and A.R.A.; validation, A.H.H., and M.S.A.-w.; formal analysis, S.V., and A.R.A; investigation, A.H.H.; resources, M.S.A.-w.; data curation, A.H.H.; writing—original draft preparation, M.S.A.-w.; writing—review and editing, A.H.H.; visualization, A.H.H.; supervision, A.H.H.; project administration, A.H.H.; funding acquisition, A.H.H.
Funding
This research was funded by the Deanship of Scientific Research (DSR), King Abdulaziz University, Jeddah grant number (D-100-903-1440).
Acknowledgments
The authors, therefore, gratefully acknowledge the DSR technical and financial support.
Conflicts of Interest
The authors declare no conflict of interest.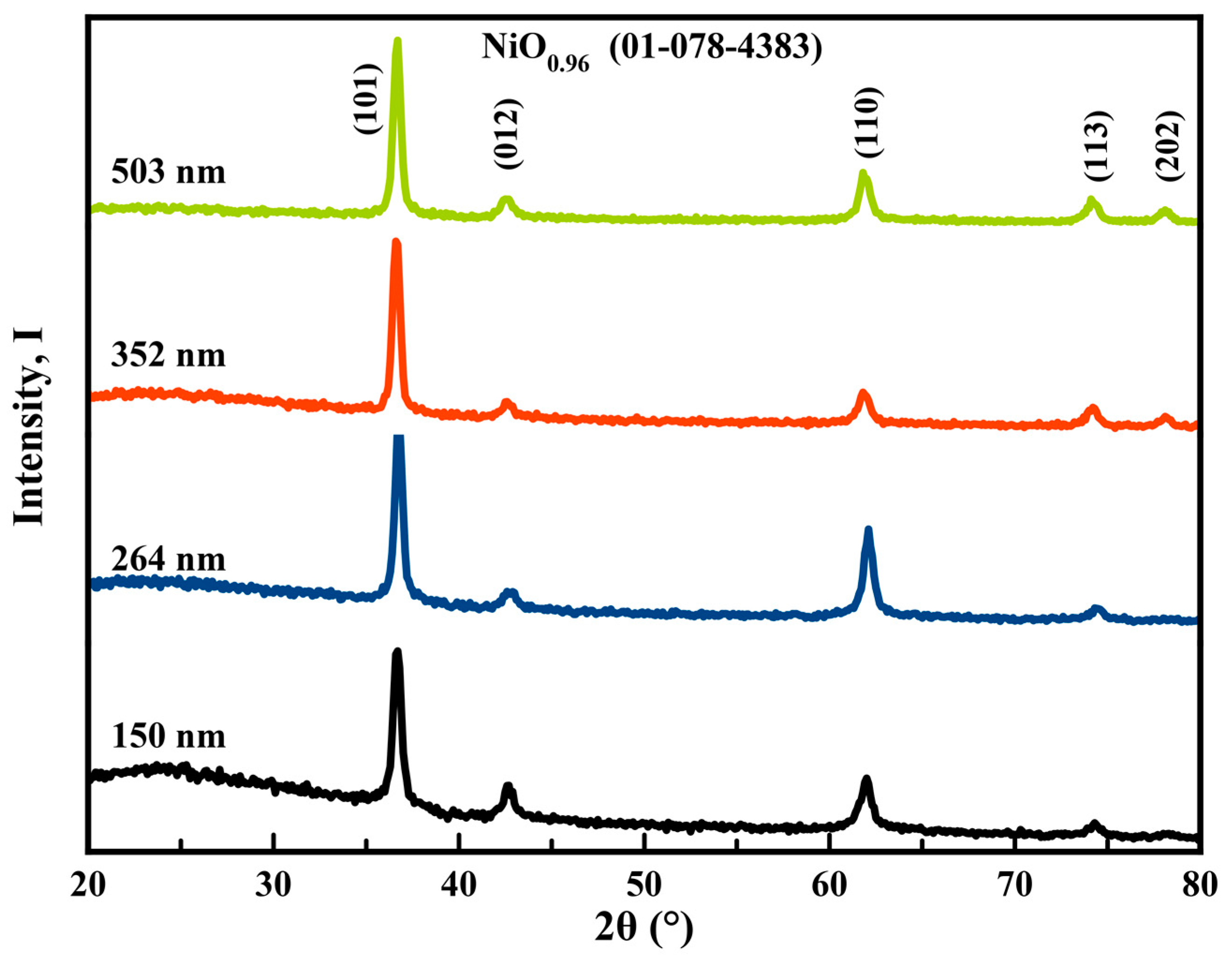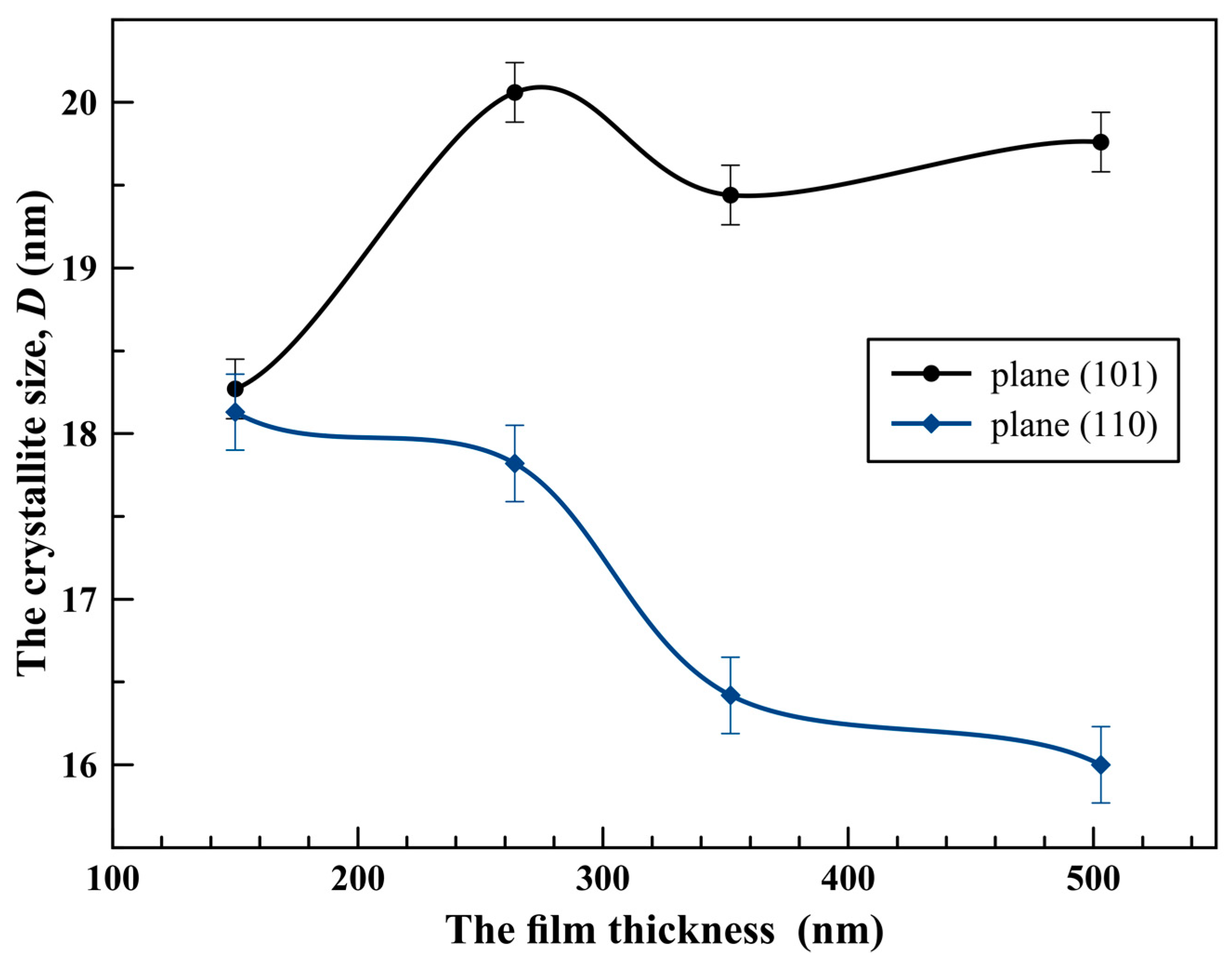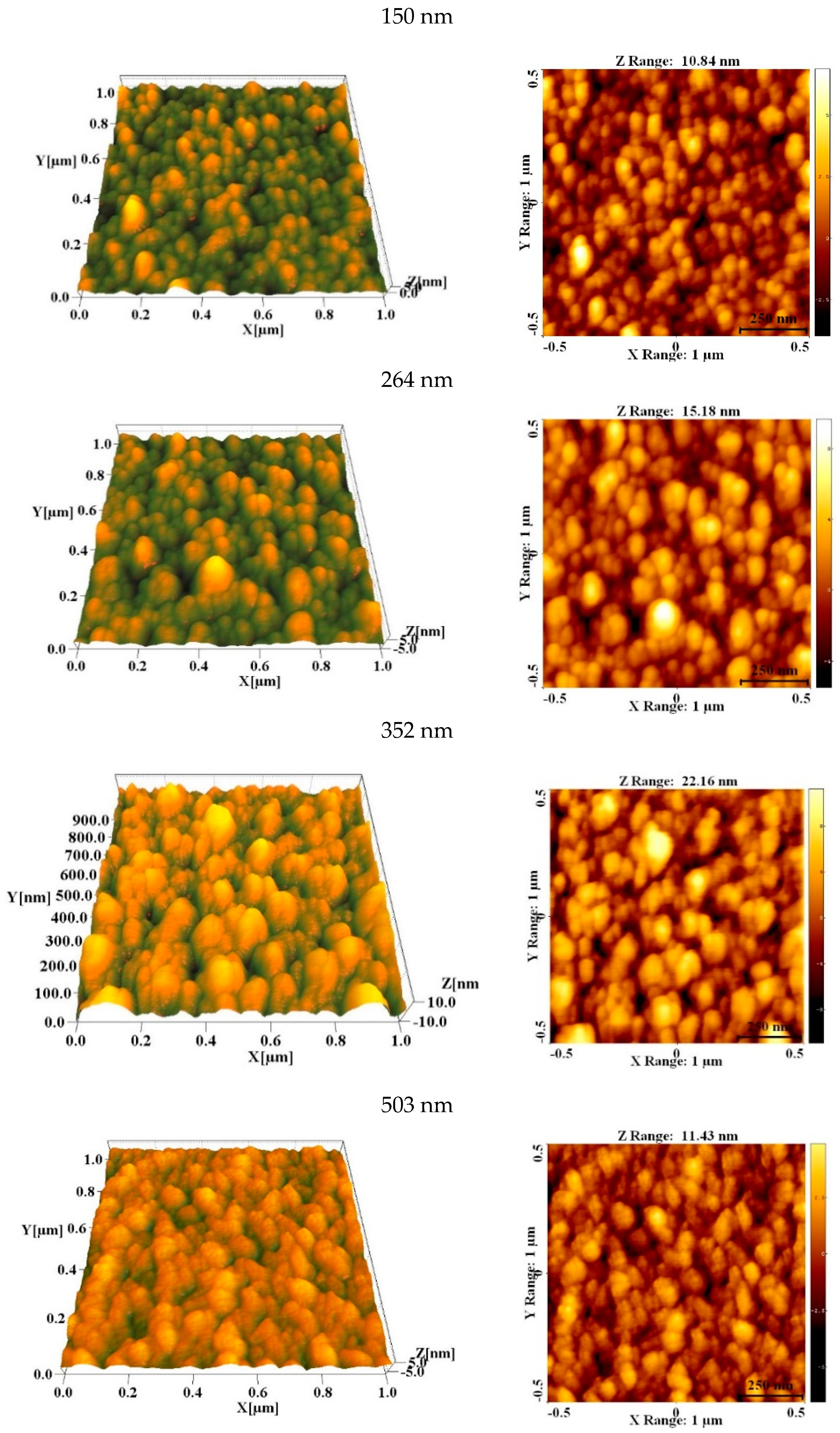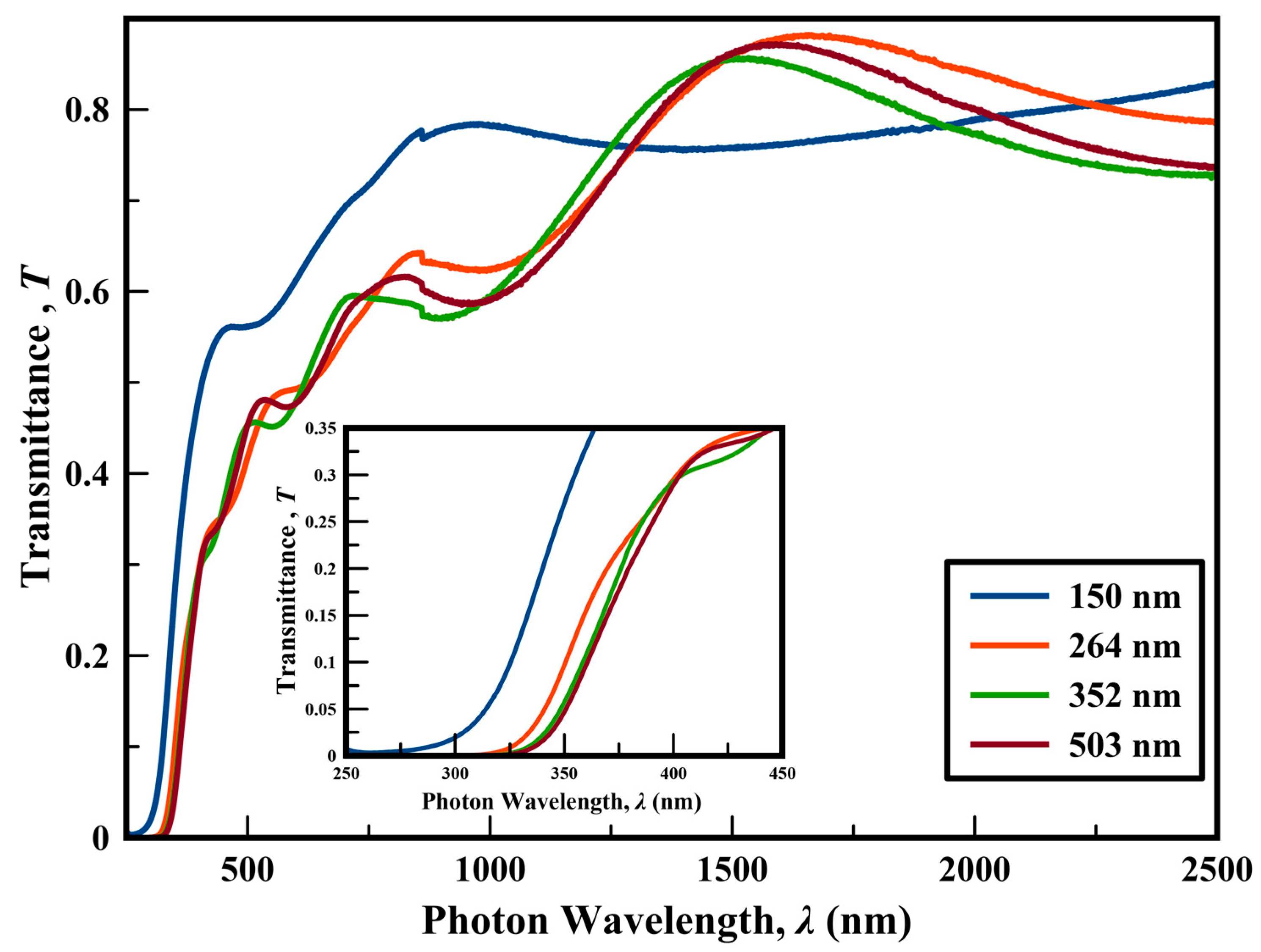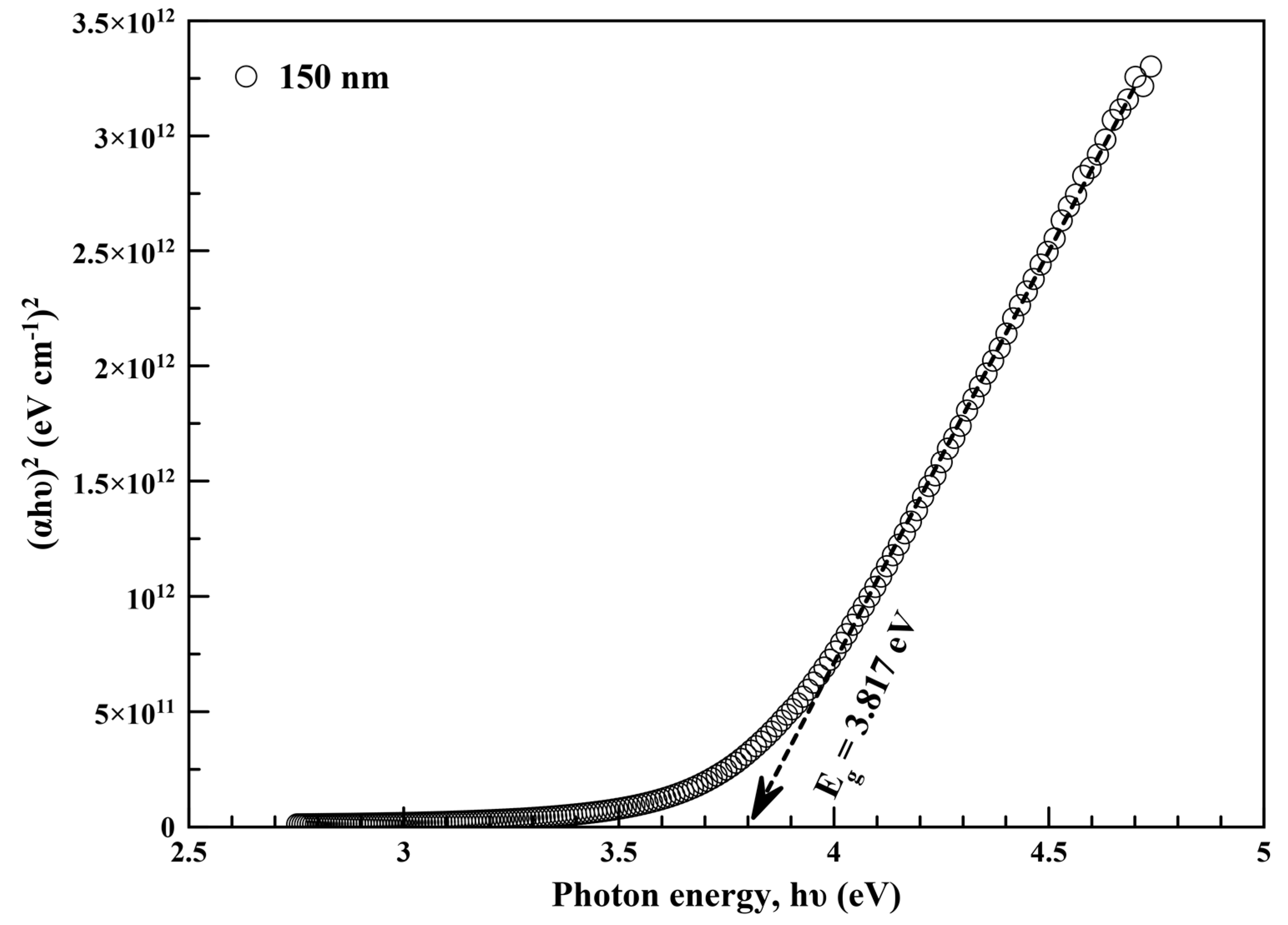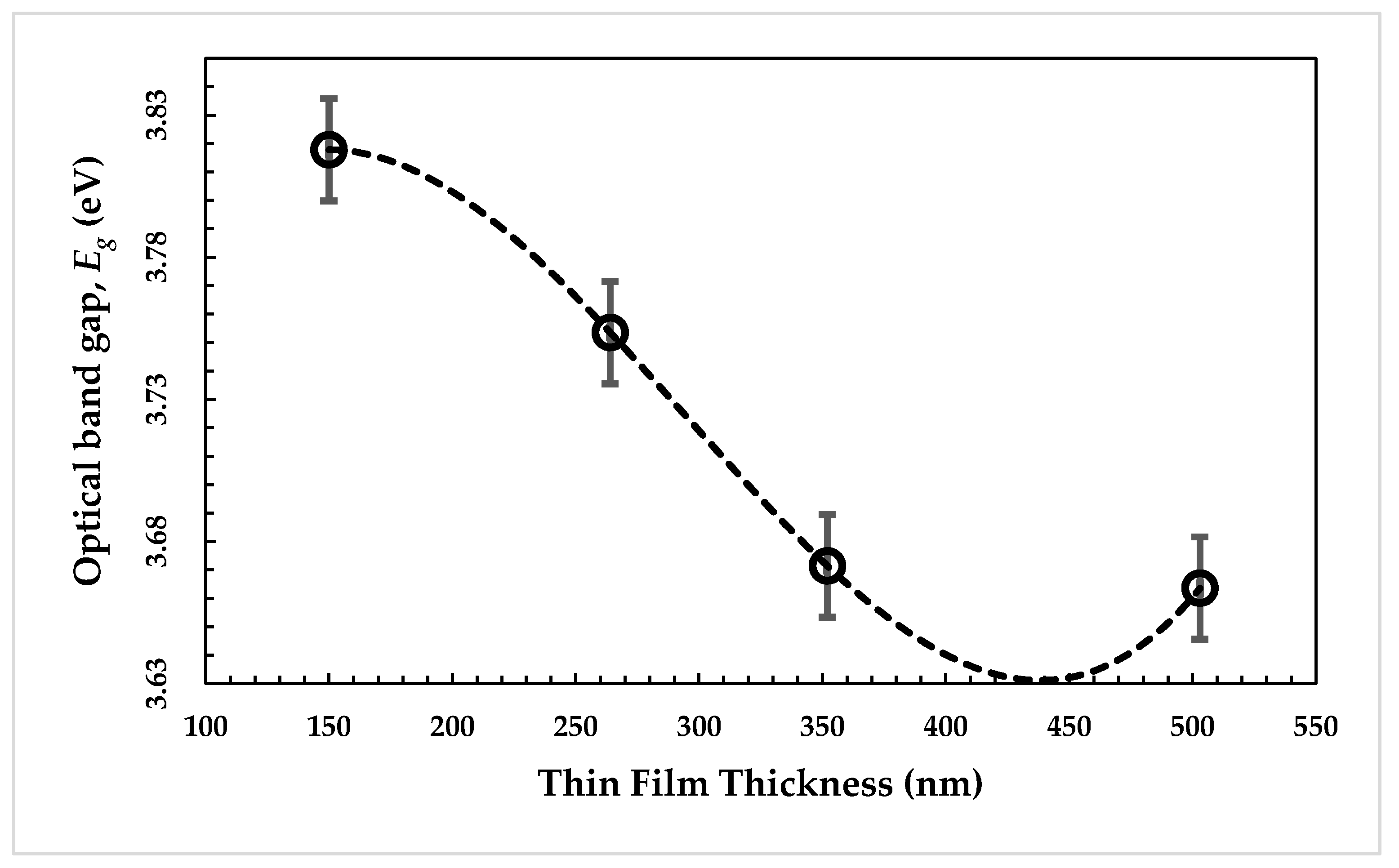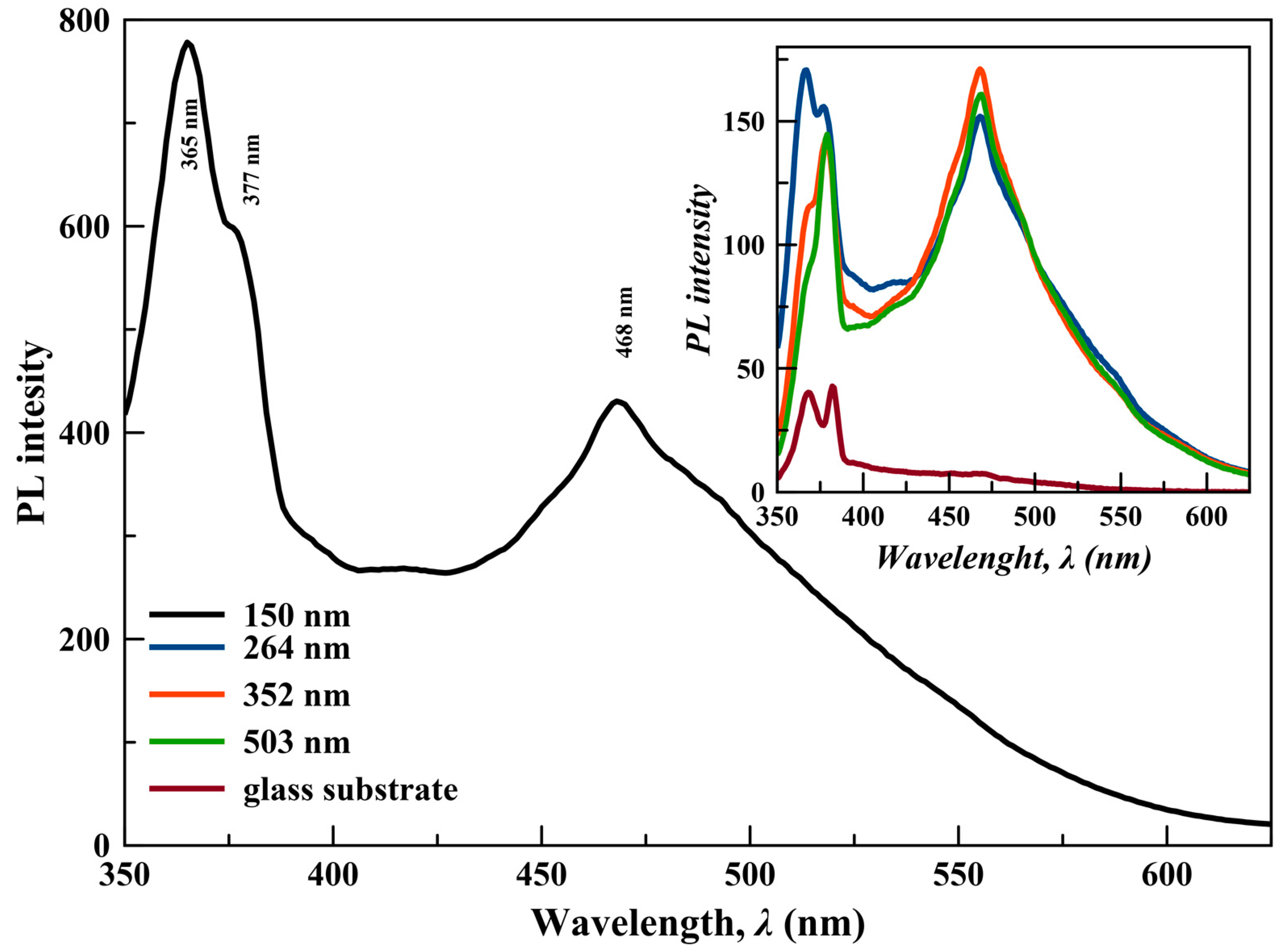 Table 1. Film thickness (nm), the crystallite size on plane (101) and (110) (nm), and the texture coefficient Tx for planes (101) and (110) for trigonal nickel oxide thin films.
| Deposition Time (s) | Film Thickness (nm) | Crystallite Size, D (101) (nm) | Crystallite Size, D (110) (nm) | Texture Coefficient, Tx (101) | Texture Coefficient, Tx (110) | Full Width at Half Maximum FWHM (110) |
| --- | --- | --- | --- | --- | --- | --- |
| 1200 | 150 | 18.27 | 18.13 | 1.791 | 0.328 | 0.51 |
| 1800 | 264 | 20.06 | 17.82 | 1.91 | 0.756 | 0.54 |
| 2100 | 352 | 19.44 | 16.42 | 1.392 | 1.165 | 0.59 |
| 2400 | 503 | 19.76 | 16 | 1.734 | 0.475 | 0.62 |
| Film Thickness (nm) | Grain Size (nm) | Film Roughness (nm) |
| --- | --- | --- |
| 150 | 46.85 | 1.11 |
| 264 | 39.60 | 1.56 |
| 352 | 34.25 | 1.06 |
| 503 | 30.67 | 1.94 |
Film Thickness (nm)
150
264
352
503
Optical Band Gap,

E

g (eV)
3.817
3.755
3.671
3.664
Refractive Index,

n

o
2.234
2.243
2.255
2.257
High Frequency Dielectric Constant, ε∞
5.84
5.93
6.047
6.058
Static Dielectric Constant, εo
6.761
6.96
7.212
7.24
Optical Parameters Obtained from Ref. [29]

E

g = 3.849 (eV)

n

o = 2.1
ε∞ = 5.408

© 2019 by the authors. Licensee MDPI, Basel, Switzerland. This article is an open access article distributed under the terms and conditions of the Creative Commons Attribution (CC BY) license (http://creativecommons.org/licenses/by/4.0/).