Characterization of Ultrasonic-Assisted Electrochemical Deposition of Ni-Co-ZrO2
School of Materials & Metallurgy, University of Science and Technology Liaoning, Anshan 114051, China
*
Author to whom correspondence should be addressed.
Received: 18 April 2018 / Revised: 18 May 2018 / Accepted: 28 May 2018 / Published: 1 June 2018
Abstract
In order to evaluate the electrochemical behavior of nano-ZrO
2
particles in the co-deposition process, revealing the electrocrystallization mechanism and electrodeposition parameters of composite coatings, cyclic voltammetry (CV), chronoamperometry (CA), and electrochemical impedance spectroscopy (EIS) techniques were used to offer a favorable reference for electrochemical studies in an acidic amino sulfonate bath, and the kinetic parameters were calculated by fitting the experimental curves. The CV results suggested that the co-deposition of nano-ZrO
2
particles and matrix metal caused the initial deposition potential of Ni
2+
and Co
2+
to shift to more positive values (−0.80 V vs SCE) while the nano-ZrO
2
inhibited the reduction of H
+
and decreased the cathodic polarization in co-deposition. The electrocrystallization of Ni-Co and Ni-Co-ZrO
2
sedimentary layer were governed by the Scharifker–Hill instantaneous nucleation model, and the nucleation rate of composite coatings was higher at potentials ranging from −1.10 to −1.15 V, and nano-ZrO
2
absorbed on an electrode surface promoted the nucleation/growth of Ni
2+
and Co
2+
. However, nano-ZrO
2
particles hindered the nucleation/growth of Ni
2+
and Co
2+
at −1.20 and −1.25 V vs. SCE; the calculated results were consistent with the theoretical analysis of experimental curves. An EIS test indicated that the incorporation of nano-ZrO
2
particles into the matrix did not obviously effect the electric double layer at the electrode/electrolyte interface, but the charged transfer resistance of the composite was decreased in the electrodeposition.
View Full-Text
►

▼

Figures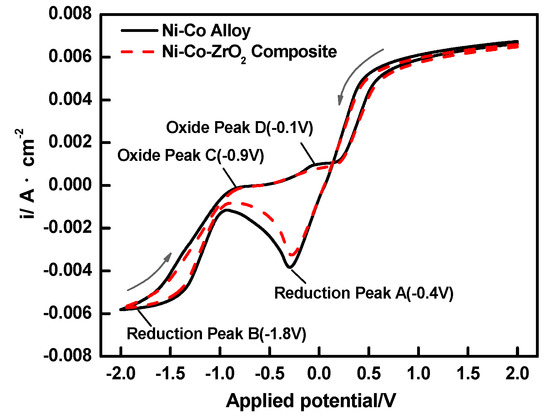 Figure 1
This is an open access article distributed under the
Creative Commons Attribution License
which permits unrestricted use, distribution, and reproduction in any medium, provided the original work is properly cited (CC BY 4.0).

Share & Cite This Article
MDPI and ACS Style
Wang, Y.; Zhou, X.; Liang, Z.; Jin, H. Characterization of Ultrasonic-Assisted Electrochemical Deposition of Ni-Co-ZrO2. Coatings 2018, 8, 211.
Note that from the first issue of 2016, MDPI journals use article numbers instead of page numbers. See further details here.
Related Articles
Comments
[Return to top]