Open Access This article is
freely available
re-usable
Article
Effects of V and Cr on Laser Cladded Fe-Based Coatings
1
School of Materials Science and Engineering, Shenyang University of Technology, Shenyang 110870, China
2
Shenyang Dalu Laser Technology CO., Ltd., Shenyang 110136, China
3
School of Stomatology, China Medical University, Shenyang 110002, China
*
Author to whom correspondence should be addressed.
Received: 7 February 2018 / Accepted: 13 March 2018 / Published: 15 March 2018
Abstract
:
Fe-based coatings with high V and Cr content were obtained by laser cladding using Fe-based powder with different Cr3C2 and FeV50 content. The results showed that Fe-based coatings were uniform and dense. The constituent phases were mainly composed of α-Fe solid solution with the increase of Cr3C2 and FeV50, γ-Fe and V8C7 phases were achieved. The microstructure of the coatings exhibited a typical dendrite structure. The concentration of C, V and Cr were saturated in dendritic areas, and the other alloying elements were mainly dissolved in the interdendritic areas. The hardness and wear resistance of Fe-based coatings were enhanced with the Cr3C2 and FeV50 addition. The specimen with 15% Cr3C2 and 16% FeV50 had the highest hardness of 66.1 ± 0.6 HRC, which was 1.05 times higher than the sample with 4.5% Cr3C2 and 5% FeV50, and the wear resistance of the former was three times greater than the latter.
Keywords:
laser cladding; Fe-based coating; microstructure; hardness; wear resistance
1. Introduction
Recently, the diesel engine is getting smaller, and the service environment of the internal components has also increased rapidly due to the requirement of the energy conservation and emission reduction [
1
]. Traditional carburizing and the quenching process have been unable to meet the requirements of modern production for diesel engine camshaft because of the camshaft, as the main component of the engine transmission system, usually made of low alloy steel or cast iron, suffers from an increasing load. Within a shorter period, adhesive wear or other failure modes may occur on the surface of the camshaft, which will cause the decrease of service life [
2
]. Consequently, enhancing the surface wear resistance of the camshaft is an effective solution to improving service life.
Laser cladding, as an advanced laser surface engineering, has been studied by many researchers [
3
,
4
,
5
,
6
] and been utilized in various commercial applications [
7
,
8
,
9
,
10
,
11
]. Laser cladding technology uses a high energy laser beam to melt metal powder materials, and a high performance thick coating with a metallurgical joint to the substrate can be obtained directly with a small amount of subsequent processing [
12
]. Compared with the other coating technologies, laser cladding has various advantages, such as realizing a highly refined microstructure, low dilution ratio and limited heat affected zone [
13
]. Meanwhile, laser cladding technology also has the advantages of accurate control and small deformation. The preparation of high performance coating on the surface of low-cost materials by laser cladding technology can save a great deal of precious metals, which significantly alleviates the issue of energy, resources and has a good prospect of engineering application [
14
]. Thus, this laser cladding process has the potential to replace the traditional carburizing and quenching process to produce camshafts with higher wear resistance.
Fe-based alloy powder has certain advantages such as the wide range of sources, low price, and closing to the composition of the substrate and acceptable compatibility [
15
]. To meet the different requirements under certain circumstances, alloying elements, such as vanadium, titanium, niobium and chromium, are added into Fe-based powder to manufacture different parts with diverse properties. Adding a small amount of vanadium into steel makes the steel more resilient, stronger, and has a better wear and crack resistance [
16
]. The Cr element improved not only the corrosion resistance by improving the electrode potential of Fe-based alloy and forming a passivation film on the alloy surface [
17
,
18
,
19
], but also the mechanical properties such as high-temperature strength, hardness and wear resistance [
20
,
21
,
22
]. Due to the outstanding property of the vanadium and chromium, certain investigators started to study the impact of the vanadium and the chromium on the Fe-based alloys. Ke et al. [
23
] have investigated the influenceof Nb/V content between 0 and 6% on Mo
2
FeB
2
ceramic-steel produced by liquid phase reaction sintering, the results revealed that the hardness and transverse rupture strength both enhance first and then descends. Mo
2
FeB
2
ceramic-steel with 4 wt % and 2 wt % V show the best hardness and transverse rupture strength. Kanalec and Górny [
24
] have investigated the influence of VC morphology on the mechanical properties for Fe-C-V casting alloys. The results proved that the spheroidising treatment of VC carbides increases the tensile strength by 60%, elongation 14–21 times, and the wear resistance more than twice as high as the abrasion-resistance cast steel. Gwon et al. [
25
] have investigated the effect of the V addition (0.1 wt %–0.3 wt %) on the microstructure and the tensile behavior of hot rolling TWIP steel. The results have shown that the V additions contributed to a reduction in the grain size and an increase in the yield strength of the TWIP steels. Effects of different addition of Cr on TiC–VC reinforced Fe-based laser cladding coatings were also investigated by Zhang et al. [
26
]. The study revealed that the TiC–VC reinforced Fe-based laser cladding coatings with different addition of Cr were composed of α-Fe, γ-Fe, TiC, VC and TiVC
2
, the cladding layer with 3.0% Cr showed the highest microhardness 1090HV
0.2
and the cladding layer with 12.0% Cr addition showed the best corrosion resistance. The reported literature shows that the influence of vanadium and chromium on the properties of Fe-based alloys produced by different technologies such as casting, hot rolling and sintering, etc. was investigated in detail. However, the study on the impact of the high content of Cr and V on laser cladded coating was rarely reported.
In the present study, three Fe-based coatings with high V and Cr content on 35CrMo steel by laser cladding using Fe-based powder with different Cr3C2 and FeV50 content were achieved. The constituent phases, microstructure, hardness and wear resistance of the coatings were investigated.
2. Materials and Methods
Homemade stainless steel powder with the nominal composition in wt %: ≤ 0.18 C; 15.5–17.5 Cr; 1.60–1.80 Ni; 1.05–1.25 Si; 1.00 Mo; ≤ 0.50 Mn; 1.15–1.35 B; and balance Fe, commercially available Cr
3
C
2
powder and FeV
50
powder were used as feedstock materials. FeV
50
powder was used as the source of vanadium in the coating as the chemical composition is shown in
Table 1
. Three different powders were achieved by adjusting the proportion of stainless steel, Cr
3
C
2
and FeV
50
powders, as shown in
Table 2
. Prior to laser cladding, the powder mixture was meticulously mixed with the aid of a ball milling equipment in an argon atmosphere for 1 h, and then dried in a furnace at 80 °C for 8 h. The 35CrMo plain roll steel, as a kind of low alloy steel used in the environment suffered impact, bending-torsion and high load, was used as the substrate with a size of Ф150 mm × 15 mm and nominal composition in wt %: 0.32–0.40 C, 0.17–0.37 Si, 0.40–0.70 Mn, 0.8–1.1 Cr, 0.15–0.25 Mo, and balance Fe. The substrate was well treated by grinding with 600 SiC paper and cleaning with acetone. The laser cladded Fe-based coatings were manufactured using an Ytterbium Laser System (YLS-6000, IPG Photonics, Beijing, China) with a wavelength of 1070 nm and maximum output power of 6 kW. After a series of trial runs, the optimized process parameters were obtained: laser power 3500 W, beam scanning speed 300 mm/min, powder feed rate 18 g/min, shielding gas (Ar) 400–500 L/h, laser beam diameter 4 mm and overlapping rate 30%.
The coating samples were cross-sectioned perpendicular to the laser scanning direction with electrical discharge wire cutting, followed by conventional metallography preparation procedures. Then, the samples were etched with an aqueous solution consisted of 45 mL HCl + 15 mL HNO3+ 60 mL distilled water. The microstructure of coatings was observed using scanning electron microscopy (SEM, S-3400, Hitachi, Tokyo, Japan) coupled with an energy dispersive spectrometer (EDS, S-3400N, Hitachi, Yokohama, Japan) The constituent phases of the coatings were identified by an X-ray diffraction (XRD, Shimadzu 7000, Shimadzu, Kyoto, Japan) in the 2θ range of 20° to 100°, using Cu Kα radiation at 40 kV and 30 mA with a speed of 4°/min. The hardness was measured with an HR-150A rockwell hardness tester (HR-150A, Lai Hua Ltd., Laizhou, China) under 150 kg load for 10 s. Coating samples for reciprocating wear test were cut from the laser cladding specimens as cuboids with the size of 10 mm×10 mm×15 mm, and ground clean with SiC paper and polished with 2.5 mm diamond paste in order to obtain identical surface roughness. Reciprocating wear tests were carried out with a MFT-4000 multi-function experimental apparatus (Lanzhou Huahui Instrument Techonology Co., Ltd., Lanzhou, China) of material surface properties in the ball-on-plate configuration. A Si3N4 ball of diameter 5 mm was used in the test, with a stroke length of 7 mm, a normal load of 10 N, a sliding velocity of 120 mm/min and a duration of 60 min. The profiles across the wear tracks and the wear volume were measured using a surface profilometer (Micro XAM-3D, KLA-Tencor Corporation, Shanghai, China). The product of the cross-section area and the stroke length was used to act as wear volume.
4. Conclusions
Crack-free Fe-based coatings with high V and Cr content were successfully formed on 35CrMo steel by laser cladding, with a good metallurgical bonding between the coating and the substrate. The coatings of S1 and S2 exhibited single α-Fe solid solution, while γ-Fe and V8C7 were achieved in S3 besides α-Fe solid solution. The hardness of S1, S2 and S3 was 62.9 ± 0.6 HRC, 65.3 ± 0.5 HRC and 66.1 ± 0.6 HRC, respectively. The corresponding wear resistance of the coatings was proportional to the alloy hardness. The wear resistance of S2 and S3 was 1.7 and 3 times than that of S1. The enhancement in wear resistance of the coating was due to the effect of grain boundary strengthening and solid solution strengthening.
Acknowledgments
The authors gratefully acknowledge to the financial support for this research from National Key Research and Development Program of China (No. 2016YFB1100204) and Key Research Project from Science and Technology Commission of Liaoning Province (No. 2017106036) Shenyang Science and Technology Funded Project (Nos. Z18-5-012, 17-29-2-00, Y17-1-031, Z17-2-002).
Author Contributions
Haiyang Wang performed the experiments and wrote the manuscript; Song Zhang designed the experimental process; Jingbo Zhang analyzed the data; Chenliang Wu assisted in SEM analysis; Adil O. Abdullah assisted in paper review; and Chunhua Zhang guided the direction of the research.
Conflicts of Interest
The authors declare no conflict of interest.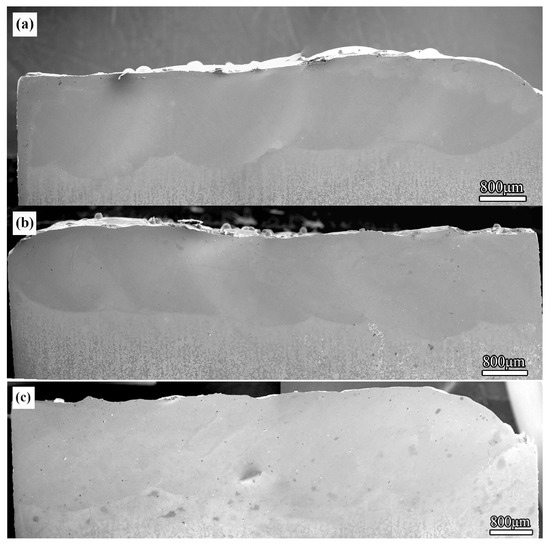 Figure 1. Cross section of the laser cladded Fe-based coatings at low magnification (a) S1; (b) S2; (c) S3.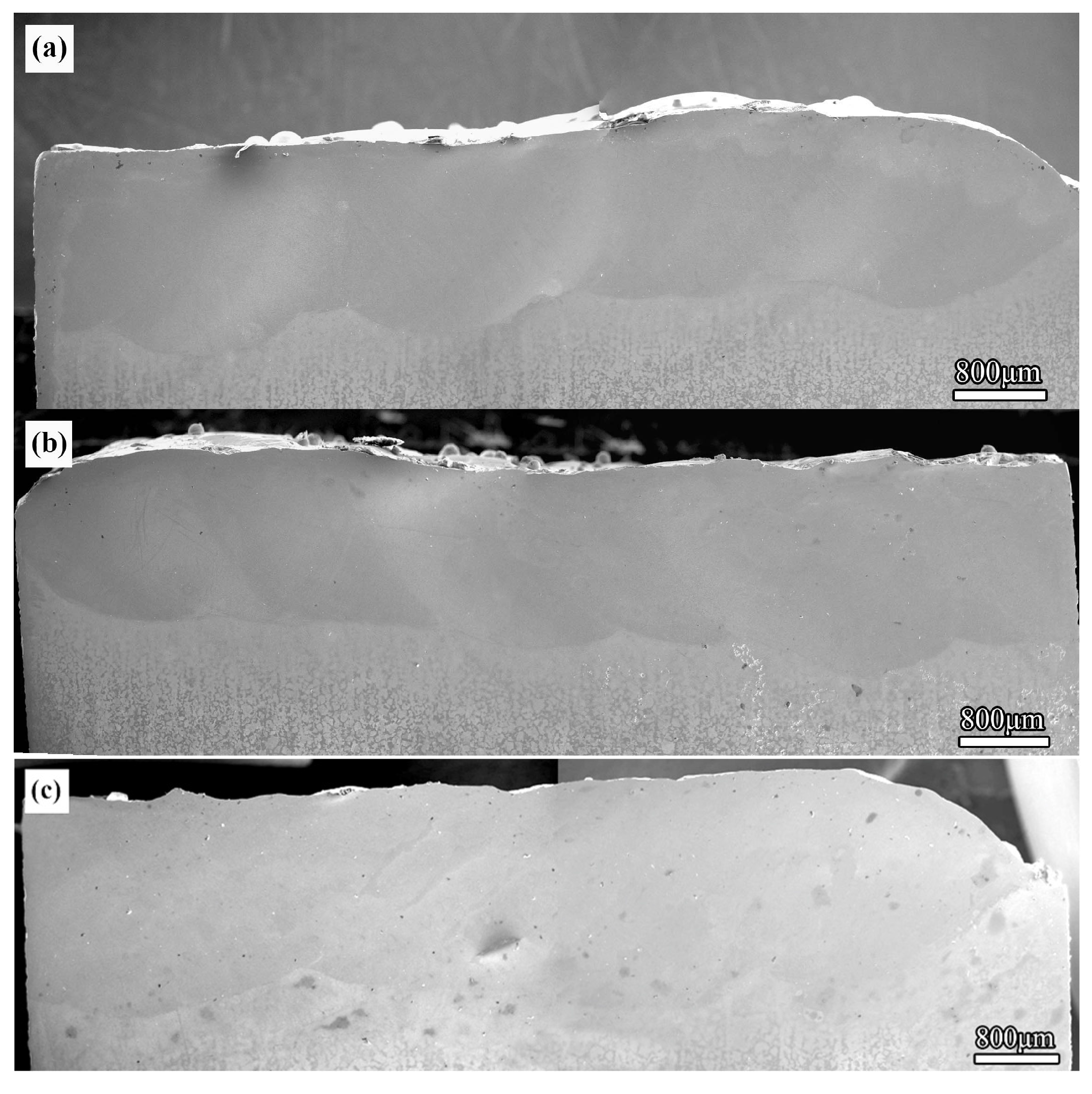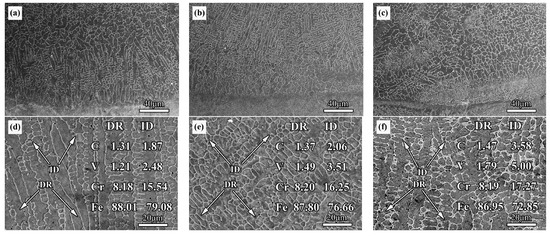 Figure 2. SEM images of the interface and the microstructures of the laser cladded Fe-based coatings: (a,d) S1; (b,e) S2; (c,f) S3.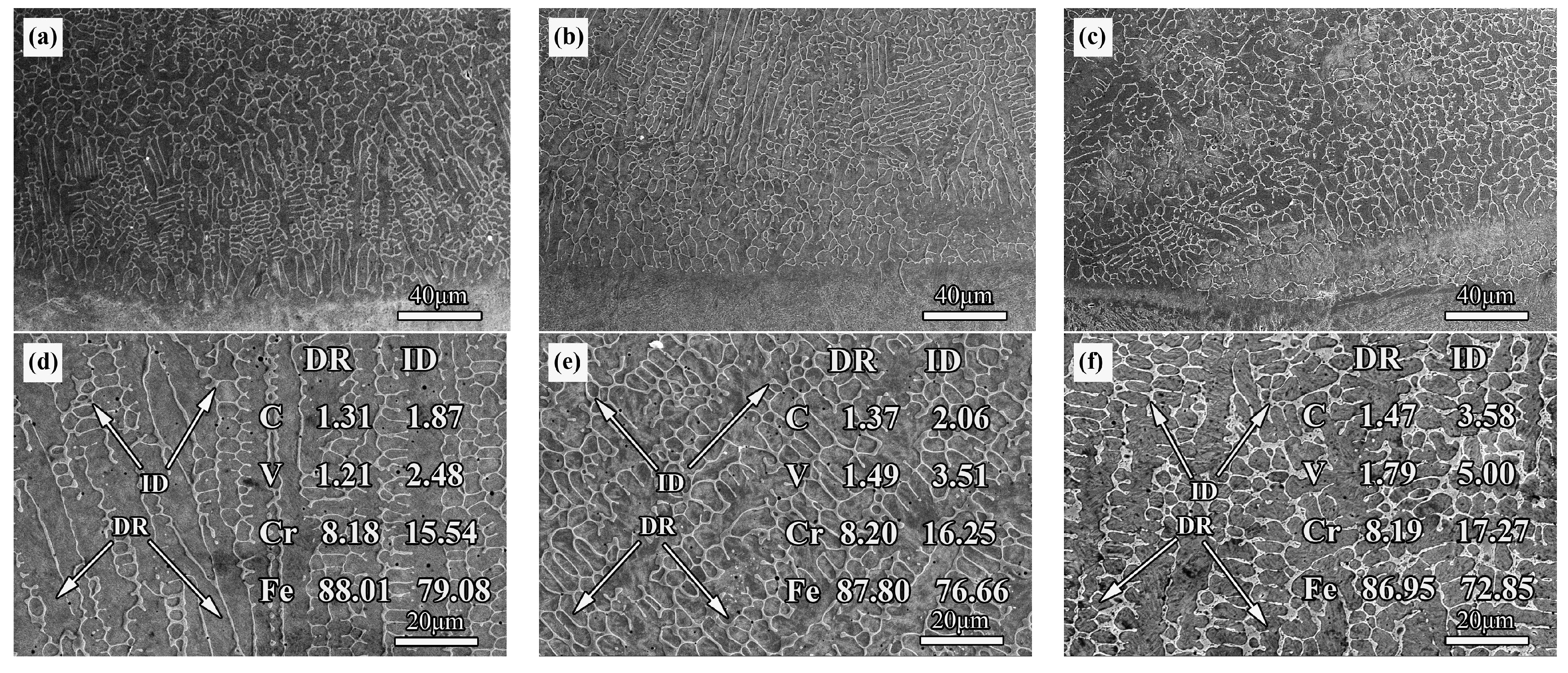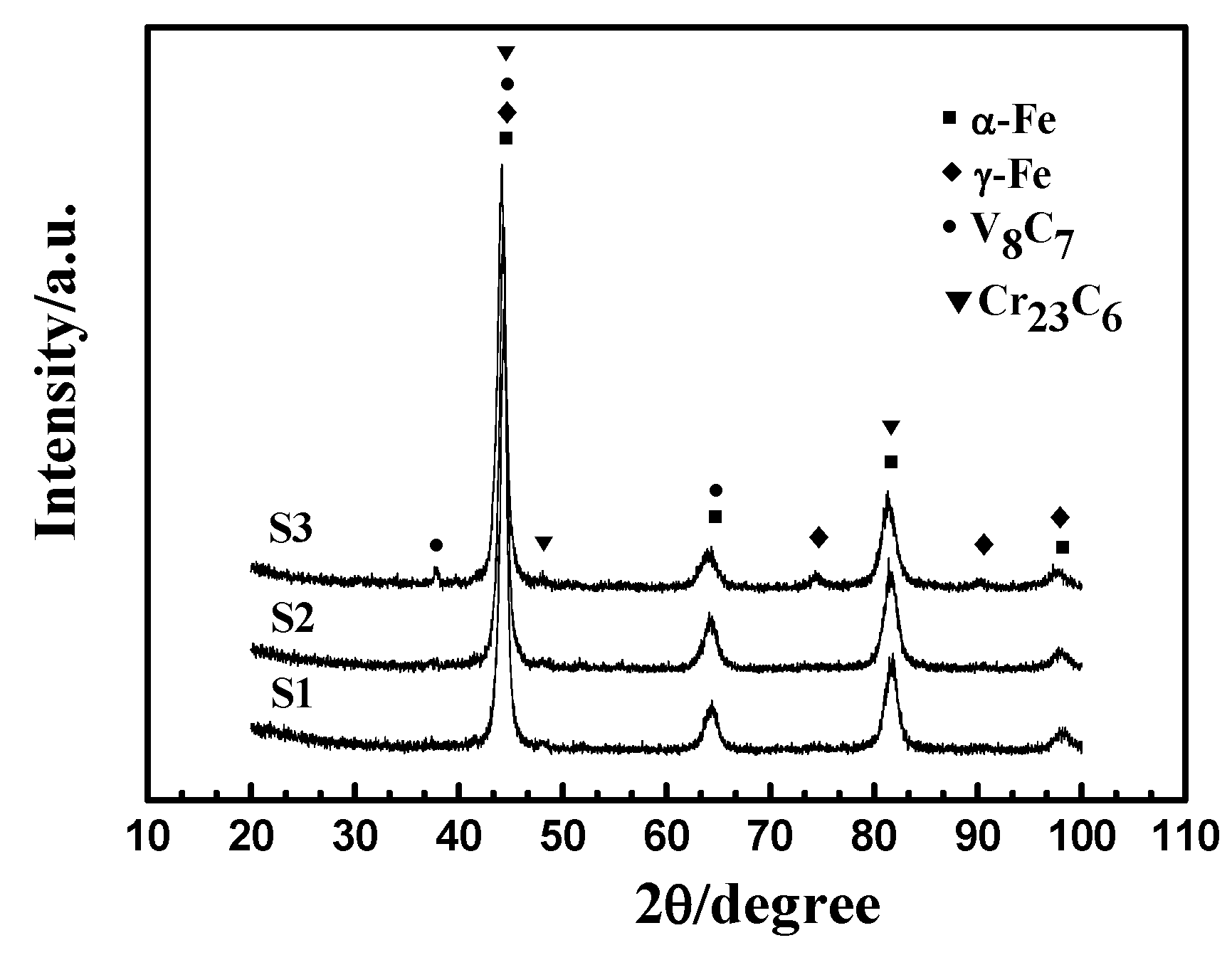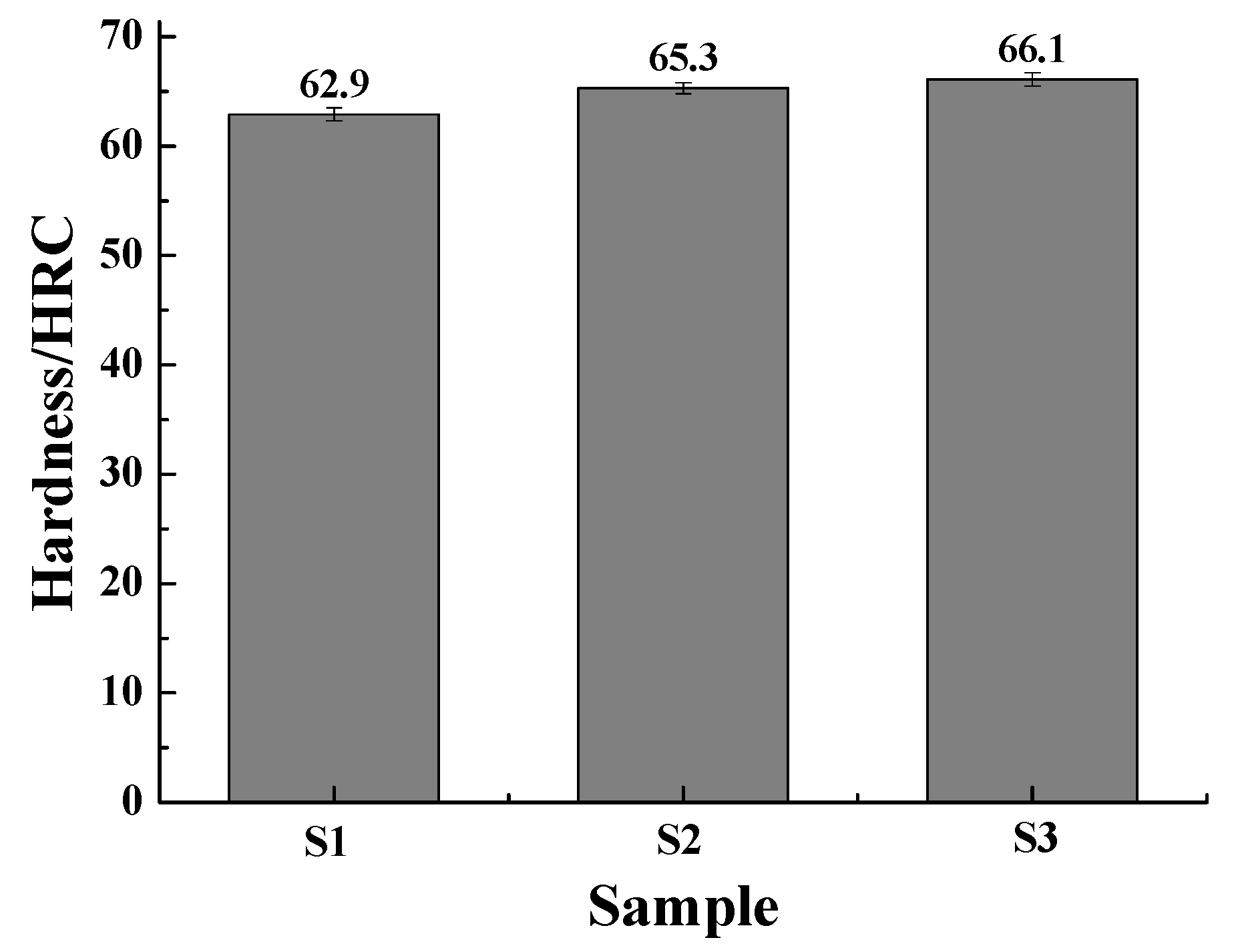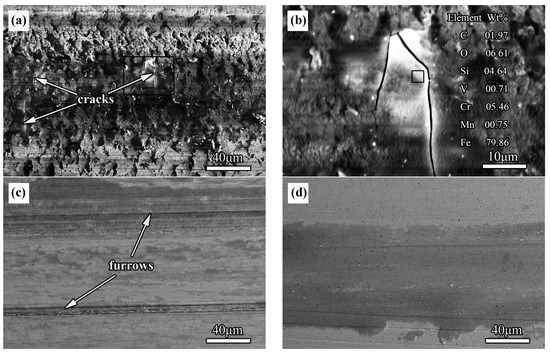 Figure 5. SEM morphologies of worn scar on laser cladded Fe-based coatings: (a) worn scar on S1; (b) crack and EDS analysis on S1; (c) worn scar on S2; (d) worn scar on S3.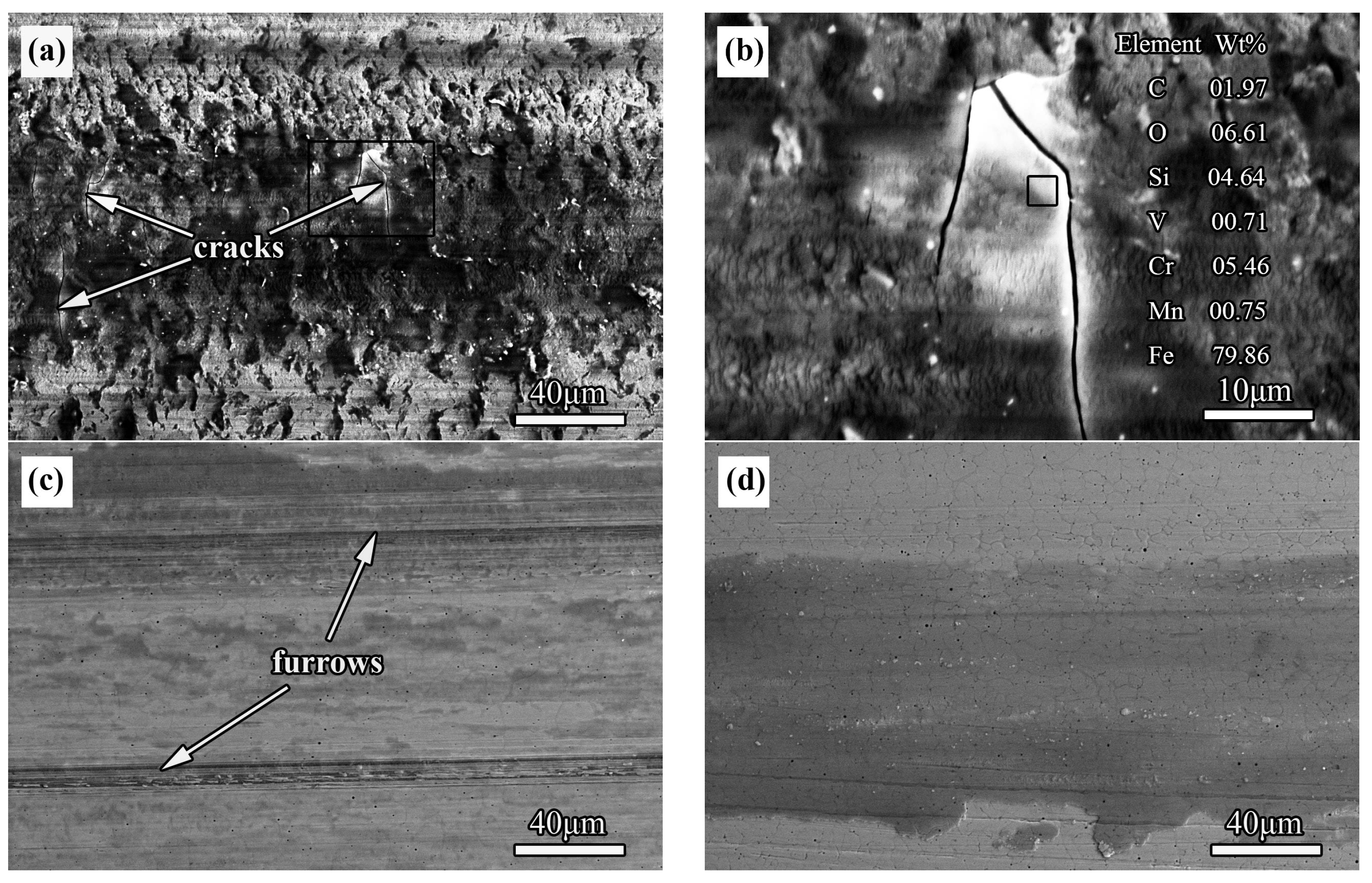 Figure 6. The friction coefficient curves of the laser cladded Fe-based coatings (a) and typical cross-sectional profiles of the wear tracks (b).

| Elements | Content [wt %] |
| --- | --- |
| V | 50 |
| C | < 0.4 |
| Si | < 2.0 |
| P | < 0.06 |
| S | < 0.04 |
| Al | < 1.5 |
| Fe | Bal. |
| Cladding Powders | Stainless Steel | Cr3C2 | FeV50 |
| --- | --- | --- | --- |
| S1 | 90.5 | 4.5 | 5 |
| S2 | 74.5 | 7.5 | 8 |
| S3 | 69 | 15 | 16 |
| Coating Sample | Diffraction Angle (°) | 2θ Displacement (°) |
| --- | --- | --- |
| Standard diffraction angle | 44.67 | 0 |
| S1 | 44.32 | 0.35 |
| S2 | 44.26 | 0.41 |
| S3 | 44.16 | 0.51 |
| Specimen | Wear Volume (μm3) | Specific Wear Rate (mm3/N m) |
| --- | --- | --- |
| S1 | 6.238 × 106 | 8.66 × 10−8 |
| S2 | 3.639 × 106 | 5.05 × 10−8 |
| S3 | 2.013 × 106 | 2.80 × 10−8 |

© 2018 by the authors. Licensee MDPI, Basel, Switzerland. This article is an open access article distributed under the terms and conditions of the Creative Commons Attribution (CC BY) license (http://creativecommons.org/licenses/by/4.0/).