Tuning the Friction of Silicon Surfaces Using Nanopatterns at the Nanoscale
1
School of Mechanical and Electrical Engineering, China University of Mining and Technology, Xuzhou 221116, China
2
College of Mechanics and Materials, Hohai University, Nanjing 210098, China
3
Faculty of Mechatronic and Materials Engineering, Xuhai College, China University of Mining and Technology, Xuzhou 221116, China
4
Key Laboratory of Advanced Structural Materials, Ministry of Education, Changchun University of Technology, Changchun 130012, China
5
State Key Laboratory for Mechanical Behavior of Materials, Xi'an Jiaotong University, Xi'an 710049, China
*
Authors to whom correspondence should be addressed.
Academic Editors: Wei Gao and Yuxin Wang
Received: 23 November 2017 / Accepted: 23 November 2017 / Published: 22 December 2017
Abstract
Friction and wear become significant at small scale lengths, particularly in MEMS/NEMS. Nanopatterns are regarded as a potential approach to solve these problems. In this paper, we investigated the friction behavior of nanopatterned silicon surfaces with a periodical rectangular groove array in dry and wear-less single-asperity contact at the nanoscale using molecular dynamics simulations. The synchronous and periodic oscillations of the normal load and friction force with the sliding distance were determined at frequencies defined by the nanopattern period. The linear load dependence of the friction force is always observed for the nanopatterned surface and is independent of the nanopattern geometry. We show that the linear friction law is a formal Amontons' friction law, while the significant linear dependence of the friction force-versus-real contact area and real contact area-versus-normal load captures the general features of the nanoscale friction for the nanopatterned surface. Interestingly, the nanopattern increases the friction force at the nanoscale, and the desired friction reduction is also observed. The enlargement and reduction of the friction critically depended on the nanopattern period rather than the area ratio. Our simulation results reveal that the nanopattern can modulate the friction behavior at the nanoscale from the friction signal to the friction law and to the value of the friction force. Thus, elaborate nanopatterning is an effective strategy for tuning the friction behavior at the nanoscale.
View Full-Text
►

▼

Figures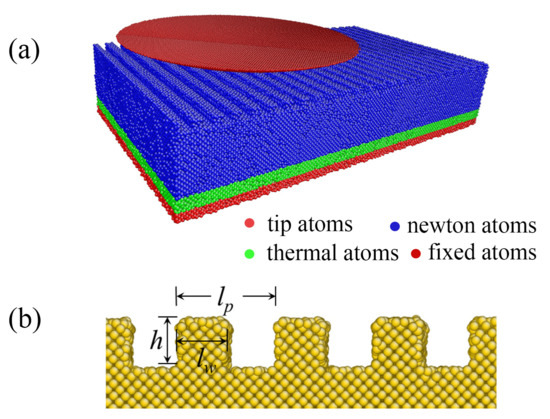 Figure 1
This is an open access article distributed under the
Creative Commons Attribution License
which permits unrestricted use, distribution, and reproduction in any medium, provided the original work is properly cited (CC BY 4.0).

Share & Cite This Article
MDPI and ACS Style
Han, J.; Sun, J.; Xu, S.; Song, D.; Han, Y.; Zhu, H.; Fang, L. Tuning the Friction of Silicon Surfaces Using Nanopatterns at the Nanoscale. Coatings 2018, 8, 7.
Note that from the first issue of 2016, MDPI journals use article numbers instead of page numbers. See further details here.
Related Articles
Comments
[Return to top]