Insights on the Role of Copper Addition in the Corrosion and Mechanical Properties of Binary Zr-Cu Metallic Glass Coatings
1
School of Chemistry and Chemical Engineering, Southwest Petroleum University, Chengdu 610500, China
2
State Key Laboratory of Oil and Gas Reservoir Geology and Exploitation, Southwest Petroleum University, Chengdu 610500, China
3
MATEIS Laboratory-UMR CNRS 5510, Université de Lyon, INSA-Lyon, 7 Avenue Jean Capelle, 69621 Villeurbanne CEDEX, France
4
School of Material Science and Engineering, Southwest Petroleum University, Chengdu 610500, China
5
Institut FEMTO-ST, CNRS, UTBM, University Bourgogne Franche-Comté, Site de Montbéliard, 90010 Belfort CEDEX, France
*
Authors to whom correspondence should be addressed.
Academic Editor: Alessandro Lavacchi
Received: 26 September 2017 / Revised: 8 November 2017 / Accepted: 17 November 2017 / Published: 5 December 2017
Abstract
The effect of copper addition on the corrosion resistance and mechanical properties of binary Zr
100–

x
Cu
x
(
x
= 30, 50, 80, 90 at.%) glassy coatings was investigated by means of electrochemical measurements, scanning electron microscopy (SEM), energy dispersive analysis spectroscopy (EDS), X-ray photoelectron spectroscopy (XPS) and nano-indentation techniques. The corrosion resistance in 0.01 M deaerated H
2
SO
4
solution and the mechanical properties of the Zr-Cu glassy coatings depend considerably upon the copper content in the glassy matrix. The top surfaces of the Zr-Cu coatings with lower Cu content were covered by a compact protective ZrO
2
passive film. The competition between the oxidation of Zr atoms (ZrO
2
film formation) and the oxidation–dissolution of Cu atoms assumed the most important role in the electrochemical behavior of the Zr-Cu glassy coatings. The generation of ZrO
2
on the surface benefited the formation of passive film; and the corrosion resistance of the metallic glass coatings depended on the coverage degree of ZrO
2
passive film. The evolution of free volume affected both the mechanical and corrosion behaviors of the Zr-Cu glassy coatings.
View Full-Text
►

▼

Figures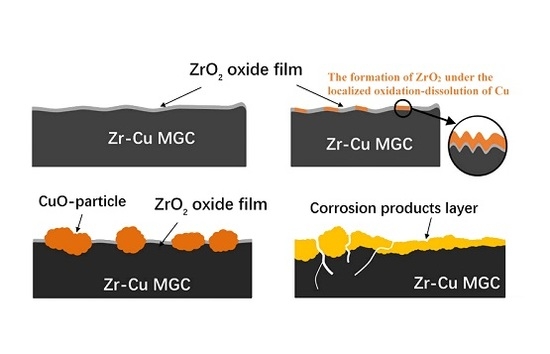 Graphical abstract
This is an open access article distributed under the
Creative Commons Attribution License
which permits unrestricted use, distribution, and reproduction in any medium, provided the original work is properly cited (CC BY 4.0).

Share & Cite This Article
MDPI and ACS Style
Tang, J.; Zhu, Q.; Wang, Y.; Apreutesei, M.; Wang, H.; Steyer, P.; Chamas, M.; Billard, A. Insights on the Role of Copper Addition in the Corrosion and Mechanical Properties of Binary Zr-Cu Metallic Glass Coatings. Coatings 2017, 7, 223.
Note that from the first issue of 2016, MDPI journals use article numbers instead of page numbers. See further details here.
Related Articles
Comments
[Return to top]