Spreading Behavior and Morphology of Ethylene Methacrylic Acid (EMAA) Deposits via the Flame Spray Process
IRIS, Faculty of Engineering and Industrial Sciences, Swinburne University of Technology, PO Box 218, Hawthorn, VIC 3122, Australia
*
Author to whom correspondence should be addressed.
Received: 24 January 2012 / Revised: 6 April 2012 / Accepted: 22 May 2012 / Published: 15 June 2012
Abstract
A single splat is the building block of a thermal spray coating; thus, investigating single splats is essential to understanding thermal spray coatings and their properties. In this study, the spreading behavior and the morphology of flame sprayed ethylene methacrylic acid (EMAA) splats, deposited at various stand-off distances (SODs) onto glass and mild steel substrates were investigated using optical microscopy, back scattered scanning electron microscopy and secondary electron scanning electron microscopy. The results of this study indicate that the spread factor increases with an increase in the stand-off distance up to 30 cm for glass and 25 cm for steel substrates. Further increase of the stand-off distance results in a decreased spread factor. The aspect ratio of EMAA single splats on both glass and mild steel substrates decreases with increased stand-off distances, indicating that more circular shapes occur at higher stand-off distances. On mild steel substrates, the minimum unevenness ratio (η) occurs at 35 cm SOD. The unevenness ratio (η) on glass substrates decreases from 1.9 (at 20 cm SOD) to 1.77 (at 25 cm SOD), and from 1.8 (at 30 cm SOD) to 1.3 (at 35 cm SOD). The lowest unevenness ratio (η) is found at 35 cm SOD. The highest unevenness ratio (η) is at 25 cm SOD. This paper discusses the effect of surface chemistry on the underside of an EMAA single splat morphology. It includes Raman spectrum analysis of EMAA and the X-ray diffraction of the EMAA powder. This work analyses the splat morphology and classifies the taxonomy of single splats of EMAA.
View Full-Text
►

▼

Figures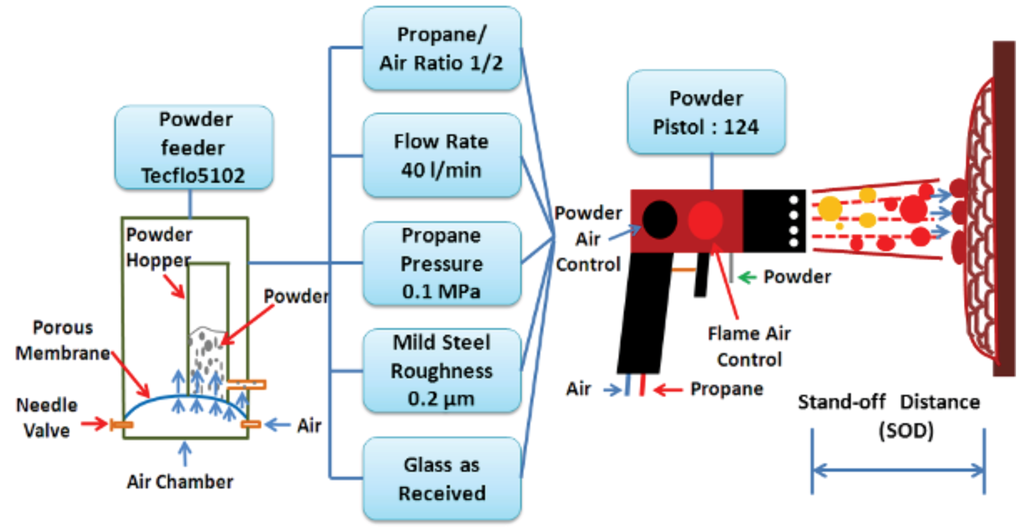 Figure 1

Share & Cite This Article
MDPI and ACS Style
Xie, W.; Wang, J.; Berndt, C.C. Spreading Behavior and Morphology of Ethylene Methacrylic Acid (EMAA) Deposits via the Flame Spray Process. Coatings 2012, 2, 76-93.
Related Articles
Comments
[Return to top]