The Conductivity and Dielectric Properties of Neobium Substituted Sr-Hexaferrites
1
Institute of Forensic Sciences and Legal Medicine, Istanbul University-Cerrahpaşa Buyukcekmece Campus Alkent 2000, Buyukcekmece-Istanbul 34500, Turkey
2
Department of Biophysics, Institute for Research and Medical Consultations (IRMC), Imam Abdulrahman Bin Faisal University, Dammam P.O. Box 34221, Saudi Arabia
3
Depaertement of Physics, College of Science, Imam Abdulrahman Bin Faisal University, Dammam P.O. Box 34221, Saudi Arabia
4
Department of Nanomedicine, Institute for Research and Medical Consultations (IRMC), Imam Abdulrahman Bin Faisal University, Dammam P.O. Box 34221, Saudi Arabia
5
National University of Science and Technology MISiS, 119049 Moscow, Russia
6
SSPA "Scientific and Practical Materials Research Centre of the NAS of Belarus", 220072 Minsk, Belarus
*
Author to whom correspondence should be addressed.
Received: 22 July 2019 / Revised: 4 August 2019 / Accepted: 9 August 2019 / Published: 15 August 2019
Abstract
The Nb3+ ion substituted Sr hexaferrites (SrNb
x
Fe
12−x
O19 (x = 0.00–0.08) hexaferrites (HFs)) were fabricated via a citrate-assisted sol-gel approach. X-ray powder diffractometer analysis affirmed the pureness of all products. The crystallite sizes of the products which were estimated from Scherrer equation were in the 36–40 nm range. The chemical component of the samples was proved by Energy-dispersive X-ray spectroscopy (EDX) and Elemental mapping. The hexagonal morphology of all products was confirmed by Field Emission Scanning Electron Microscopy (FE-SEM). The electrical conduction mechanisms and dielectric properties of a variety of Nb3+ions-substituted SrNb
x
Fe
12−x
O19 HFs were investigated by a complex impedance system. Dielectric parameters such as conductivity, dielectric constant, dielectric loss, dielectric tangent loss and complex modulus, were studied at temperatures up to 120 °C in a frequency range varying from 1.0 Hz to 3.0 MHz for several Nb ratios. The frequency dependence of the conductivity was found to comply with the power law with diverse exponents at all frequencies studied here. Subsequently, incremental tendencies in dc conductivity with temperature indicate that the substituted Sr-HFs leads to a semiconductor-semimetal like behavior. This could be attributable to a feature of conduction mechanism which is based on the tunneling processes. Additionally, the dielectric dispersion pattern was also explained by Maxwell–Wagner polarization in accordance with the Koop's phenomenological theory.
View Full-Text
►

▼

Figures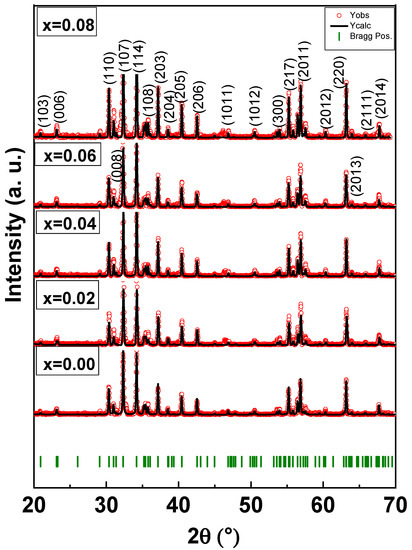 Figure 1
This is an open access article distributed under the
Creative Commons Attribution License
which permits unrestricted use, distribution, and reproduction in any medium, provided the original work is properly cited (CC BY 4.0).

Share & Cite This Article
MDPI and ACS Style
Unal, B.; Almessiere, M.; Slimani, Y.; Baykal, A.; Trukhanov, A.V.; Ercan, I. The Conductivity and Dielectric Properties of Neobium Substituted Sr-Hexaferrites. Nanomaterials 2019, 9, 1168.
Note that from the first issue of 2016, MDPI journals use article numbers instead of page numbers. See further details here.
Related Articles
Comments
[Return to top]