Open Access This article is
freely available
re-usable
Article
Nanoparticle Deposition in Rhythmically Moving Acinar Models with Interalveolar Septal Apertures
1
Department of Biomedical Engineering, University of Massachusetts, Lowell, MA 01854, USA
2
Department of Biomedical Engineering, California Baptist University, Riverside, CA 92504, USA
3
Department of Aerospace, Industrial, and Mechanical Engineering, California Baptist University, Riverside, CA 92504, USA
*
Author to whom correspondence should be addressed.
Received: 15 July 2019 / Accepted: 31 July 2019 / Published: 4 August 2019
Abstract
:
Pulmonary delivery of nanomedicines has been extensively studied in recent years because of their enhanced biocompatibility, sustained-release properties, and surface modification capability. The lung as a target also offers many advantages over other routers, such as large surface area, noninvasive, quick therapeutic onset, and avoiding first-pass metabolism. However, nanoparticles smaller than 0.26 µm typically escape phagocytosis and remain in the alveoli for a long time, leading to particle accumulation and invoking tissue responses. It is imperative to understand the behavior and fates of inhaled nanoparticles in the alveoli to reliably assess therapeutic outcomes of nanomedicines or health risk of environmental toxins. The objective of this study is to numerically investigate nanoparticle deposition in a duct-alveolar model with varying sizes of inter-alveolar septal apertures (pores). A discrete phase Lagrangian model was implemented to track nanoparticle trajectories under the influence of rhythmic wall expansion and contraction. Both temporal and spatial dosimetry in the alveoli were computed. Wall motions are essential for nanoparticles to penetrate the acinar region and deposit in the alveoli. The level of aerosol irreversibility (i.e., mixing of inhaled nanoparticles with residual air in the alveolar airspace) is determined by the particle diffusivity, which in turn, dictates the fraction of particles being exhaled out. When deposition in the upper airways was not considered, high alveolar deposition rates (74–95%) were predicted for all nanoparticles considered (1–1000 nm), which were released into the alveoli at the beginning of the inhalation. The pore size notably affects the deposition pattern of inhaled nanoparticles but exerts a low impact upon the total deposition fractions. This finding indicates that consistent pulmonary doses of nanomedicine are possible in emphysema patients if breathing maneuver with the same tidal volume can be performed.
Keywords:
nanoparticle alveolar deposition; nanomedicine; rhythmic wall motion; interalveolar septal wall; pore of Kohn; collateral ventilation
Author Contributions
Conceptualization, J.X.; methodology, J.X.; software, M.T. and J.X.; validation, J.X. and M.T.; formal analysis, J.X. and M.T.; investigation, M.T. and J.X.; resources, J.X.; data curation, J.X.; writing—original draft preparation, J.X.; writing—review and editing, J.X. and M.T.; visualization, M.T.; supervision, J.X.; project administration, J.X.; funding acquisition, J.X.
Funding
This study was funded by NSF Grant CBET 1745602.
Conflicts of Interest
The authors declare no conflict of interest.
Figure 1. Models: (a) Four-alveolar model with septal walls communicated via interalveolar pores, (b) alveolar kinematics with rhythmically expanding (red) and contracting (black) walls. Different pore sizes were considered: (c) 20 µm, (d) 40 µm, (e) 100 µm, and (f) no septum.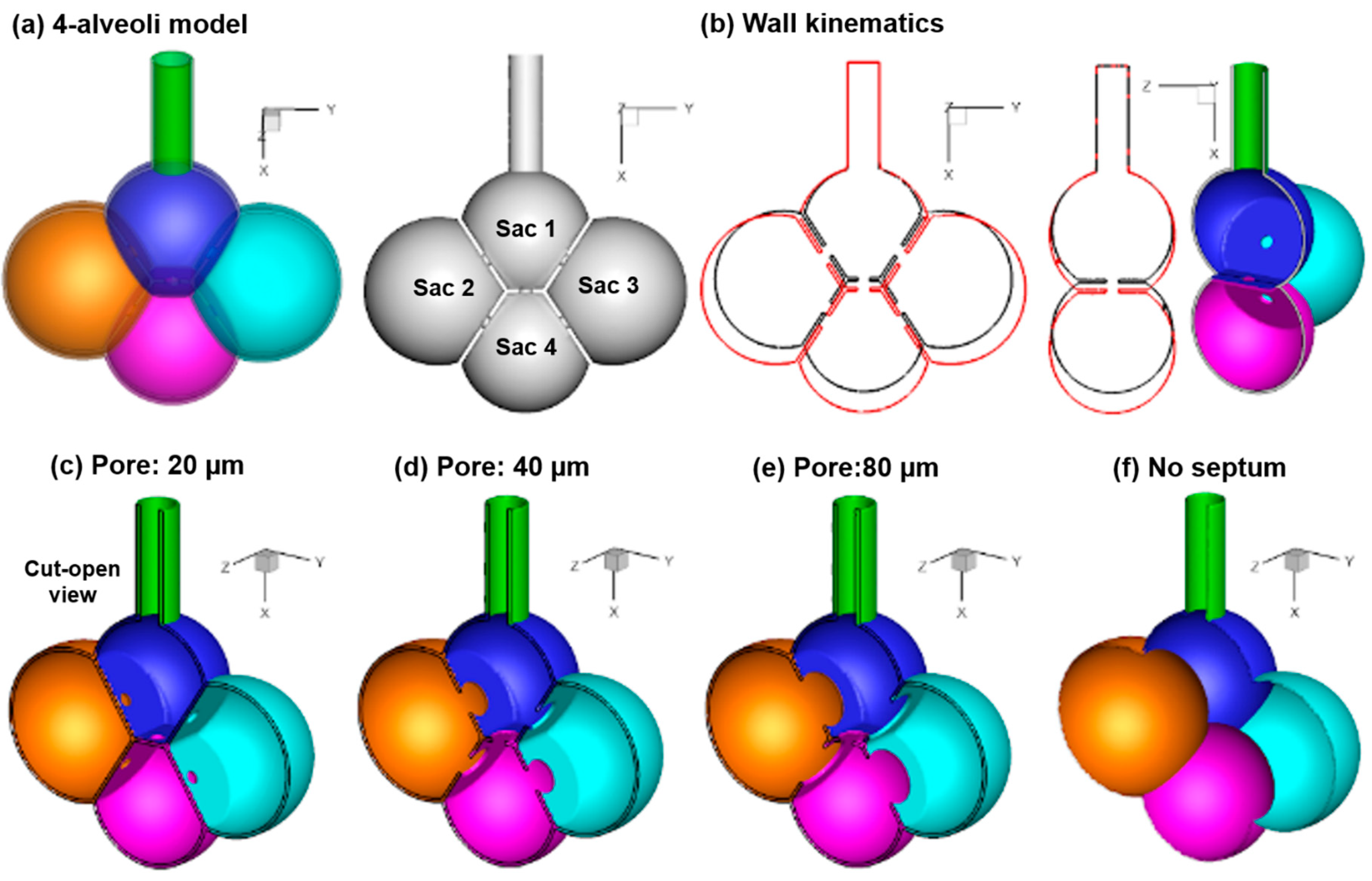 Figure 2. Airflow field in the 40-µm-pore alveolar model at the peak inhalation in terms of velocity contour (left), steam traces (middle), and coherent vortex structures (right).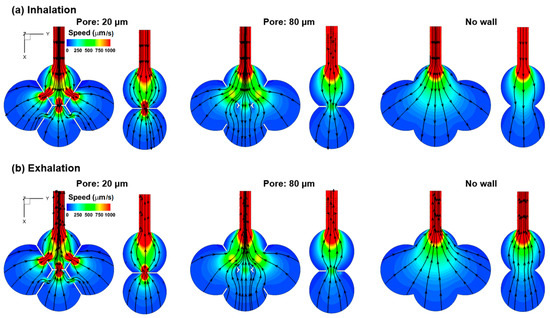 Figure 3. Contour and stream traces in the four-alveolar models with a pore size of 40 µm, 80 µm, and no septal wall during (a) inhalation, and (b) exhalation.

Figure 4. Brownian motion of nanoparticles with a diameter of (a) 10 nm and (b) 200 nm with their instantaneous velocities superimposed. Five particles were released from the middle of the duct. The pore size of the alveolar model is 40 µm.

Figure 5. Snapshots of particle positions in the 40-µm-pore alveolar model during the first cycle at different instants: (a) T1 = 3.40 s, (b) T2 = 3.80 s, (c) T3 = 4.10 s, (d) T4 = 4.40 s, (e) T5 = 5.20 s, and (f) T6 = 5.60 s. Particles were 200 nm in diameter and were released 0.2 s (T0 = 3.20 s) from the second breathing cycle. The first cycle (0–3 s) was simulated to establish the transient airflow field. Due to particle Brownian motion and convection, some particles exited the geometry during exhalation.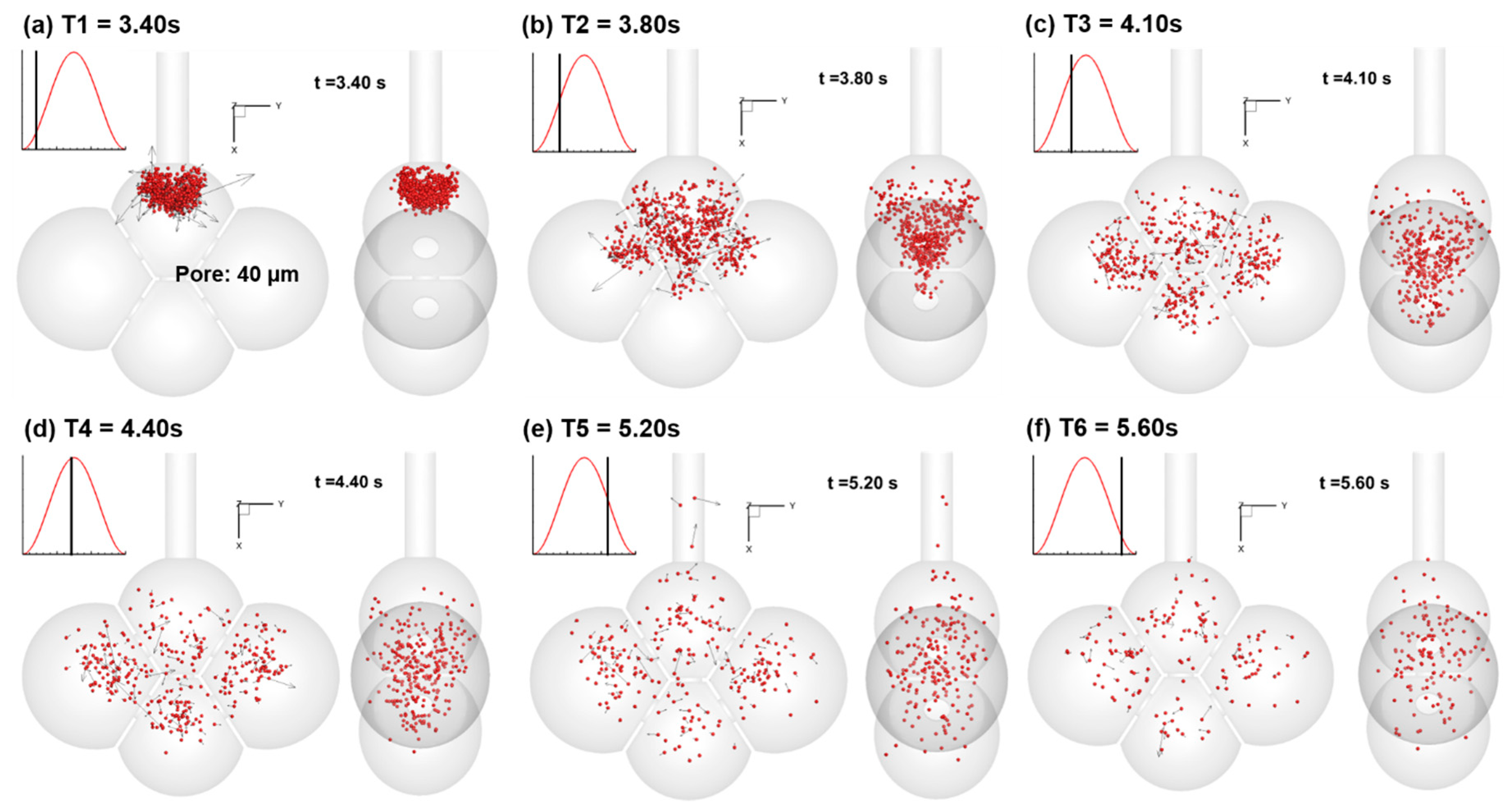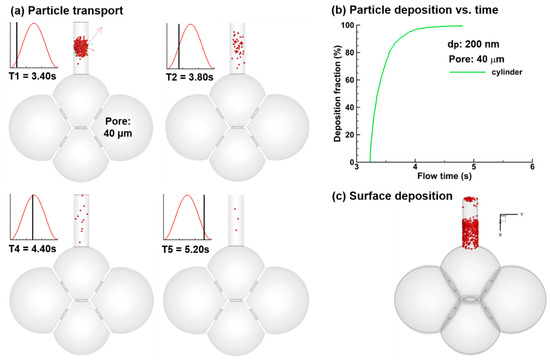 Figure 6. Dynamic when wall kinematics was neglected: (a) Particle motions at varying instants, (b) time evolution of particle deposition, and (c) particle deposition distribution.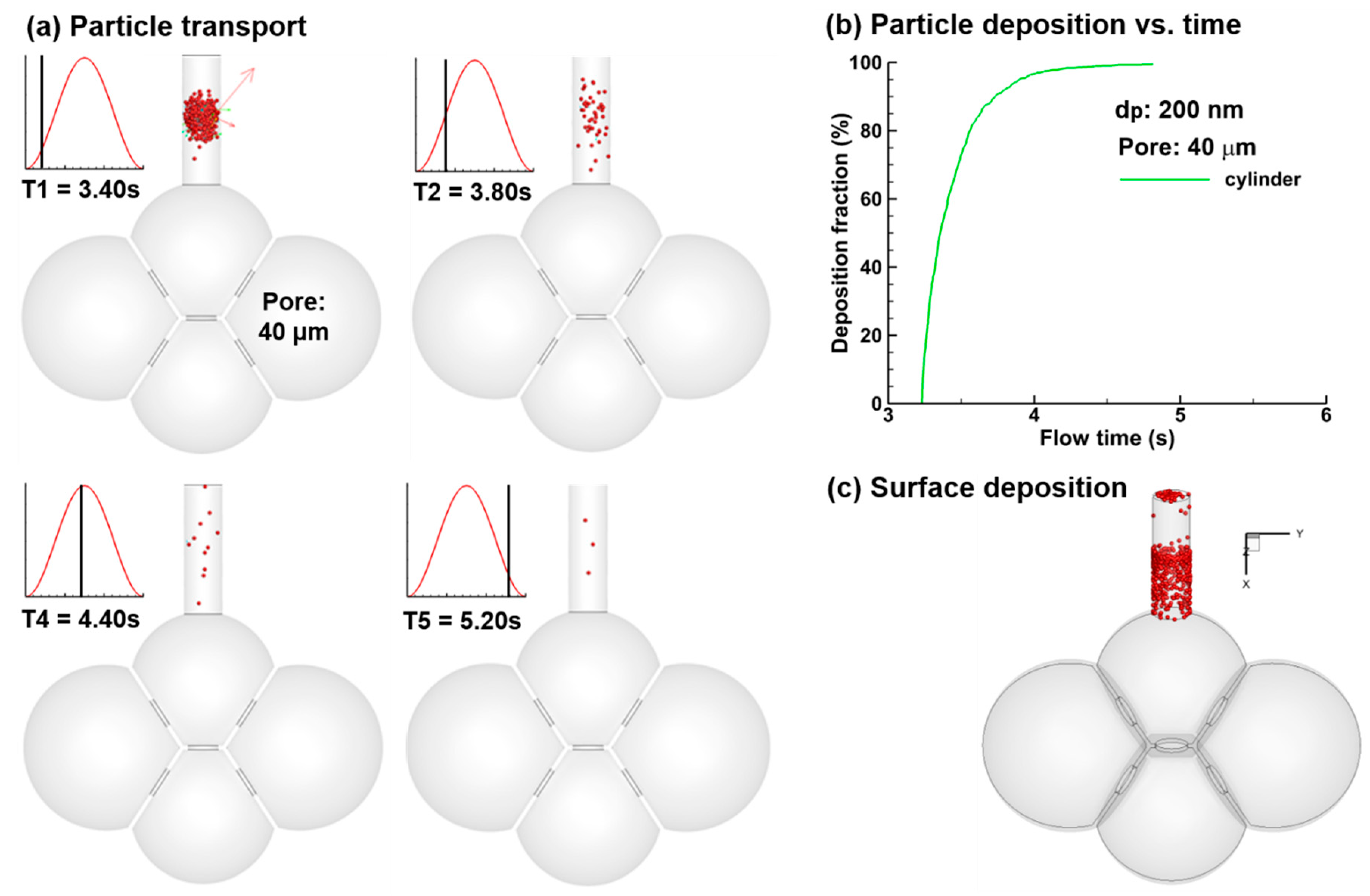 Figure 7.
Snapshots of particle positions in the 80-µm-pore alveolar model during the first cycle at different instants: (
a
) T2 = 3.80 s, (
b
) T3 = 4.20 s, and (
c
) T5 = 5.20 s. In comparison to the snapshots of particle positions in
Figure 5
, a shorter distance of particle advancement was observed in the 80-µm-pore alveolar model at each corresponding instant in the 40-µm-pore alveolar model in
Figure 5
.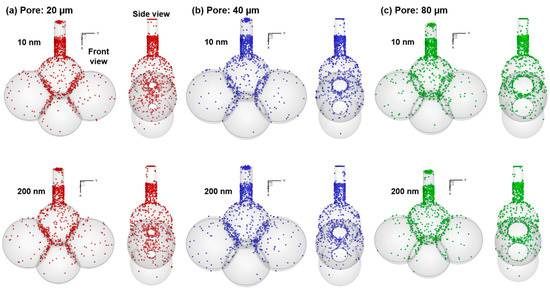 Figure 8. Of surface deposition for 10 nm (upper row) and 200 nm (lower row) particles in the alveolar models with a pore size of (a) 20 µm, (b) 40 nm, and (c) 80 nm.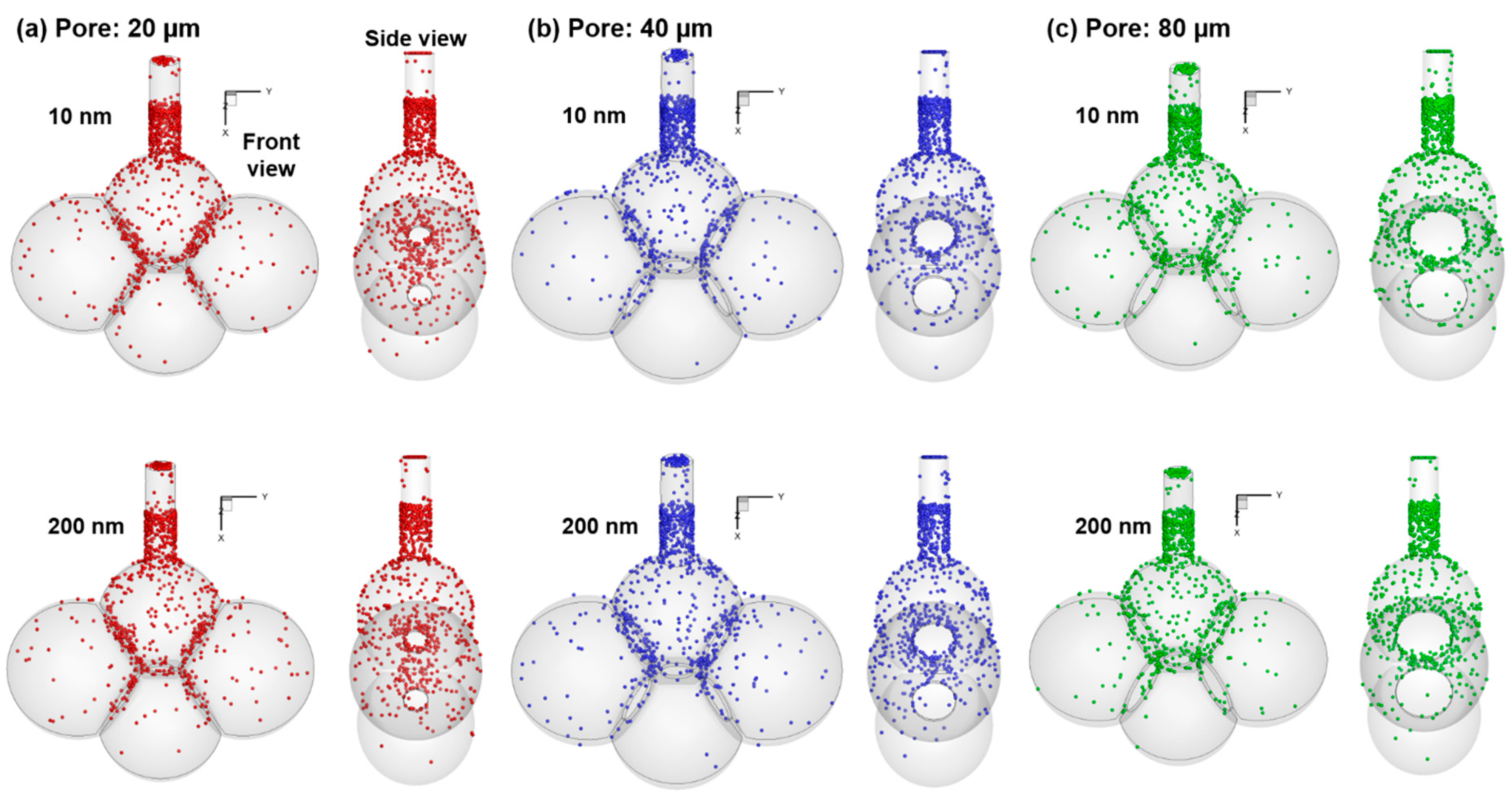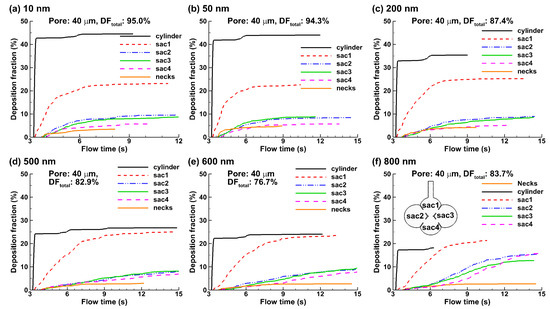 Figure 9. Deposition rate with time in the 40-µm-pore alveolar model for nanoparticles of different diameters: (a) 10 nm, (b) 50 nm, (c) 200 nm, (d) 500 nm, (e) 600 nm, and (f) 800 nm. Both total and sub-regional deposition fraction were shown. Particles were released as a bolus 0.2 s after inhalation (T0 = 3.20 s).

Figure 10. Of surface deposition in the 40-µm-pore model for large nanoparticles: (a) 500 nm, and (b) 800 nm.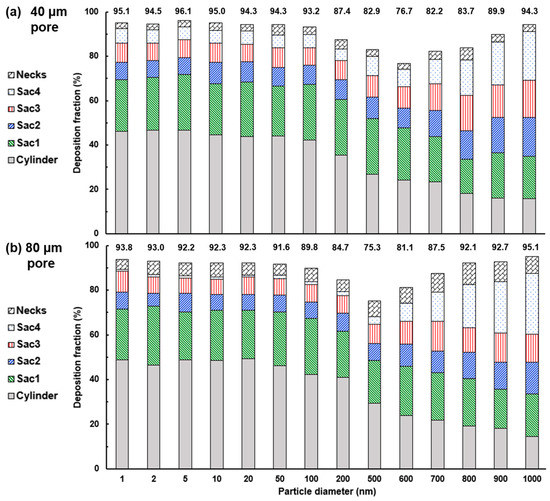 Figure 11. Of total and sub-regional deposition fractions as a function of particle diameter between (a) 40-nm-pore and (b) 80-nm-pore alveolar models.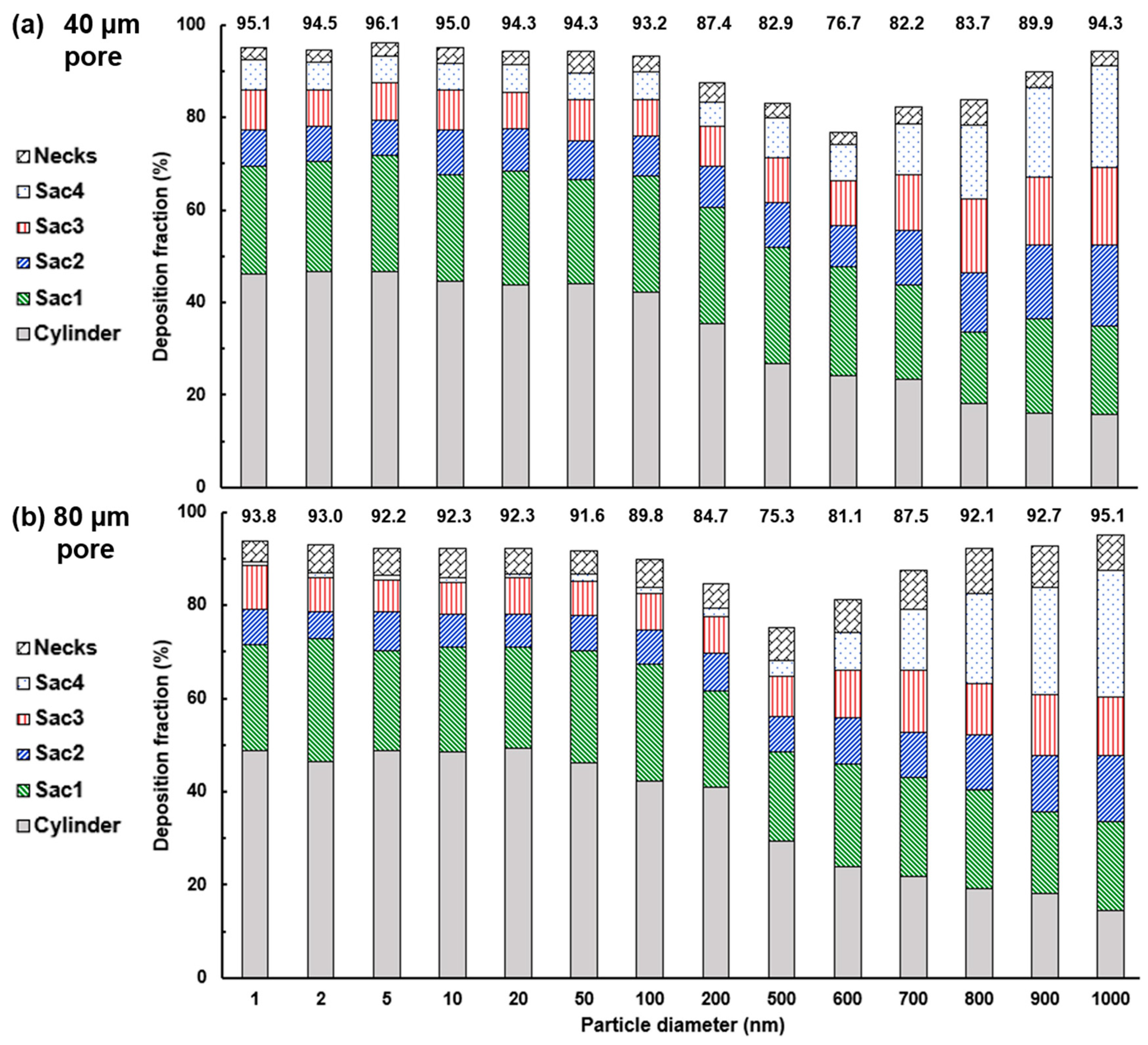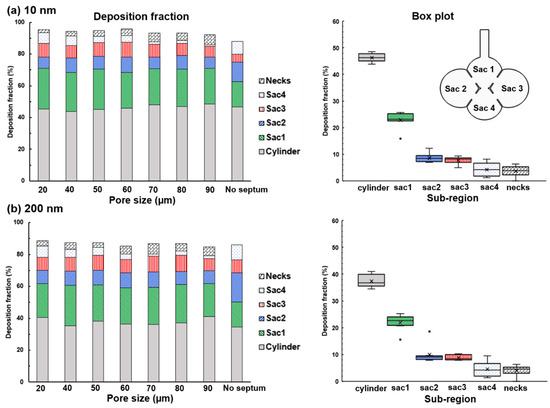 Figure 12. Of particle deposition in the alveolar models with different pore sizes: (a) 10 nm, and (b) 200 nm. Box plots of the sub-regional deposition fractions were shown in the right panels for 10 nm and 200 nm, respectively.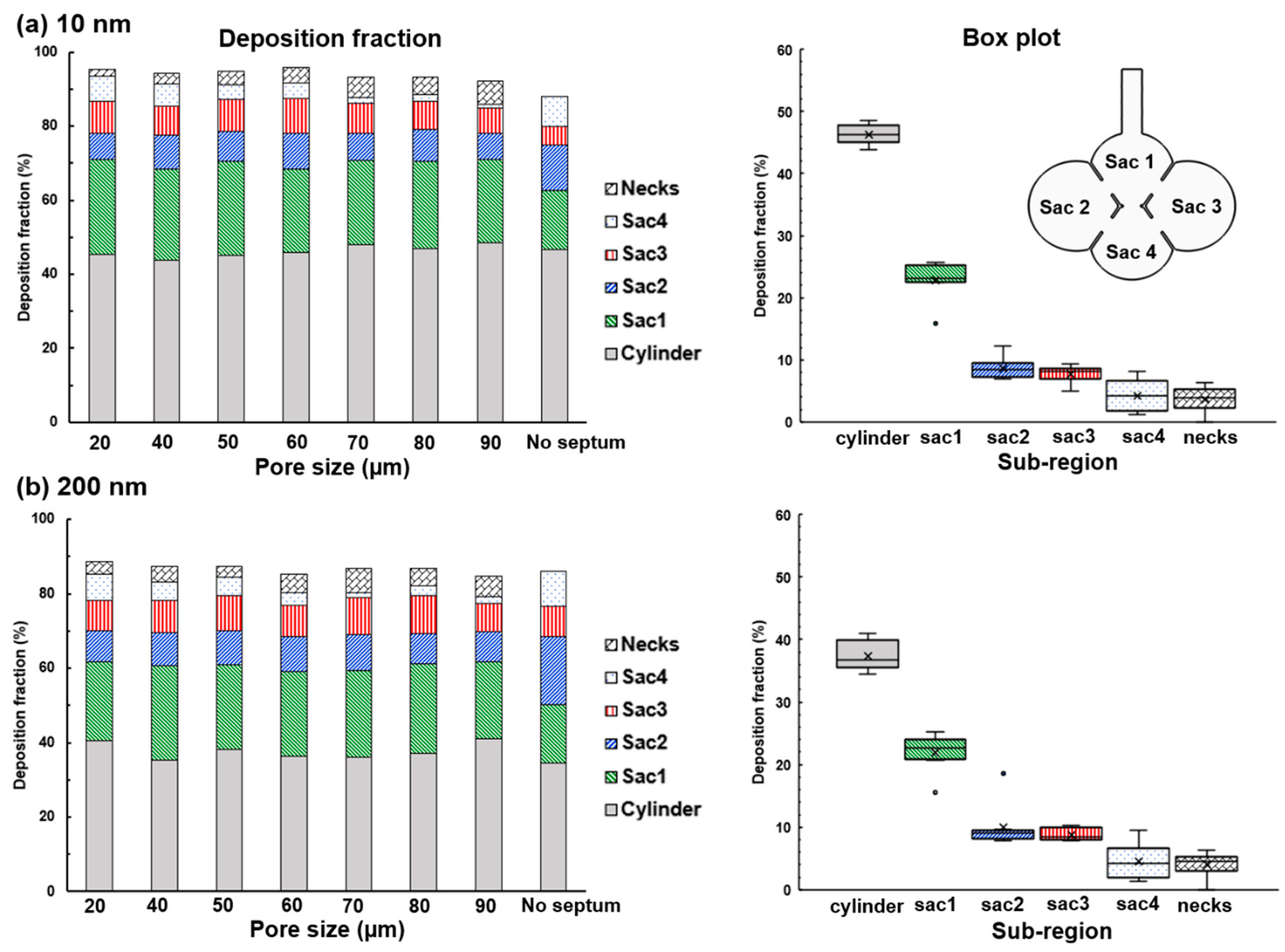 © 2019 by the authors. Licensee MDPI, Basel, Switzerland. This article is an open access article distributed under the terms and conditions of the Creative Commons Attribution (CC BY) license (http://creativecommons.org/licenses/by/4.0/).