Composite Membranes Derived from Cellulose and Lignin Sulfonate for Selective Separations and Antifouling Aspects
1
Department of Chemical and Materials Engineering, University of Kentucky, Lexington, KY 40506, USA
2
R&D Department, Honeywell UOP, Des Plaines, IL 60016, USA
*
Author to whom correspondence should be addressed.
Received: 24 April 2019 / Revised: 30 May 2019 / Accepted: 4 June 2019 / Published: 7 June 2019
Abstract
Cellulose-based membrane materials allow for separations in both aqueous solutions and organic solvents. The addition of nanocomposites into cellulose structure is facilitated through steric interaction and strong hydrogen bonding with the hydroxy groups present within cellulose. An ionic liquid, 1-ethyl-3-methylimidazolium acetate, was used as a solvent for microcrystalline cellulose to incorporate graphene oxide quantum dots into cellulose membranes. In this work, other composite materials such as, iron oxide nanoparticles, polyacrylic acid, and lignin sulfonate have all been uniformly incorporated into cellulose membranes utilizing ionic liquid cosolvents. Integration of iron into cellulose membranes resulted in high selectivity (>99%) of neutral red and methylene blue model dyes separation over salts with a high permeability of 17 LMH/bar. With non-aqueous (alcohol) solvent, iron–cellulose composite membranes become less selective and more permeable, suggesting the interaction of iron ions cellulose OH groups plays a major role in pore structure. Polyacrylic acid was integrated into cellulose membranes to add pH responsive behavior and capacity for metal ion capture. Calcium capture of 55 mg Ca
2+
/g membrane was observed for PAA-cellulose membranes. Lignin sulfonate was also incorporated into cellulose membranes to add strong negative charge and a steric barrier to enhance antifouling behavior. Lignin sulfonate was also functionalized on the commercial DOW NF270 nanofiltration membranes via esterification of hydroxy groups with carboxyl group present on the membrane surface. Antifouling behavior was observed for both lignin-cellulose composite and commercial membranes functionalized with lignin. Up to 90% recovery of water flux after repeated cycles of fouling was observed for both types of lignin functionalized membranes while flux recovery of up to 60% was observed for unmodified membranes.
View Full-Text
►

▼

Figures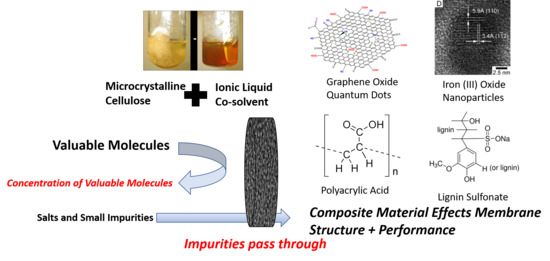 Graphical abstract
This is an open access article distributed under the
Creative Commons Attribution License
which permits unrestricted use, distribution, and reproduction in any medium, provided the original work is properly cited (CC BY 4.0).

Share & Cite This Article
MDPI and ACS Style
Colburn, A.; Vogler, R.J.; Patel, A.; Bezold, M.; Craven, J.; Liu, C.; Bhattacharyya, D. Composite Membranes Derived from Cellulose and Lignin Sulfonate for Selective Separations and Antifouling Aspects. Nanomaterials 2019, 9, 867.
Note that from the first issue of 2016, MDPI journals use article numbers instead of page numbers. See further details here.
Related Articles
Comments
[Return to top]