Polyethylenimine Assisted Bio-Inspired Surface Functionalization of Hexagonal Boron Nitride for Enhancing the Crystallization and the Properties of Poly(Arylene Ether Nitrile)
Research Branch of Advanced Functional Materials, School of Materials and Energy, University of Electronic Science and Technology of China, Chengdu 611731, China
*
Authors to whom correspondence should be addressed.
†
These authors contributed equally to this work.
Received: 11 April 2019 / Revised: 4 May 2019 / Accepted: 11 May 2019 / Published: 17 May 2019
Abstract
Semi-crystalline poly(arylene ether nitrile) (PEN) has exhibited remarkable potential in various fields. However, the inherent drawbacks of PEN such as slow crystalline rate and low crystallinity limit its further development. To alleviate this problem, the choice of nanofiller as nucleation agent and the interfacial compatibility between nanofiller and PEN matrix are two momentous factors that need to be considered. Accordingly, in this work, functionalized hexagonal boron nitride (
[email protected]
(PDA+PEI)) was successfully synthesized via polyethylenimine (PEI) assisted bio-inspired surface functionalization, and then homogeneously dispersed in the PEN resin using solution casting method to obtain functional polymer nanocomposite films with strengthening the crystallization behavior, mechanical and dielectric properties. Various testing methods including differential scanning calorimetry (DSC), scanning electron microscopy (SEM), X-ray diffraction (XRD), and polarizing microscope (POM) were applied to intricately analyze the effect of
[email protected]
(PDA+PEI) on the crystallization behavior of PEN composites. The testing results certificated that the
[email protected]
(PDA+PEI) can effectively improve the crystallinity (from 6.56% to 14.90%), and the spherulite size of PEN was reduced while the nucleation density of nanocomposites was raised. Furthermore, the non-isothermal crystallization kinetics demonstrated that 2 wt%
[email protected]
(PDA+PEI) could significantly reduce the cold crystallization temperature (
Tp
) and the crystallization activation energy (
Ea
) (from 359.7 KJ/mol to 292.8 KJ/mol), while it improved the crystallization rate (
Kc
) of PEN. In addition, the mechanical and dielectric properties of nanocomposite films were also reinforced to further broaden the application of semi-crystalline PEN. Therefore, the
[email protected]
(PDA+PEI) can function as an effectual nucleating agent and enhance the performance of PEN.
View Full-Text
►

▼

Figures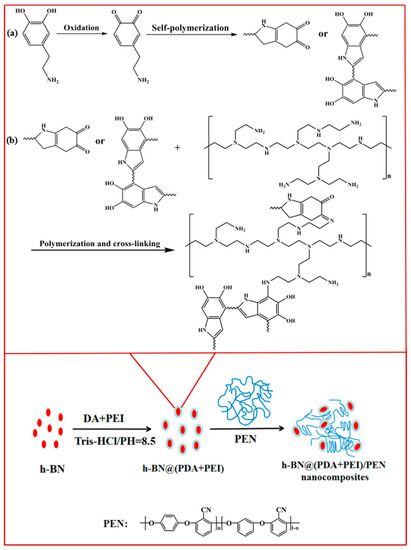 Figure 1
This is an open access article distributed under the
Creative Commons Attribution License
which permits unrestricted use, distribution, and reproduction in any medium, provided the original work is properly cited (CC BY 4.0).

Share & Cite This Article
MDPI and ACS Style
Wang, Y.; Tong, L.; You, Y.; Tu, L.; Zhou, M.; Liu, X. Polyethylenimine Assisted Bio-Inspired Surface Functionalization of Hexagonal Boron Nitride for Enhancing the Crystallization and the Properties of Poly(Arylene Ether Nitrile). Nanomaterials 2019, 9, 760.
Note that from the first issue of 2016, MDPI journals use article numbers instead of page numbers. See further details here.
Related Articles
Comments
[Return to top]