Mechanical and Physicochemical Properties of Newly Formed ZnO-PMMA Nanocomposites for Denture Bases
1
Department of Prosthodontics, Medical University of Warsaw, 02-006 Warsaw, Poland
2
Faculty of Materials Science and Engineering, Warsaw University of Technology, 02-504 Warsaw, Poland
3
World Premier International Center for Materials Nanoarchitectonics (WPI-MANA), National Institute for Materials Science (NIMS), 1-1 Namiki, Tsukuba 305-0044, Japan
4
Institute of High Pressure Physics, Polish Academy of Sciences, 01-142 Warsaw, Poland
5
Division of Silicon Microsystem and Nanostructure Technology, Institute of Electron Technology, 02-668 Warsaw, Poland
*
Author to whom correspondence should be addressed.
Received: 21 March 2018 / Revised: 25 April 2018 / Accepted: 30 April 2018 / Published: 6 May 2018
Abstract
Aim: The aim of this study was to investigate the selected properties of zinc oxide- polymethyl methacrylate (ZnO-PMMA) nanocomposites that can influence the microorganism deposition on their surface. Materials and Methods: Non-commercial ZnO-NPs were prepared, characterized and used for the preparation of PMMA nanocomposite. Roughness, absorbability, contact angle and hardness of this new nanomaterial were evaluated. PMMA without ZnO-NPs served as control. Outcomes: Compared to unenriched PMMA, incorporation of ZnO-NPs to 7.5% for PMMA nanocomposite increases the hardness (by 5.92%) and the hydrophilicity. After modification of the material with zinc oxide nanoparticles the roughness parameter did not change. All tested materials showed absorption within the range of 1.82 to 2.03%, which meets the requirements of International Organization for Standardization (ISO) standards for denture base polymers. Conclusions: The results showed no significant deterioration in the properties of acrylic resin that could disqualify the nanocomposite for clinical use. Increased hydrophilicity and hardness with absorbability within the normal range can explain the reduced microorganism growth on the denture base, as has been proven in a previous study.
View Full-Text
►

▼

Figures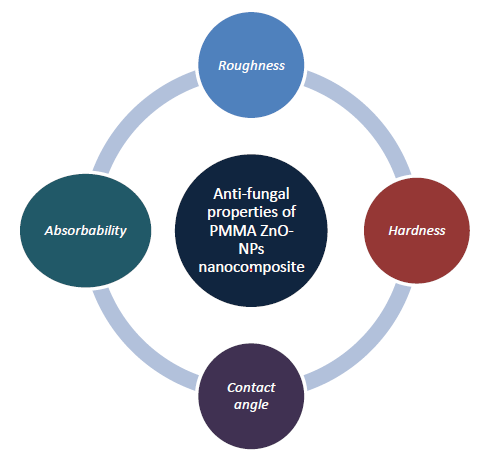 Graphical abstract
This is an open access article distributed under the
Creative Commons Attribution License
which permits unrestricted use, distribution, and reproduction in any medium, provided the original work is properly cited (CC BY 4.0).

Share & Cite This Article
MDPI and ACS Style
Cierech, M.; Osica, I.; Kolenda, A.; Wojnarowicz, J.; Szmigiel, D.; Łojkowski, W.; Kurzydłowski, K.; Ariga, K.; Mierzwińska-Nastalska, E. Mechanical and Physicochemical Properties of Newly Formed ZnO-PMMA Nanocomposites for Denture Bases. Nanomaterials 2018, 8, 305.
Note that from the first issue of 2016, MDPI journals use article numbers instead of page numbers. See further details here.
Related Articles
Comments
[Return to top]